Simple Homemade Avocado Mayo
Have you ever tried homemade mayo with avocado oil or fresh avocado? Mayonnaise is such a versatile condiment, but the store-bought kind is full of additives, preservatives, and unhealthy fats. This is why I love making my version at home. It's so simple, takes only 5 minutes, and it requires minimal clean-up. Plus, this version of mayo is chock-full of healthy fats and nutrients such as oleic acid for the heart, and lutein for the eyes.
In this recipe, I'll teach you how to make homemade avocado mayo in two ways – one with fresh avocado and one with avocado oil. Both are super simple and healthy alternatives to conventional store-bought mayonnaise. Whichever version you choose, I hope you'll feel empowered by making this popular condiment at home and taking your health into your own hands. There's nothing like knowing what exactly goes into the food you're feeding your families. Now, let's make tasty avocado mayo!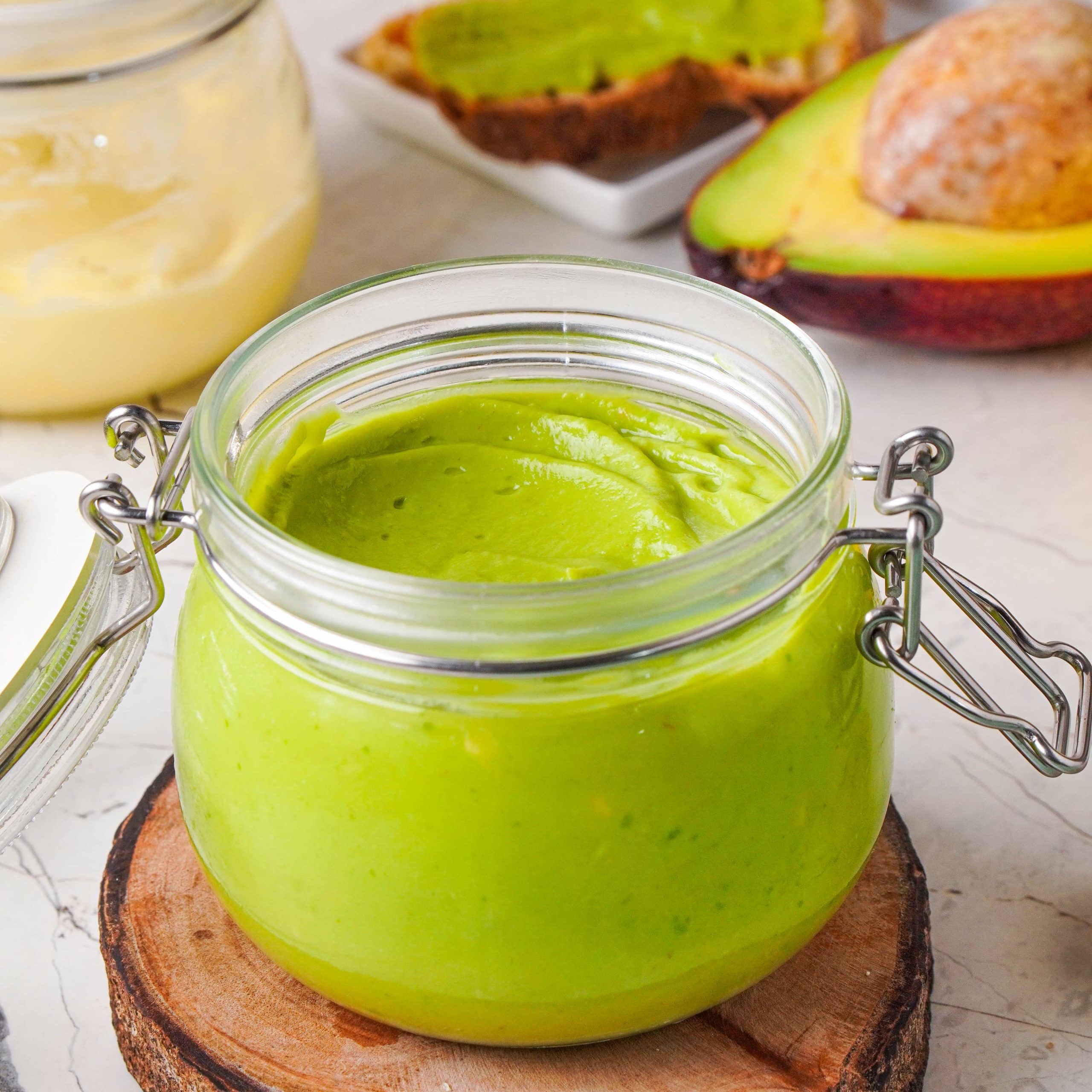 Ingredients
Ingredients for homemade mayo with fresh avocado:
1

large avocado

about 1 lb., peeled and pitted

1

Tbsp.

apple cider vinegar

¼

tsp.

garlic powder

1

tsp.

onion powder

1

tsp.

Dijon mustard

2

tbsp.

avocado oil

¼

cup

water

Salt & pepper to taste
Ingredients for the homemade mayo with avocado oil:
2

egg yolks

room temperature

1

tsp.

white wine vinegar

1

tsp.

lemon juice

¼

tsp.

Dijon mustard

¼

tsp.

salt

1

cup

avocado oil
Instructions
Instructions for homemade mayo with fresh avocado:
Place all ingredients in the mason jar and blend until smooth. For about 1 minute. Move the blender up and down the jar to scrape the sides and make sure everything is blended.

Store in the same jar in the fridge for up to 2 days.
Ingredients for the homemade mayo with avocado oil:
Place egg yolks, lemon juice, vinegar, salt, and mustard in the mason jar. Slowly pour the avocado oil on top so that it forms a separate layer.

Carefully submerge the immersion blender into the bottom of jar, so that it's where the egg yolks are. Blend on low speed for about 20 seconds without moving. Most of the jar should turn creamy yellow.

Now, slowly start to move the blender upward to the top of the oil and then slowly back to the bottom of the jar. Don't let the blender lift up into the air. Go up and down like this a few times until beautiful mayonnaise forms.

Store in the same jar in the fridge for up to 10 days.
Nutrition
Calories:
133
kcal
|
Carbohydrates:
1
g
|
Protein:
1
g
|
Fat:
14
g
|
Saturated Fat:
2
g
|
Polyunsaturated Fat:
2
g
|
Monounsaturated Fat:
10
g
|
Cholesterol:
19
mg
|
Sodium:
31
mg
|
Potassium:
55
mg
|
Fiber:
1
g
|
Sugar:
0.1
g
|
Vitamin A:
41
IU
|
Vitamin C:
1
mg
|
Calcium:
5
mg
|
Iron:
0.1
mg
Notes & Tips
For the fresh avocado mayo recipe, make sure you use ripe avocados. I prefer using Hass avocados because they're available year-round and they have a rich buttery, nutty flavor. Plus, you can tell whether they're ripe by the color of their skin. Hass avocados turn from a bold green to a dark purplish-black as they ripen. A ripe avocado should be firm, but slightly give in when you press it. It shouldn't be squishy. And, please, don't use avocado with black spots inside. This will affect the quality of your homemade avocado mayo.
As for the homemade mayo recipe with avocado oil, I recommend sticking to avocado. If you can't get your hands on avocado oil, you can use refined coconut oil in liquid form or light olive oil. You could also use a cheaper oil such as canola, sunflower, or rapeseed oil, but I wouldn't recommend it because most of these crops are genetically modified and pesticide-ridden. So, if you can get avocado oil, use it. It's what makes this recipe an avocado mayo in the first place.
Last, but not least, never store homemade mayonnaise in the freezer. You'll end up with a de-emulsified liquid that resembles nothing close to mayo.
How Do You Thicken Runny Mayonnaise?
Although this immersion blender method is pretty foolproof, if your avocado oil mayo does "break", I've got you covered. Mayonnaise comes together into a thick luscious sauce thanks to the bonds between the egg yolks and the oil. If that bond is "broken", the mayonnaise will break and turn into a sad curdled mess.
Wondering why your mayo didn't emulsify? It's probably because the oil was incorporated too quickly or the egg yolks were too cold. But don't worry, there are several solutions:
Egg yolk. The easiest method is to add another egg yolk. Place the room temperature egg yolk in a clean bowl, and whisk in a little bit of the broken avocado mayo. It should start to thicken. Now is the time to gradually whisk in the rest.
Hot water. Whisk a couple tablespoons of hot water into the avocado oil mayo. Even if the mayo wasn't broken, this is a good method for thickening it. The hot water cooks the egg slightly which makes the mayo thicker. Just make sure to whisk as you're adding the water.
Mustard. This is similar to the egg yolk method. Just add a tablespoon of mustard into a clean bowl and whisk in a bit of the broken mayo. Then gradually whisk in all of it.
Variations of Avocado Mayo and How To Use It
Once you've whipped up this healthy mayo, you can add any spices or herbs you wish to make it yours.
Spicy mayo: add a little harissa or homemade sriracha to your avocado mayo to make it hot. This makes the perfect dip for tortilla chips or fries.
Garlic mayo: add more garlic powder or fresh finely minced garlic to make this into a delicious garlicky sauce. Perfect for patatas bravas or Latin fried potatoes.
Herb mayo: mix in some of your favorite dried or fresh herbs for an aromatic sauce that pairs beautifully with grilled chicken, fish, or tofu.
As for how to enjoy simple homemade avocado mayo, it's all up to your imagination. I like to spread it on toast or in sandwiches, in burgers, or hot dogs, or use it to make tuna salad, chicken salad, or as a dip for savory fried foods. These are just a few ideas; the possibilities are limitless.
How Long Does Homemade Avocado Mayo Last?
Of course, homemade mayonnaise doesn't last as long as the preservative-full store-bought kind. The mayo recipe with fresh avocado will last for 2-3 days. But, since it's mostly avocado which means it's super healthy, you don't have to feel guilty about consuming it quickly.
The homemade mayo with avocado oil lasts a bit longer – up to 10 days. So, make sure you have plans to finish it before it spoils. Check the ideas under Variations of Avocado Mayo and How To Use It.
Is This Avocado Mayo Recipe Keto-friendly?
Yes, it is! Both of these recipes are keto-friendly. To make the homemade mayo with avocado oil completely keto, simply replace the white wine vinegar with apple cider vinegar. Also, check whether your Dijon mustard is sugar-free. If not, you can replace it with ¼ teaspoon of ground mustard seeds or another sugar-free mustard.
Is It Vegan?
The homemade mayo recipe with fresh avocado just so happens to be vegan. Yay! You can also try this vegan mayo recipe for a mayo version that lasts longer in the fridge. Enjoy your homemade mayo!
---
Recent Recipes