There is a tiny Indian restaurant on the Lower East Side of Manhattan that makes the best curry dishes served alongside steaming bowls of basmati rice. Korma is one of their specialties. And, I couldn't get enough of it when I was on a budget. The kitchen is so tiny that only 2 people can fit inside of it at once. And yet, they put out an amazing array of dishes. Next door to the dining room is a spice shop that is also owned by the restaurant (or vice-versa). The reason their korma is so good is because they have access to the freshest spices imported from India and Pakistan. I can almost smell the korma as I type this.
What I enjoy most about korma is that the level of heat can be controlled. The tomatoes and coconut milk temper any hot chilis that are in the spice blend or paste. I used to be able to order my curry vindaloo (3-alarm hot), but my more mature palate and belly no longer crave the extreme heat. I like to taste my food, not sweat while I am eating it.
Tofu is a blank canvas that can take on any flavors you throw at it. Korma is the perfect sauce for tofu. This tofu korma recipe is vegan. If you aren't vegan, you definitely could make this dish with chicken.
In an authentic Indian kitchen, the chefs will spend a long time building and layering the spices into a paste that is used as the base for this creamy sauce. In our Korma dish, we have made the process more approachable for the home cook. And, we are using spices that you can find in your local market or may even have in your pantry.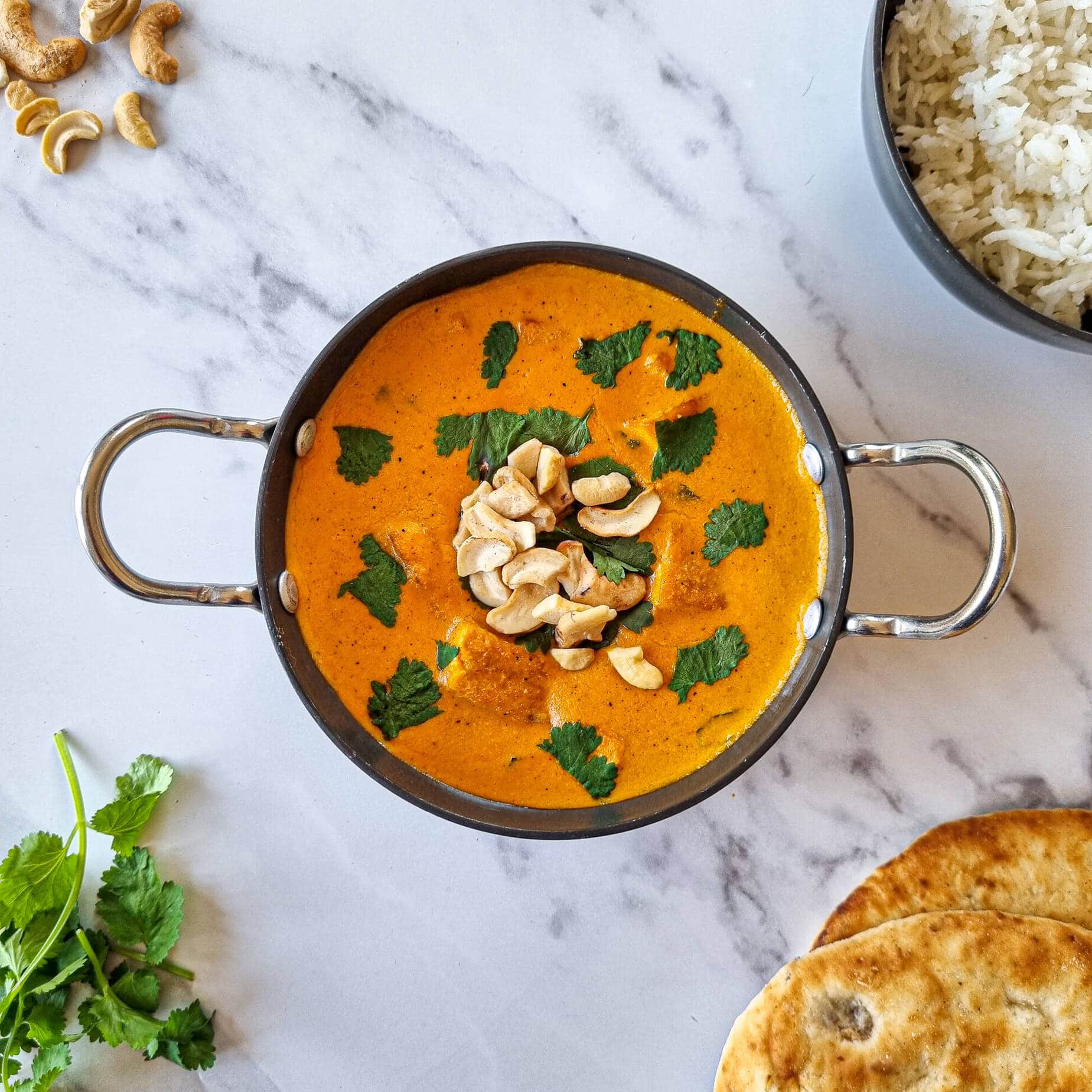 Ingredients
16

oz

extra-firm tofu block

1/2

cup

raw cashews

3/4

cup

warm water

1

small red onion

3

garlic cloves

2

TBS

neutral oil

avocado or grapeseed, divided

1

tsp

ground cumin

1/2

tsp

ground coriander

1/2

tsp

ground cardamom

1/2

tsp

ground ginger

1/2

tsp

turmeric powder

1/4

tsp

cayenne pepper

more if desired

2

TBS

tomato paste

1/2

cup

filtered water or vegetable broth + more if needed

Juice of 1 small lime

14

oz

canned coconut milk

Sea salt and freshly cracked pepper to taste

Fresh cilantro leaves

chopped for serving

Toasted cashews for serving
Instructions
Drain the tofu and lightly press it with your hands in paper towels to remove any excess water. Set aside.

Place the cashews in a measuring cup or bowl and cover with 3/4 cup warm water. Set aside.

Dice the onion and mince the garlic.

Cut the tofu into 1-inch cubes. Place a large skillet over medium-high heat. Add 1 tablespoon of oil to the pan. Sear the tofu cubes, stirring often, until all sides are golden brown. Remove the cooked tofu to paper towels to drain.

In the same pan, add another tablespoon of oil. Add the onions and sauté for 5 to 7 minutes until the onions are soft. Add the garlic, cumin, coriander, cardamom, ginger, turmeric, and cayenne. Continue to cook until the garlic is fragrant and the spices are toasted, approximately 1 to 2 minutes. Turn off the heat.

Drain the cashews and place them in a food processor. Add the onion and spice mixture, the tomato paste, the remaining water or broth, and the lime juice. Season with a pinch each of salt and pepper. Process into a smooth paste, scraping down the sides of the processor bowl.

Turn the heat under the skillet to medium-high. Place the spice paste in the skillet. Whisk in the coconut milk, solids and liquid. Bring this to a boil. Turn the heat down so the sauce is simmering. Add the tofu cubes into the sauce and simmer, stirring often, until the sauce has thickened, approximately 12 minutes. It should be creamy, not soupy. Season the korma with salt and pepper to taste.

Serve the tofu korma with basmati rice. Top with fresh cilantro leaves and toasted cashews.
Video
Nutrition
Calories:
427
kcal
|
Carbohydrates:
15
g
|
Protein:
13
g
|
Fat:
37
g
|
Saturated Fat:
21
g
|
Polyunsaturated Fat:
4
g
|
Monounsaturated Fat:
10
g
|
Sodium:
145
mg
|
Potassium:
635
mg
|
Fiber:
2
g
|
Sugar:
4
g
|
Vitamin A:
181
IU
|
Vitamin C:
6
mg
|
Calcium:
77
mg
|
Iron:
6
mg
Notes & Tips
It is important to bloom the spices in the skillet with oil before adding them to the sauce. Dried spices don't always cook that well when placed directly into liquid. It is also a good idea to use fresh dried spices. Ones that have been opened and sitting in your pantry for a year might have lost the potent flavor that makes this dish so delicious.
Substitutions & Shortcuts
As with many Southeast Asian dishes, spices and herbs play a very important role in developing the flavors of the dish. However, every region has its own take on a specific dish. Korma is no exception. You will see recipes with garam masala, paprika, chili powder, cinnamon, and mustard seeds…… You get the idea. So, allow yourself some creative license with this recipe. If you are missing a spice called for in the recipe, add a different one or increase the ones you have to make up the difference.
On that note, if you don't have a pantry stocked with individual spices or don't have the patience to work with so many, go ahead and use a blend. For instance, I would probably use 2 teaspoons of curry powder with 1 teaspoon of garam masala and a pinch or dash of any hot pepper spice or sauce I have on hand.
If you really want to get a lot of flavor out of the spices, use whole or fresh spices and herbs, such as cumin seeds, cardamom pods, coriander seeds, and fresh ginger. When using whole seeds and pods, toast them in a hot skillet until they are aromatic. Then just grind them inside the paste.
What to Serve with Tofu Korma?
I have always had korma with basmati rice cooked with ghee and seasoned with turmeric to give it a bright yellow hue. Or, I will enjoy it with jasmine rice. For a nice spin, try black forbidden rice.
I also love vibrant greens on the plate for both the presentation and the many health benefits of steamed, braised, or sautéed greens. For korma, I would definitely have either steamed spinach or sautéed dandelion greens.
To round out the meal, you will want a mango chutney or pickled vegetables and naan bread. Try this recipe for quick kohlrabi pickles.
---
Recent Recipes