Easy Taiwanese Fried Chicken Chopped Cutlets
Fried chicken is, in my humble opinion, superior chicken. That is twice as true of this Taiwanese style chicken chopped cutlets. They are incredibly tender, juicy, and crispy all at once and make an amazing snack food as well as entree. The secret to making superb fried chicken cutlets is how the word chopped gets in its name. The chicken bread is butterflies before it is tenderized which is how you get it to the perfect texture. If the process sounds complicated, don't worry, this recipe will walk you through all the details. Once you have read through the recipe though, you will realize that this chicken is not as complex as it seems.
This fried chicken is really easy to find in Taiwan as it is a popular street food. It is also known as XXL fried chicken because they often butterfly the chicken breast not once, but twice, so you end up with a huge fried chicken cutlet. We won't be doing that for this recipe because the skillets required for frying those are larger than anything a regular kitchen has, but this chicken will taste just as delicious. If you don't want to try butterflying the chicken right now but you still want fried chicken, you can always make this easy crispy sour cream and onion chicken.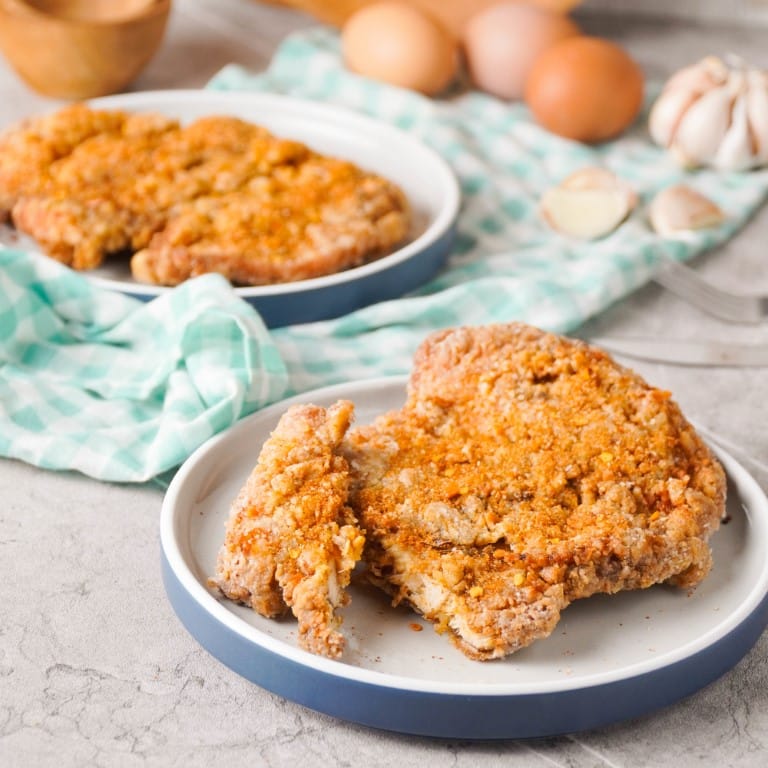 Ingredients
4

chicken breasts

2

tsp

sesame oil

4

tbsp

soy sauce

2

tsp

ground ginger

1

tbsp

Chinese five spice

2

tsp

ground pepper

2

tsp

cayenne pepper

1

tsp

paprika

5

garlic cloves

3

eggs

2

cups

sweet potato starch

2

tsp

sugar

1 ½

tsp

salt

2

tbsp

vegetable oil
For the seasoning powder:
1

tsp

salt

1

tsp

ground pepper

1

tsp

cayenne pepper

½

tsp

red chili flakes
Instructions
All ingredients ready? Let's begin!

In order to butterfly the chicken, you will need to make a horizontal cut down the middle of the chicken breast cutting most of the way through, but not always. If done properly you should be able to open the chicken breast like a book.

Do this to all the chicken breasts then place them flat and open in a ziplock bag or between two slices of parchment paper (to prevent raw chicken juice splashes).

Use a meat mallet or sturdy rolling pin to beat the chicken until well tenderized and flat.

In a large mixing bowl, add the sesame oil, soy sauce, ginger, Chinese five spice, ground pepper, cayenne pepper, and paprika.

Finely dice or press the garlic and add the bowl. Whisk well to mix.

Add the chicken breast to the bowl with the marinade and make sure the marinade covers all of the meat. Leave to sit for at least 30 minutes.

While the chicken marinates, crack the eggs in a bowl and whisk until mixed.

In another bowl or on a plate, add the sweet potato starch, 2 tbsp of sugar, and 1 ½ tsps of salt. Mix together.

In yet another bowl, you can make the seasoning powder. Add the salt, ground pepper, cayenne pepper, and red chili flakes and stir to combine. Set aside.

After the chicken has marinated for 30 minutes, heat a skillet over medium-high heat and add the vegetable oil.

Test that the oil is hot by flicking a drop of water or bit of starch into it. If it bubbles, it is ready. If not, wait a little longer.

Take one of the chicken breasts and put it in the egg bowl, making sure to cover it with egg then coat it in the starch mixture by pressing both open sides into it on the plate. It should be covered.

Place the unfolded chicken breast into the hot oil and cook for 5 minutes.

Flip the chicken and cook the other side for 5 minutes. Check and make sure both sides are golden brown before removing.

Place the cooked chicken on a wire cooling rack over some paper towels so it can drain.

Repeat the process with the other pieces of chicken: egg, starch, cook, drain.

You can sprinkle the seasoning powder on top before serving or allow each person to sprinkle their own.

Serve hot and enjoy!
Nutrition
Calories:
785
kcal
|
Carbohydrates:
109
g
|
Protein:
57
g
|
Fat:
12
g
|
Saturated Fat:
3
g
|
Polyunsaturated Fat:
3
g
|
Monounsaturated Fat:
4
g
|
Trans Fat:
0.04
g
|
Cholesterol:
274
mg
|
Sodium:
2786
mg
|
Potassium:
1068
mg
|
Fiber:
4
g
|
Sugar:
3
g
|
Vitamin A:
1000
IU
|
Vitamin C:
7
mg
|
Calcium:
87
mg
|
Iron:
3
mg
Notes & Tips
Leftover chicken can be stored in an air-tight container in the fridge for up to 5 days. You can reheat it in the microwave, but it will not be crispy that way. If you want to crisp the chicken up again, you will need to either fry it in a skillet again or toast it in the oven or a toaster oven.
You can also cut the chicken cutlets into slices before serving if you want to use them alongside other dishes or to make them easier to dip in a sauce.
Substitutions
If you want to be extra fancy, you can use fresh ginger instead of ground ginger. To do so you will need to peel it then grate it. If using fresh ginger, use 1 tbsp or more, depending on your preferences.
You can also substitute a pork chop instead of chicken. And we have a whole recipe for that here.
If you do not have sweet potato starch, there are a few other options you can use. Regular potato starch will work, as will tapioca starch and corn starch. Corn starch will probably be easier to find in a general supermarket, but sweet potato starch adds the best flavor. You also have the option of using regular flour with a couple tablespoons of corn starch and 1 tsp of baking soda. If you have access to any of the starches though, I recommend using though as they will be best for crispiness.
Here's something you might not expect: a substitution for the cooking method! Cooking on the stove with oil can be messy, long, hot, and make your house smell a little weird. Luckily, there are a few other options that make cooking a little bit simpler for you. You can see here how to fry chicken using an air fryer or by cooking in your oven. Ignore the recipe (unless you want to make that too) and skip to the part of the directions where it tells you how to cook the chicken in an air fryer or oven.
---
Recent Recipes