Simple Crispy Chickpea Tenders
Crispy, juicy, nutritious and plant based "chicken" tenders for around $20? What's not to like? I make a batch of these once a month to eat as is, in sandwiches or to top off a salad.
It's starts with making seitan – a high protein mixture of beans, jackfruit, vital wheat gluten and textured vegetable protein that's steamed to keep it moist and juicy – and tastes remarkedly like chicken. It's a staple in many Asian dishes and is often used in many of the vegan "chicken" products sold in stores. Yes, you could buy pre-made meat substitutes, but once you've made your own, you won't want to go back!
Another advantage with making your own seitan is that at various points in the process, you can add spices to add flavor. Like a little heat, prefer things mild, love garlic – it's your call. I've noted in the instructions where you've got the option to spice things up.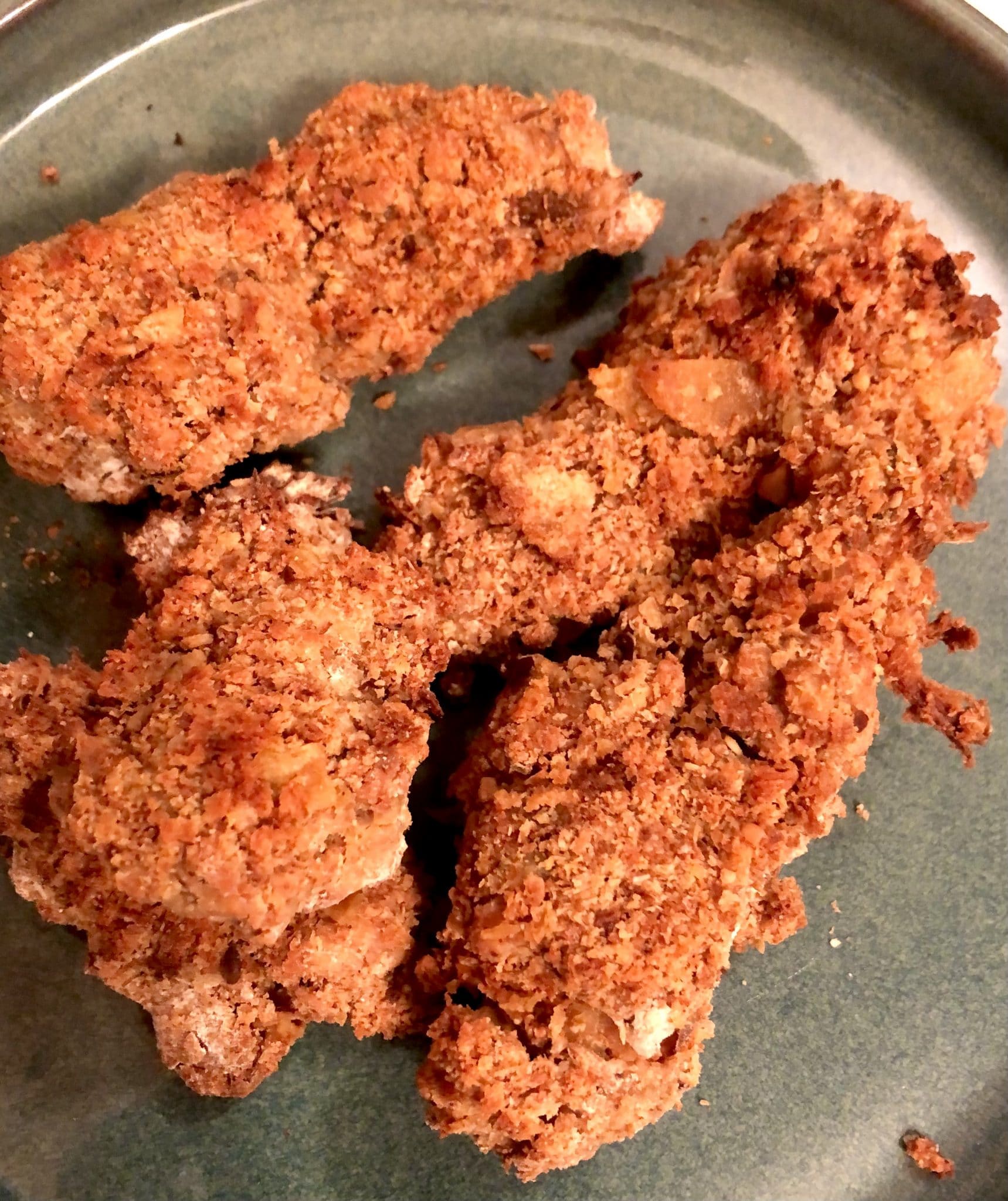 Ingredients
4

cups

Chickpeas

AKA garbanzo beans

Black Pepper

Curry Leaves

1 ½

cups

textured vegetable protein

3

cups

vital wheat gluten

6

tablespoons

pea protein

9

grams

of salt

30

g

Shan Channa spice mix

or any mix of your favorite spices

1

can Jackfruit in Brine

20 ounces

Lime Juice

Olive Oil

1

can Coconut milk

unsweetened, 13.5 ounces

1

Lime cut in wedges

1

can Coconut cream

5.4 ounces

Breadcrumbs

Chickpea Flour

All-purpose flour

Cornstarch
Instructions
Rinse canned/drain fresh cooked chickpeas and season with black pepper and fresh curry leaves. I've also added one of my home-made spice cubes, a mix of Serrano peppers, ginger, garlic, curry leaves and cilantro with olive oil for some extra flavor, so feel free to add your own spices for some extra punch.

Prepare the dry ingredients in a mixing bowl – 3 cups vital wheat gluten, 6 tablespoons pea protein, 1 ½ cups textured vegetable protein, 9g salt and 30g spice Shan Channa mix (or any other spices you like). Set aside.

Drain a can of young jackfruit and shred into pieces. Lightly toss with some lime juice and olive oil. Pan fry, bake (400 F) or air fry until crispy. Once the jackfruits start to brown, toss in some chickpea flour, cornstarch and about 2 cups of the chickpeas and keep cooking until chickpeas and jackfruit are both golden brown. Add browned jackfruit and chickpeas to dry ingredients and toss.

Blend or mash the remaining chickpeas adding tap water as necessary. Pour into dry mixture and mix together, kneading until there are no dry spots.

In a large, high walled pan or a pot, add coconut milk and lime wedges – and any other spices you might light to flavor the milk – and bring to a low simmer. Place the dough into the liquid, cover with foil or lid and steam for about 20 minutes. Remove from heat and allow to cool – and pat yourself on the back because you just made seitan!

While the seitan is cooling, create your breading area. Mix some cornstarch, chickpea flour and all-purpose flour on a large plate. Mix a can of coconut cream and lime zest in a bowl. Lastly, place breadcrumbs in a shallow bowl. Have two cookie sheets lined with parchment or silicone mats ready and preheat the oven to 350 F.

Form the chickpea mixture into tender shapes. Lightly roll in flour mixture, then dip in cream mixture. Shake off any drips before rolling in breadcrumbs. Place tenders on the cookie sheet leaving some room so it's easier to turn them.

Bake until brown and crispy. Remove from tray and allow to cool for a few minutes on racks before serving.
Notes
This recipe should yield about 55 tenders. Each one is about 100 calories with 9 grams of protein.
You can store these for a few days in the refrigerator (they reheat well in the oven or air fryer) or wrap tightly to store in freezer.
The basic method of this recipe is blend up some beans, fresh herbs and spices for your liquid. You need vital wheat gluten to make seitan, adding in textured vegetable protein adds some texture but this isn't necessary. Pour wet mixture into dry. You could wrap in foil and steam for an hour to fully cook them, creating sausages, or half steam and bread for patties. Making seitan at home is easy and saves a lot in comparison to store bought plant based proteins.
I hope you enjoy these chickpea "chicken" tendies.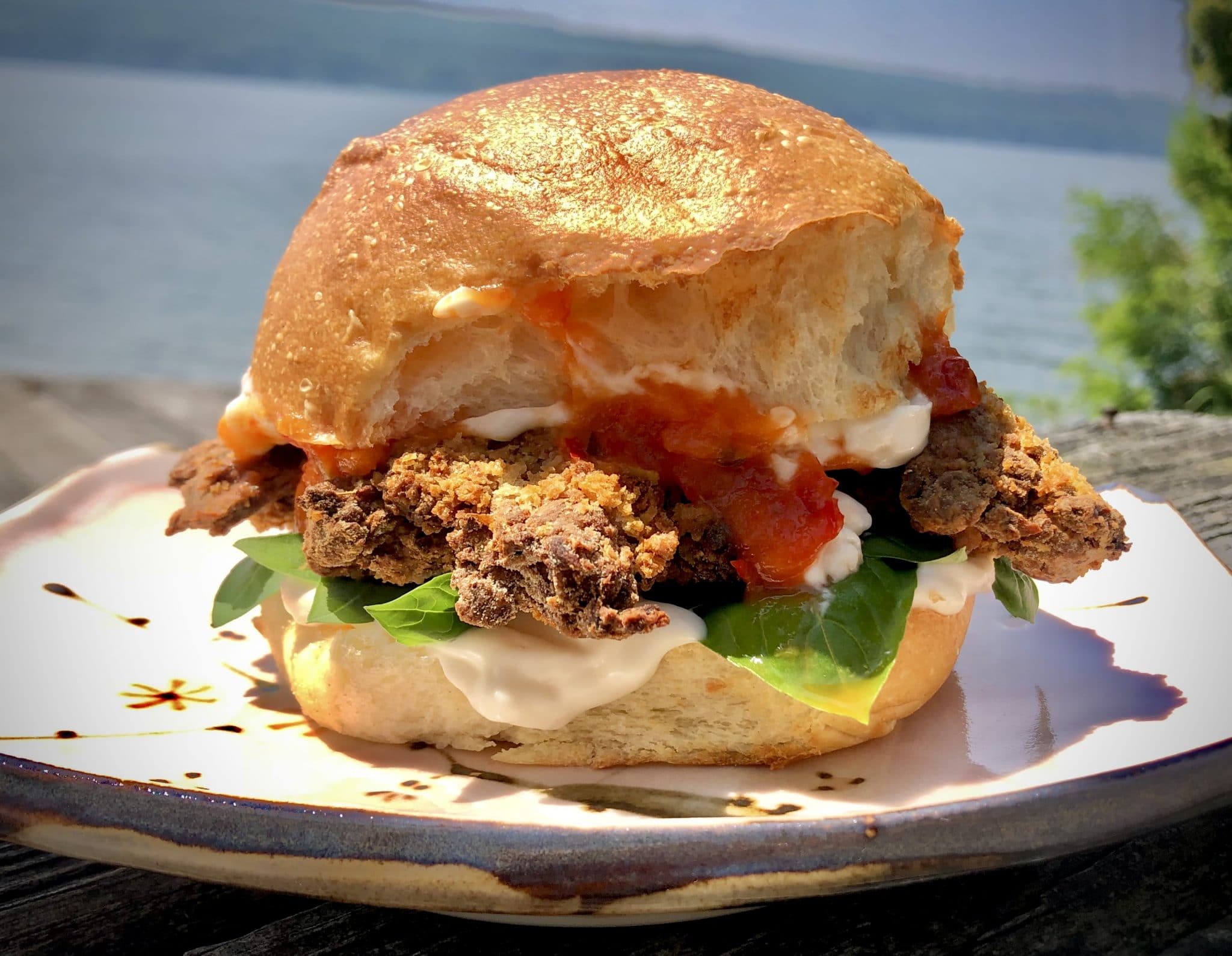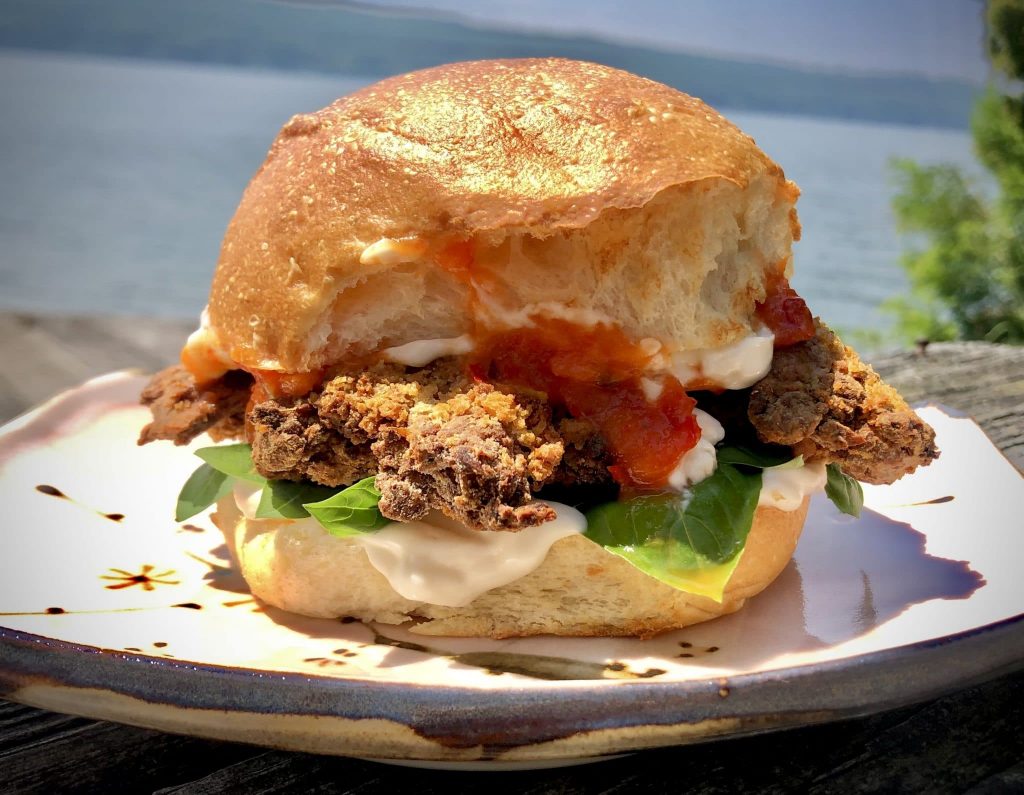 ---
Recent Recipes