Crunchy Vegan Lettuce Wraps
I am very fond of summer rolls and lettuce wraps for weekday lunches. They are both loaded with seasonal, fresh, crisp vegetables. I top them with a nutty sauce that is a little spicy and a little sweet.
There is something so great about refueling my body with fresh ingredients mid-day while I am working. Lettuce cups are not too filling. They basically satiate me just enough to get through the rest of the day without feeling like I need a nap during that 4:00 crash that happens if I have had a heavy meal for lunch.
Lettuce wraps are common fare in Thailand as well as some other Asian regions. They often include some form of ground meat as the protein component. It is generally ground chicken or ground pork. I personally prefer a vegan lettuce wrap because I love the crunch of the vegetables and don't care for a warm and soggy wrap. These vegan wraps are also gluten-free.
This recipe for crunchy vegan lettuce wraps does have a good amount of plant-based protein. I add crisped tofu cubes, nuts, and a creamy nut, seed, or legume-based sauce. These are all good, clean sources of protein and healthy fats. The tofu is cooked until crisp and everything else is left raw. I gravitate toward crunchy vegetables, such as carrots, radishes, and cabbage.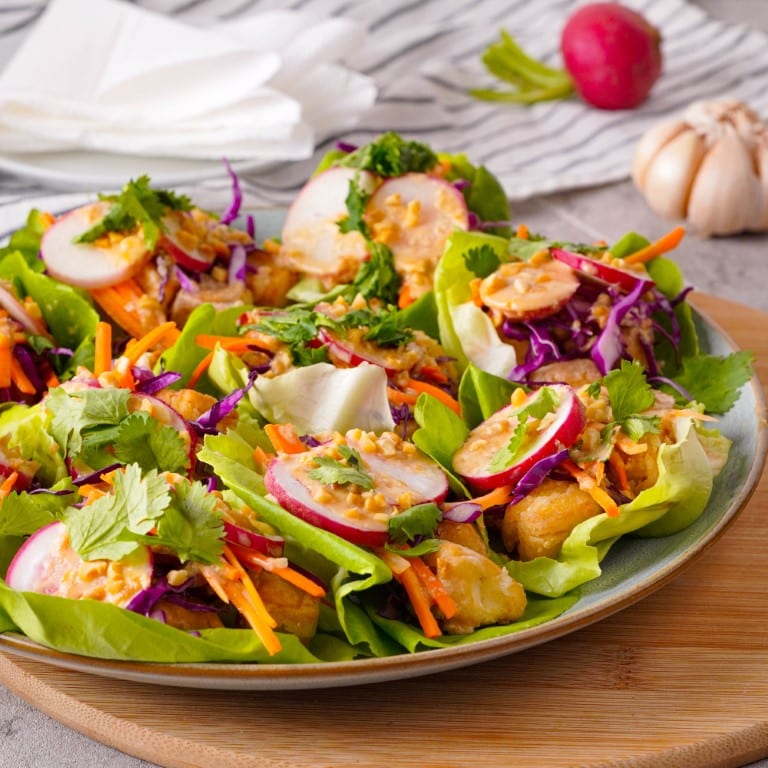 Ingredients
Tofu
1

14-ounce block of extra firm tofu

2

Tbsp

coconut aminos

1

Tbsp

tamari or liquid aminos

1

tsp

sriracha

1

tsp

toasted sesame oil

1

garlic clove

minced

5

Tbsp

cornstarch

Vegetable oil for frying
Sauce
½

cup

sesame tahini paste

3

Tbsp

freshly squeezed lime juice

2

Tbsp

coconut aminos

1

Tbsp

tamari or liquid aminos

1

tsp

sriracha

optional

½

tsp

garlic powder

3

Tbsp

water for thinning
Vegetables and Nuts
10

crisp outer butter lettuce leaves

washed and dried (bibb lettuce)

½

cup

thinly sliced or shredded purple cabbage

½

cup

julienned or shredded carrots

½

cup

thinly sliced red radishes

¼

cup

chopped dry-roasted peanuts

Fresh cilantro leaves for serving
Instructions
All ingredients ready? Let's begin!
Tofu
Drain the tofu. Wrap it in a clean kitchen towel and place it on a plate. Place a heavy weight, such as a frying pan with soup cans in it, on top of the tofu to press it. Set the tofu aside for 30 minutes. Meanwhile, prepare your lettuce, vegetable, and peanuts.

In a medium bowl, whisk together the coconut aminos, tamari, sriracha, sesame oil, and garlic. Drain any excess moisture away from the tofu and dry it with paper towels.

Slice the tofu into 3/4-inch cubes. Place them in the marinade and toss carefully to coat well. Set this aside for 15 minutes.

Preheat the oven to 400°F. Line a sheet pan with parchment paper.

In a large non-stick or cast iron skillet over medium heat, warm enough oil to generously coat the bottom of the pan.

Place the cornstarch in a shallow bowl. Gently toss the tofu cubes in the cornstarch until well coated. When the oil is hot, sear the tofu on all sides in small batches, for about 6 minutes. You will need to use a fork or small spatula to turn them. Once the tofu is golden brown, transfer the cubes to the lined baking sheet. Continue until all the tofu is seared.

Place the pan with the tofu in the preheated oven and bake for about 12 minutes until the texture is firm and the surface is crisp.
Sauce
While the tofu is baking, prepare the sauce. In a small mixing bowl, whisk together the tahini paste, lime juice, coconut aminos, tamari, sriracha, sesame oil, and garlic powder. Add the water, one tablespoon at a time, to the sauce until you have reached the desired sauce consistency for drizzling over the lettuce wraps. Set this aside.

Remove the tofu from the oven.
Assembly and Serving
Arrange the lettuce leaves on a large serving platter. Place about 5 tofu cubes inside each leaf. Top with prepared vegetables. Drizzle with sauce. Top the sauce with peanuts and cilantro.

Serve the filled lettuce cups with plenty of napkins and encourage everyone to gently wrap the lettuce around the filling and eat with their hands.
Nutrition
Calories:
308
kcal
|
Carbohydrates:
22
g
|
Protein:
13
g
|
Fat:
20
g
|
Saturated Fat:
3
g
|
Polyunsaturated Fat:
8
g
|
Monounsaturated Fat:
8
g
|
Trans Fat:
0.004
g
|
Sodium:
825
mg
|
Potassium:
465
mg
|
Fiber:
3
g
|
Sugar:
3
g
|
Vitamin A:
2883
IU
|
Vitamin C:
13
mg
|
Calcium:
89
mg
|
Iron:
3
mg
Notes & Tips
While the preparation of the tofu might seem like many steps, it is really worth it to get a firm interior and crisp exterior. The pressing of the tofu is a common technique used in Asian cooking to remove excess moisture.
Be sure not to crowd the pan when frying the tofu so that all faces can get golden brown.
The sauce can be prepared a day ahead of time, as can the vegetables. Just store them in sealed containers in your fridge until ready to use.
Substitutions
Tofu: I like to mix things up and use tempeh instead of tofu in many recipes. Tempeh is already dry and free of moisture. You just need to marinate and fry it. There is no need to press it or bake it. It will get golden and crisp just by frying it.
Coconut Aminos: This condiment is made by fermenting the sap of coconut palm trees. It is savory and a little sweet. It is a fine gluten-free substitute for soy sauce or teriyaki sauce. If you don't have coconut aminos, you can mix tamari or liquid aminos (gluten-free soy sauces) with a little maple syrup or mirin.
Sriracha: Any hot sauce or a pinch of cayenne will do in this recipe. You can also omit this ingredient for less heat.
Cornstarch: If you are avoiding grains, such as corn, you can substitute tapioca starch or arrowroot powder for the cornstarch.
Sesame Tahini Paste: In Thai cuisine, this sauce would likely be prepared with creamy peanut butter. While I like tahini, I also use this for those with peanut allergies. You can substitute almond butter, cashew butter, or sunflower seed butter.
Butter Lettuce: Butter or bibb lettuce is pliable and crisp at the same time. Hydroponic Boston lettuce is also an excellent choice. For more crunch, try romaine lettuce or green cabbage leaves.
Peanuts: Coming full circle to the peanut allergy, one of my favorite fill-ins for chopped, dry-roasted peanuts is roasted sunflower seeds. Toasted and chopped walnuts or cashews also work well.
---
Recent Recipes