Simple Spicy Vegan Eggplant Sliders
You have to try these simple spicy vegan eggplant sliders because they are absolutely scrumptious! Trust me, you won't even believe they're vegan and healthy. Bye-bye sodium nitrate and nasty additive-full cold cuts, and hello to your new best friend: aromatic grilled eggplant slices. This will surely be your go-to finger food recipe for any occasion. Oh, and the spicy tahini sauce is to die for. Who would have thought sesame seeds could create such a luscious experience? Not to mention, they're stock-full of healthy minerals and nutrients that will make your skin glow and inner beauty show.
Are Sliders Healthy?
Traditionally, sliders are greasy miniature hamburgers that are all but healthy. But this tasty finger food has evolved over the years to fit any diet or preference. So, the short answer is: they can be. It all depends on which recipe you choose and how you prepare them.
This healthy vegan recipe makes one of the best vegan sliders out there. They're full of veggies, greens, healthy fats, and protein. The Mediterranean flavor palette will transport you to a sunny beach in paradise. If you thought vegetables are boring, let this recipe prove you wrong.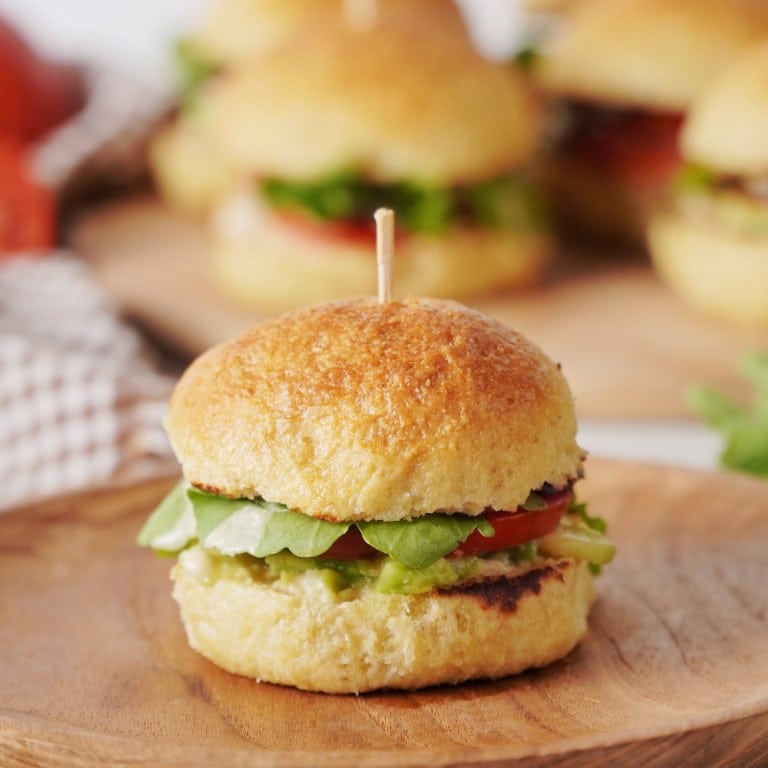 Equipment
8 Toothpicks for serving the sliders
Ingredients
8

dinner rolls

whole wheat

1

medium eggplant

cut into thin rounds

2

avocados

1

bunch rocket

2

small tomatoes

3

Tbsp.

extra virgin olive oil

¼

tsp.

salt

¼

tsp.

chili powder

¼

tsp.

garlic powder

Pepper to taste
Spicy Tahini Sauce:
¼

cup

tahini paste

2

Tbsp.

fresh lemon juice

3

Tbsp.

Ice water

2

tsp.

harissa paste

or your favorite chili paste

1

tsp.

honey or sugar
Instructions
All ingredients ready? Let's begin!
Grilled Eggplant:
Preheat the oven to 275°F. Line a baking tray with parchment paper.

Place your eggplant rounds on the baking tray.

Brush with olive oil on both sides.

Mix salt, chili powder, garlic powder, and pepper in a bowl. Sprinkle evenly over the eggplant slices.

Bake until the eggplants are browned and a bit crisp. About 1h 30 min.
Spicy Tahini Sauce:
Put tahini paste and lemon juice in a bowl. Beat with a fork until thickened. Gradually add water as you continue beating until creamy.

Add chili paste and honey (or sugar) and mix. Add more water if needed to achieve desired consistency.
Dinner Rolls and Toppings:
Cut dinner rolls in half and coat them with olive oil on both sides.

Toast in a pan on medium to high heat for 1-2 min or until browned.

Cut tomatoes and avocado into thin slices and set aside.
Assembling The Sliders:
Spread spicy tahini sauce on each dinner roll.

Lightly mash the avocado slices with a splash of lemon juice on the dinner roll bottoms.

Top with a slice of tomato, eggplant rounds, and rocket.

Drizzle with a little more tahini sauce and cover with the dinner roll top.

Add a pick in the middle to hold it all together and serve. Enjoy!
Nutrition
Calories:
277
kcal
|
Carbohydrates:
25
g
|
Protein:
6
g
|
Fat:
19
g
|
Saturated Fat:
3
g
|
Polyunsaturated Fat:
4
g
|
Monounsaturated Fat:
11
g
|
Sodium:
238
mg
|
Potassium:
561
mg
|
Fiber:
7
g
|
Sugar:
4
g
|
Vitamin A:
671
IU
|
Vitamin C:
13
mg
|
Calcium:
97
mg
|
Iron:
2
mg
Notes & Tips
Since this recipe calls for lots of veggies, you want to make sure you choose the best quality. I prefer vine-grown tomatoes or tomatoes from the garden, Haas avocadoes, and Italian eggplant. Also, please use cold-pressed extra virgin olive oil, preferably from a Mediterranean country like Spain or Greece. It will add a true bitter-sweet olive fragrance that takes any recipe to the next level. Plus, the benefits of cold-pressed extra virgin olive oil are endless!
If you can't find tahini at your grocery store, try looking at your local Lebanese or Israeli shop. Otherwise, you can order it on Amazon. Do opt for unbleached shelled sesame seed tahini, as the unshelled sesame tahini is coarser. You want the tahini sauce to turn out smooth and creamy.
To ensure this recipe is fully vegan, always check whether your dinner rolls are egg and milk free. You can also make your rolls from scratch, but then this wouldn't be a simple vegan slider recipe anymore.
Can I Make Sliders Ahead of Time?
This is a super simple vegan recipe that you can prepare ahead of time. Simply grill the eggplant and store it in the fridge for up to 5 days or in an airtight container in the freezer. The dinner rolls can also be stowed in the freezer until needed.
You can also make the tahini sauce ahead of time and keep it in a jar in the fridge for up to 5 days. Simply give it another whisk when you're ready to assemble your sliders.
As for the rocket, avocado, and tomato, you can't store them. They've got to be fresh. Lemons can be stowed in the fridge for up to a month (if you place them in an airtight container and coolest spot).
What Does A Good Eggplant Look Like?
Typically, the eggplants sold in the United States have a deep rich purple-black color. There are also Chinese eggplants which can be recognized by their pale violet skin and zucchini-like shape. I love Italian eggplant because they are the sweetest, and also the perfect size for cutting into rounds, stuffing, or grilling.
Most importantly, you want to pick a good eggplant that is just ripe. It should be smooth, shiny, and slightly firm to the touch. When pressing it, you shouldn't feel any squishiness – this means the eggplant is overripe or bruised.
When it comes to size, it does matter. It's better to choose small or medium eggplants because the bigger ones are usually more bitter. This is because they've been left on the vine for too long. Also, fresh is best. Eggplants can be stored in the fridge and should be eaten within a week. But if you have a lot of ripe eggplants, it's best to cook them and preserve them in jars or in the freezer to enjoy later.
Why Do They Call Sliders Sliders?
The question we've all been asking ourselves (or maybe it's just me): how did sliders get their name?
The story dates back to the 1940s when mini hamburgers started to be popularized by the famous burger chain White Castle. A U.S. Navy soldier called them "sliders" because these greasy mini burgers would "slide down your throat in two bites!" What's funny though is that the entire reason sliders or mini hamburgers were invented is due to inflation.
Back in the early 1920s, White Castle offered this great deal for a hamburger for 5 cents. But as the years passed, the price kept getting higher and the burger kept getting smaller. Eventually, it was the size of a mini hamburger and could slide down into your tummy in two bites. But this didn't stop people from coming back for this greasy treat no matter the price or size.
Nowadays, we are in the era of "the gourmet slider". They're no longer made simply with traditional beef patties, but also with veal, pork, chicken, and vegetarian and vegan substitutes! The options are endless, and it certainly seems like this fun appetizer isn't going out of fashion any time soon.
---
Recent Recipes