Simple Vietnamese Chicken Rice Porridge
This simple Vietnamese chicken rice porridge or chao ga is ideal when you're craving some warming comfort food or when you feel a cold coming on.
I'd describe chao ga as a heart-warming Vietnamese rice soup with chicken. It's warming, fragrant, creamy, and so satisfying for the tummy and the taste buds.
Chao ga is the Vietnamese term for congee – a popular savory rice porridge from East Asia. But the word congee comes from the Tamil kanji, in India, which is peculiar since this dish is thought to have originated in China. There are as many names for chao ga or congee as there are versions of it. And not only from East Asia but also worldwide.
Vietnamese chao ga is packed with ginger, onion, and chicken broth that are so good for the immune system, and especially beneficial for fighting off respiratory colds. Eating chao ga is also a great way to be proactive and keep the flu away.
Although this is a dish that Vietnamese mothers usually make for their kids when they get sick, it's so good that you'll want to eat it every day this winter. Plus, this simple Vietnamese chicken rice porridge recipe is so easy to make and extremely affordable.
Now, let me show you how to make Vietnamese chicken porridge in a few simple steps!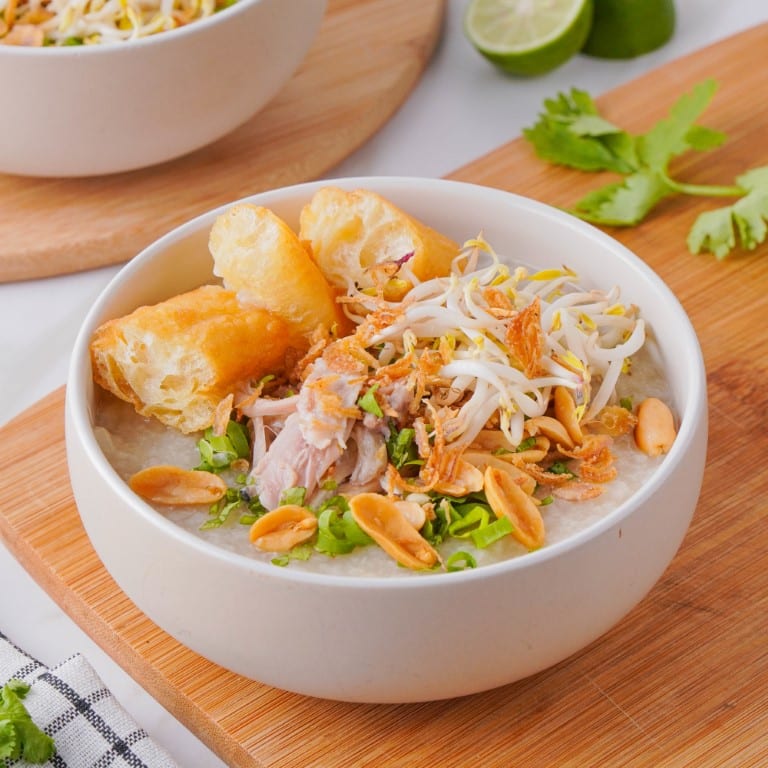 Ingredients
1

stewing chicken

see Notes

1

oz

of ginger

bruised or sliced thinly

Optional: 2 stocks of lemon grass

bottoms, and first layer removed, bruised

1

yellow onion

peeled and cut in half

8

cups

of water

½

cup

short grain rice and ½ cup long grain rice

2

tsp.

kosher salt

1

Tbsp.

fish sauce
Indispensable toppings:
Fresh cilantro

chopped

Green onions

chopped

Ground white pepper

Lime wedges
Optional dditional toppings (Recommended)
Roasted peanuts

Fried shallots or onions

youtiao / dau chao quay / Chinese donut

Bean sprouts
Instructions
Assemble all your ingredients. Ready, set, go!

Rinse the rice thoroughly, add ½ teaspoon of salt and let marinate for 30 minutes.

Wash the chicken with ½ tablespoon kosher salt and a lime wedge, then rinse thoroughly with cold water.

Place the chicken, bruised ginger, bruised lemongrass, onion, water, rinsed rice, salt, fish sauce, and salt in a pressure cooker.

Seal with the lid and cook for 45 minutes on high pressure.

After cooking, let the pressure release naturally for 15-20 minutes. This prevents the rice from clogging up the vent. Then open the lid and release the rest of the pressure.

Remove the chicken, lemongrass, onion, and ginger from the chicken porridge.

Set the chicken aside and tear off as much of the meat as you will use and set aside.

Assemble the Vietnamese congee: pour some rice porridge into bowls, leaving enough room for all the toppings. Top with shredded chicken, cilantro, green onions, a little bit of ground white paper, and optional roasted peanuts, Chinese donuts, bean sprouts, and fried shallots or onions.

Squeeze a little lime juice on top for that tang and enjoy!
Nutrition
Calories:
430
kcal
|
Carbohydrates:
17
g
|
Protein:
32
g
|
Fat:
26
g
|
Saturated Fat:
7
g
|
Polyunsaturated Fat:
6
g
|
Monounsaturated Fat:
11
g
|
Trans Fat:
0.1
g
|
Cholesterol:
115
mg
|
Sodium:
978
mg
|
Potassium:
422
mg
|
Fiber:
1
g
|
Sugar:
1
g
|
Vitamin A:
289
IU
|
Vitamin C:
6
mg
|
Calcium:
47
mg
|
Iron:
2
mg
Notes & Tips
Make sure you rinse the rice until the water runs clear. Then, mix some salt into the rinsed rice and let it marinate for 30 minutes. This helps the rice bloom and gives it more flavor.
For a thicker porridge, add more rice. Instead of 1 cup, you could go up to 2 cups.
A stewing chicken is a chicken that is done laying legs. The meat on a stewing chicken is leaner and not as tender, but it is great for chao ga or any stew or to cook in a pressure cooker. It's also much cheaper.
But you can use a regular 2 to 3-pound chicken or even better – a free-range chicken. Then you can reduce the cooking time to 25-30 minutes.
If you don't have a pressure cooker, don't worry. You can make chao rice porridge on a stovetop. It would, however, take 90 minutes to 2 hours. But if you use a regular chicken, you can cut down the cooking time by 20 minutes.
Bruising the ginger and lemon grass helps release flavor while it cooks. Also, this way you don't have to pick out all the pieces of ginger which can be a hassle.
To bruise your ginger or lemon grass, simply pound them hard with the back of a large meat knife. Alternatively, you can use a meat pounder; either wooden or stainless steel works.
Only cut off as much of the chicken as you're planning to eat. It's best to store any leftover chicken whole in an airtight container in the fridge. You can store both the chicken and the Chao Vietnamese porridge in the fridge for up to 3 days.
Serving Suggestions & Substitutions
Vietnamese chao ga without any of the toppings is a bit bland. I mean, it's still delicious thanks to the fragrant stock, but the toppings are what truly elevates this dish.
I've divided the toppings into indispensable and optional ones to leave some room for imagination. You can get creative with the optional toppings, the ones listed are simply some of the more popular ones.
Traditionally, Vietnamese rice porridge with chicken is served with a squeeze of lime juice, green onions, fresh cilantro, and ground white pepper. But, of course, if you don't like any of these ingredients, you can omit them.
I know a lot of people don't like cilantro, so you could substitute it with fresh chopped parsley. Or omit it entirely. You could also try some fresh chopped mint since mint, lemongrass, and ginger are a pleasant aromatic combo.
Some other optional topping ideas could be dried shrimp, sambal chili paste, orange peel, celery, or even goji berries. And, although ramen is Chinese, I find that this list of topping ideas for ramen can work wonders with Vietnamese chicken congee as well.
Also, instead of using the same chicken cooked to make the chao ga, you could set it aside and top it off with any other meat or tofu (like this homemade miso glazed tofu). The chicken itself can be used to make Mexican shredded chicken for tacos or a chicken salad.
A traditional Vietnamese chicken rice porridge recipe doesn't usually contain lemongrass, but the addition makes the dish all the more fragrant. You can choose to omit it if you'd like.
If you don't have fish sauce, you can substitute soy sauce, oyster sauce, tamari, coconut aminos, seaweed, or Worcestershire sauce. Just make sure the sauce is gluten-free if you wish to keep this dish celiac-friendly.
Why Is Congee So Comforting?
Congee, called chao in Vietnamese, is used to promote good health and strong digestion. In East Asia, plain congee is used to nurse someone back to health. It's light on the stomach, it boosts digestion, nourishes the immune system, and can even relieve inflammation.
Because of how affordable and low-effort chao Vietnamese porridge is to make, it's a go-to remedy for belly aches, colds, and any general discomfort. There's just something so satisfying and comforting about a creamy, savory rice porridge.
---
Recent Recipes