There is a takeout poke shop in my town that is no frills and pretty popular. I used to grab a weeknight dinner from there every once in a while. But during the worst of COVID, this became one of the go-to contactless delivery options and the prices kept creeping up. I could get a big salmon or tuna poke bowl with brown rice and 5 toppings/add-ons for $11.00. The same bowl is now $17.00! I started making my own poke bowls at home for less.
The trick is finding good sashimi-grade fish. Fortunately, there is a Whole Foods nearby that does carry fresh, wild-caught, not previously frozen fish. It is hit or miss as to what is available, but ahi tuna and Cohoe salmon are seasonal options. They also have frozen ahi tuna and king salmon that are labeled as sushi grade.
Ahi is a specific species of tuna that is mostly sourced from warmer and tropical waters. It is actually yellowfin tuna, though called ahi in Hawaii. This is a large dorsal finned fish that sport fishermen love going after. The flesh of ahi tuna is soft, a little fatty, and clean tasting with no fishy taste. The meat of tuna is reddish-pink in color and is often substituted for red meat in a variety of dishes for those who don't eat red meat.
A poke bowl is basically a Hawaiian invention that is a meal in a bowl that has either rice or leafy greens as the base. The leafy greens version is generally keto and paleo compliant. On top of the base is cubed protein such as fresh fish, aromatics, raw vegetables and fruits, crispy bits, and some sort of sauce. It is the perfect combination of carbs, protein, and veggies. I think this is a pretty healthy dish.
My preference is a brown rice-based bowl with ahi, scallions, avocadoes, cucumbers, hijiki, pickled ginger, and sesame seeds. I dress this lightly with tamari and honey or coconut aminos. The only ingredient that is hard to find is hijiki, a Japanese seaweed. I will address substitutions and variations after the basic recipe.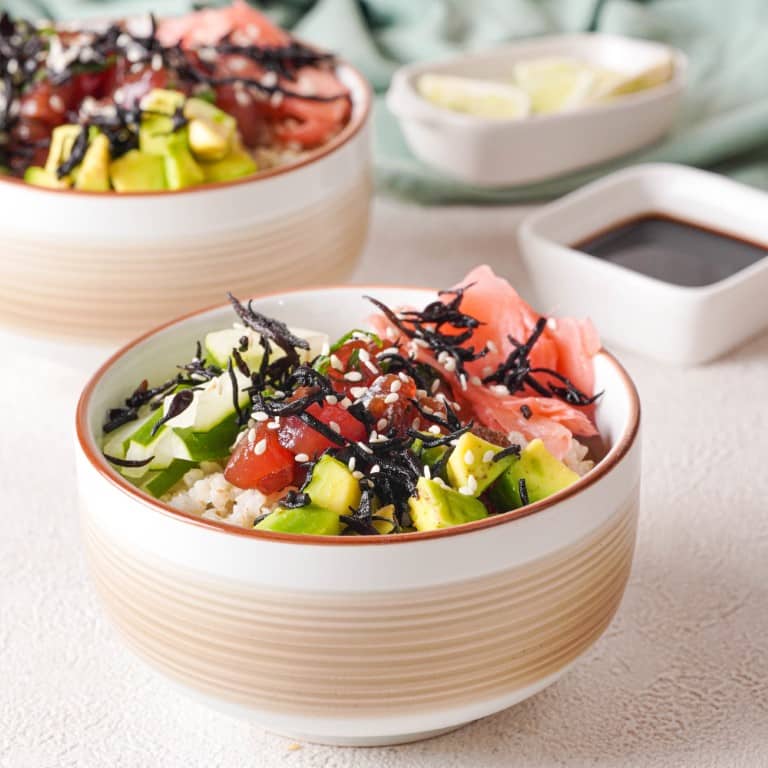 Ingredients
Rice
1 ½

cups

short grain brown rice

rinsed several times

2

tsp

olive oil or ghee

½

tsp

sea salt

2 ¼

cups

water
Poke Bowl
12

ounces

sashimi-grade ahi tuna

cold

2

Tbsp

coconut aminos

¾

tsp

toasted sesame oil

½

cup

sliced scallions

1

small avocado

pitted, peeled, and diced

3/4

cup

cucumber matchstick slices

16

slices

of prepared sushi pickled ginger

½

cup

hydrated and drained hijiki seaweed

⅓ cup dried

2

tsp

sesame seeds

Coconut aminos and lime wedges for serving
Instructions
ALl ingredients ready? Let's begin!
Rice
In a medium saucepot over medium-high heat, warm the oil or ghee. Add the rinsed rice and toast it until fragrant, about 30 to 60 seconds, stirring. Add the salt and water. As soon as it comes to a boil, turn the heat to low and cover the pot. Cook for 30 to 40 minutes while you prepare the rest of the ingredients. Once cooked, remove from the heat and allow the rice to rest covered for 5 minutes.
Poke Bowl
Place the hijiki in a bowl and cover it with boiling water. After it has swelled and becomes soft, drain it in a sieve and set it aside.

Cut the tuna into cubes that are about 1/2-inch. Place the tuna into a bowl. Add the coconut aminos and sesame oil and toss gently to coat. Add the scallions to the tuna and toss gently again to combine. Set this aside.

Cut the cucumber into matchsticks. Dice the avocado into 1/2-inch cubes.

Fluff the rice with a fork. Place a scoop of rice into each of 4 serving bowls. Spoon the ahi over the center of the rice. Arrange the cucumbers, avocados, and ginger slices in 3 segments around the tuna. Layer some hijiki over the top of everything. Sprinkle sesame seeds over the entire dish.

Serve the poke bowls with extra coconut aminos on the side and a lime wedge in each bowl.
Nutrition
Calories:
522
kcal
|
Carbohydrates:
65
g
|
Protein:
27
g
|
Fat:
17
g
|
Saturated Fat:
3
g
|
Polyunsaturated Fat:
4
g
|
Monounsaturated Fat:
9
g
|
Cholesterol:
32
mg
|
Sodium:
510
mg
|
Potassium:
751
mg
|
Fiber:
7
g
|
Sugar:
1
g
|
Vitamin A:
2105
IU
|
Vitamin C:
9
mg
|
Calcium:
65
mg
|
Iron:
3
mg
Notes & Tips
It is important that the tuna is very fresh. The flesh should be a deep pink without any grayish discoloration on the surface. It shouldn't smell fishy at all. Don't be shy about asking your fishmonger if it is guaranteed sashimi grade.
Make sure you rinse the rice well to remove any dust and excess starch prior to cooking it. I highly recommend that you buy organic rice to avoid pesticides and arsenic.
There really isn't any reason to overthink a poke bowl. You can make this very simple by using leftovers and any fresh veggies you have on hand.
Substitutions & Variations
Short Grain Brown Rice: I love short grain brown rice for poke bowls because it is chewy in texture and nutty in flavor. It is a whole grain that offers lots of fiber and B vitamins. If you prefer white rice, I recommend Japonica (sushi rice) which is a little sticky. If you are on a paleo diet, substitute cauliflower rice or mixed greens.
Ahi Tuna: Fresh tuna isn't always available. You can definitely substitute wild-caught king or Cohoe salmon. Shrimp or squid also work in this dish, but you would have to lightly cook them. I often make this dish with leftover roasted or grilled chicken. For a vegetarian meal, use grilled tofu, edamame, or just more vegetables.
Coconut Aminos: Coconut aminos is a gluten-free soy sauce substitute made from coconuts that is salty and slightly sweet. You can use a combination of tamari and mirin or tamari and honey. A good alternative to tamari is liquid aminos.
Cucumber: Instead of cucumber matchsticks, try carrots or radishes.
Pickled Ginger: Shushi-style pickled ginger is a little sweet and spicy. I often swap this out for pickled daikon radish or beet kvass. Any pickle will work.
Hijiki: Hijiki is probably my favorite sea vegetable. But it is becoming harder to find and can be expensive. I will use toasted nori strips if I don't have hijiki. You can also pick up the snack packs of nori, cut them into strips, and toss them on top of the poke bowl. If you aren't a big fan of sea vegetables, substitute with alfalfa or broccoli sprouts. You can also add finely chopped toasted nuts for a little crunch.
Sesame Seeds: My local poke place offers furikake rice seasoning or togarashi shichimi as seasonings. I make my own gomashio, which is a toasted sesame seed and coarse salt seasoning that works on poke bowls.
---
Recent Recipes