Sopa de pata can be roughly translated to "hoof soup." A fitting name, because that is exactly what this is. Sopa de Pata is a dish that hails from Salvador and utilizes ingredients that are usually discarded in Western cuisine: beef tripe and cow hooves. It also uses several ingredients that might be more difficult to find in North America such as chayotes and cassava. Don't worry though, there are some decent substitutes that you can use.
Before you get started, please note that this is a time-consuming recipe. Most of the time is spent cooking on the stovetop, but you will still need to keep an eye on it and plan ahead. Luckily, this recipe reheats really well if you pop it back on the stovetop, so you can make it in advance if you want. If you want a healthy soup with less of a time commitment or you are not ready to tackle cow feet and tripe, why not go for this chicken souse soup instead? Come back to this recipe sometime though–you won't regret it.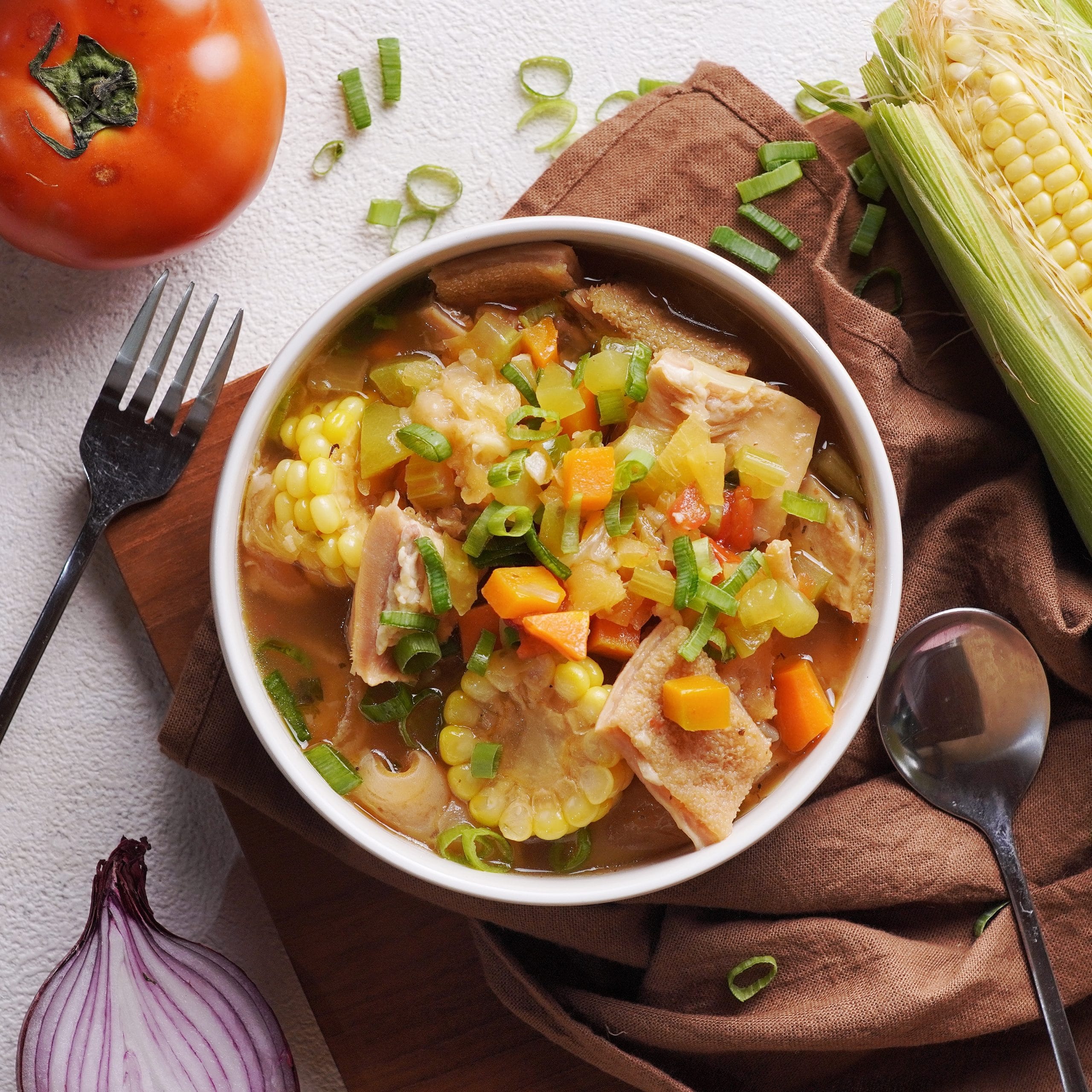 Ingredients
2

cow's feet

1

cup

white vinegar

3

lb

beef tripe

1

tsp

salt

1

head garlic

2

tbsp

achiote

1¼

cup

beef broth

4

chayotes

2

cassavas

2 to

matoes

3

celery stalks

4

carrots

1

red onion

1

green hot pepper

4

ears corn

1

small cabbage

1

tsp

oregano

4

tbsp

Mexican cilantro

½

tsp

black pepper

3

green onions
Instructions
All ingredients ready? Let's begin!

Rinse the cow feet in cold water then put them in a large bowl and cover them with cold water and ½ cup vinegar. Leave to soak for 20 minutes.

Wash the tripe in cold water then put it in another large bowl, covered with cold water and the other ½ cup of vinegar. Leave to soak for 20 minutes.

After 20 minutes, bring a large pot of water to a boil.

Add the cow feet and keep boiling for 5 minutes.

Use heat-proof tongs to remove the cow feet and set aside.

Drain the water and refill the large pot with water. Bring to a boil.

Remove the tripe from the water it was soaking in and put it in the boiling water.

Boil for 5 minutes, then drain the water.

Repeat the boiling process two more times for the tripe. After the third time, drain and move the tripe to another bowl. Set aside.

Peel and finely chop or press the garlic.

Put the cow feet in the large pot and cover with water. Add a tsp of salt and the garlic.

Put a lid on the pot and bring to a boil then reduce to a simmer. Crack the lid so the water doesn't boil over. Leave to simmer for an hour.

Roughly chop the chayote. Peel and roughly chop the cassava.

Roughly chop the tomatoes, celery, and carrots. Peel and dice the onion. Roughly chop the cabbage. Finely chop the cilantro.

Cut the hot pepper in half and remove the seeds before finely dicing.

Shuck and remove all silks from the corn then cut into rough rounds.

After an hour, add the tripe and cassava to the pot. Add more water until everything is covered Bring back up to a boil, then reduce the heat again to simmer. Cook for two hours.

Next, add the achiote, oregano, cilantro, and beef broth. Stir to mix.

Add the chayotes, celery, carrots, and black pepper. Cover and simmer for 15 minutes.

Add the cabbage, hot pepper, onions, tomatoes, and corn. Cover and simmer for 15 minutes.

Taste and adjust spices if needed.

Use heat-proof tongs to remove the cow feet and place on a cutting board until they are cool enough to handle. Keep the pot on low heat.

Once the cow feet are safe to touch, remove any hard bone and cut into pieces.

Put the pieces back into the pot.

Simmer for another 15 minutes.

Remove from heat and ladle into bowls for serving, making sure to get a little bit of everything in each bowl.

Use kitchen scissors to cut the green onions on top of each bowl as a garnish.

Serve and enjoy!
Video
Nutrition
Calories:
993
kcal
|
Carbohydrates:
82
g
|
Protein:
64
g
|
Fat:
46
g
|
Saturated Fat:
19
g
|
Polyunsaturated Fat:
2
g
|
Monounsaturated Fat:
20
g
|
Trans Fat:
1
g
|
Cholesterol:
88
mg
|
Sodium:
3532
mg
|
Potassium:
1952
mg
|
Fiber:
12
g
|
Sugar:
28
g
|
Vitamin A:
5692
IU
|
Vitamin C:
91
mg
|
Calcium:
145
mg
|
Iron:
11
mg
Notes & Tips
This stew can be stored covered in the fridge for five days. You can also save it in the freezer. Divide it into portion-sized containers so you can dethaw it quickly for fast lunches or lazy dinners.
The best way to eat sopa de pata is with fresh bread to soak up the juices. This lard bread is yummy and warm and the flavors go perfectly with sopa de pata. It includes prosciutto too! You'd be surprised how well the bread and stew go together.
Substitutions
As I mentioned before, there are a few ingredients that might be unfamiliar to you. Check for them at your local farmer's market, whole food store, or Latin-American food shop. If you still can't find them, that's okay! Here are a few other options:
Instead of using vinegar when you are soaking the beef tripe and cow feet, you can use lemon juice. I actually think the best way to do it is to use salt water, but that requires an extra step. The water has to first be hot enough to dissolve the salt then cooled again for soaking.
Cassava can be substituted for potatoes. Normal potatoes will work, but sweet potatoes will be just a little bit closer to cassava.
Instead of chayotes, try acorn squash or butternut squash. I'll be totally honest with you, I don't think I have ever found chayotes in one of the shops near me, but I always seem to have a butternut squash around.
Achiote can be ordered online and it is a nice spice to have in your pantry. Otherwise, you can use a mix of cumin and coriander. Taste the broth while you cook and add more of each according to your preferences.
---
Recent Recipes