Boom Boom Shrimp is a dish with questionable origins. But that doesn't really matter because it is crazy delicious.
The recipe, or variations of the same, have definite Asian influences. Yet, there is a southern US claim to having invented the dish. Basically, Boom Boom Shrimp isn't an authentically Asian dish. It is an Americanized version of battered and fried shrimp that might have roots in the south where shrimp is plentiful and the main ingredient in hundreds of dishes.
Okay, so what exactly is Boom Boom Shrimp? You might get different answers to this question. Basically, this is a tempura-style battered and fried shrimp that is served with boom boom sauce. Boom boom sauce is a sweet and spicy mayonnaise-based condiment.
I like to start this recipe by making the sauce. That can be prepared a day in advance and kept in a sealed jar in the refrigerator. In my version, you will need mayonnaise, chili sauce, tahini paste, sriracha, salt, and pepper.
When choosing the shrimp for this recipe, my preference is jumbo shrimp with the tails on so you can eat them with your hands. I think it is also fun to batter and fry some vegetables to serve with the shrimp, such as red bell pepper slices, broccoli florets, yam wedges, and button mushrooms. You can also serve Boom Boom Shrimp with simple din tai fung green beans that balance the fried main dish with a bit of freshness and vibrant color.
The batter is fairly straightforward with all-purpose flour, corn starch, baking powder, and club soda. Club soda is a pretty common ingredient in tempura batter. After the shrimp is battered, it is deep or shallow fried in a neutral-tasting oil. I don't have a deep fryer, so I use a fairly deep cast-iron skillet. If you have a countertop deep fryer, that is perfect for this recipe.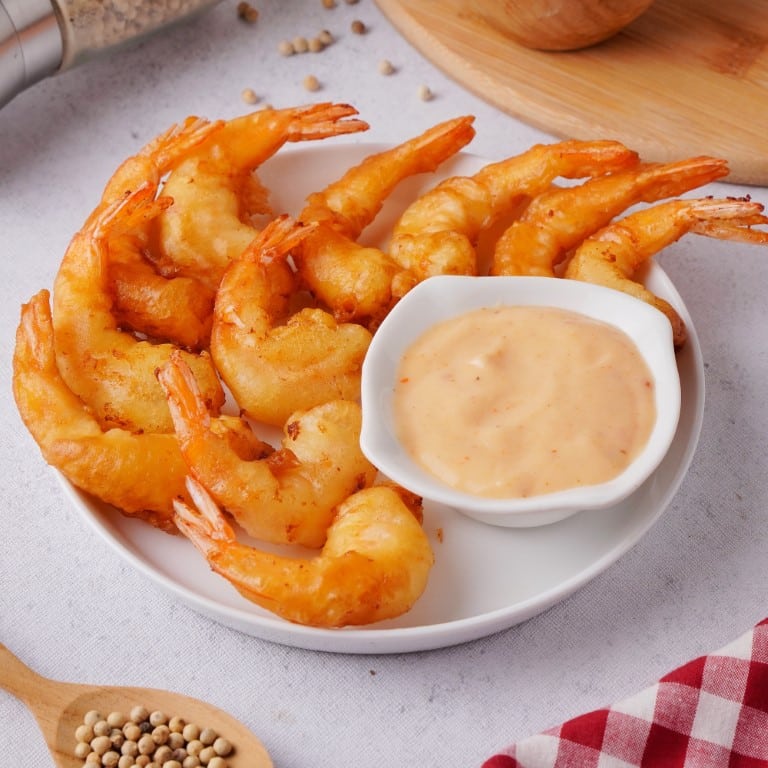 Ingredients
⅓

cup

good mayonnaise

¼

cup

sweet chili sauce

1

tsp

sriracha

1

tsp

sesame tahini paste

¼

tsp

sea salt

¼

tsp

freshly ground pepper

1

pound

fresh jumbo shrimp

peeled, deveined, tails intact

1 ½

cups

all-purpose flour

¾

cup

cornstarch

1 ½

Tbsp

baking powder

½

tsp

sea salt

12

ounces

club soda

one can

Vegetable oil for frying

canola, sunflower, grapeseed, avocado, or peanut
Instructions
All ingredients ready? Let's begin!

In a medium mixing bowl, whisk together the mayonnaise, chili sauce, sriracha, tahini, salt, and pepper until well combined.

Transfer the sauce to a jar with a lid and store in the refrigerator until ready to serve.

In a deep pot, cast-iron skillet, or deep fryer, over medium-high heat warm about 2 inches deep of vegetable or seed oil. You want it to be around 340°F.

While the oil is heating up, make the batter. In a large mixing bowl, whisk together the flour, cornstarch, baking powder, and salt. Whisk in the club soda until you have a smooth batter.

Holding the shrimp by the tails, dip them in the batter – only enough to fit in a single layer in the pot with some space between each.

Fry the shrimp for 3 to 4 minutes, turning over at 2 minutes, until the batter is golden brown and crisp. You will have to do this in batches so as not to crowd the pot.

Remove the cooked shrimp to a paper towel-lined platter to drain.

Serve the shrimp while warm and crunchy with boom boom sauce on the side.
Nutrition
Calories:
521
kcal
|
Carbohydrates:
68
g
|
Protein:
21
g
|
Fat:
17
g
|
Saturated Fat:
3
g
|
Polyunsaturated Fat:
9
g
|
Monounsaturated Fat:
4
g
|
Trans Fat:
0.1
g
|
Cholesterol:
151
mg
|
Sodium:
1881
mg
|
Potassium:
194
mg
|
Fiber:
2
g
|
Sugar:
8
g
|
Vitamin A:
219
IU
|
Vitamin C:
1
mg
|
Calcium:
342
mg
|
Iron:
3
mg
Notes & Tips
When frying battered shrimp, the oil needs to be fairly hot. You also can't crowd the pan or the shrimp will clump together and the oil will cool down too quickly, resulting in a soggy coating. Allow the oil to come back up to temperature between each batch.
Do serve and eat this dish right after cooking the shrimp, otherwise, the batter will become soggy. The crisp of the fried batter is what you are looking for.
Substitutions
Boom boom sauce can be personalized to your liking. Add more sriracha for a kick, or leave it out altogether for no heat. If you don't have tahini paste, peanut butter will work.
I often make my tempura-style batter with white rice flour. It is very light and puffs up nicely when it hits the oil. It is also gluten-free. There are many variations on tempura batter that include all-purpose flour substitutes.
I generally keep a variety of starches in my pantry. I have cornstarch, arrowroot, tapioca starch, and kudzu. You can replace cornstarch with arrowroot or tapioca. Kudzu is a little too clunky.
Who has club soda on hand? Go ahead and substitute with unflavored seltzer or even sparkling water if you don't have club soda. In a pinch, water will work. Though, the bubbles help with the airiness of the batter. You can also use a bubbly beer for the batter.
The shrimp doesn't have to be jumbo. If you are making this for kids, consider using large or medium shrimp and cook for a few seconds less. You don't have to make this with shrimp. You can use crawfish tails, lobster meat, mussels, oysters, or all vegetables. You can also make this with frozen shrimp that has been thawed overnight in the refrigerator and patted very dry with paper towels.
---
Recent Recipes