All The Arby's Vegan Menu Options
When you're on the road or need a quick bite to eat, a fast-food restaurant is oftentimes the best choice. But although Arby's restaurants can be found throughout the US, many vegans have to ask: is its menu really vegan friendly? After all, Arby's is most well-known for its roast beef sandwich!
Today, let's break down all the vegan options you can find at Arby's, plus go over the vegan-friendly snacks you can munch on while driving. Here is a quick overview then we'll go into more detail below on the vegan options:
| Menu Item | Type | Notes |
| --- | --- | --- |
| Apple Turnover | Dessert | Contains Palm Oil |
| Apple Slices | Kid's Menu | – |
| Balsamic Vinaigrette | Dressing | – |
| Cherry Turnover | Dessert | Contains Palm Oil |
| Chopped Side Salad | Salad | Order without cheese |
| Crinkle, Curly & Normal Fries | Sides | Shares fryer with meat products |
| French Toast Sticks | Breakfast | Shares fryer with meat products |
| Homestyle Fries | Sides | Not all locations. Shares fryer with meat products |
| Light Italian Dressing | Dressing | – |
| Potato Cakes | Sides | Shares fryer with meat products |
| Arby's Sauce | Sauce | – |
| Bronco Berry Sauce | Sauce | – |
| Ketchup | Sauce | – |
| Marinara | Sauce | – |
| Spicy Three Pepper Sauce | Sauce | – |
| Tree Top Applesauce | Kid's Menu | – |
Note: Cross-contamination can occur. Menu items as of 1/10/2023 as menu items may have changed.
Does Arby's Offer Vegan Sandwiches?
We've got some bad news right off the bat: Arby's doesn't offer any distinctly vegan sandwiches or other main entrée items. Even worse, Arby's doesn't have enough vegetables available to order for you to construct your own vegetable sandwich.
That means vegans eating at Arby's are stuck with the limited side options, desserts, and other snacking foods that technically don't break their diets. While you can theoretically buy some bread from Arby's and combine it with a side dish to bootstrap your own vegan entrée menu item, we don't recommend it.
You can easily go to one of the other vegan-friendly restaurants with more menu items tailored to your diet. You can find out which restaurants have vegan-friendly menus on Cook Gem!
Vegan Breads and Sides at Arby's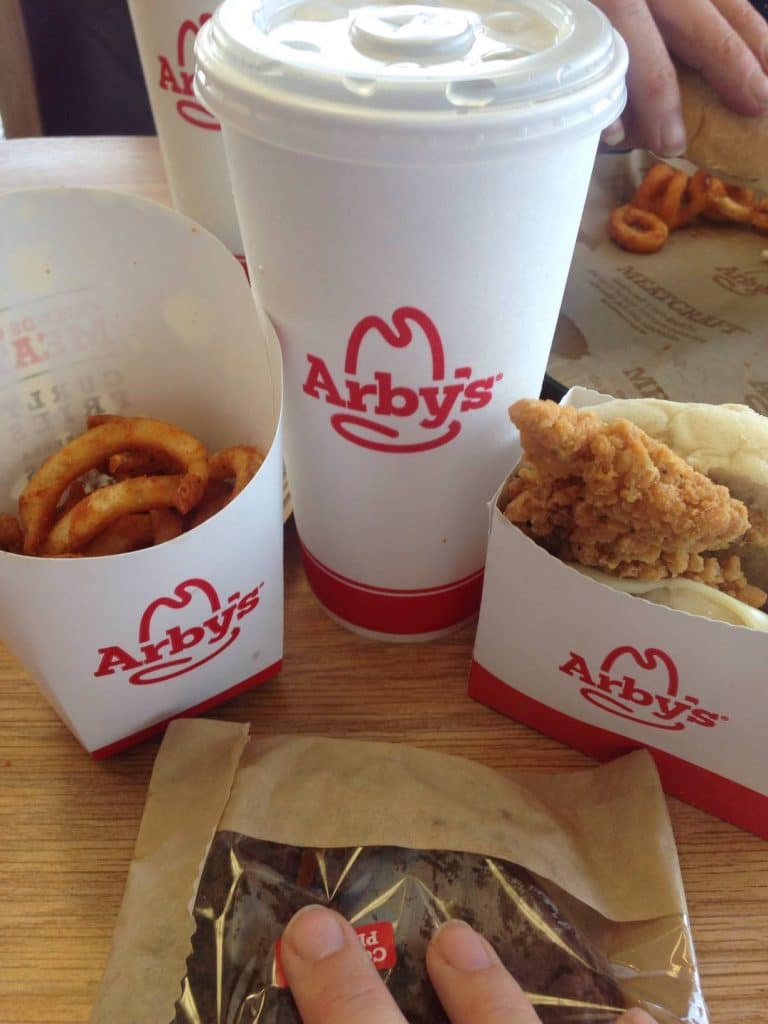 So, if Arby's doesn't have any good vegan entrées, what does it have? Turns out, many of the tastiest side dishes at Arby's are perfectly fine for vegan diners. These sides include:
The potato cakes
Sauerkraut
The applesauce and apple slices, both of which are on the kid's menu
The side salad, though you have to order it without any cheese for it to be 100% vegan
The seasoned curly fries. This is the big stickler for many people, and we are glad that vegans can still enjoy these curly fries without, rising their diets.
The homestyle or traditional French fries
The French toast sticks. This could potentially be a good choice if you want a light breakfast
What about the crispy onion rings? Although you can find some people online who say that these crispy onion rings are vegan, they definitely aren't. When you contact Arby's, they'll tell you that they are not vegan at all since they contain milk and eggs and there's no way to make them without these ingredients. Stay away from these onion rings if you want to stick to your diet!
Beyond sides, Arby's also offers several vegan bread types. We're not sure what you would use these for, since Arby's doesn't have enough vegetables to make a vegan-friendly sandwich, but just in case you want to order them, here they are:
Mini bun
Marble rye bread
Sourdough breakfast bread
Harvest wheat bun
Other Vegan Options at Arby's
Then there are the vegan-friendly dressings, sauces, and desserts available at Arby's should you have a hankering for something sweet or want to combine a dressing with your salad or French toast sticks. The vegan-friendly dressings and sauces include:
Marinara sauce
Arby's sauce
Smoky Q sauce
Tree Top Applesauce
Red ranch sauce
Bronco berry sauce
Light Italian dressing
Balsamic vinaigrette dressing
What if you want a dessert? There's actually a pair of vegan-friendly items available at most Arby's establishments: the apple and cherry turnovers. These don't include any dairy or other animal products at all, but they do include palm oil.
Why does this matter? Many vegans don't consider any foods that include palm oil to be vegan friendly at all. That's because palm oil, while not an animal-based product, is usually harvested through environmentally unfriendly practices.
If being vegan means also taking care of the environment to you, neither of these turnovers will be vegan friendly. But if you just want to avoid any animal products in your food, both of the turnovers are tasty pastries sure to satisfy your sweet tooth for a little while.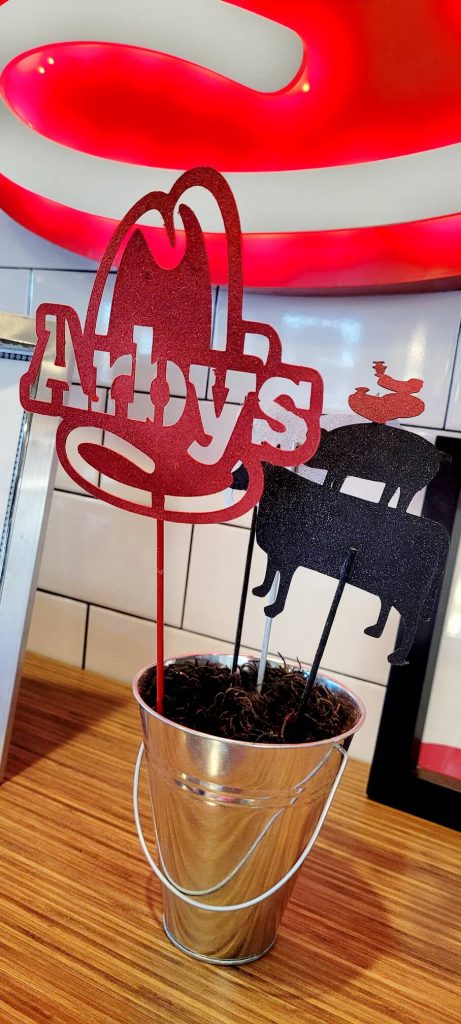 Arby's Vegan Food FAQs
Are the curly fries at Arby's vegan?
Yes! The curly fries themselves are just made of potatoes, which are vegan by default. The seasoning used to make the curly fries is also vegan friendly and doesn't use any animal products.

That said, you have to keep cross-contamination in mind. The curly fries are made with a shared fryer and may come into contact with cooking surfaces or tools that are used to prepare other, non-vegan products.

Because of this, if cross-contamination makes a food item no longer vegan friendly in your eyes, the curly fries at Arby's are not vegan. It all boils down to your preferences.
Can you eat any whole food plant-based foods at Arby's?
There are two whole Food Plant-based options at Arby's: the side salad without any cheese and without any dressings and the Tree Top Applesauce. That's it. As you can see, Arby's isn't very accommodating to diets other than the traditional, meat-based diets that most people follow throughout the United States.
Is Arby's a Good Eatery for Vegans?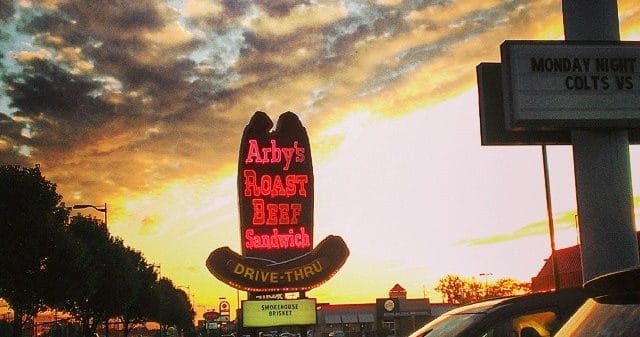 Overall, Arby's is not a very good fast-food restaurant if you're a vegan and want to eat something filling and nutritious while sticking to your diet. In fact, your only real options, should you stop by an Arby's for a bite, are one of the sides, one of the turnovers, and maybe a salad with some dressing. You're honestly better off making your own delicious vegan snack, like Simple Crispy Chickpea Tenders.
It's 2021, and Arby's has still not made any major strides when it comes to diet inclusivity. Hopefully, given the fact that other restaurants are looking to offer more vegan-friendly options to their diners, Arby's will change its tune sometime over the next few years.
For now, try to find a different restaurant with more vegan-friendly menu items if you need lunch or dinner on the road.
---
Recent Recipes