Creamy Chicken Thigh Pasta
The weeknight dinner everyone will be talking about for months! This creamy chicken thigh pasta combines the best of both worlds. A creamy aromatic sauce with tender chicken pieces paired with one of the all-time favorite comfort foods – pasta. Not to mention, it's easy and quick to make.
How To Cook Chicken Thighs
The best way to cook chicken thighs in a pan or skillet is to make sure there's enough space between each piece of chicken. Don't dump the whole bowl of chicken in the pan. This will result in colorless, dry, sad chicken. We want tender golden chicken pieces with just the right amount of crispiness on each side. So, give your chicken some space. You'll be rewarded with the most flavorful, mouthwatering chicken thighs you've ever bitten into.
Another tip for cooking chicken is to make sure it's well done. You don't want to poison your guests with salmonella. To check, cut the biggest chicken fillet in the center and observe the color. There shouldn't be any pink uncooked flesh. And yes, use boneless chicken thighs because that's going to reduce the cooking time dramatically, as well as make your life easier. You can also cook the chicken thighs on the barbecue for an added smoky flavor.
The Creamy Garlicky Mushroom Sauce
I was craving something creamy and savory and remembered one of my mom's classics – a creamy garlicky mushroom sauce she used to serve with potatoes. I thought, since I love pasta, and I know this sauce pairs amazingly with chicken, why not combine them all together into one dish. My taste buds were not disappointed. I had to make this recipe for my friends and family. And let me tell you, the compliments just kept rolling in.
If you have any questions about the process, take a look at the Notes & Tips section, as well as Substitutions and Serving Suggestions. Now, let's get cooking!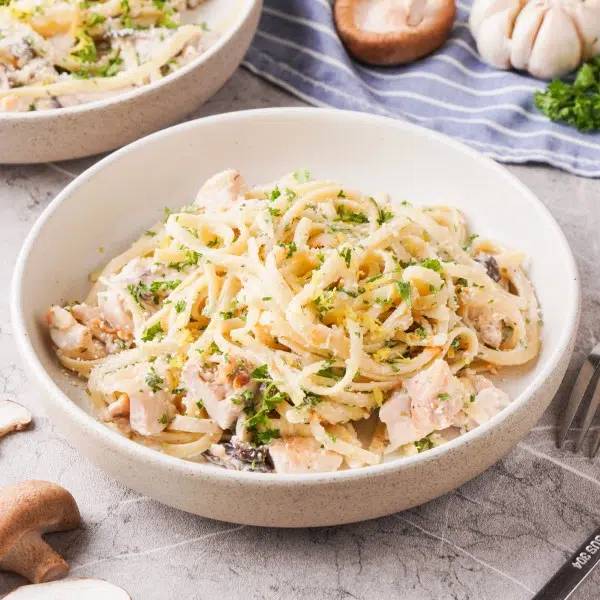 Ingredients
The Chicken:
1 ½

pounds

boneless skinless chicken thighs

about 6-8 fillets

2

Tbsp.

olive oil

1

carrot grated

1

tsp.

garlic powder

1

tsp.

onion powder

½

tsp.

dried rosemary

½

tsp.

dried thyme

½

tsp.

salt

½

tsp.

black pepper
The Sauce:
8

oz.

sliced shiitake mushrooms

4

cloves

garlic

minced

1

bunch of fresh parsley

chopped

½

tsp.

each of dried rosemary

tsp.

tsp.

dried thyme

1 ¼

cups

coconut cream

2

Tbsp.

cold water

1

Tbsp.

cornstarch to make cornstarch slurry

½

cup

freshly grated parmesan cheese

1

Tbsp.

olive oil
The Pasta:
12

oz

linguine pasta

preferably fresh

Salted water for cooking
Toppings:
More freshly grated parmesan cheese

Grated lemon zest of 1 lemon

More fresh parsley

chopped
Instructions
All ingredients ready? Let's begin!
The Chicken:
Pat away excess liquid from chicken thighs using paper towels. Trim off excess fat.

Put chicken in a large bowl.

Combine the herbs, garlic powder, onion powder, salt, and pepper. Pour over chicken, add grated carrot, and massage it all in well.

Heat half of the oil in a large pan or skillet over medium-high heat.

Cook chicken thighs in batches until browned on each side. Make sure they're no longer pink in the center.

Use remaining oil for the next batch if needed.

Cut chicken thighs into bite-sized cubes.

Transfer to a plate and cover to keep warm.
The Sauce and Pasta:
In the same pan or skillet, heat oil and add the mushrooms. Season with salt and pepper, then cook until soft. About 3 minutes.

Here is where you add the white wine if using it. Cook until half the wine has evaporated.

Add garlic, rosemary, and thyme, and heat until fragrant. About 1 minute.

In a separate pot, boil salted water for the pasta. Cook according to package instructions. Should be between 8-10 min. If you're using fresh pasta, cook it last as it only takes 2-3 min.

Pour in coconut cream, bring to a simmer and then reduce heat.

Add cornstarch slurry and stir while continuing to cook until sauce has thickened slightly.

Stir in parmesan cheese and simmer until melted. About 2 min.

Add chicken and coat with the sauce.

Then add pasta and combine. Season with salt and pepper to taste.

Garnish with fresh parsley, lemon zest, and more grated parmesan. Enjoy!
Nutrition
Calories:
653
kcal
|
Carbohydrates:
55
g
|
Protein:
36
g
|
Fat:
33
g
|
Saturated Fat:
19
g
|
Polyunsaturated Fat:
2
g
|
Monounsaturated Fat:
9
g
|
Trans Fat:
0.02
g
|
Cholesterol:
114
mg
|
Sodium:
421
mg
|
Potassium:
820
mg
|
Fiber:
5
g
|
Sugar:
3
g
|
Vitamin A:
2651
IU
|
Vitamin C:
18
mg
|
Calcium:
174
mg
|
Iron:
5
mg
Notes & Tips
The reason I've added grated carrot to the chicken in this recipe is that carrot helps soften meat. Even though the chicken thighs will most likely turn out tender and juicy without them, the added carrot leaves no room for failure. Plus, it adds a little vitamin A to the dish – yay, the more nutrients the better!
Also, it's best to cut the chicken into bite-sized pieces after cooking. This way the chicken will retain its moisture and melt in your mouth. Use a fork and knife to cut the thighs, then transfer to a plate and cover to keep warm.
The white wine in this recipe is optional, but it will take the sauce to the next level. It helps bring out the flavor in the mushrooms and adds a little kick. I love using sweet wine, but any white wine will do. 
Substitutions & Serving Suggestions
I love the sweet fragrance the coconut milk adds to the creamy sauce. But you're welcome to use heavy cream, thickened cream, or half and half for a more traditional flavor palette. I'm just nuts for coconut so I try to put it in any recipe I can.
To make this recipe dairy-free, omit the parmesan cheese or substitute it with vegan parmesan. But if you're using dairy cream, omit the cornstarch slurry and increase the amount of cream to 1 ½ cups. If using coconut cream, check out our article here for over 20 ways to thicken a sauce.
Make this recipe vegan by substituting vegan chicken pieces! It'll still be a flavor bomb and your guests might not even notice. 
I use dried thyme and rosemary, but you can substitute fresh herbs (just double the amount), or any of your favorite herbs. Some other options could be marjoram, oregano, basil, or sage. I always suggest adapting the recipe to your flavor palette.
Although this creamy pasta recipe is delicious with store-bought pasta, you can improve it by using homemade. Keep in mind that fresh pasta cooks much faster (2-3 min). I like linguine, but any pasta shape will work. Check out our list of pasta shapes you can make without a pasta machine.
I used shiitake mushrooms, but any brown mushroom is good. Try champignons, Portobello mushrooms, or Swiss brown mushrooms. I like bigger mushrooms cut into larger pieces because mushrooms reduce when cooking. I like it when they're bite-sized pieces.
This dish is best served immediately, topped with fresh parsley, lemon zest, and a little parmesan. But you can also store it in the fridge for up to 5 days and have leftovers. In this case, I like to cook the pasta al dente so that it doesn't turn into mush when reheated.
---
Recent Recipes