As delicious as a big slab of chocolate lavender cake sounds, often overly sweet foods don't satisfy my cravings. Don't get me wrong, I am a massive fan of sweet treats, and you can always guarantee that my kitchen is stocked with some kind of cookie or other for that perfect midnight snack. However, in that awkward time between dinner and bed time, I find myself wanting something a little different, a little more savoury.
Brie is one of my favourite cheeses to use in cooking, but it was not until I was at my family's Christmas party that I realised you could bake brie and serve it in a similar way as camembert. I hopped on that bandwagon, buying myself a big wheel of brie the very next day and baking it that evening. Let me tell you, it was a luxury.
Then I started experimenting with different toppings that I could use to really elevate my baked brie. I still wanted a sweet treat – I can't help that I have an insatiable sweet tooth! – but brie is not necessarily a sweet cheese. On impulse, I added a large serving of my leftover strawberry jam to my baked brie and though I used far too much jam for the amount of brie I had, I could tell that I was onto a winner. Years later, I can say with confidence that my baked brie with jam recipe is the perfect balance of sweet and savoury with a textural balance to match.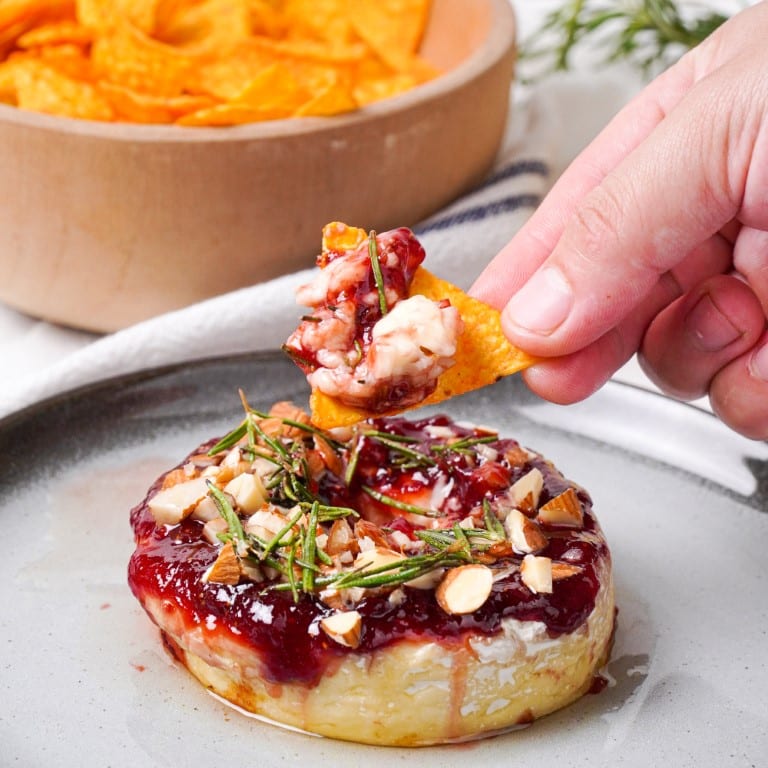 Ingredients
1

tablespoon

butter

1

wheel of brie

⅓

cup

of jam

1

tablespoon

honey

1

teaspoon

lemon juice

2

teaspoons

fresh rosemary

½

teaspoon

sea salt

2

tablespoons

whole almonds
Instructions
All ingredients ready? Let's begin!

Preheat your oven to 400 F. Use the tablespoon of butter to grease a small cooking dish.

Unpackage your brie circle and place the cheese directly into the baking dish.

Put the baking dish on a centre shelf in your oven. Set a timer for 10 minutes then leave to bake.

In the meantime, you can prepare some of your toppings to accompany the baked brie starting with the almonds. Place the whole almonds on a stable chopping board and use a large, sharp knife to roughly chop.

Measure out your honey into a small bowl and add the lemon juice and rosemary to the honey. Use a spoon to give the ingredients a good mix until the rosemary is covered in honey and the lemon juice has fully combined with the honey.

After 10 minutes, remove the brie from the oven and carefully remove the rind from the top of the brie. Then spoon your jam of choice on top of the brie.

Place the baked brie back in the oven for a further 5 minutes or until the cheese starts to bubble.

Remove the brie once more ready to serve. You can transfer the brie to a bigger serving plate at this point or leave the brie in the baking dish.

Now is time to add your toppings to the brie. Start with your chopped almonds, using your hands to sprinkle the almond chunks evenly over the top of the baked brie and jam. Then use a spoon to drizzle the honey, lemon and rosemary mixture all over the top of the brie. Finally, you can finish off your baked brie with some sea salt. Again, sprinkle the chunks of salt evenly over the baked brie just before serving.

Enjoy your Baked Brie With Jam!
Nutrition
Calories:
268
kcal
|
Carbohydrates:
25
g
|
Protein:
10
g
|
Fat:
14
g
|
Saturated Fat:
8
g
|
Polyunsaturated Fat:
1
g
|
Monounsaturated Fat:
5
g
|
Cholesterol:
43
mg
|
Sodium:
571
mg
|
Potassium:
133
mg
|
Fiber:
1
g
|
Sugar:
19
g
|
Vitamin A:
260
IU
|
Vitamin C:
3
mg
|
Calcium:
102
mg
|
Iron:
1
mg
Notes & Tips
If you have leftovers, you can leave it covered in the fridge for 3 days. To reheat, you can put it back in the oven or even use the microwave. You also don't have to heat it up at all if you'd rather just spread it on toast.
As tempting as it is to spoon the brie directly into your mouth, it is best served with artisan bread, though I have also enjoyed using pretzels, crackers, and even salted tortilla chips in lieu of bread.
How To Make Your Own Jam
A baked brie with jam is undoubtedly faster when you use store brought jam. However, no manufactured jam can compare to making your very own jam at home. I have found that using a homemade jam with baked brie makes the snack all that more comforting. Better yet, it gives me a chance to impress my guests.
You only need 4 ingredients to make a really good jam: jam sugar, lemon juice, a little butter, and your fruit of choice. Jam sugar differs from regular sugar as it includes pectin, a key component in helping your jam set. Though you can use regular sugar mixed with a little honey to act as the setting agent for your jam.
To make homemade jam, clean your fruit of choice and pat them dry. Toss the fruit with the sugar until completely covered. The key to colourful and flavourful jam is to allow the sugar 12 hours to absorb into the fruit. After 12 hours, add the sweetened fruits to a large pan followed by a hefty squeeze of lemon juice and some honey if you are substituting jam sugar.
Set the pan to a low heat to gently cook the mixture and let the sugar in the fruit slowly dissolve into a liquid. When no sugar grains remain, boil the jam for 10 minutes or until the jam reaches 221 F. Turn the heat off and use a metal spoon to scrape off any raised scum from the jam. Add a bit of butter to the jam and mix it in, then leave the jam to rest for 15 minutes before storing in jars.
It is worth noting that jam can be made from a whole selection of fruit, some needing to be cooked and softened a little longer than others.
If you want more specific instructions for jam, check out this simple raspberry rose jam!
---
Recent Recipes