Easy Omani Bread (Khubz Ragag)
Omani-style bread is usually called Khubz Ragag by the Omani people. In essence, Khubz Ragag is a flatbread similar to pita or naan. If you want to try a flatbread that has a different texture, try gluten-free Italian flatbread. In Oman, the bread is a staple that can be served in a myriad of ways. Because of that, I had quite a lot of difficulty deciding how to present this recipe to you. A lot of recipes out there include eggs, dried dates (a popular harvest in Oman), yeast, and a lot of other ingredients that can make it confusing to find a basic version.
I have scoured the internet going through so many different styles of making this bread, but I wound up deciding to keep it simple. Below the recipe I include serving suggestions so you can make the most of your Omani bread.
This recipe is super easy and affordable because it only requires three ingredients. Another fun thing about this bread is that you can adjust the batter so you either end up with a thick, pita-like bread or a thin crepe-like bread. It is very versatile which means you could make it to accompany any and every dish and you probably still would not get bored of it. All you need to get started is flour, salt, and water!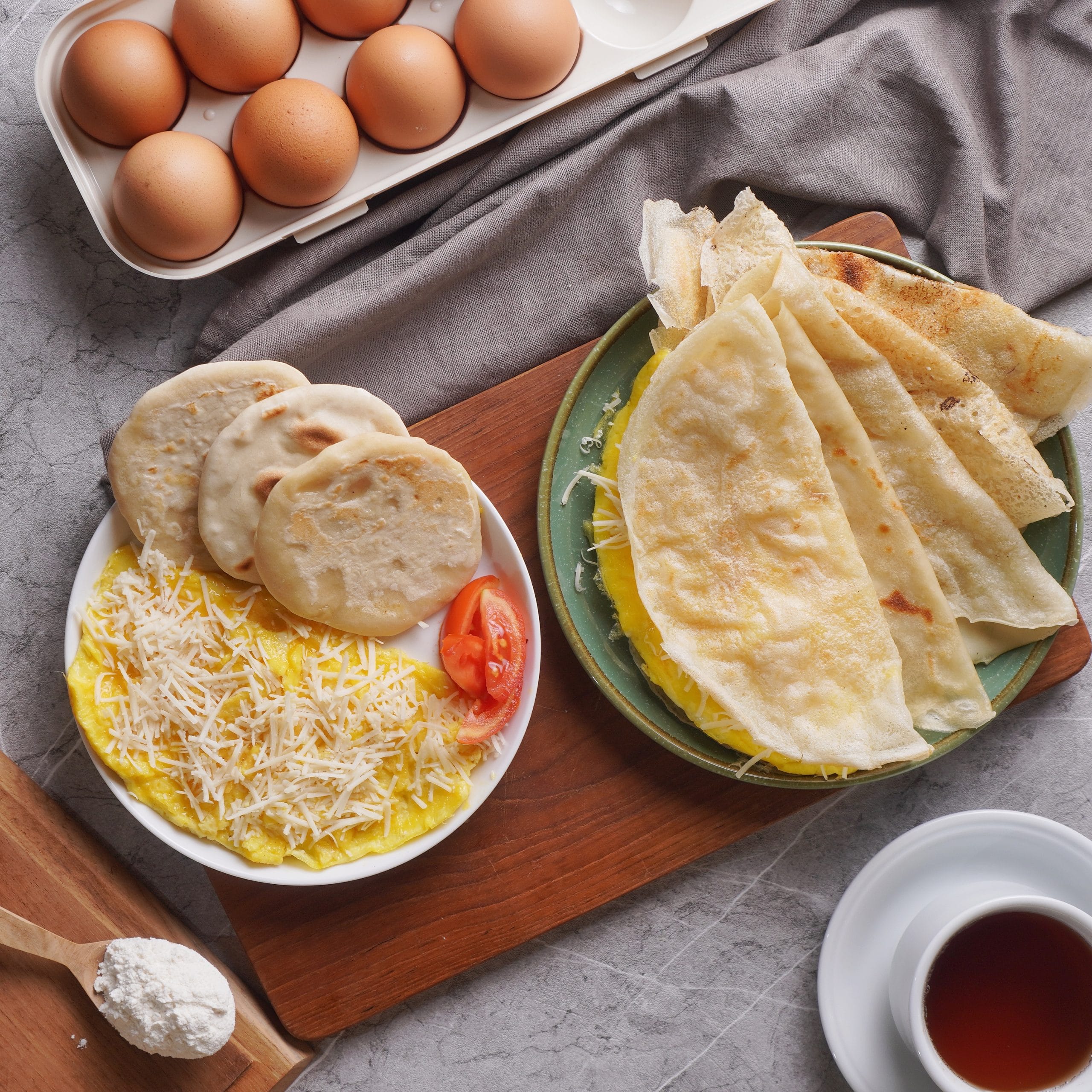 Ingredients
2

cups

flour

1

tsp

salt

water
Instructions
All ingredients ready? Let's begin!

In a large bowl, whisk together the flour and salt to combine.

Slowly add water to the flour and mix thoroughly. Adjust the amount of water depending on the finished texture you want.

For thin, crepe-like bread, add a cup of water and keep adding water until the consistency is even thinner than pancake batter. You should be able to pour it across a pan.

For thicker, pita-like bread, add about ½ cup of water and mix thoroughly. You'll want the dough to be thicker, similar to traditional bread dough. You will probably need to add more water, but do it in increments and knead thoroughly to make sure you really need the water.

Heat a large pan (preferably seasoned cast iron) over medium high heat.

If you made a thinner dough, pour it into the pan and swirl it around to coat the surface in a thin layer. If using this method, you will only be able to make one at a time.

If you made the thicker dough, use your hands to pinch the dough into small balls and flatten with your palms before placing in the pan. If using this method, you can cook multiple at a time, depending on how big you make them.

If you are making the thinner version, it should only need to cook for about a minute. Once it gets solid in the middle, use a spatula to flip it over for another 30 seconds then move it to a plate and repeat with the remaining batter.

If you are making the thicker version, it might need to cook a bit more than a minute. When the edges start to harden, use a spatula to flip and cook for another 30 seconds – 1 minute. When finished, remove to a plate and repeat with remaining batter.

Serve warm on its own or alongside any suggestions below!
Video
Nutrition
Calories:
152
kcal
|
Carbohydrates:
32
g
|
Protein:
4
g
|
Fat:
1
g
|
Saturated Fat:
1
g
|
Polyunsaturated Fat:
1
g
|
Monounsaturated Fat:
1
g
|
Sodium:
388
mg
|
Potassium:
45
mg
|
Fiber:
1
g
|
Sugar:
1
g
|
Calcium:
6
mg
|
Iron:
2
mg
Notes & Tips
If you have leftovers, one option is to keep them covered in the fridge for up to five days. Another option is to only make half the batter and save the rest covered in the fridge for up to three days. That way, when you are ready to eat the rest, you can make it to have fresh and warm.
If this is your first time making a recipe like this, I recommend trying out the different thicknesses to see what is your preference. You could always split the dry ingredients and add more water to half so you can try two methods in one go.
Depending on what kind of pan or stovetop you have, you might need to grease the pan first. I like to use just a little butter, but vegetable oil works too.
Serving Suggestions
Khubz Ragag can be eaten sweet or savory (similar to French crepes). A yummy way to make a healthy breakfast with this bread is using eggs and cheese. To do so, prepare the batter the same way you usually would (preferably the thinner version). In a separate bowl, whisk together a few eggs. 
Cook the bread like normal, but when the center becomes solid, don't flip it. Instead, pour some of the egg mixture in the middle and sprinkle cheese on top. Any kind of cheese is fine–I usually use cheddar. Let the egg cook till solid then fold half the bread over (like a taco). Cook a moment longer, then transfer to a plate and enjoy.
Both the thin and thick versions of Omani bread make a delicious side with any dinner, not just Arabic style dinners. Khubz Ragag goes great alongside easy one-pan vegetarian enchilada pasta, which means you can have a yummy and well-rounded meal that is so simple to make.
Where is Oman?
Oman is a Middle Eastern country that shares part of its border with Saudi Arabia and is also adjacent to the Arabian Sea. The country has a long history and is said to be the oldest country/state in the Arabian region that has been continuously independent. Before the United Kingdoms interfered in Oman, it had a reach all the way to Zanzibar, a region of Tanzania.
Currently, Oman is an absolute monarchy ruled by a Sultan and is ranked at the 69th most peaceful country in the world. It has a high-income economy and benefits a lot off of tourism, fish mongering, and exporting dates. The population of Oman encompasses a lot of Arab people from surrounding states as well as people whose family had once immigrated to Zanzibar have returned now to Oman.
---
Recent Recipes