Best Turkish Flatbread (Bazlama)
Bazlama is a traditional Turkish flatbread that's crispy on the outside and soft on the inside. It's a staple in Turkish cuisine and can be found at street markets and restaurants all over the country.
The history of Bazlama dates back to the Ottoman Empire, where it was enjoyed by soldiers and peasants alike. It's a simple, yet tasty bread that's made with just a few ingredients, including flour, water, and yeast.
If you're a fan of flatbreads like pita or naan, you'll love Bazlama. It's a perfect side for soups and stews, and it's also great for making sandwiches. Trust me, once you try this delicious bread, you'll be hooked!
So, if you're ready to give Bazlama a try, just follow the recipe below and transport yourself to the streets of Istanbul with every bite!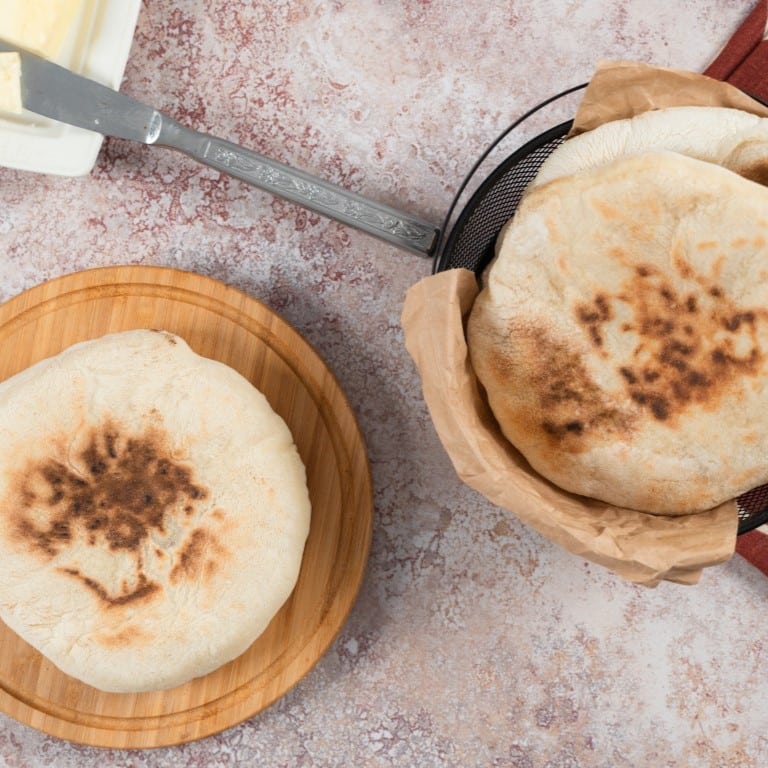 Ingredients
2

cups

flour

1

cup

water

10

g

fresh yeast

¼

tsp

sugar

½

tsp

salt
Instructions
Add all the ingredients into a large mixing bowl, and knead it with your hands or in a stand mixer with a hook attachment until it reaches a soft, sticky dough consistency. Let it rest for at least an hour in a floured bowl. Sprinkle some flour on top, and cover with a cloth.

Divide the rested dough into 4 equal parts and roll them into balls by hand. Put the balls on a floured plate and cover them, so they do not dry out.

Take one of the dough balls you have prepared to a floured counter and sprinkle more flour on top, then expand it by pressing lightly with your hands. Then, roll out the dough with a rolling pin until it is 18 cm/7 inches in diameter. Sprinkle flour on the bottom and top, cover it with a cloth and set aside.

Heat a non-stick pan, take one piece of dough, and cook it until golden-brown spots appear on both sides. Continue until all the dough is used. Due to the heat of the pan, the baking process will get shorter with each subsequent piece of dough. Make sure to check both sides occasionally.

You can enjoy it by spreading butter on your hot flatbreads.
Nutrition
Calories:
231
kcal
|
Carbohydrates:
48
g
|
Protein:
7
g
|
Fat:
1
g
|
Saturated Fat:
0.1
g
|
Polyunsaturated Fat:
0.3
g
|
Monounsaturated Fat:
0.1
g
|
Sodium:
296
mg
|
Potassium:
82
mg
|
Fiber:
2
g
|
Sugar:
0.5
g
|
Vitamin C:
0.003
mg
|
Calcium:
12
mg
|
Iron:
3
mg
Tips, Notes & Substitutes:
Bazlama dough should be a soft dough that sticks a little to the hand; if your dough is too hard, it will be a little harder to achieve that consistency you are looking for in flatbreads.
You should use a non-stick pan, and your heat should be very low. If the heat is too high, the surface may become brown, and the inside may remain raw. For this reason, you should cook it by flipping it frequently and on low heat.
After rolling out the dough, you should let them rest for 10-15 minutes before baking. Remember to cover them with a cloth so that it does not dry out. You can lightly flour them, so they do not stick to the cloth.
Bazlama can be enjoyed as a substitute bread and also with various toppings. Typical toppings include butter, feta cheese, tomatoes, and olives. Bazlama can also be used as a wrap for sandwiches, or you can cut it in half and use it like toast bread.
You can put your leftover flatbread in a freezer bag and keep it in the freezer.
Its softness will surprise you. Bon appetit in advance!
---
Recent Recipes