Best Air Sous Vide Cooking Ovens
Every so often, new cooking techniques and devices debut that change how people prepare food. For example, pressure cookers sped up cooking times and minimizes grease and nutrient loss. In recent years, a new method known as air sous vide has started making the rounds. While still very new and relatively unknown, a growing number of air sous vide ovens are available on the market.
But what exactly is this technique and is it right for your needs? That all depends on a variety of different factors. Let's take a deep dive into the nature of air sous vide cooking, explain how it works, a few of its benefits, and give you reviews of five high-quality options on the market. As there are still not a lot of options on the market, our list is relatively limited according to our usual comprehensive approach.
How Sous Vide Machines Work
Sous vide ovens or cooking machines typically work by using a unique containment vessel, like a large stockpot, that carefully heats water to a specific temperatures. The device then keeps that water at a precise temperature before you immerse your food, allowing you to create a pretty broad range of different food types. They typically also include a method of "swirling" that keeps water moving.
This "swirling" helps to provide uniform cooking by ensuring that the temperature remains consistent throughout the cooking pot. Typically, an sous vide cooking device holds around 2-4 quarts of water that allows for quick immersion and a fast cooking speed. Typically, any food being cooked is placed in a vacuum-sealed bag prior to being immersed in the water before cooking.
Any butter, oil, or seasoning elements are added to this bag first and then quickly sealed and thrown into the cooking water. This vacuum-sealed design is critical to the success of your sous vide cooking. It keeps the food from getting impacted by the water (which may absorb into many items and affect the taste) while also providing the primary benefit of boiling: no oil or grease residue.
Some people may even use culinary blowtorches (seriously) during this process to get the best temperature for the sous vide cooking experience. Others use a propane tank or the primary heating devices on the oven or stove. This option will vary based on the device, though you can typically get a specific range of temperatures using this simple cooking method.
What is Air Sous Vide?
Air sous vide is a unique cooking option being installed on a broad array of different ovens. It's a type of cooking that simulates the sous vide cooking method by using air instead. Food is still placed in vacuum-sealed bags at precise temperatures. However, no water is used: instead, the items are placed in an oven or stove and carefully cooked in the air using temperatures between 100-205 degrees Fahrenheit.
This method allows for extended cooking, typically up to 48 hours at a time. Most people use this concept when slow-cooking various meals, such as preparing turkey for Thanksgiving or long-term crock pot-style meals. They typically utilize various types of convection cooking methods to help keep the food properly cooking, providing you with many benefits along the way.
In way, they're somewhat similar to convention oven in their operation. However, they are also quite different because they cook much slower than normal ovens. Convention ovens use concentrated heat and even temperatures to prepare food. While sous vide cookers also use a similar concentration of heat and a balanced temperature range, they cook food more slowly and evenly.
However, air sous vide cookers still provide many benefits that make them well worth considering. Even if the available options are still incredibly limited (the first model debuted in late 2021 and has yet to become a persistent trend), a growing number of advantages and interesting uses for the air sous vide oven models on the market have already emerged in recent days.
The Benefits of an Air Sous Vide Cooker
People like air sous vide cooking because it provides a broad array of different benefits that make them a unique option for many people. These benefits are built-into the machine's overall design and create a surprising array of factors that you might not expect. While they're still fairly new to the market, people are already noticing that they provide advantages like:
Healthier Cooking: If you want to improve your overall cooking health, air sous vide is a great choice. This option removes the greasy textures of fried food and helps keep more vitamins and minerals in your meals. Just as importantly, it helps minimize the problems of boiling, which may cause foods to lose nutrients due to water immersion. The lack of water in the food keeps it fairly safe.
Precise Cooking Temperatures: Do your recipes call for a pretty specific temperature range? Then, you might want an air sous vide cooker. These devices maintain a precise and even temperature throughout the cooking process. They can help your food get the texture and taste you want, while also ensuring your food hits the 120-degree Fahrenheit threshold to destroy all bacteria in the food.
Minimal Grilled or Seared Tastes: If you're not a fan of seared or grilled foods, you may love air sous vide cooking. It does not produce that taste or texture, which helps you to taste the food more than burned textures. However, you may also briefly sear or grilled your foods if you want that texture, searing them for just a few minutes to get a consistent result.
More Even Cooking: Your air sous video cooker will produce a very even level of cooking because you'll maintain a very balanced temperature. The cooking temperature will also be more evenly distributed throughout the food, surrounding it on all sides rather than on just one. In this way, your food should be surprisingly well-cooked and delicious with minimal difficulties.
More Professional Cooking: Many professional chefs and restaurants use various sous vide cooking devices to obtain a balanced and appealing range of cooking. However, air sous vide machines may help by providing an even stronger style of preparation at home, allowing you to create an appealing variety of food without spending a lot of money on expert-grade devices.
These advantages may vary depending on your machine, as some may cook faster or more evenly than others. Thankfully, you should get most of these advantages with relative ease and get the amazing air sous vide cooking experience you want and deserve. That's enough explanation, though. Let's examine a few different air sous vide oven options: there aren't too many to discuss yet.
Limited in Availability
LG debuted the first oven with air sous vide cooking capacity in December 2020. During these days of the COVID-19 pandemic, the creation of new air sous video ovens throughout various markets was understandably limited. As the pandemic winds down and more people discover the benefits of this option, more companies are trying to integrate this cooking style into their methods.
That said, we still had a hard time finding more than a few different options for discussion. Obviously, we'll discuss the original LG option, as it remains the most common on the market today. However, we did find at least one other option that we'll highlight in the reviews below, giving you a better understanding of your choices and making sure that you feel comfortable with each.
In each review below, we'll give you an idea of what each of these options brings to the market. We'll also discuss their pros and cons and give you a better idea of which is right for you. By the time you're done, you should feel comfortable making a decision: whichever you choose, you'll likely find an oven that blends well into your life and feels appropriate for your specific cooking needs.
LG InstaView Range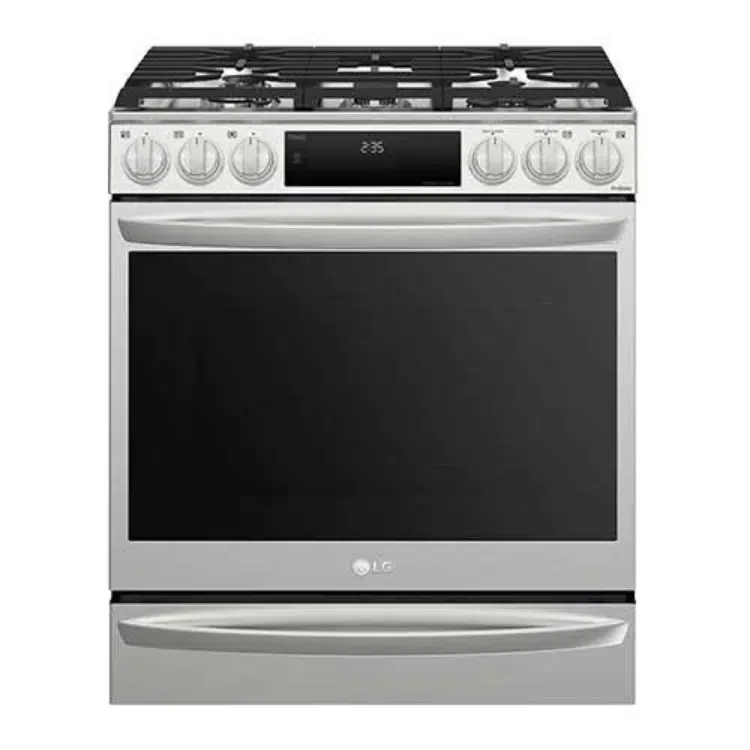 The LG original air sous vide oven has helped to set the standard by which all other air sous video models will be judged for the following years. Not necessarily because it is the best (though that may be true) but simply because it was first! Other models may improve on a few of its potential downsides, but this model came first and started this new trend.
Like with most new LG products, the InstaView Range has many unique features that make it interesting to consider. For example, its simple technology allows you to turn on lights automatically with a few simple taps on the glass door. The interior is also easy to clean, using various EasyClean technology devices that help to minimize chemical spread and keep an oven healthier and safe.
Users may also utilize the ProBake design, which helps to cook food quickly without preheating. This convention method pairs well with the air sous vide design to produce but fast- and slow-cooking options for a home. While the competition isn't yet fierce, the LG InstaView Range probably remains the best option for most people who want to get into air sous vide cooking.
Pros
It should be fairly easy to find without a lot of work, as it is still the most widely known option
You can hook it up to your smartphones and sync the ThinQ app to help prepare food
LG typically has fairly strong customer service that should help you out in many situations
Cons
The price of this model is still fairly high compared to the others we'll discuss
Some may find them hard to adapt to at first, especially when cooking long-term meals
Electrolux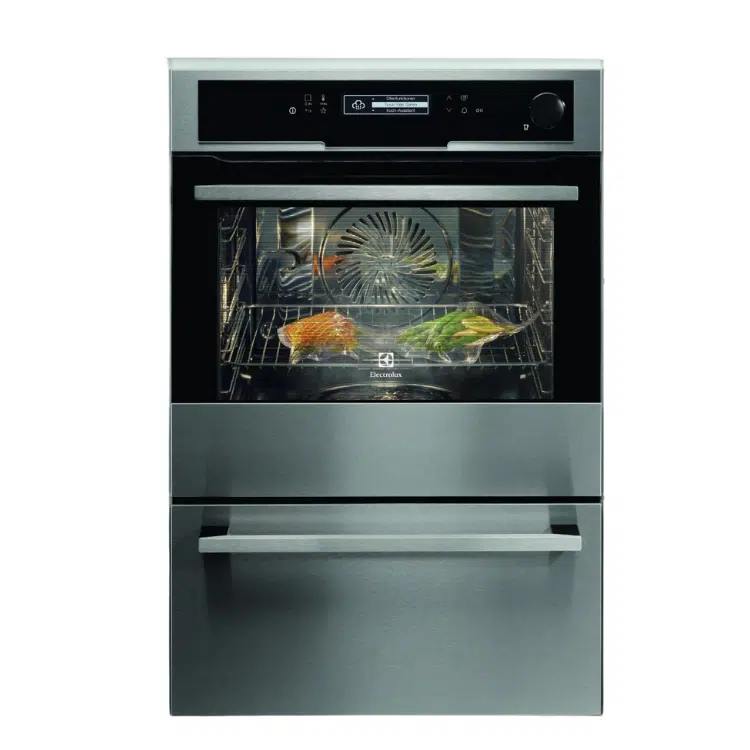 With such a small market on air sous vide ovens, it was hard to even find a competitor to the LG InstaView Range. Thankfully, Electrolux produces a few different ranges that utilize an air sous vide option. This machine also includes a built-in air fryer and advanced stream cooking modes that help it to stand out even compared to what remains the industry-standard LG option.
Like with the LG InstaView Range, the Electrolux offers various connectivity options. Their Electrolux Connect Technology allows you to hook up to various devices and preheat and monitor your cook time remotely. This benefit is huge if you plan on leaving the home for a few hours and want to make sure your food is cooking evenly. You can even switch to "Keep Warm" if your food is done and you want to avoid cooking it more.
Depending on which option you buy, you may up with a single- or double-walled design. Double walls hold the temperature longer and help make cooking more effective. However, single-wall ovens are less expensive, and since the difference may be as much as a few thousand dollars, it is wise to be careful in your decision. However, few air sous vide ovens will be cheap, so be prepared to invest here.
Pros
It provides multiple cooking options that may work for your needs as a homeowner
You may also use steam bake and steam roast options to enhance your flavors more easily
The price is fairly good considering that this is a new type of oven options
Cons
Some markets may not easily stock this oven, making it hard to find without a little research
It may seem a little simpler than the LG model to some people, which may be a serious concern
Making a Smart Choice
While these two models provide you with a great cooking experience, we throw our hat into the ring and declare the LG InstaView Range as the best of the available air sous vide ovens on the market. That said, the Electrolux option is a great choice for the right person. If you liked their features and think they're more suitable to your needs, you honestly can't go wrong. And make sure to pay attention to any new air sous vide ovens released in the future: we're sure that they'll become more prominent with time.
---
Recent Recipes