Best Homemade Sicilian Arancini Recipe
Arancini are deep-fried rice balls made with risotto. It is thought that this dish was developed in Sicily as a way to use leftover risotto the next day. And whoever came up with the recipe was on to something great. These are such a popular snack that is often served at taverns, pizza shops, and street vendors.
You will have to start the recipe by making the risotto. You can't really use just any leftover rice because the balls will fall apart. Risotto is damp and starchy so it can be formed into a ball or cone for making arancini.
I used to be afraid of making risotto so I avoided it for a long time. Then, once I attempted the recipe it wasn't hard at all. You just need to nurse the rice while it is cooking by adding ladles of warm stock a little at a time. You do need to use arborio rice because it is round with a decent amount of surface area. This ensures that the risotto develops its creamy texture. I highly recommend making the risotto several hours or even a day before assembling the balls.
Arancini are generally filled with stretchy mozzarella cheese. Sometimes peas are also added to the filling. I like that because peas are probably my favorite vegetable and the color pops when you bite into the balls. You can find arancini stuffed with sausage or vegetables.
You can serve arancini with or without a dipping sauce, such as marinara. In Sicily, you will often find arancini with a bowl of Calabrian chili sauce on the side. However, these treats are just as excellent with a napkin and your hands without any sauce.
This recipe is a two-step process. Don't let that deter you because you can make the risotto a day ahead. I actually recommend doing that because the risotto gets better as it sits and is easier to form into balls when it is cold and firm.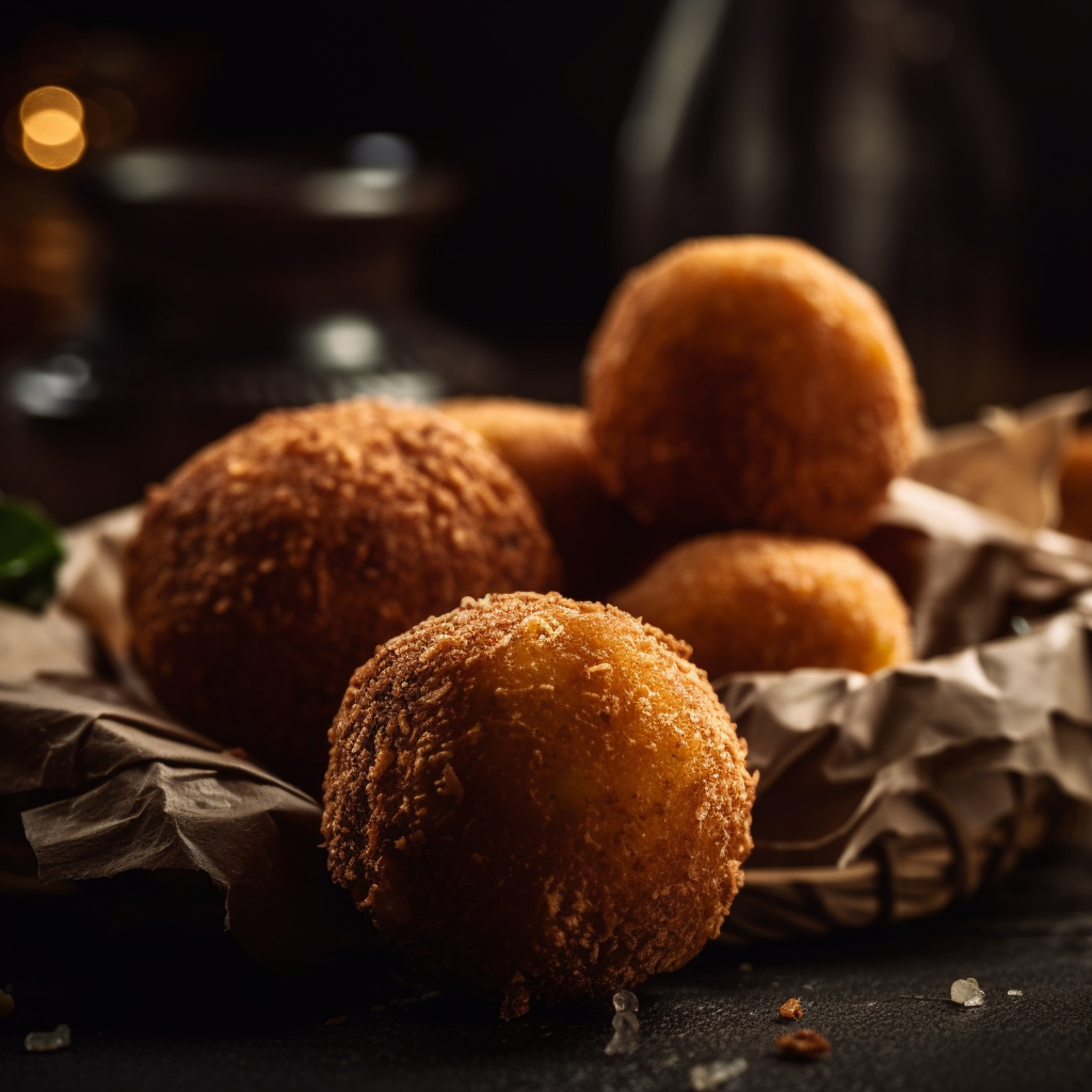 Ingredients
Risotto

3-1/2

cups

chicken broth

4

Tbsp

unsalted butter

divided in half

1

medium onion

peeled and minced

2

cloves

of garlic

peeled and sliced thinly

1

cup

arborio rice

rinsed once and drained

1-1/2

tsp

coarse salt

1/2

cup

drinkable dry white wine

1

cup

finely grated parmesan cheese

1/4

cup

heavy cream

Salt and pepper to taste

Arancini

1

risotto recipe

3

ounces

dry mozzarella cheese

cut into 1/3-inch cubes

1/2

cup

all-purpose flour

1/2

tsp

sea salt

1/4

tsp

freshly ground pepper

2

large eggs

2

cups

fine panko breadcrumbs

6

cups

canola or other neutral vegetable oil for frying

Marinara sauce for serving
Instructions
Risotto

In a saucepot over medium heat, bring the chicken broth to a simmer. Reduce the heat to low and keep the broth warm.

In a large saucepot or deep skillet over medium heat, melt 2 tablespoons of butter. Add the onion and sauté, stirring often, until soft, approximately 4 minutes. Add the garlic and continue to cook for 1 minute longer until the garlic has softened.

Add the rice to the pot. Season with coarse salt. Toast the rice, stirring often, for about 3 minutes.

Stir in the wine and continue cooking until the wine evaporates, approximately 2 minutes.

Add 1 cup of the warm broth to the rice. Bring to a rolling simmer and cook for about 4 minutes until the broth is absorbed by the rice. You need to stir often. Ladle in another cup of broth and continue simmering for another 6 minutes until the broth is mostly absorbed. Add the remaining broth to the rice and continue to cook and stir until all the broth is absorbed and the rice is cooked but still a little chewy or toothsome, approximately 10 minutes.

Remove the pot from the heat. Add the parmesan, cream, and remaining 2 tablespoons of butter. Stir to combine well until the butter has melted. Season with salt and pepper to taste.

Line a rimmed sheet pan with parchment paper. Spread the risotto over the parchment paper into a single layer and set aside.

Once the rice has cooled, cover it with plastic wrap and place the pan in the refrigerator to chill it for at least 1 hour and up to overnight.

Arancini

Spoon the risotto into a mixing bowl. Reline the sheet pan with clean parchment paper. Scoop out about 1/4 cup of risotto into your hands and form a patty that is about 2-1/2 inches in diameter. Place 2 or 3 pieces of mozzarella in the center of the patty. Form the patty over the cheese and roll the rice into a ball. Place this on the lined baking sheet and repeat until you have about 12 to 15 rice balls.

In a large heavy-bottomed saucepot over medium-high heat, add enough oil to fill the pot about 2 inches deep. Place a thermometer in the oil, clipped to the rim of the pot. Keep an eye on the thermometer. You want the oil to come to 350°F.

Take 3 shallow bowls and fill one with the flour seasoned with salt and pepper. Break the eggs into the second bowl and beat lightly. Place the panko crumbs in the 3rd bowl. Coat an arancini ball lightly with the flour, shaking off any excess. Next, coat the ball in the egg wash. Finally, coat with bread crumbs. Place the ball on the baking sheet and continue until they are all coated.

As soon as the oil is at 350°F, carefully lower 1/3 to 1/2 of the balls into the oil with a slotted spoon or spider. Don't overcrowd the pot. Fry the balls until golden brown and crisp, approximately 7 minutes. Transfer the cooked arancini to a paper towel-lined platter to drain. Continue cooking in batches.

Serve the warm arancini with or without warmed-up marinara sauce on the side.
Nutrition
Calories:
797
kcal
|
Carbohydrates:
78
g
|
Protein:
22
g
|
Fat:
42
g
|
Saturated Fat:
17
g
|
Polyunsaturated Fat:
6
g
|
Monounsaturated Fat:
16
g
|
Trans Fat:
1
g
|
Cholesterol:
148
mg
|
Sodium:
1578
mg
|
Potassium:
253
mg
|
Fiber:
5
g
|
Sugar:
5
g
|
Vitamin A:
886
IU
|
Vitamin C:
3
mg
|
Calcium:
404
mg
|
Iron:
5
mg
Notes & Tips
Arborio rice is naturally starchy which gives risotto that creamy mouth feel. I generally wash my rice well under cold running water. When making risotto, I give the rice a quick rinse just to remove surface dust, not to remove excess starch.
I can't stress enough how important it is to use a wine you would actually drink when making risotto, or any dish that calls for wine. The alcohol cooks out, but the flavor remains. If you don't want to use any alcohol, simply omit the wine. Don't reach for cooking wine because it is really not good.
The success of risotto is adding the broth in increments and stirring often. This dish is a labor of love and patience. Trust me, it is worth the effort and it really only takes 25 minutes.
My final tip is for a perfectly acceptable shortcut. I do like to make risotto from scratch if I have the time and want a zen moment in my kitchen. If cooking isn't necessarily stress-free for you, get a double order of risotto the next time you are out at your favorite Italian restaurant. Take the leftovers home and make arancini the next day.
Substitutions and Additions
Chicken Broth: I use my homemade chicken bone broth to make risotto. The reason chicken broth works so well is because it is lighter in color than beef broth. If you are vegetarian, use vegetable broth.
Onion: I make risotto alla pizzaiola with shallots instead of onions. This is a great substitution because shallots are like an upscale cross between onion and garlic. They become a little sweet when sautéed. I do love cooking with shallots when I can find them.
Arborio Rice: If you can't find arborio rice, reach for carnaroli rice or another short-grain white rice that the package indicates is suitable for risotto.
Wine: If you don't drink wine or don't want alcohol in your cooking, omit this ingredient and add a little more broth or water.
Parmesan Cheese: Feel free to use pecorino Romano or any other aged and dry Italian cheese that you might have on hand.
Mozzarella Cheese: The fun of arancini is the textures you experience when you bite into the balls. First is the slightly crisp exterior, then the toothsome yet creamy rice, and finally the stretchy mozzarella cheese. You can substitute burrata, scamorza, Oaxaca, and even stretchy Swiss cheese.
Panko Bread Crumbs: I am fond of the crunch that occurs when panko crumbs are fried. You really can use any regular bread crumbs for this recipe. Or, try gluten-free panko bread crumbs and gluten-free all-purpose flour which are both widely available now, if that is a concern.
Additions: You may want to add some fresh minced herbs, such as parsley or basil, to your finished risotto for a little color and freshness. You can also add defrosted green peas to the arancini filling. If you want a more substantial rice ball, add some cooked ground sausage meat. This makes a nice savory breakfast using leftover risotto from the night before.
Storage & Reheating
To store leftover arancini, place them in an airtight container and refrigerate for up to 3 days. To reheat, preheat your oven to 350°F (180°C) and place the arancini on a baking sheet lined with parchment paper. Bake for about 10-15 minutes or until heated through.
Serving Suggestions
In addition to serving arancini with marinara sauce or Calabrian chili sauce, you can also try offering other dipping sauces like garlic aioli or pesto. Pairing these rice balls with a fresh salad makes for a light yet satisfying meal.
Customization For Common Dietary Restrictions
For vegetarian options: Replace chicken broth with vegetable broth.
For gluten-free options: Use gluten-free panko breadcrumbs and all-purpose flour.
For dairy-free options: Substitute vegan cheese alternatives like cashew mozzarella instead of traditional mozzarella cheese.
Health Risks & Benefits
Arancini are deep-fried which may not be ideal if you're watching your calorie intake; however, they do provide some nutritional benefits from ingredients such as Arborio rice – which is high in carbohydrates that provide energy – and vegetables added into the filling such as peas that contain fiber and essential vitamins. Moderation is key when enjoying this delicious snack!
Sicilian Arancini History
The history of Sicilian Arancini dates back centuries ago when it was introduced by Arab settlers who ruled over Sicily during the Middle Ages (9th to 10th century). The dish has since evolved over time but remains popular today due to its versatility using different fillings based on regional preferences throughout Italy.
Common Questions
Can I use another type of rice besides Arborio?
It's best to use short-grain white rice varieties suitable for risotto – like Carnaroli rice if Arborio isn't available because they have similar starch content needed for achieving creamy texture required in making arancinis successfully.
How long can I store cooked Aranicni?
You can store cooked Aranicni up to three days in refrigerator inside an air tight container, just make sure not stack them too much so their crust stays intact while storing.
Is there any way I could bake these instead frying?
Yes! Preheat your oven at 425°F (220°C), line baking tray with parchment paper, place coated balls onto it giving enough space between each. Bake till golden brown approximately around 20-25 minutes. However keep checking after every few minutes past initial time frame depending upon individual ovens heating mechanism results might vary slightly.
---
Recent Recipes