Best Pour Over Coffee Dripper
Some people, myself included, are still significant fans of pour-over coffee makers. I specifically enjoy them because I genuinely believe it provides enhanced flavorful cups of coffee. I also want the longer brewing process of it. I have put together some interesting information and listed my favorite pour-over coffee makers/coffee dippers.
Before you purchase a pour-over coffee maker, you need to know what to look out for and what characteristics of coffee drippers to avoid. That way, you get the best value for your money. You can also look at some of the options listed under best pour-over coffee makers to see what will best suit your requirements.
The Best Pour-Over Coffee Makers / Coffee Drippers
Here is a list of pour-over coffee maker options that make an ideal choice:
The Clever Dripper is a plastic pour-over that comes in a large 18oz size and a range of colors.
Features:
Safe BPA-free plastic
Combines the best of pour-over and French press coffee
Includes dripper
Includes 100 filters
Includes a coaster and a lid
Small 11oz and large 18oz sizes are available
It fits on tops wider than 1.5inch and less than 3.75inch in diameter
The Clever Coffee Dripper is easy to use and clean and makes no mess. It has an automatic shut-off valve and pours out only when placed on a cup. You can brew your coffee for as long as you want. The Clever Dripper is about straightforward brewing and produces high-caliber coffee.
You can get a deep steep that will result in more decadent, smoother brewed coffee. It gives you the benefits of a French press without the fuss. The 100 filters last you long and trap all the grinds for a smooth and clean brew every time.
The OXO Brew Coffee Maker is a plastic dripper and includes an auto-drip water tank.
Features:
Minimal effort and fuss-free approach
Auto-drip tank control
Includes measurement markings on the tank
Lid retains heat
Lid doubles as a drip tray
Includes 10 unbleached all-natural cone filters
Holds 12oz of liquid
The OXO brews consistent and flavorful coffee with minimal effort. The drip tank is a favorite feature for helping with controlled water flow and a balanced brew. The tank has measurement markings to pour precisely how much you need.
The tank's lid helps retain the heat while brewing and doubles as a drip tray, so you have fewer dishes and cleaning up. The product includes 10 OXO unbleached filters, and you can replace them as needed.
The Hario V60 is a cone-shaped plastic coffee dripper with a few color options.
Features:
Cone-shaped
Spiral ribs for coffee expansion
Lightweight yet sturdy
Large single hole
Various sizes available
Easy to clean
Easy to use
The Hario pour-over coffee maker is shaped like a cone. That helps accentuate coffee flavors with notes of floral or fruit flavor. It is designed with a spiral rib that helps with maximum coffee expansion.
It is sturdy yet lightweight, making it ideal for traveling. The large hole can change the coffee taste with the speed of the water flow. It is available in different sizes ranging from 1 cup to 6 cups.
The Melitta Filter Coffee Maker is a single-cup pour-over brewer.
Features:
BPA-free
Filter cone is dishwasher safe
Has slow drip tip
It fits all standard coffee mugs
Includes a sample of 4 coffee filters
Melitta drippers have a medium size opening to provide a consistent brew and eliminate the risk of bitterness. A ring underneath the drip opening to direct coffee flow and prevent runoff. The full-height ridges in the cone provide optimal flavor extraction.
There are 2 viewing holes to prevent overflow. It is designed with high-quality porcelain with a gloss finish. You can put it in the top rack of the dishwasher and replace the filters as needed.
The Chemex dripper is a glass coffee maker and includes exclusive packaging.
Features:
Elegant and timeless design
Made of high-quality borosilicate glass
Easy to use
Holds 50z for 1 cup
Glass is heavy-walled and heat-resistant
Includes silicone stopper to maintain temperature
The Chemex glass pour-over coffee maker is made of non-porous borosilicate glass that does not absorb odors and chemical residues. The glass is heavy-walled and heat resistant with a flat-bottomed kettle to ensure a delightful brewing process.
It includes a unique silicone stopper to keep the brewed water at peak temperature when venting steam. That helps the neck stay cool-to-touch for safe handling. You can remove the wooden handle for handwashing with warm soapy water.
The Cosori pour-over coffee maker comes with a double-layer stainless-steel filter.
Features:
Borosilicate glass coffee pot
High heat resistant decanter
Holds 34oz of liquid
Detachable stainless-steel filter
Environmentally friendly
Easy to cleanup
Easy to use
Includes wooden sleeve
Includes measuring scoop for coffee grounds
The stainless-steel filter is detachable and makes for easier cleanup. It has dual layers of 304 stainless steel that help refined oils from the ground coffee to infuse into your coffee. That results in a robust, fuller flavored, smooth cup of hot caffeine. The decanter and filter are dishwasher-safe for your convenience. There's no need for disposable filters, but the decanter is versatile enough to use them if you prefer.
The glass is thermal resistant enough to be heated at a low temperature on the stove. That means you can save dishes and store your coffee in your pour-over. It fits 340z of coffee, so it is the perfect size for a large family or when you have guests. You have control of the brewing process and can change the water temperature, flow, and ground coffee concentration.
The Coffee Gator is a paperless, portable drip brewer pour-over coffee maker with a stainless-steel filter.
Features:
Laser-cut mesh filter
100% BPA-free
Cool to touch handle
Durable heat resistant glass
Reusable filters
Environmentally friendly
Cost-effective
Easy to pour spout
Easy to clean
The stainless-steel filter is detachable and easy to clean. Filters that are stainless steel allow the refined oil of the coffee grounds to infuse into your drink, allowing for fuller, more intricate, enhanced flavor. No coffee ground deposits get into your coffee, and the filter is easy to clean and dishwasher safe.
The glass is heat resistant and has a cool-to-touch handle for easy pouring. The product is straightforward to use and clean. It is the ideal glass pour-over coffee maker for traveling if you avoid plastic entirely because of its simplicity and convenience.
Are Pour-Over Coffee Makers A Good Choice?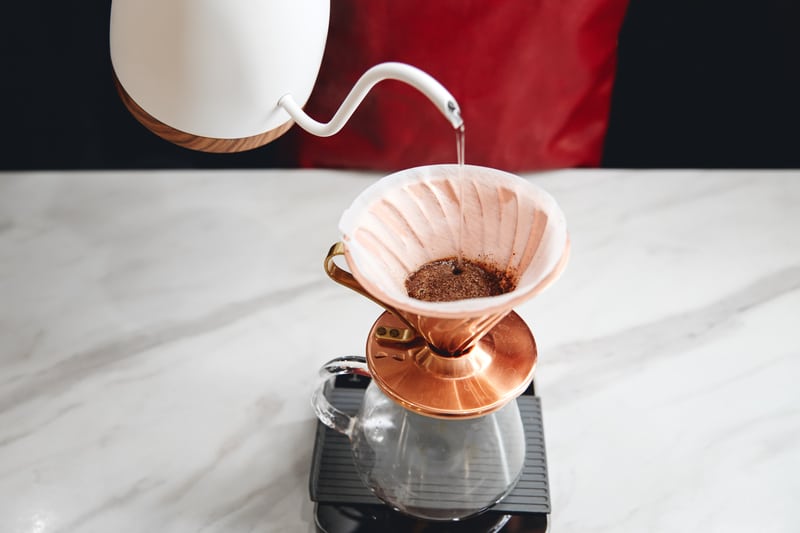 With the modern coffee pod machines these days, many people have left behind coffee drippers because they can be less convenient and more time-consuming. With that said, pour-overs have not been left behind entirely. Some households may only have one coffee drinker, so a full blown coffee machine may be too much for one person.
A significant number of people will always choose a pour-over coffee maker because it is genuinely an excellent choice. Single-serve pour-over coffee drippers are mainly favored because they have a precise, small-scale coffee-making method. That allows you to draw every last bit of flavor from your coffee beans directly into your cup of joy. You can also measure exactly how much coffee you want, what water temperature it is and so on.
It doesn't stop there. Many coffee drinkers enjoy the lengthier process of brewing in a pour-over coffee dripper. The enjoyment comes from that – even for me. It's almost as if waiting for the coffee in a pour-over makes it taste better. And well, it really does taste better if you know what you are doing.
It may not be the best choice for everyone; however, a pour-over coffee maker remains an incredible choice for many caffeine lovers.
The Importance Of Choosing The Right Pour-Over Coffee Maker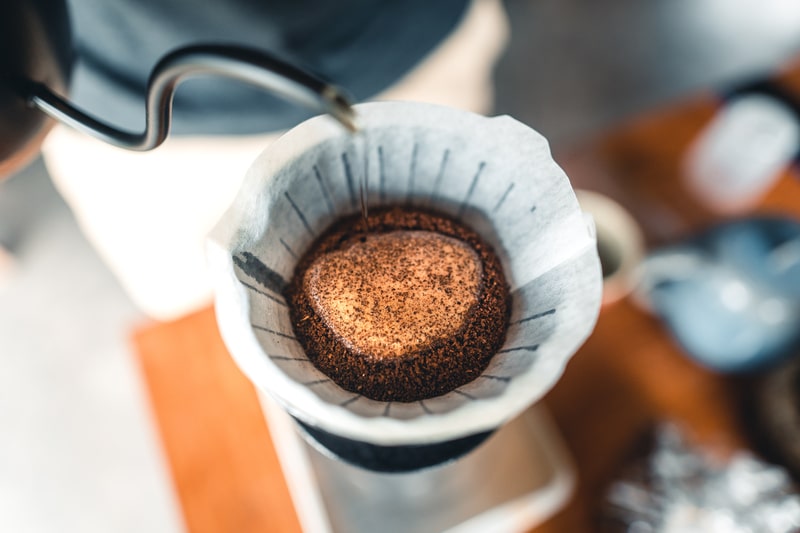 There is such a considerable variation of pour-overs to choose from. You get coffee drippers that are easy to use, while others are slightly challenging. Some work well when traveling, and others are best for home use. Some create robust and dark coffee, and some give you lighter coffee. Knowing what makes a good coffee dripper is essential to understand what will work best for you.
What Makes Good Pour-Over Coffee Drippers?
There are a few essential characteristics of an excellent pour-over coffee maker:
Size
The size plays a vital role in deciding what you want because it depends on how much coffee you brew. You can get coffee drippers that make only one cup and others that make three to four cups at a time.
The smaller brewer is limiting because you can only make one cup at a time. That works if you are only making coffee for one person. Of course, if you want to make more than one cup at a time or even a larger serving, the larger brewer will serve you better.
Material of Filter
The material of the filter is also a deciding factor because you get a few kinds. It is probably an important decision to make when buying a pour-over coffee maker. There are paper, metal, and cloth filters available. While many pour-overs are designed to hold any filter type, some are designed for specific filters only.
Metal filters are reusable, but many fall apart after some use. Coffee grounds can sometimes get through metal filters. Cloth filters reduce waste and give you the smoothest coffee but eventually require replacement. Classic paper filters are most common and are convenient and easy to use. They also provide a smooth cup of caffeine with high clarity and robust flavor.
Design Features
The design depends on whether you are looking for something aesthetic if you want glass, ceramic, or stainless steel and whether you prefer it double-walled for more insulation to retain heat. It also depends on whether you want a built-in carafe. The size of the holes for the drainage speed is another deciding factor.
Is Pour-Over Coffee Better Than Other Types?
It would be unfair to deduce that pour-over coffee is better than other types since it depends entirely on preference. Pour-over coffee is delicious with a full robust flavor, but a French press may work better for some people who prefer a dark roast.
It also depends on convenience; for example, someone who wants a quicker brew with more flavor options might prefer a Keurig or espresso machine. Then you get a large part of the coffee drinker population that are still die-hard fans of instant coffee.
If you enjoy the process of a longer brew with enhanced flavor but still ease of use, then a pour-over coffee maker is the way to go.
What To Avoid When Buying Pour-Over Coffee Drippers?
Everyone has a personal choice when it comes to purchasing coffee drippers. Whether your preference is based on design, material, size, price, or aesthetics, it needs to work for you and meet your requirements.
There is not a list of things I would suggest avoiding because most pour-over coffee drippers are lovely and do the job considerably well.
I specifically recommend looking into further and possibly avoiding the permanent metal filters that come in many pour-overs on the market. It is aimed at convenience and substantivity; however, in my personal experience, I find those to break and fall apart quite easily.
The glue that attaches the mesh to the top holder often gets loose, defeating the purpose of being permanent. That also causes the filter to slide, sometimes creating a huge mess.
It also makes it more challenging to clean those types of pour-overs, and you want to have something that's not going to create difficulty for you. The process of brewing coffee should be enjoyable without having crazy cleanup, which causes your coffee brewing to become daunting.
What Is The Best Pour Over Coffee Makers/Coffee Drippers?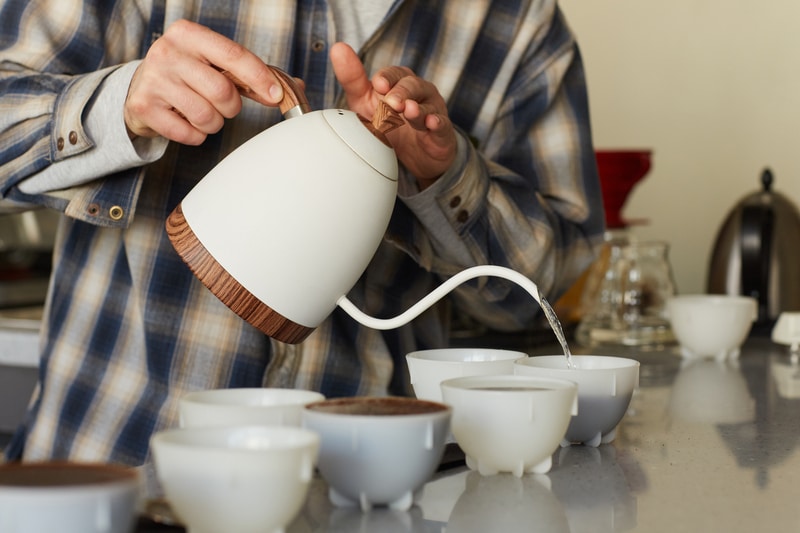 The best pour-over coffee makers are what works for your needs in terms of design, size, and filter material. You can choose one from the list above and be guaranteed that you won't be disappointed!
---
Recent Recipes