Best Margherita Montanara
Pizza is a dish loved across the world, and rather than ordering it for delivery, I prefer to make it myself. With just a few key ingredients, I can feed my family or cater a party. Many people have their own idea of what makes a good pizza. In New York, a foldable pizza with a thin crust is preferred. In Chicago, though, they like their crust stuffed or deep.
Margherita montanara is a deep-fried pizza born out of Naples, Italy. Characterized by its gratifying crunch, this traditional dish is simple to make and enjoy.
The history of the Margherita pizza is debated, but according to the popular story that goes around, the origins of this pizza involve a queen, a famous pizza maker, and the city of Naples. The year was 1889, and Queen Margherita of Savoy was visiting Naples with her husband King Umberto I when she decided to commission famous pizza-maker Raffaele Esposito to make her three pizzas. The reason she commissioned the popular pizza maker was because she'd grown tired of the gourmet French cuisine that she was being fed.
When the Neapolitan pizza-maker Raffaele Esposito presented to her his first two attempts, she did not enjoy them, but she fell in love with his third creation: the pizza we know today as the classic Margherita pizza.
Making this delicious dish requires some waiting time for your dough to rise, but it's worth it for the applause that your and your loved ones' tastebuds will give. I've been making this appetizing pizza for years, and now you can too.
The Margherita pizza is traditionally baked, however, the montanara variety of it is traditionally deep-fried, and that is what I'm showing you how to make.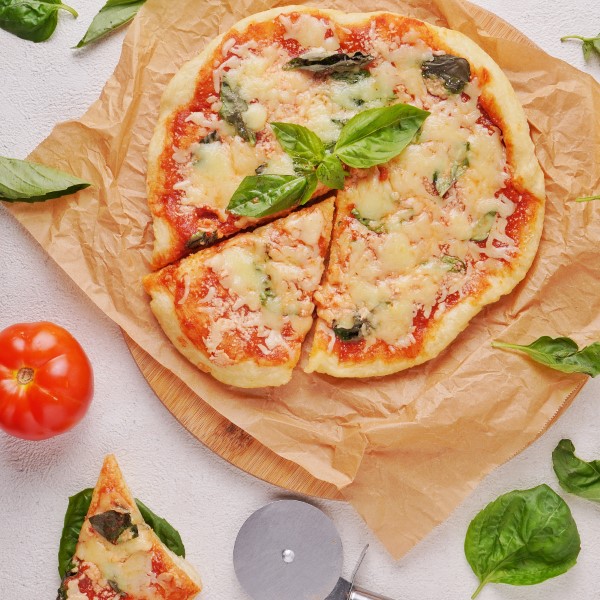 Ingredients
4 ¼

cups

00 flour

2 ½

cups

water

room temperature

½

teaspoon

yeast

dry

2

tablespoons

sea salt

Pizza sauce

Fresh Basil

Parmesan cheese

Mozzarella cheese

Vegetable oil

Extra-virgin olive oil

optional
Instructions
All ingredients ready? Let's begin!

Add all of the water into a large mixing bowl and dissolve all of the sea salt into it using a spoon or your hands.

Next, add ¾-cup of flour into the mixing bowl and mix it in completely using a spoon or your hands.

After the flour has dissolved into the salt-water mixture, add the yeast to the mixing bowl and stir it into the water mix until it disappears.

Next, gradually add more flour into the mixing bowl as you're using your hands to form the dough.

Once your dough starts taking its shape, transfer it onto your work counter or bench, but make sure to flour it first before putting your dough on it.

At this point, it's time to start kneading your dough more thoroughly. To do so, carefully press the top of the dough in the forward direction while folding the back of the dough onto the top of it. Do these actions repeatedly until your dough is soft and elastic.

Once you're happy with how your dough looks and feels, then place it back into a large mixing bowl and cover the bowl with some saran wrap. After that, let the dough rest at room temperature for 60-90 minutes or let it rest in the fridge overnight.

Once your dough has rested, cut and form it into equal-sized 9 oz balls. Place those balls onto a large tray or baking sheet being sure to leave space between them for each of them to grow.

Cover the tray with saran wrap and let the balls rest for at least another 4 hours.

After you've done that, put some flour onto your work space so that you can shape your dough ball into a pizza without it sticking. Then, take one of the dough balls out of the dish it rested in using either your hands coated in flour or a flour-coated spatula.

Now, start to shape your pizza crust using your hands rather than a rolling pin. Do this by pressing the dough down starting from the bottom side of it that is closer to you and working your way to the top. Pay special close attention to the edges of your dough because unlike when making a regular pizza, you do not want to leave your edges a thicker rim. Instead, you actually want the edges of your pizza dough to be thinner than the center of it. (Though you still want the center of your dough to be flat, just not as flat as the edges. Leave a little thickness in the middle).

Next, heat vegetable oil in a frying pan that's large enough to deep fry your pizza crust in. The temperature of your oil should be 356°F.

While your oil is heating, use a fork to press holes into your newly-shaped pizza crust. You want to poke small holes everywhere on the surface of the dough, and be careful to avoid ripping it or forming large holes by going over the same areas too frequently.

Once your dough has holes all over and your vegetable oil is heated to 356°F, place your pizza crust into the oil and fry it on both sides until it is a light golden brown, being careful to only turn it one time once the first side is done.

When the crust is finished frying, place it onto a wire rack and pat away some of the grease using paper towels. You want to get rid of as much excess oil as you can to help prevent your crust from becoming soggy and losing its lovely crispiness and crunch.

After you've removed the excess oil from your pizza crust, it's time to start adding the toppings. First, put the pizza sauce of your choice on it, and be sure to be fairly generous so as to avoid your pizza being dry.

Next, add fresh basil on top of your pizza sauce unless the sauce you're using was made with fresh basil in it. If that's the case, then you will put your basil on your pizza last after your cheese.

After that, add parmesan and mozzarella cheese to your taste, and if you did not add the basil onto your sauce in step 18, then add it now. Here is also where you can drizzle your pizza with a bit of extra virgin olive oil if you want to.

Now, place your pizza onto the pizza stone or pan you placed into the oven earlier and bake it just long enough to slightly melt your cheese. This will barely take a minute as you don't need to melt the cheese all the way because you want to avoid over-baking your crust.

After you cheese is softened and starting to melt, take your pizza out of it, cut your pizza, and enjoy!
Video
Nutrition
Calories:
790
kcal
|
Carbohydrates:
106
g
|
Protein:
39
g
|
Fat:
22
g
|
Saturated Fat:
13
g
|
Polyunsaturated Fat:
1
g
|
Monounsaturated Fat:
6
g
|
Cholesterol:
63
mg
|
Sodium:
4592
mg
|
Potassium:
321
mg
|
Fiber:
4
g
|
Sugar:
2
g
|
Vitamin A:
779
IU
|
Vitamin C:
2
mg
|
Calcium:
750
mg
|
Iron:
7
mg
Notes & Tips
When forming and kneading your dough, be sure not to be too rough as you're forming the dough in order to prevent making a tough dough. This dough recipe makes an easily malleable dough, so heavy handling isn't necessary.
If you're concerned about burning your pizza crust while melting the cheese, then you can turn your oven off just before you're about to bake your pizza, and you can let the residual heat in your oven melt the cheese on your pizza. I do this regularly, and it works well as long as you don't turn your oven off too soon before you put your pizza in it.
Substitutions
Some people use pecorino cheese on their montanara pizza instead of parmesan as this is up to personal choice. If you want to use pecorino cheese instead of parmesan, make sure that you're careful of how much of it you use as pecorino cheese has a stronger flavor than parmesan and using too much of it can overpower the other flavors in your pizza, undoing all of your work.
Questions
Can I make the dough ahead of time and store it for later?
If you want to make the dough ahead of time and then store it to use later, then you can do so. If you only want to store it for about a week or two, then you can store it in your refrigerator, but if you want to store it for longer, then it needs to go in the freezer. 

To store your dough in the refrigerator or freezer, wrap it with saran wrap and put it into an airtight container. I like to rub a little bit of extra virgin olive oil onto my dough before doing this step in order to further prevent it from getting freezer burn and in order to help it from getting too dry in the freezer, but doing this is optional. 

If you store your dough in a zip-lock bag, be sure to get all of the excess air out of it first before closing it. I do not recommend storing your dough in a zip-lock bag if you're going to be storing it for longer than about a week.
---
Recent Recipes