All The Carrabba's Vegan Menu Options
Whenever you waltz into the Carrabba's Italian Grill, you are welcomed with a homey décor that will prepare you for a great dining experience. It is a long-serving restaurant that has been offering scrumptious Italian dishes that are cooked with locally sourced ingredients. The restaurant was opened in 1986, and since then, it has opened in 247 different locations. Some of the popular locations include Florida, Colorado, Georgia, Arizona, Maryland, Michigan, etc.
The menu is designed with traditional Sicilian recipes that have been passed through family and techniques that have been mastered in Texas. The Italian-American fusion elevates the flavors and provides an interesting dining experience. Since its inception, the restaurant continues to bring new flavors to its menu while keeping its traditional flavors alive.
Viewing the growth of veganism across the world, the restaurant has obliged to the demand of consumers. It has come up with a few vegan options in its menu, which has gained a lot of popularity. If you are vegan, then we are here to help you.
In this post, we are sharing some of the best vegan options that you can try at Carrabba's. Here is a quick overview:
| Menu Item | Type | Notes |
| --- | --- | --- |
| Bread & Oil with Herbs | Appetizer | |
| House Salad or Side Salad | Salad | Order with vegan dressing option |
| Italian Salad or Side Salad | Salad | Order with vegan dressing option |
| Light Balsamic Dressing | Dressing | |
| Extra Virgin Olive Oil with Red Wine Vinegar or Balsamic Vinegar | Dressing | |
| Linguini Positano | Pasta | |
| Spaghetti with Pomodoro Sauce | Pasta | |
| Whole Grain Spaghetti with Pomodoro Sauce | Pasta | |
| Gluten-Free Casarecce Pasta with Pomodoro Sauce | Pasta | |
| Grilled Asparagus Side | Side | |
| Sautéed Broccoli | Side | |
| Sautéed Spinach | Side | |
| Grilled Seasonal Vegetables | Side | |
| Penne Pomodoro | Side | |
Note: Cross-contamination can occur. Menu items as of 1/13/2023. Some item are only available at certain locations. Please ask your server to confirm these options as they may have changed.
Bread With Herbs and Oils
Prominently, bread is vegan, and thank god for that! However, there are restaurants that offer non-vegan bread. But at Carrabba's you will get vegan bread. You can start your dining experience with this bread, which is dipped in oils and herbs.
Pasta
If you are going to Carraba's, you would definitely want to try the Pasta that it offers. Below are the vegan pasta dishes that you can try:
Gluten-free Casarecca Pasta with Pomodoro Sauce: Casarecca (Cah-Sah-Ret-Chee) in Italian means homemade. It is a short pasta that is rolled lengthwise and twisted. The slightly bent shape makes them ideal for holding the Pomodoro sauce.
The Pasta is accompanied by a special sauce, which is made using fresh tomato, aromatic herbs, fresh vegetables, and oil. Pomodoro sauce is often confused with marinara sauce. While their ingredients are very similar, their textures are different. Marinara has a runnier and liquid texture and is chunky. However, Pomodra has a thick, smooth texture.
Spaghetti with Pomodoro Sauce: This is another popular vegan option at Canberra's. Spaghetti pasta is blended with freshly made Pomodoro sauce to create a delicious Italian dish.
Linguine Positano: Linguine Positano is a form of Pasta that is quite similar to trenette and fettuccine, but it is flatter. The Pasta has a width of around 4 millimeters, and the term Linguine in Italian means' Little Tongue.' It is a simple dish, which has a rich flavor. The Linguine is mixed with a freshly made sauce that includes olive oil, garlic cloves, basils, and tomato puree.
Whole-grain Spaghetti with Pomodoro Sauce: If you are on a health spree, then this Pasta is something that you would enjoy. The dish uses freshly made Pomodoro sauce with whole-grain spaghetti pasta.
You can also try the Penne Pomodoro, but it is more of a side dish due to the portion size. When it comes to vegan pasta, Carrabba's will leave you impressed with the fresh and delicious quantity. These pasta dish options vary based on the location of the restaurant. Also, Carrabba's continues to change its menu over time. Additionally, there are other pasta options that you can make vegan if you'd ask.
Salad
There are two healthy and fresh vegan side salads, but you will have to ask for different dressings.
Italian Side Salad: Garden vegetable, romaine, and kalamata olives.
House Side Salad: Carrots, romaine, pepperoncini, shredded red cabbage, and Kalamata olives.
Instead of standard salad dressing, you can choose substitute that includes
Extra virgin oil and balsamic vinegar
Extra virgin oil and red wine
Light balsamic dressing
The salads at the restaurants cannot be considered as a meal unless you are not very hungry and want a light eats. They are better as snacks or side dishes.
Vegetable Sides
There are some vegan veggie sides that you can opt for with your Pasta. They come in good quantities and, more importantly, are quite fresh. Some of the vegetable sides include:
Steamed broccoli
Sautéed broccoli
Grilled asparagus
Steamed spinach
Sautéed spinach
Soups
As of now, there are no vegan soup options at Carrabba's. But there is a vegetarian soup option known as Minestrone. It is a thick vegetable soup that is high in fiber and promotes the removal of waste substances from the body. It is a great soup to keep your gut healthy. Some of the main vegetables in the soup include leeks, tomatoes, onions, asparagus, artichokes, onions, etc. The soup contains cheese, which makes it non-vegan. You may order the soup without the cheese if you like.
Pizzas
Finding a vegan pizza is hard because not many restaurants have come with their vegan version of it. The same goes with Carrabba's menu; you will not find any vegan pizza. As a matter of fact, they also don't have any vegetarian options. So it looks like you will have to stick to pasta and vegetable sides.
Desserts
Your dining experience seems to be incomplete without a dessert. But vegans will be disappointed at Carrabba's as the restaurant does not have a vegan version of their desserts.
But they do have great dessert options that include cinnamon apple crostata, cannoli cake for two, John Cole, Sogno di Cioccolata "Chocolate Dream," Tiramisu, Strawberry Cheesecake, and Traditional Cannoli.
Beverages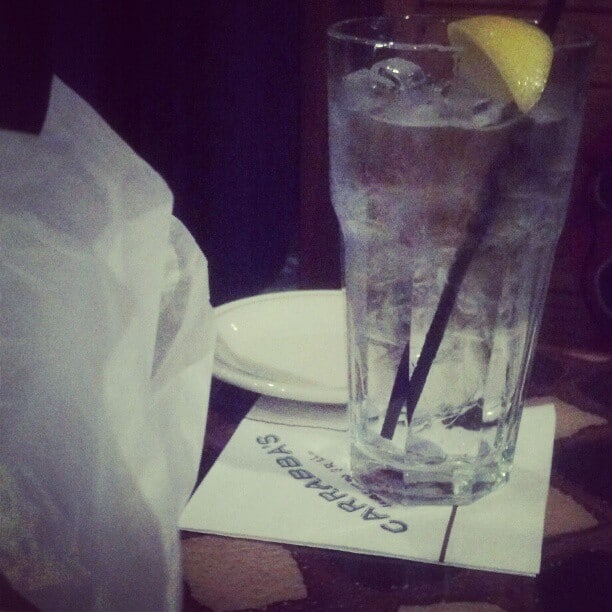 There are a lot of vegan beverages available at the restaurant. Vegan beverage options include:
Diet coke
Root beer
Coke
Dr. Pepper
Sprite
Sweet iced tea
Unsweetened iced tea
Minute maid lemonade
Acqua Panna (Mineral water)
San Pellegrino (Sparkling water from Italy)
The menu is clearly laid out, and you can find vegan, vegetarian, and gluten-free dishes labeled separately. Additionally, there are some dishes that can be made vegan; you can ask your waiter regarding the same. The waiters are well-informed and will guide properly. As mentioned above, the menu can slightly change depending on the location. So you may find variations in the dishes that we have mentioned above. Although the vegan options at Carrabba's are not that extensive, it does offer some great dishes.
---
Recent Recipes