Best Flavors For Cappuccino
Whenever you're in the mood for something other than plain old cappuccino, turn to our selection of elevated flavors to pick from combinations spanning classic to quirky and everything in-between. For some, dessert cappuccino is the only brew of the day. All it takes for freshly made barista-quality java is following our foolproof recipe and picking out any of our best flavors for cappuccino. With thirty to pick from, there's something for everyone.
Key Takeaways
One of the easiest ways to come up with your own flavored cappuccinos is to incorporate flavored simple syrups into the blend. Most often, they'll be added directly to the freshly brewed espresso, but for creamier cappuccinos, mix your additives into the milk while heating or frothing.
Fresh and dried herbs, powdered herbs and spices, chocolate, candies, and even entire desserts that dissolve like marzipan can be melded into a well-constructed cappuccino. Be creative but try not to overload your new recipe with too many individual ingredients. Balance is key. 
The Definitive Cappuccino Recipe – How To Make Cappuccino At Home
To elevate your cappuccino even further, try experimenting with different milk-to-foam ratios and playing around with the temperature of the milk to achieve your desired texture. However, with the recipe below, you'll have a perfect cappuccino as it was originally intended. Don't forget to enjoy your cappuccino while it's still hot to truly savor the rich flavors. Adapt this basic recipe for cappuccino using the flavor guidance below for thirty of the best-tasting cappuccinos around.
The proper method for making a single cappuccino is as follows:
Begin by heating a cup of milk over medium heat in a small saucepan. Once simmering, remove from the heat and allow to stand until your beans are ready. If using a steam wand/frother, proceed to grind and brew your coffee first before adding your milk to a warm cup and frothing until soft peaks form (15 to 25 seconds).
While the milk is cooling down, grind 2 to 3 tablespoons (around 12 to 14 grams) of espresso coffee beans or a dark roast.
Froth the milk warmed in a saucepan using an electric mixer (omit step if using a frother).
Brew the coffee you ground with 5 to 6 ounces of 195 – 205°F water. If you don't have a thermometer, let the water boil and as soon as it starts bubbling, remove it from the heat, wait 30 seconds, and it's ready for ground coffee .
The perfect cappuccino calls for equal quantities of espresso, steamed milk, and froth and so add a third of each to your cup, starting with the coffee, then milk, then carefully top with foam.
Cappuccinos don't typically get served with sugar in them if you're in a coffee shop or restaurant but if you're making one at home, simply mix the sugar desired to the espresso before adding milk and froth to your cup to preserve the pristine appearance of the foam, ideal for latte art. For the best coffee for cappuccino, take your pick from the best Italian, Cuban, or general coffee brands on Amazon. We've evaluated all the top contenders.
The 30 Best Flavors For Cappuccino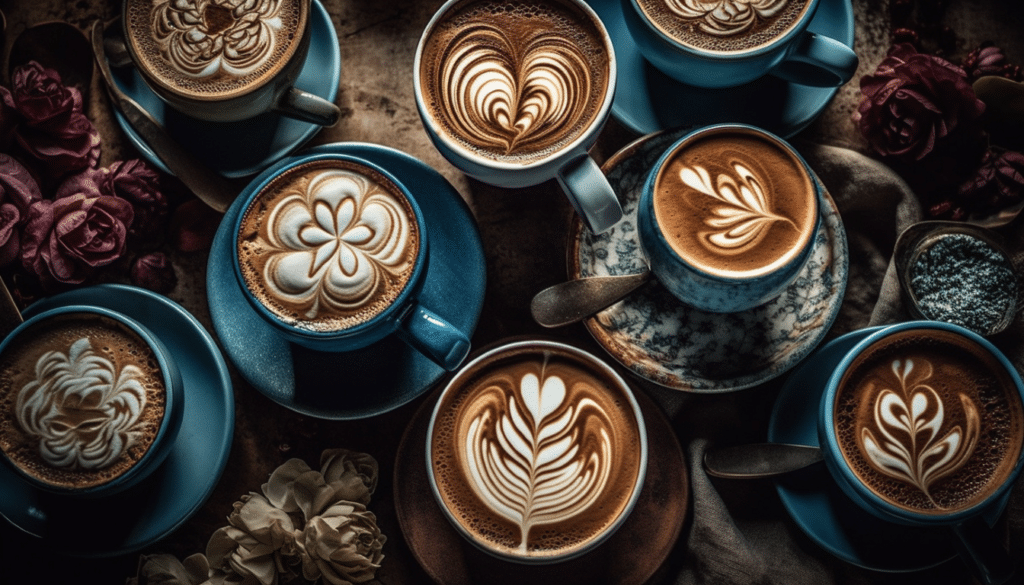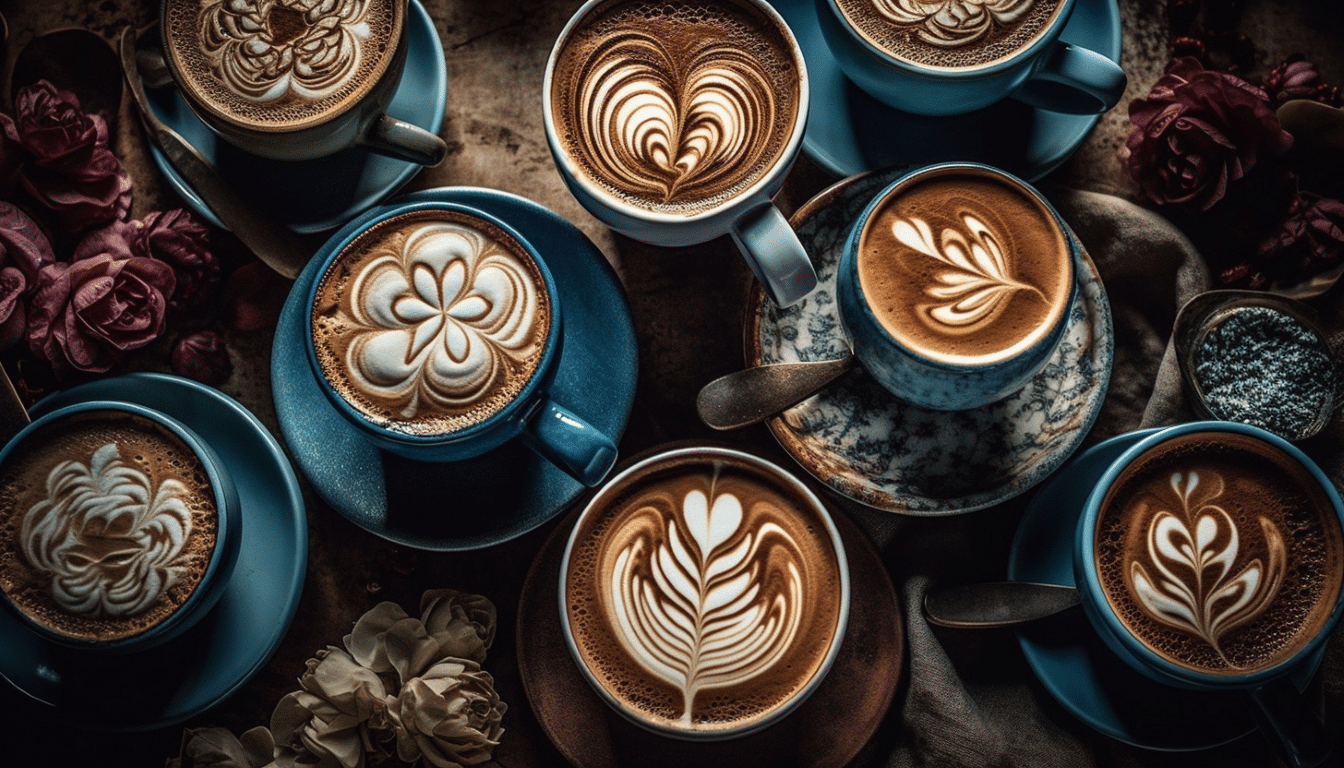 No matter what you're in the mood for, there's sure to be a come-back-for-more cappuccino recipe waiting in our selection of the thirty best flavors for cappuccino. Between classic flavors, fresh and fruity, warming and aromatic, exotic and out-of-the-ordinary, and bold and boozy, there are ample delicious options for all.
Classic Flavors
Indulge in the nostalgia of traditional tastes with our 'Classic Flavors' section, featuring tried and true favorites like vanilla, caramel, and chocolate cappuccinos that are sure to satisfy even the pickiest of palettes.
Vanilla Cappuccino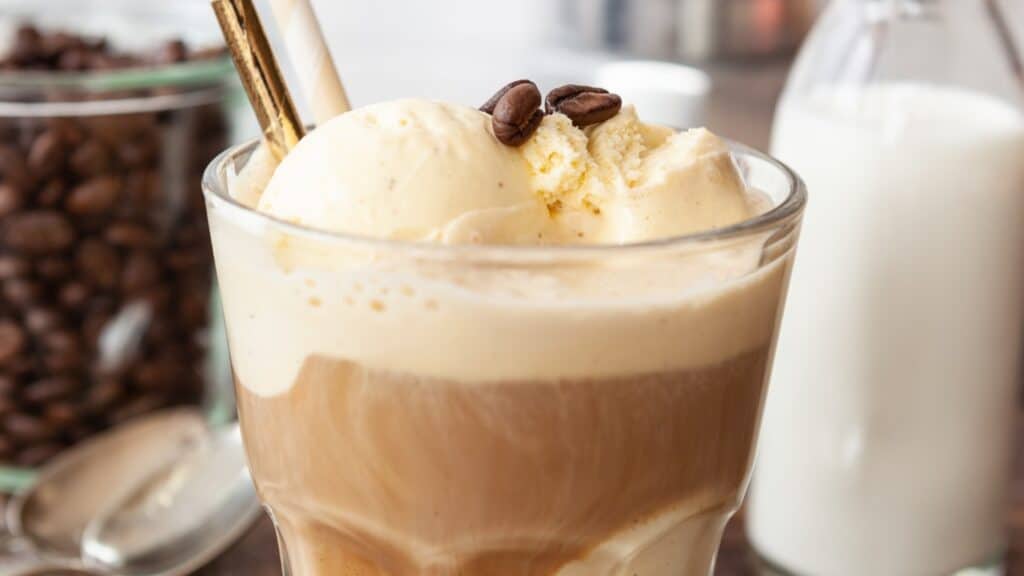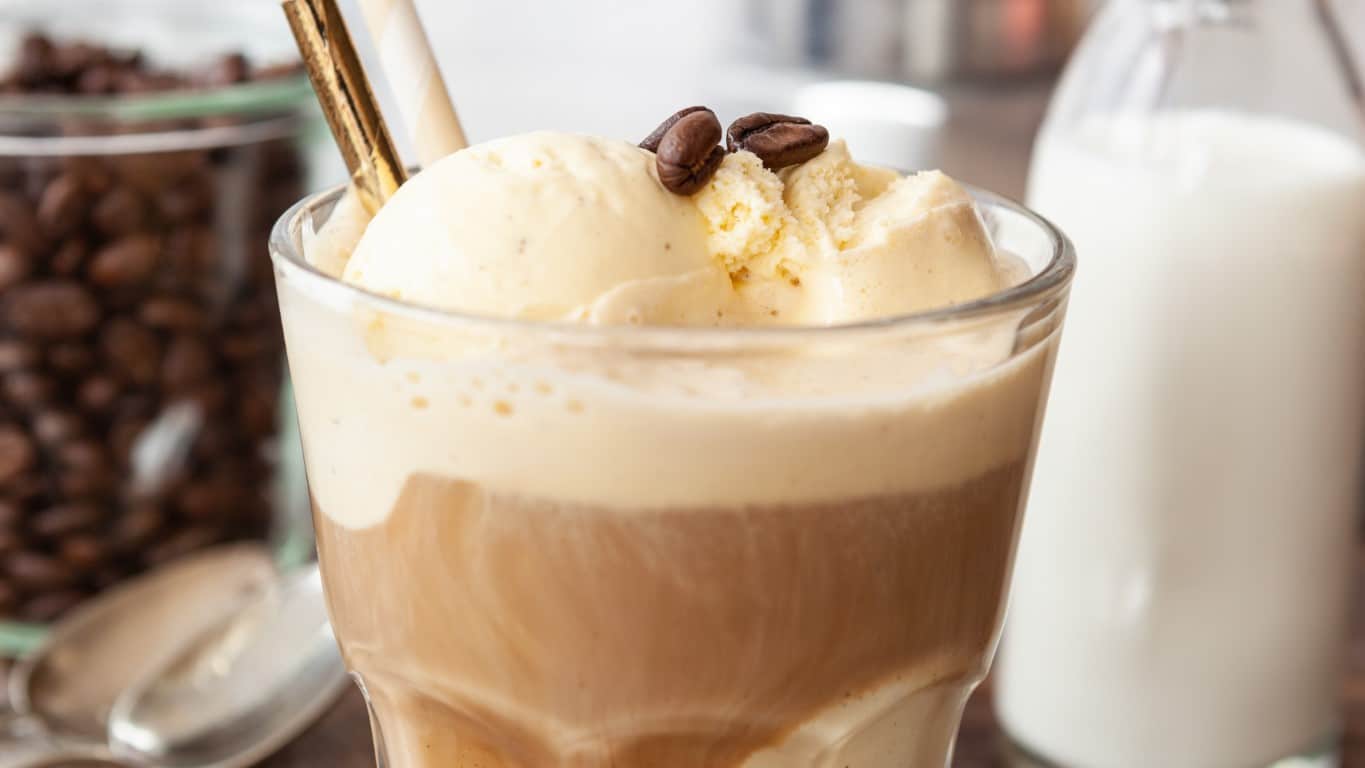 Vanilla cappuccino can be made with either vanilla essence or vanilla bean paste. Add either type to the milk as it warms, then build your cappuccino. Finish off with whipped cream or blend it into the milk before forther, and add a sprinkle of vanilla powder. Start with half a teaspoon of essence or half the scrapings of a single pod but feel free to adjust according to taste. For sweetness, simple syrup, maple syrup, and agave all work wonderfully.
Mocha Cappuccino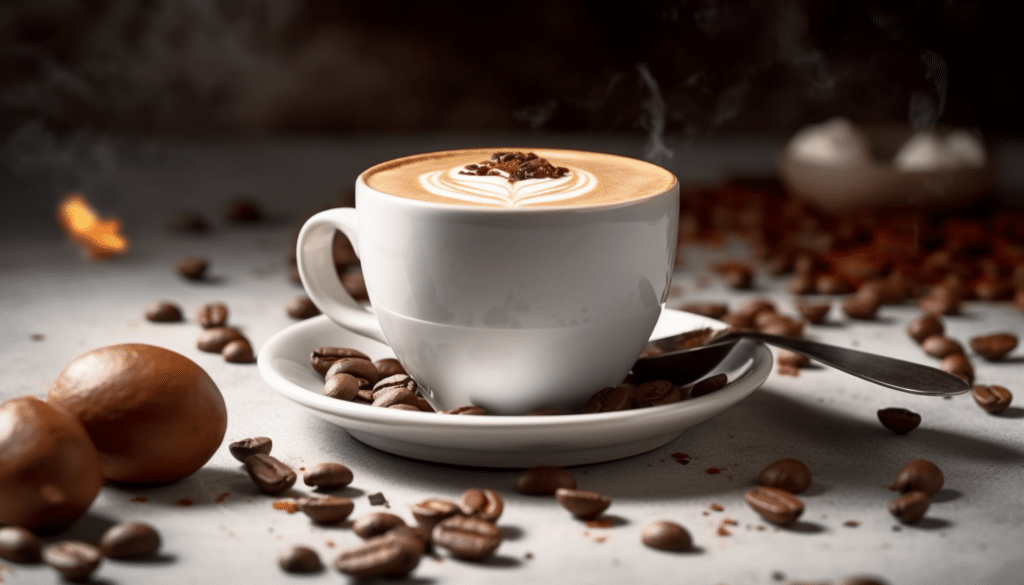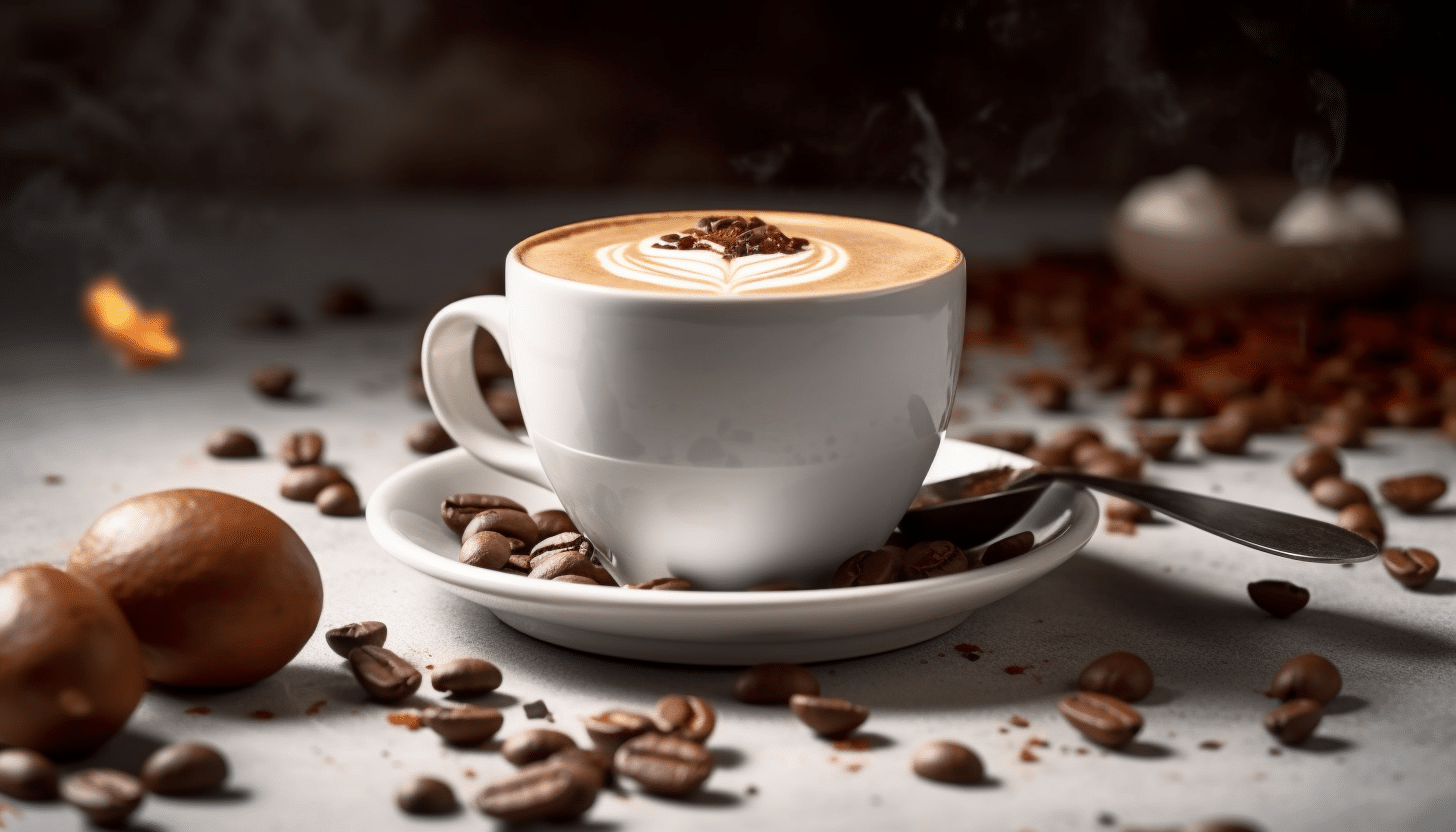 For mocha cappuccino, simply add half a teaspoon of cocoa powder, a drizzle of chocolate sauce, and two to three drops of vanilla essence to your espresso once it's brewed, then build your cappuccino. Garnish with chocolate shavings and use a combination of different chocolate types to grant depth of flavor.
Caramel Cappuccino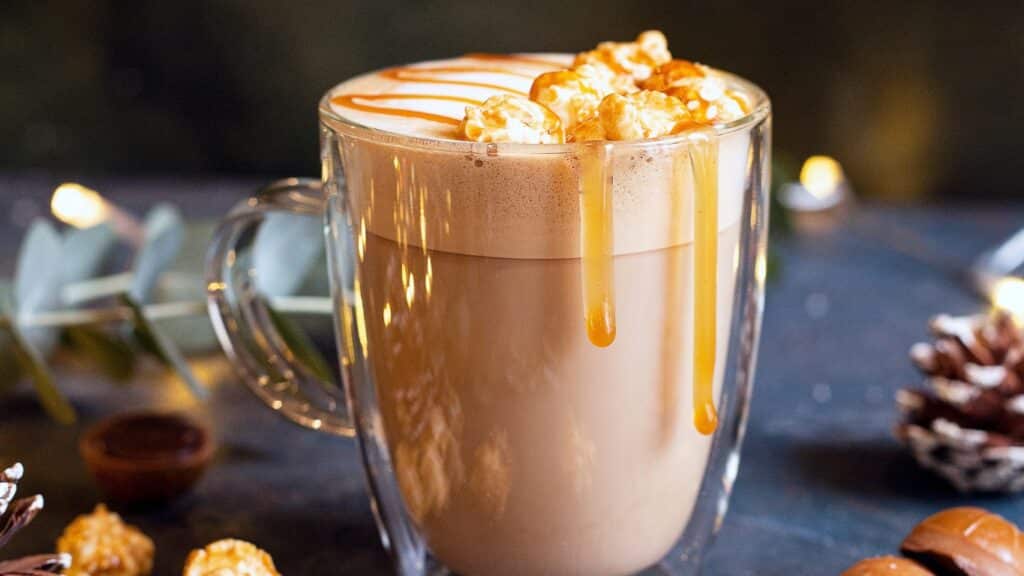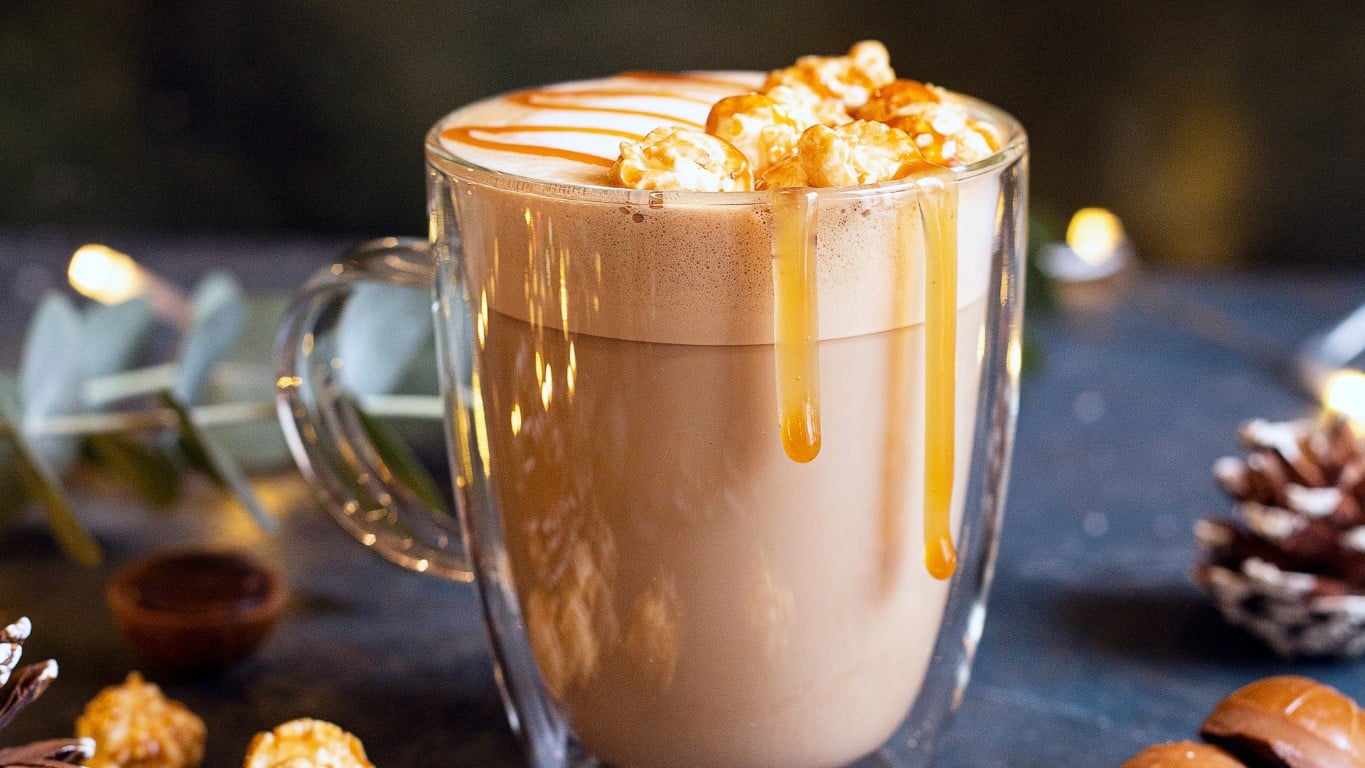 Add two tablespoons of caramel sauce and half a teaspoon of vanilla extract to the milk as it warms to a simmer. Build the espresso using your mix, and finish off with a blob of whipped cream and a drizzle of caramel or caramel sauce.
Mint Cappuccino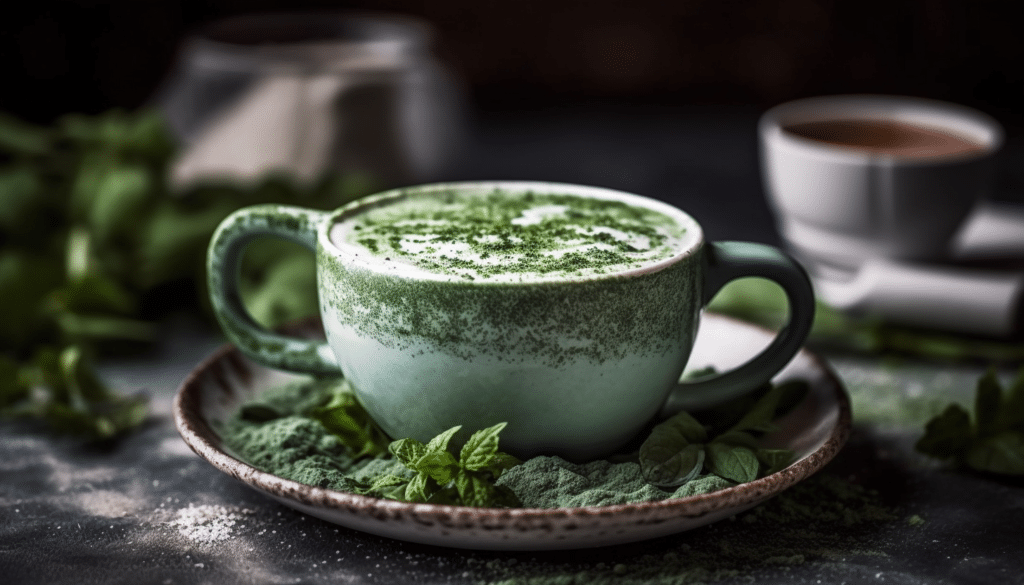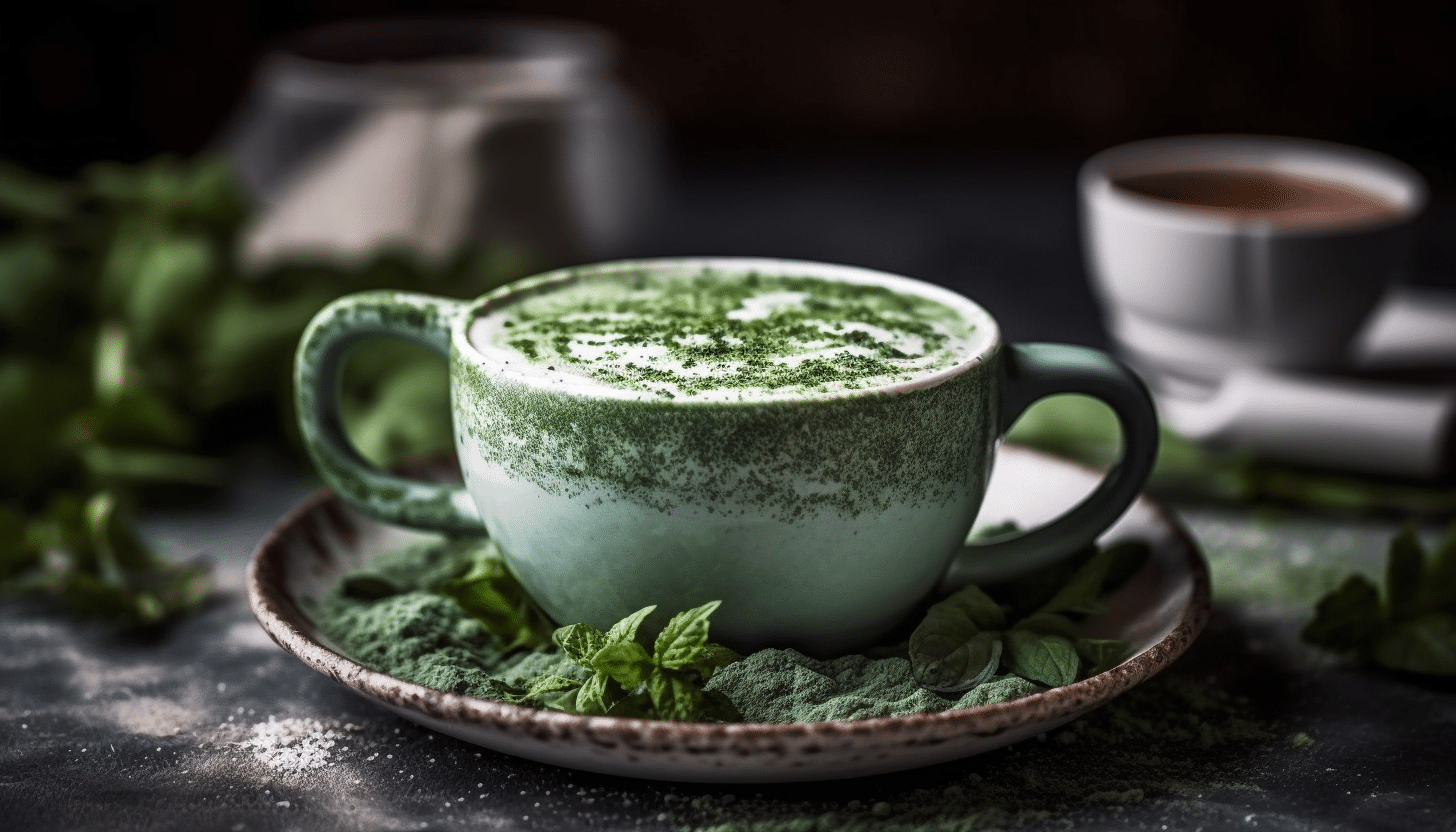 Mint cappuccino has two basic variations depending on the ingredients available. Either add a teaspoon of peppermint extract or a handful of muddled mint leaves to your saucepan as the milk warms, then build the cappuccino normally. Finish off with a topping of crushed peppermint candy, and it's ready to be enjoyed.
Raspberry Cappuccino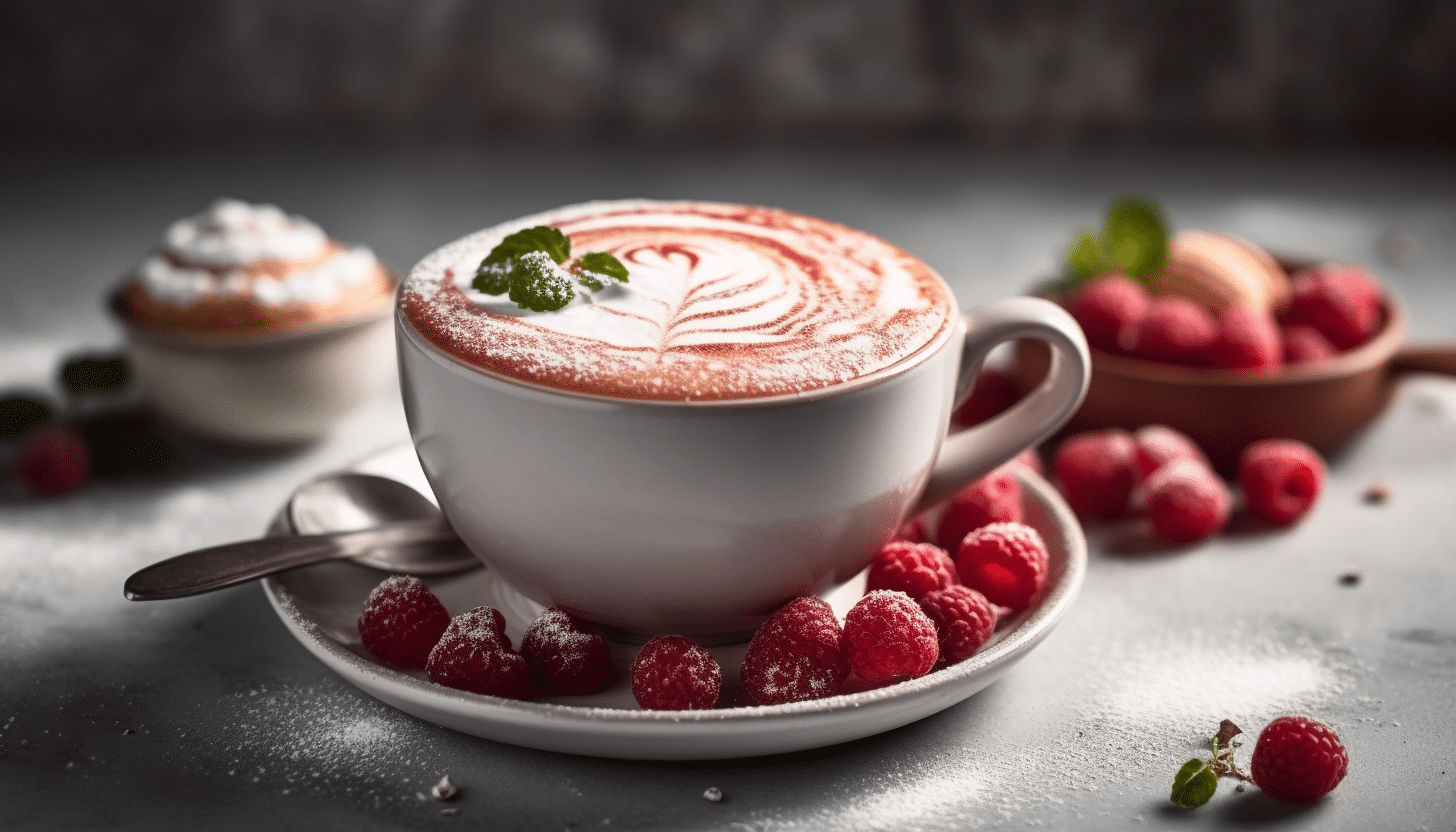 There are two ways to make a delicious raspberry cappuccino. Add either a teaspoon of raspberry powder or two or more tablespoons of freshly mashed raspberries to your espresso as it brews. Use this to build your espresso and garnish with one or two fresh raspberries. Those who see themselves enjoying a slightly sweeter variation can add vanilla extract to their brewed coffee and opt to top it with additional raspberry syrup.
Fresh and Fruity
Wake up your senses with our 'Fresh and Fruity' selection of flavored cappuccinos, featuring invigorating flavor combinations like blueberry, apple cider, and caramelized pear, that will make your taste buds crave more.
Blueberry Cappuccino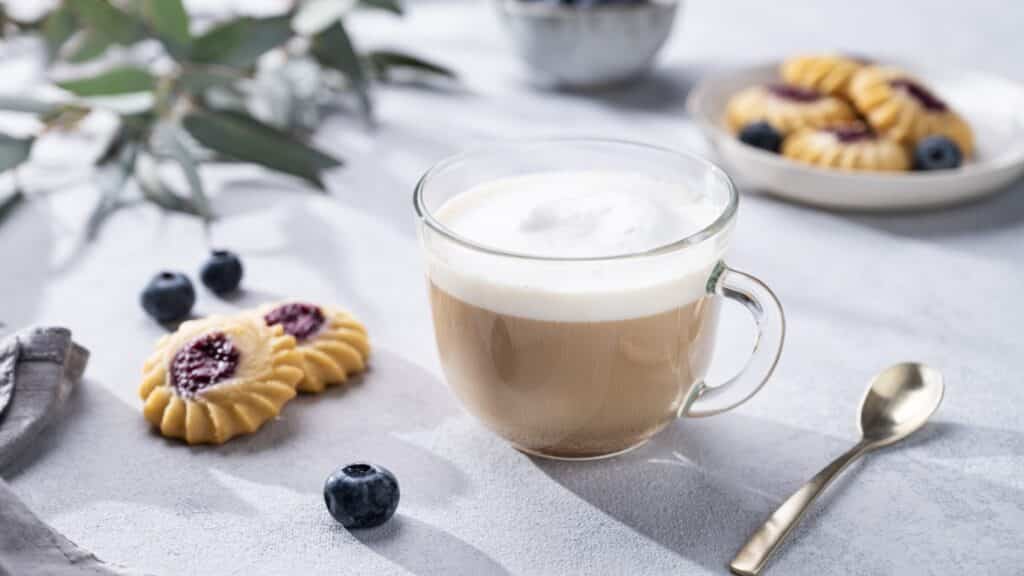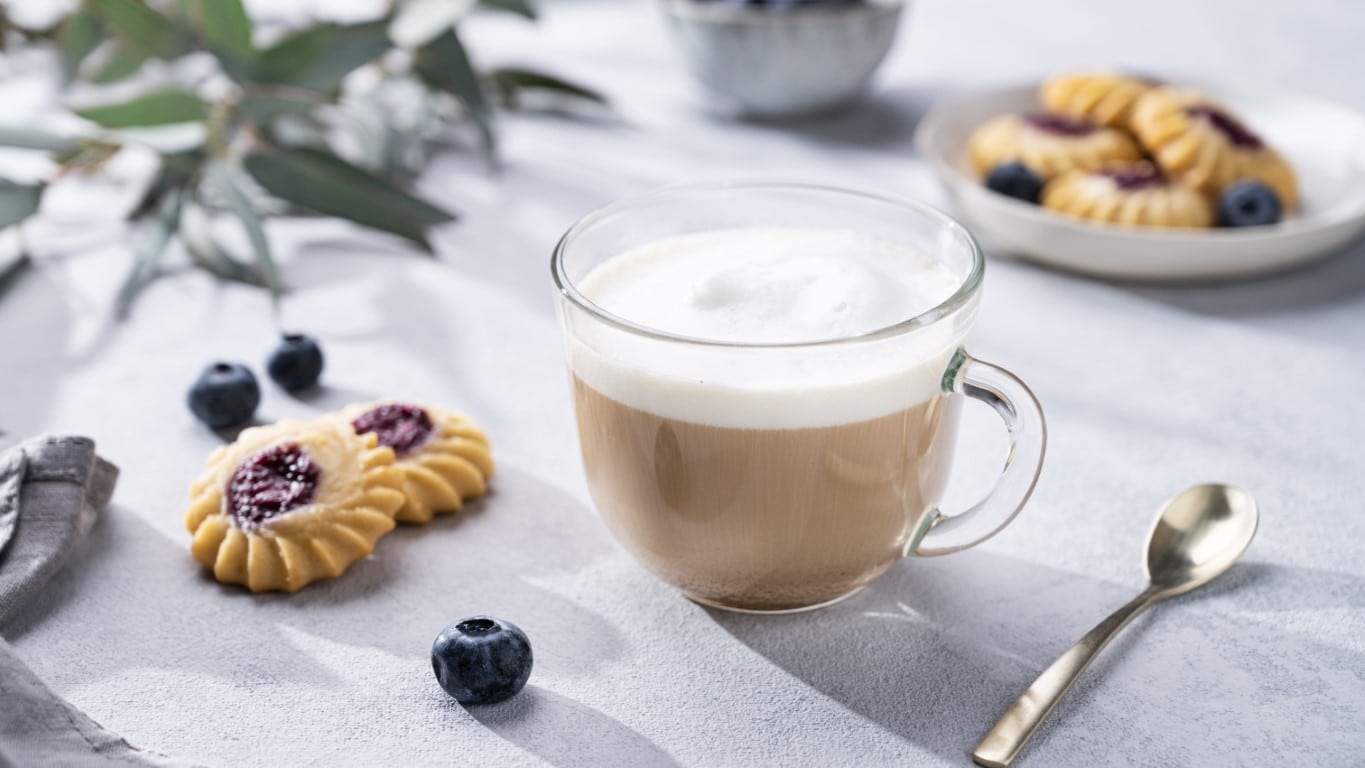 To a blueberry cappuccino, simply add a few fresh blueberries and a sprinkle of blueberry sugar to the milk of your cappuccino before whipping it. The result is a deliciously fruity and sweet drink that's perfect for those who crave something a little different. For an extra touch of luxury, you can also top it with a dollop of whipped cream and a sprinkle of blueberry sugar. Making blueberry sugar is easy. Simply grind the blueberries in a coffee or spice grinder until extremely fine, and then blend well with granulated sugar.
Caramelized Pear Cappuccino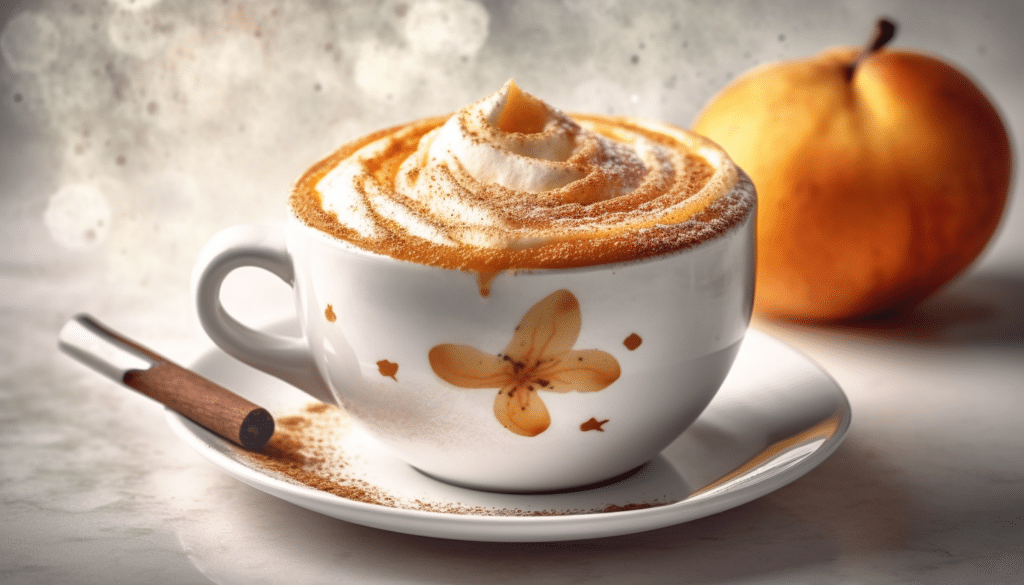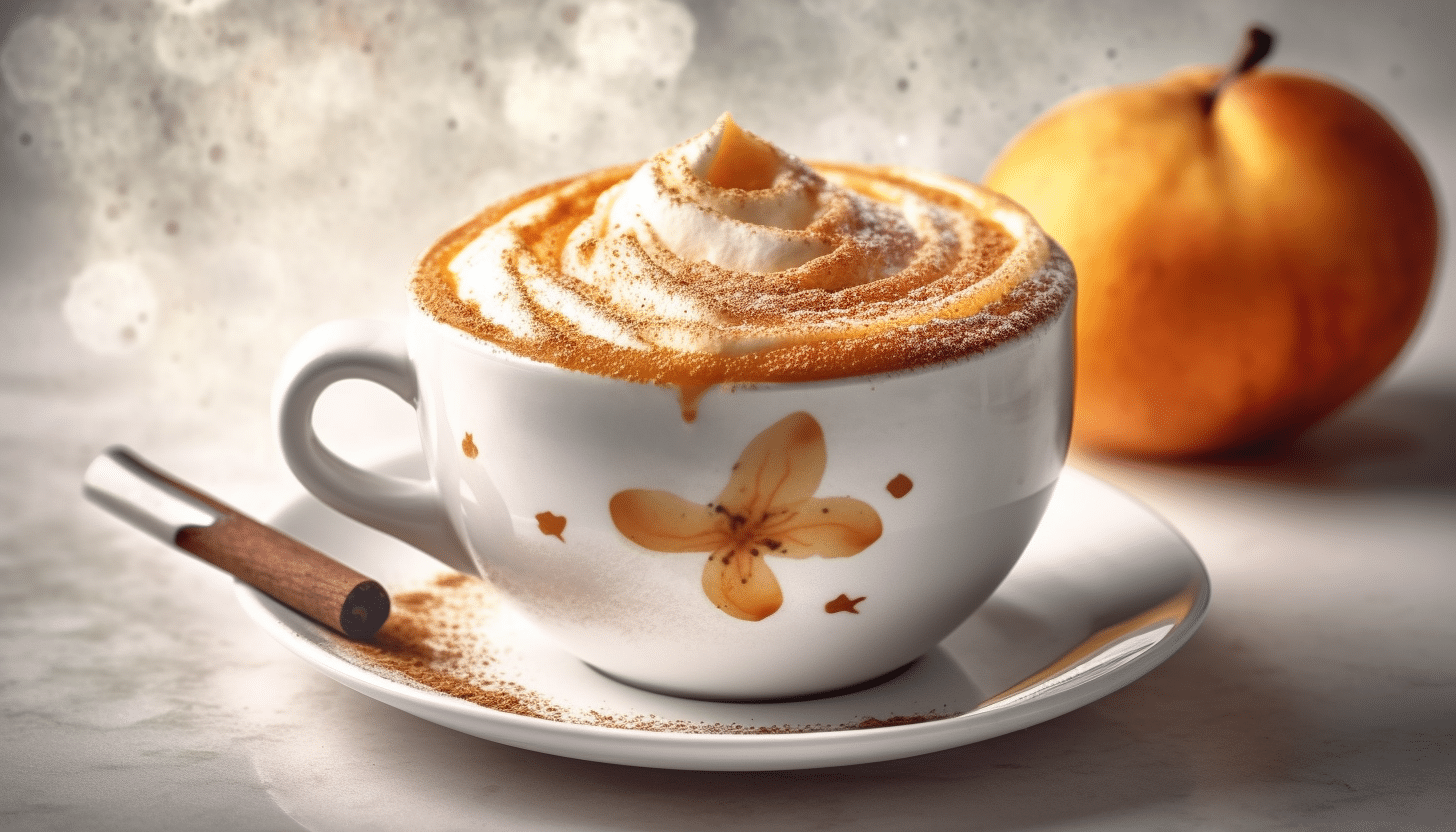 Start by caramelizing sliced pears in a pan with butter and sugar. Steam your milk as usual, and add a shot of caramelized pear syrup to the milk before frothing. Top your caramelized pear cappuccino with a sprinkle of cinnamon. For a nutty twist, add either shaved or ground hazelnut or almond.
Blueberry and Lemon Cappuccino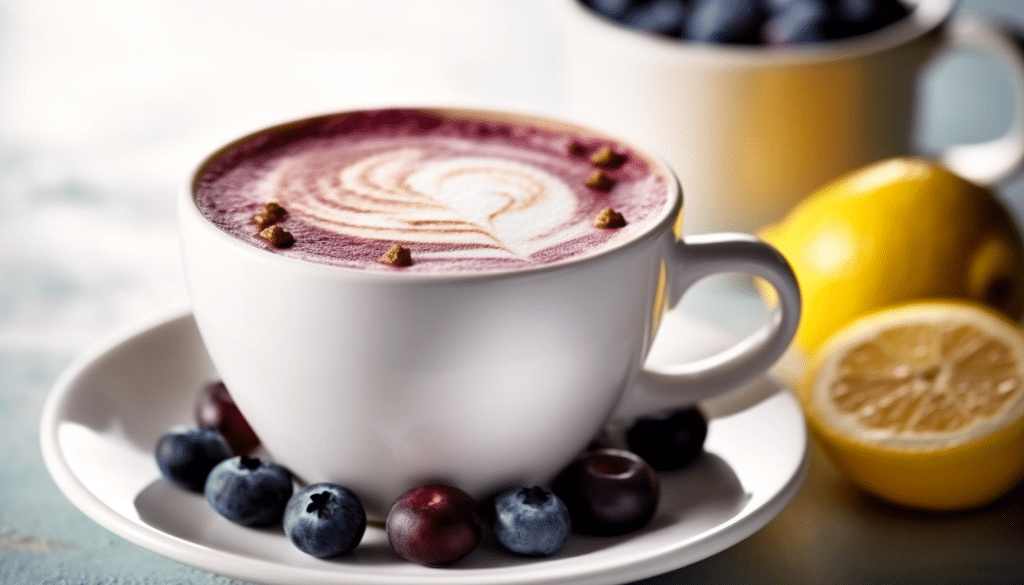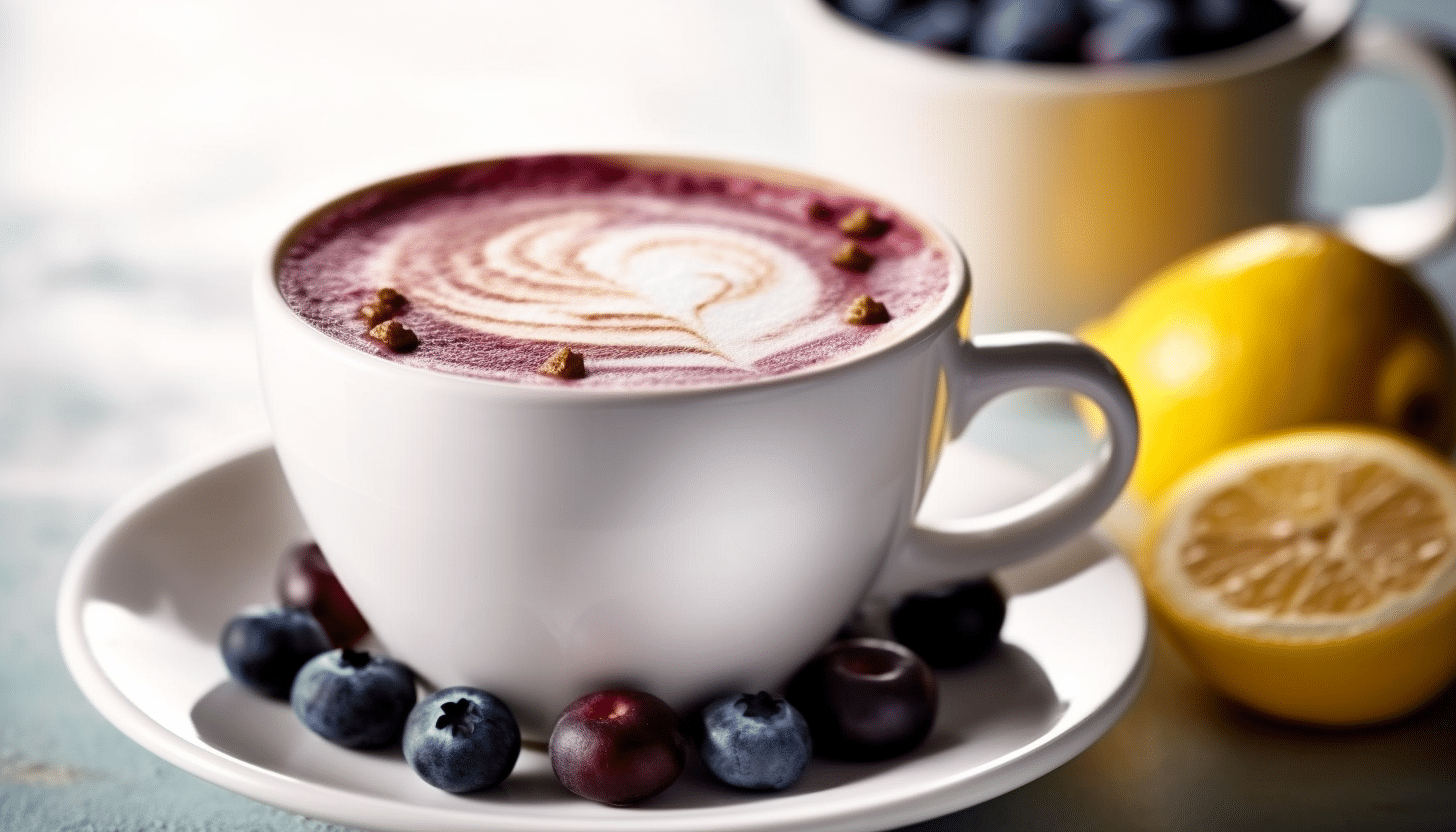 Blueberry and lemon cappuccino takes just a few fresh or frozen blueberries, your desired quantity of blueberry sugar, and a squeeze of lemon or a tablespoon of lemon juice added to the espresso while brewing. Crust the blueberries first for a different texture and more flavor. Construct the cappuccino and garnish with lemon zest and one or two blueberries. For an extra touch of luxury, blend whipped cream into the milk before frothing, and top with a sprinkle of blueberry sugar. Making blueberry sugar is easy. Simply grind the blueberries in a coffee or spice grinder until extremely fine, and then blend well with granulated sugar.
Spiced Apple Cider Cappuccino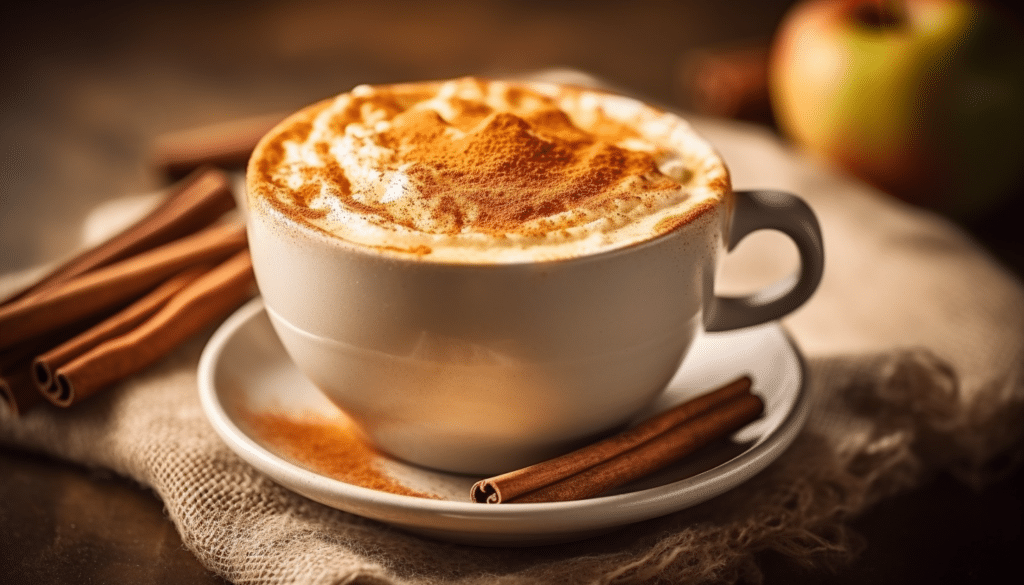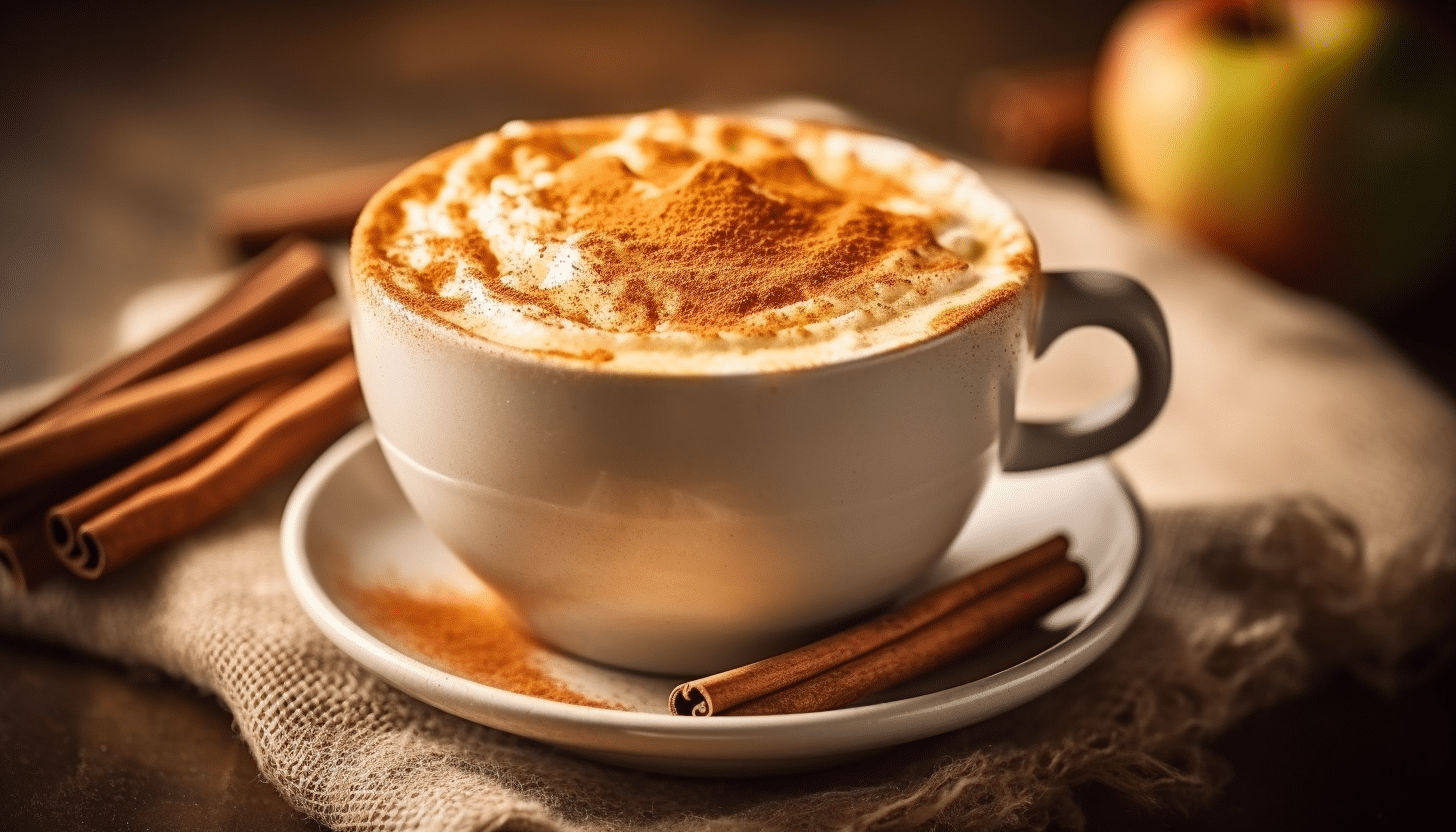 Warm or steam your milk but add a shot of apple cider and a sprinkle of cinnamon, nutmeg, and allspice before frothing. These are the ideal spices to accentuate the deep flavor of the cider. Build your espresso, topping it off with a sprinkle of caramel sauce.
Coconut Cappuccino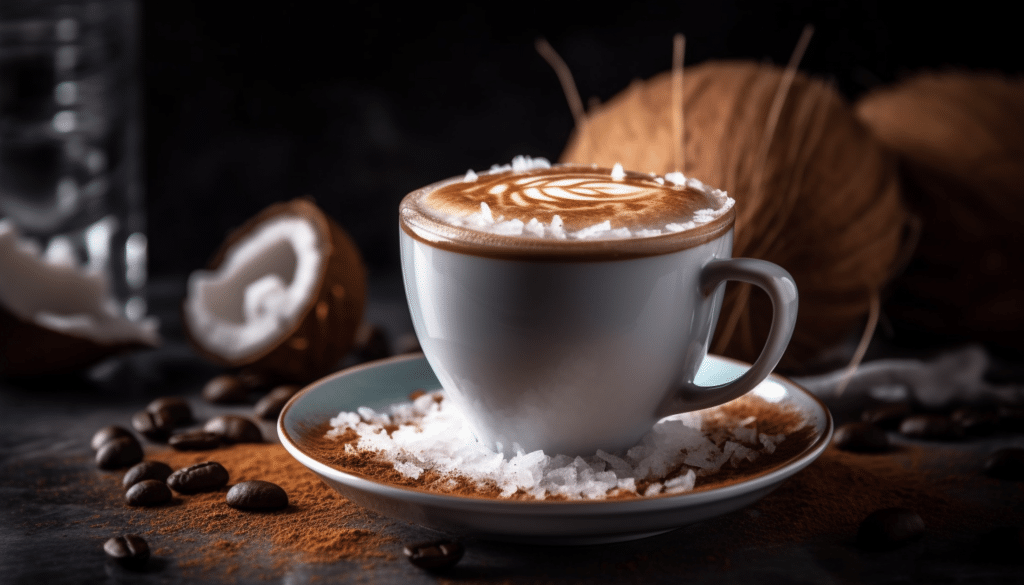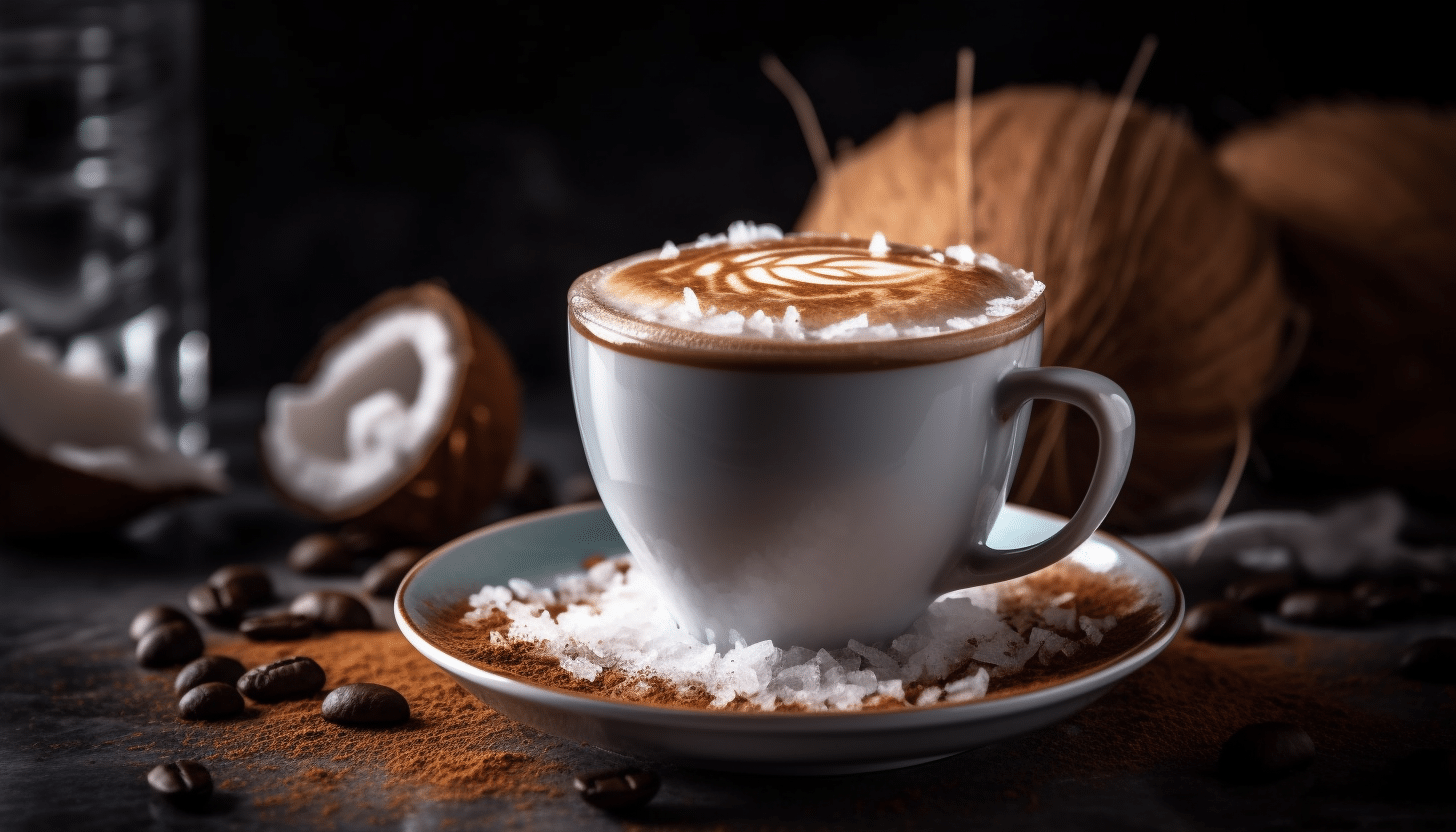 For a tropical twist on your cappuccino, add a scoop of creamy coconut cream to the espresso before steaming the milk. This will infuse the cappuccino with a rich, creamy coconut flavor. Top with frothed milk and sprinkle with shaved, toasted coconut for a decadent and delicious finish and, optionally, cinnamon.
Warming and Aromatic
Add a touch of warmth to your morning with our 'Warming and Aromatic' selection of cappuccino recipes, featuring flavors like lavender, anise, and nutmeg that will have your mouth watering from a mere whiff of the aroma.
Pumpkin Spice Cappuccino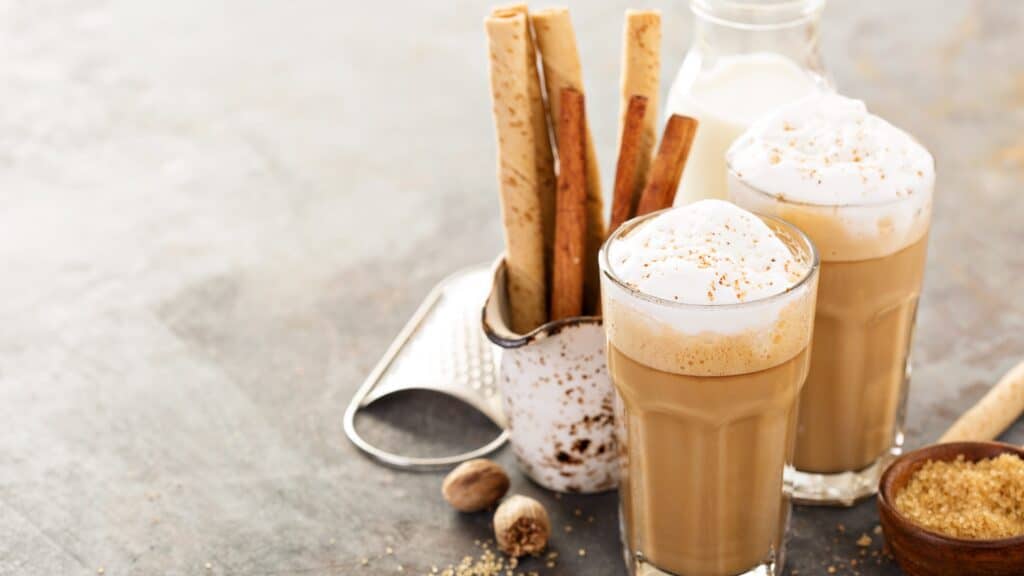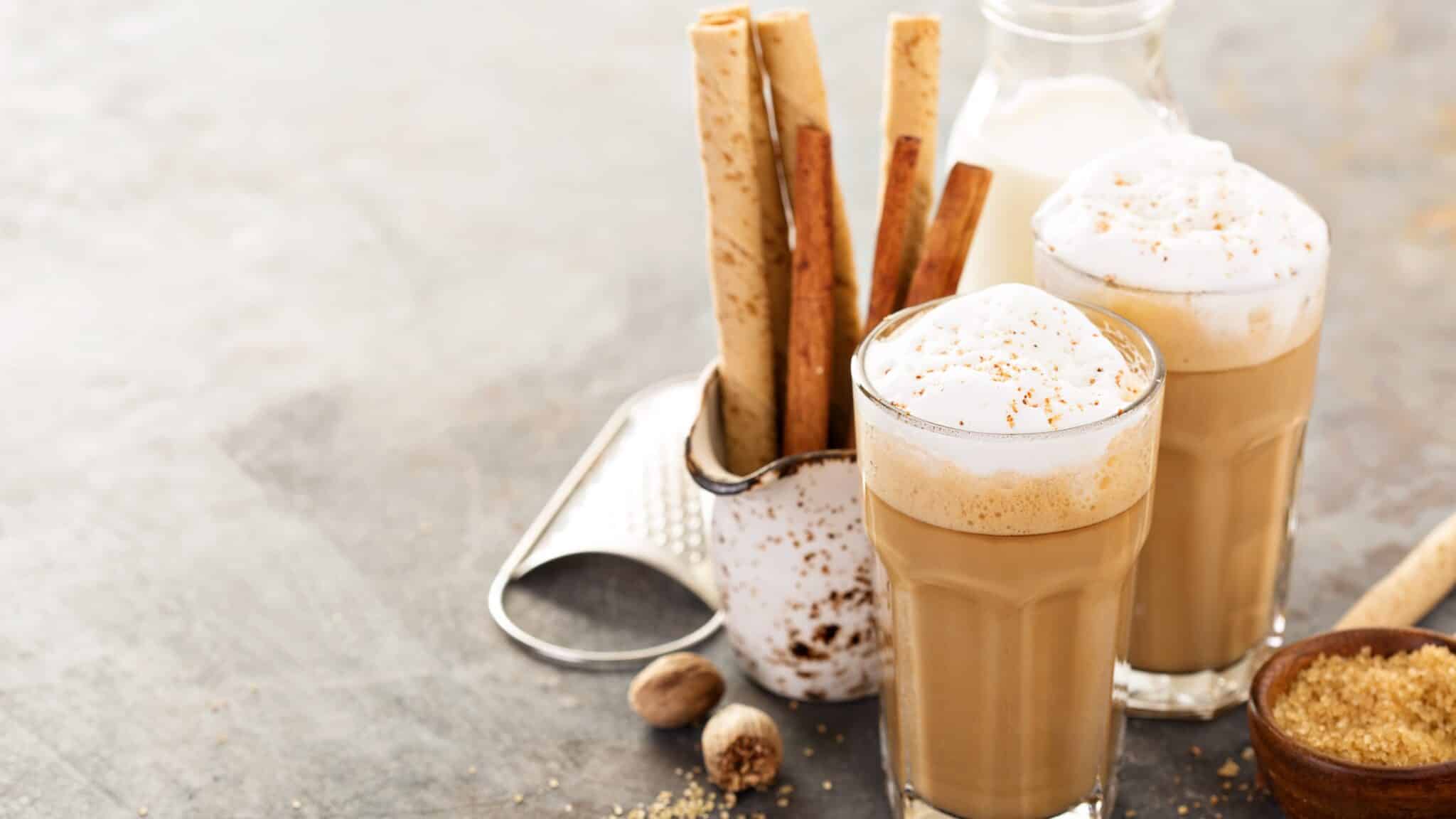 While heating the milk, add a quarter cup of pumpkin puree, one teaspoon of pumpkin spice piece, and two teaspoons of sugar to the saucepan. Once simmering, continue constructing your cappuccino. For an extra touch of flavor, add a drizzle of maple syrup before topping it with a sprinkle of cinnamon. This gives a perfect blend of sweet, spicy, and creamy.
Spiced Chai Cappuccino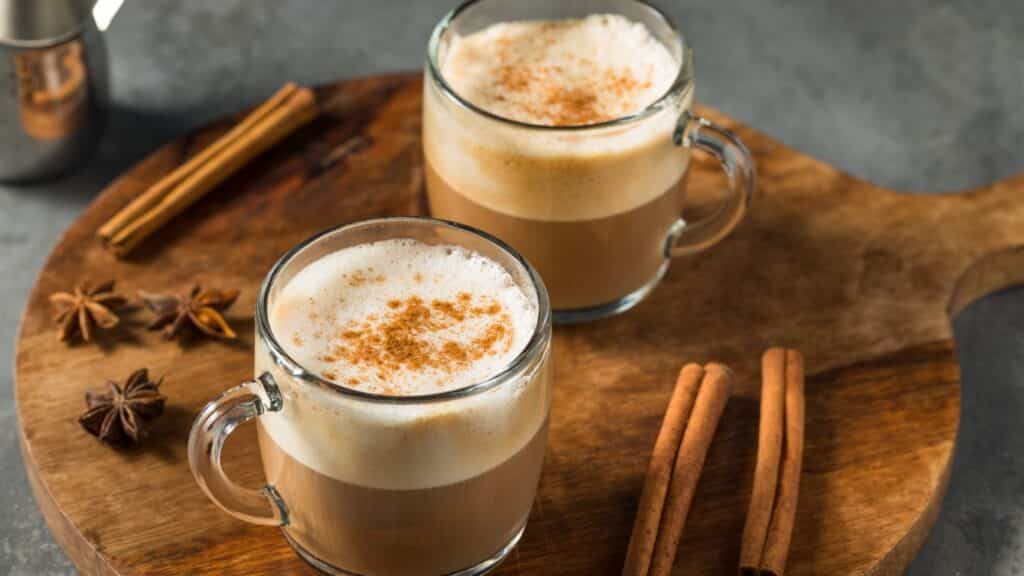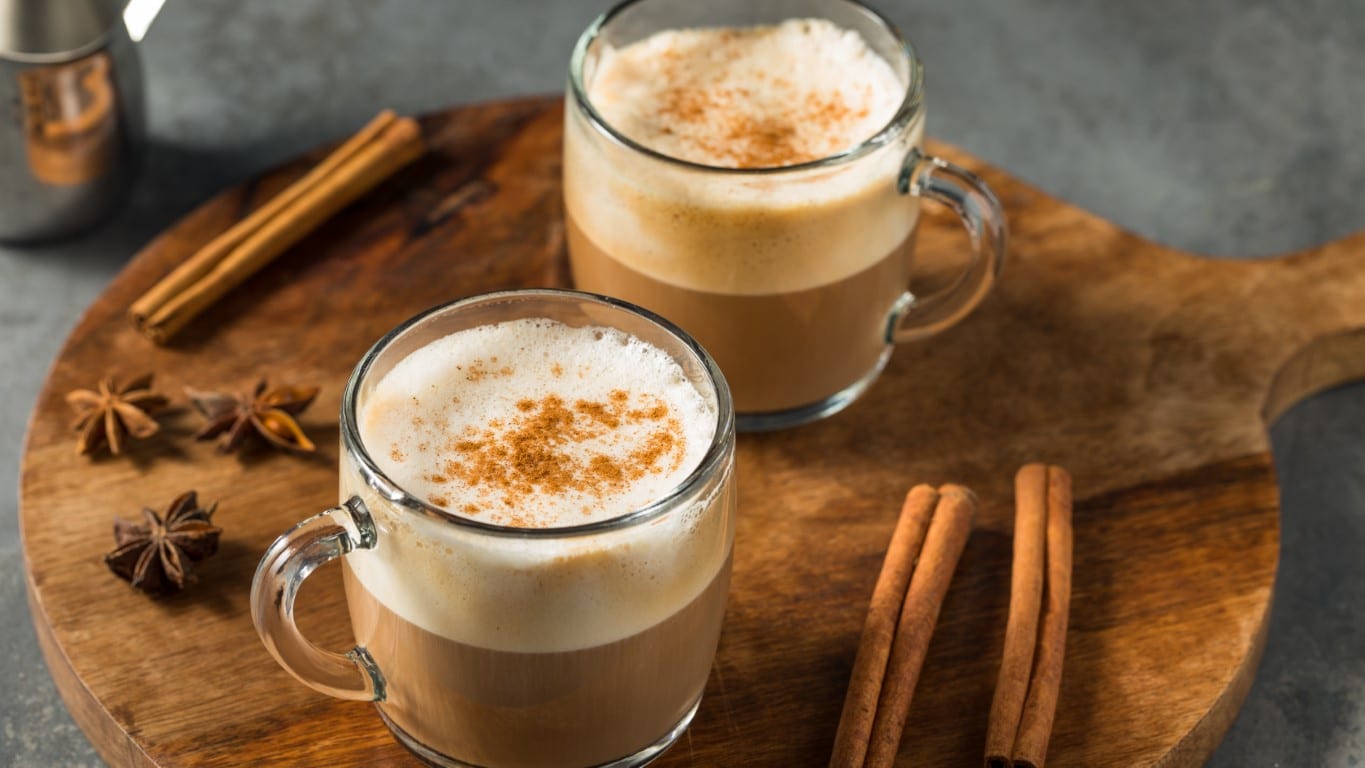 For a warm and comforting touch, infuse your cappuccino with a blend of aromatic spices such as cinnamon, nutmeg, and ginger to evoke the flavors of a classic chai tea. Opt for freshly ground or powdered spices, and add them to the espresso before constructing.
Matcha Cappuccino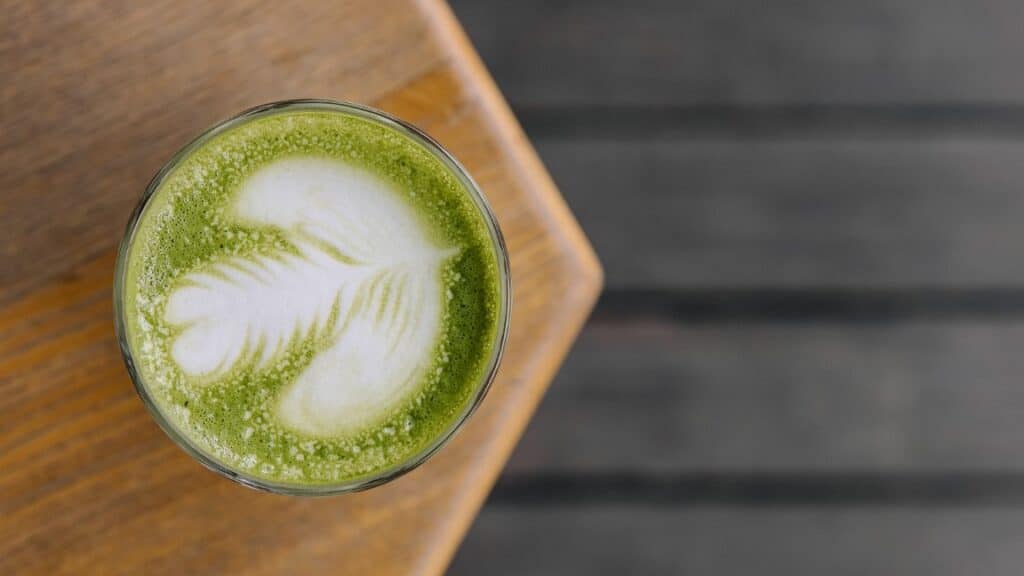 Prepare to become addicted to the earthy taste of match by mixing in a scoop of high-quality matcha powder before constructing your cappuccino. Opt for vanilla or honey as a sweetener and top it off with a sprinkle of matcha powder and optionally whipped cream.
Lavender Cappuccino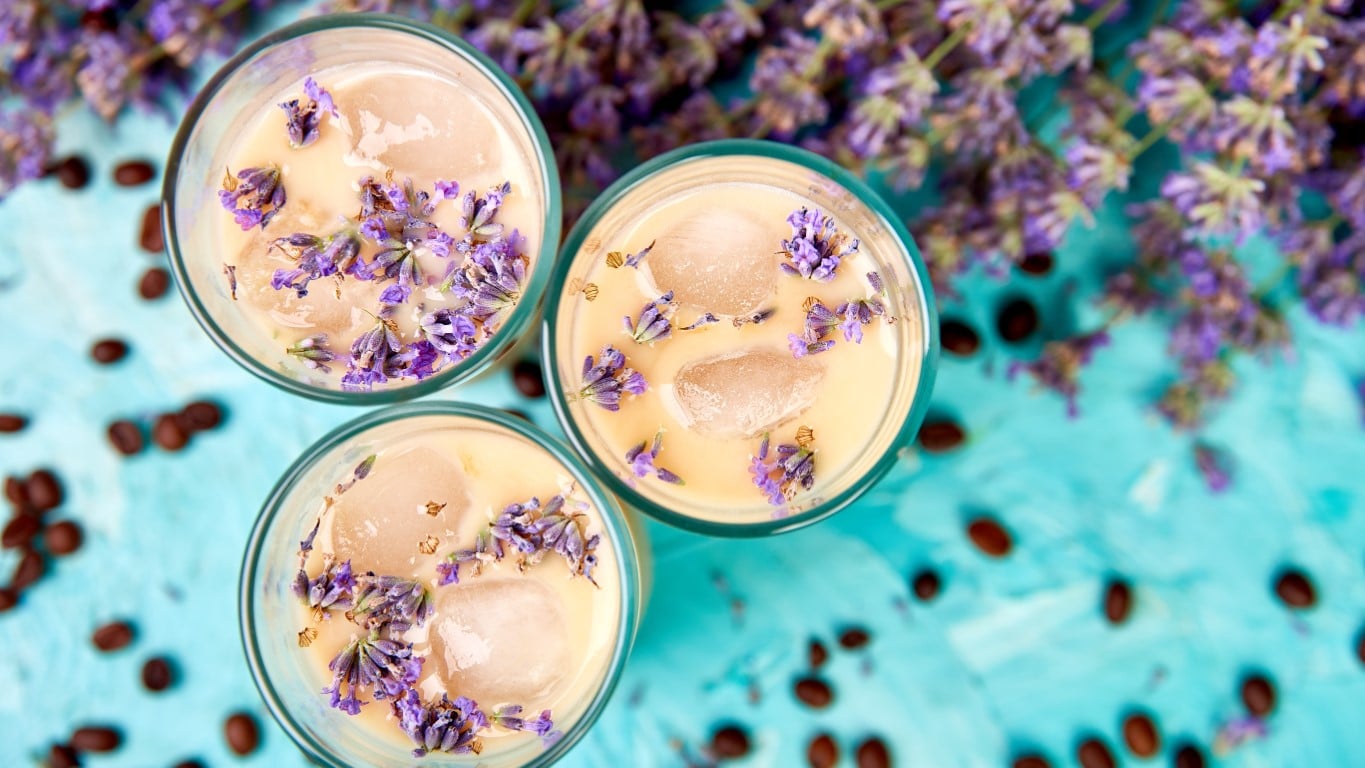 Add a pinch of dried lavender buds into the espresso of your cappuccino for a floral and subtle herby flavor. Lavender syrup is another viable option. Make your own lavender syrup by steeping lavender in freshly made, warm, simple syrup. Many enjoy this beverage with a drop or two of vanilla essence. Honey is typically the sweetener of choice when not using syrup.
Star Anise and Lychee Cappuccino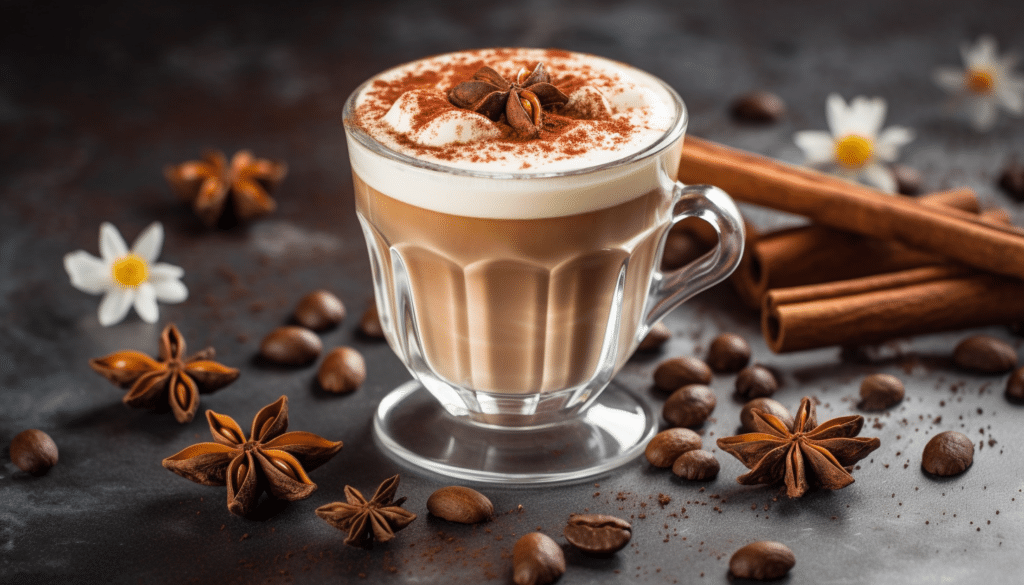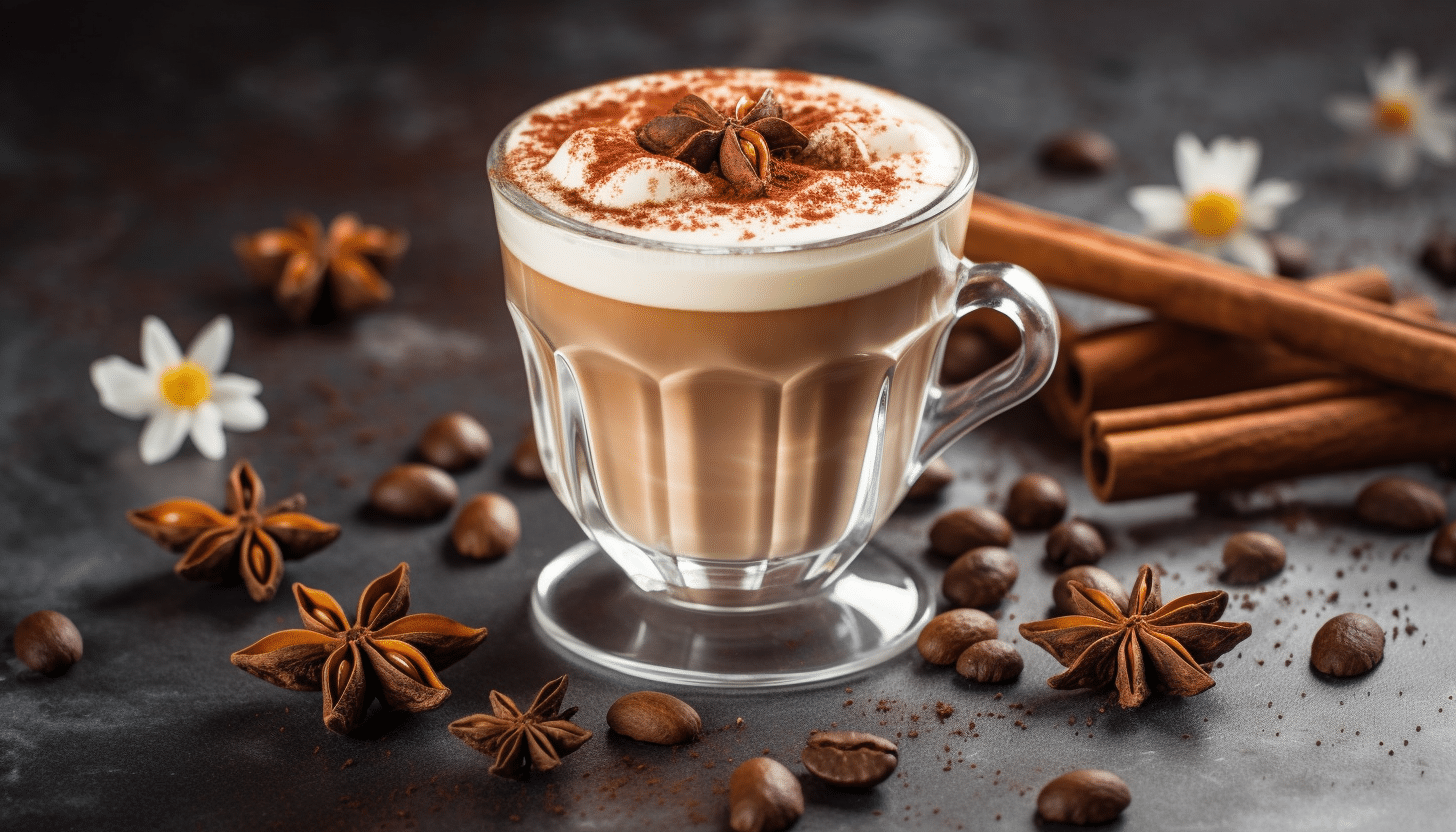 Add a quarter teaspoon of ground star anise to your freshly brewed espresso. Divide half your milk for frothing and half for mixing with lychee. Replace half the quantity of milk with lychee juice and bring to a simmer. Separately, simmer the other quarter of the milk that you'd conventionally use and froth to foam. Construct as per usual for a delicious aromatic but fruity alternative to regular cappuccino. Lychee syrup and lychee essence add a far more intense flavor, as does anise syrup.
Decadent and Sweet
Indulge in pure bliss with our 'Decadent and Sweet' section, featuring rich and sumptuous flavors like peppermint mocha, gingerbread, and maple pecan that are sure to satisfy your sweet tooth cravings.
Peppermint Mocha Cappuccino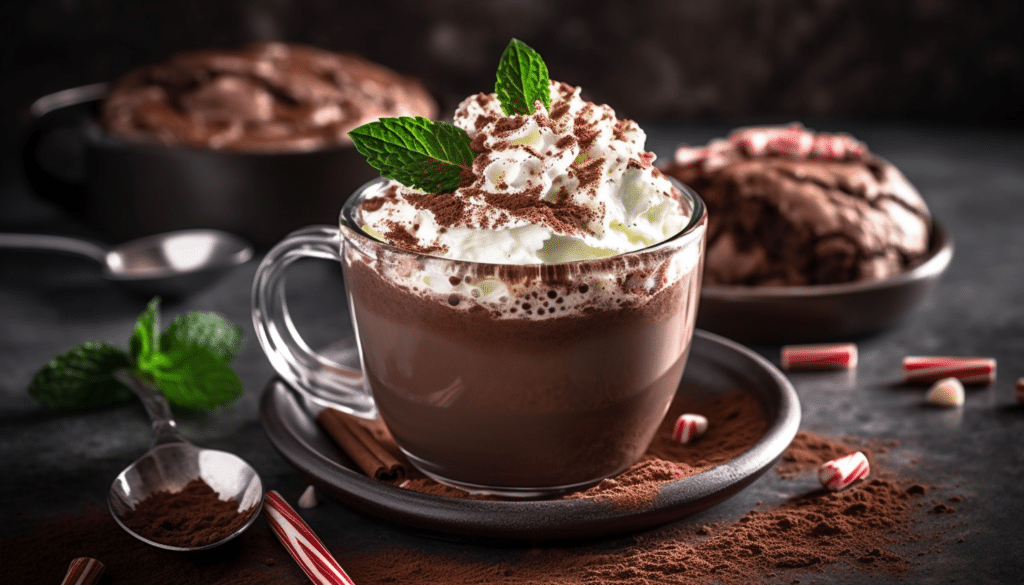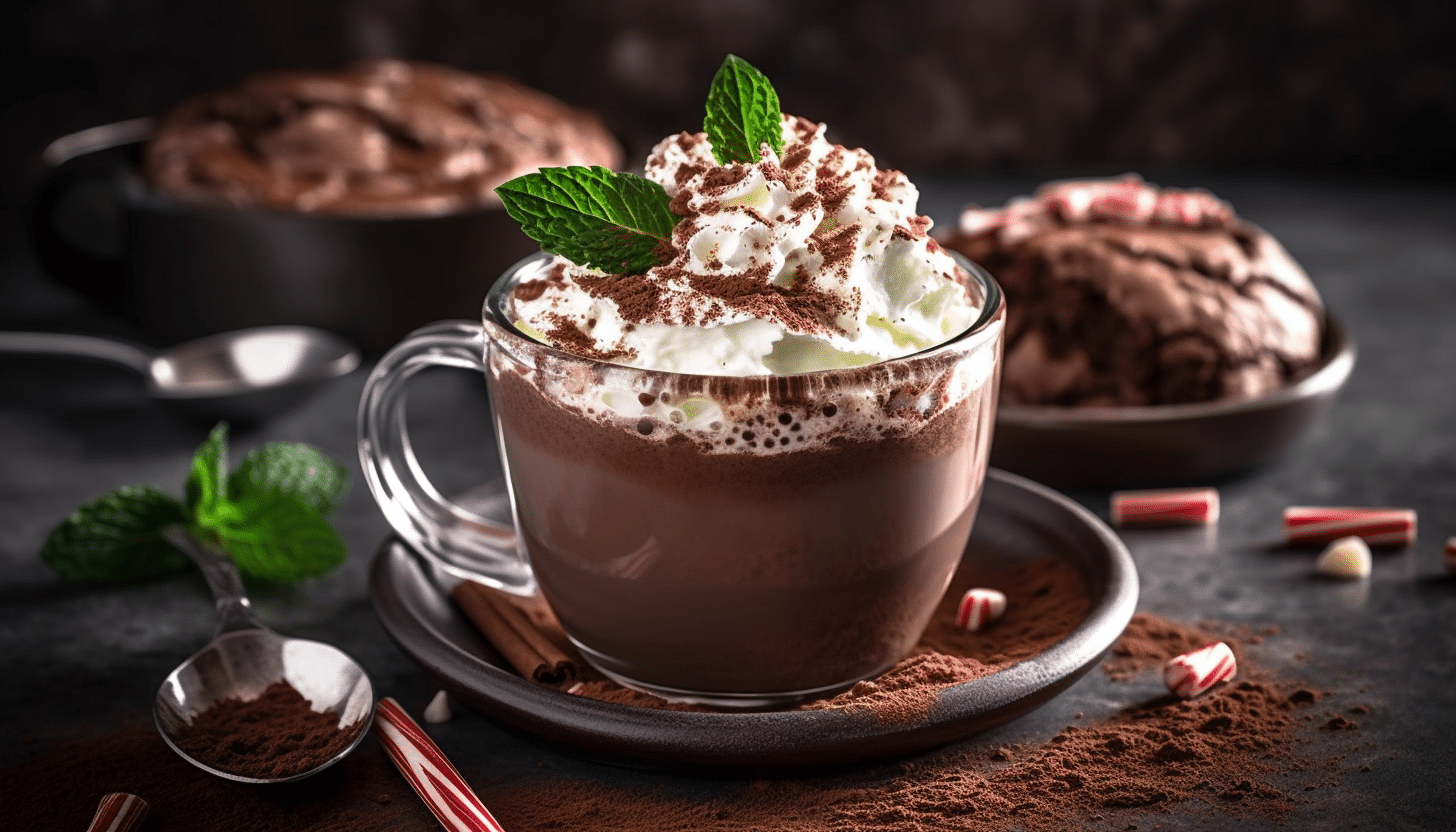 Indulge in a minty chocolate sensation by stirring a teaspoon of peppermint extract and a tablespoon of chocolate sauce into the steaming coffee of your cappuccino before constructing it. Finish off with whipped cream and crushed peppermint candy.
Chocolate Hazelnut Cappuccino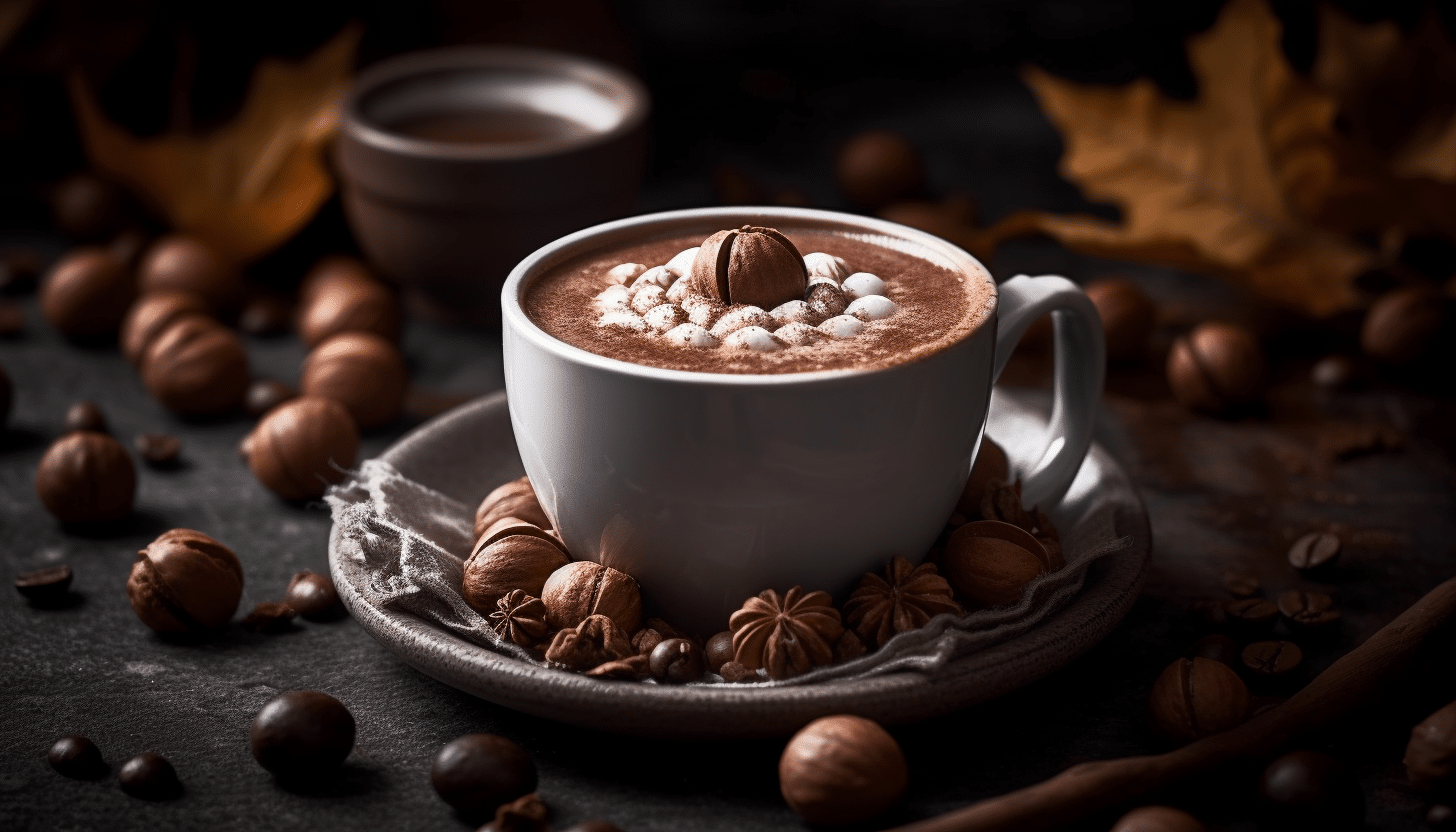 As the milk for your espresso warms, mix in two tablespoons of chocolate hazelnut spread and a teaspoon of vanilla extract to enhance the depth of flavor. Construct the cappuccino as per usual and garnish with a little grated chocolate and, optionally, a drizzle of chocolate syrup for an extra chocolatey kick.
Almond Cappuccino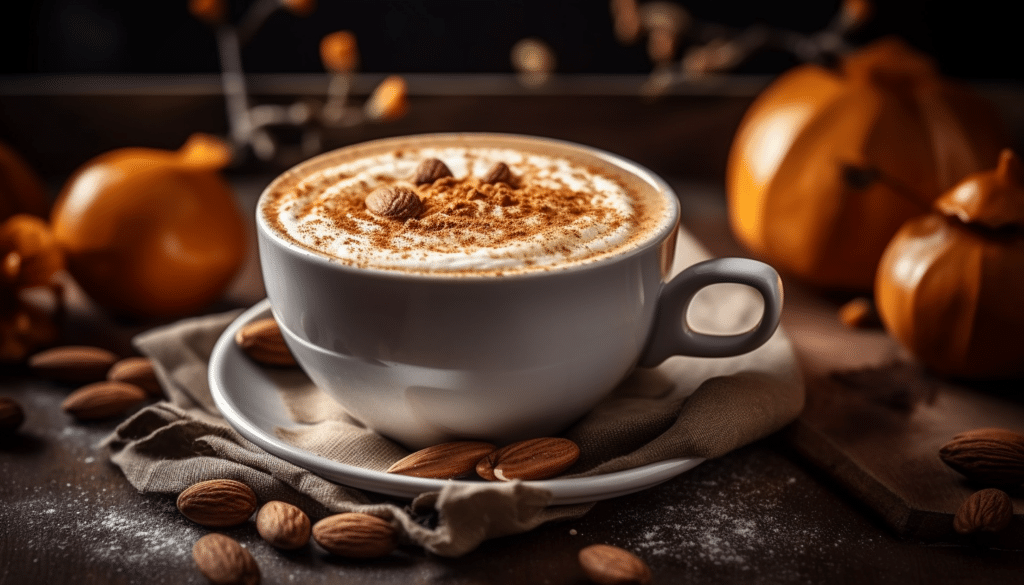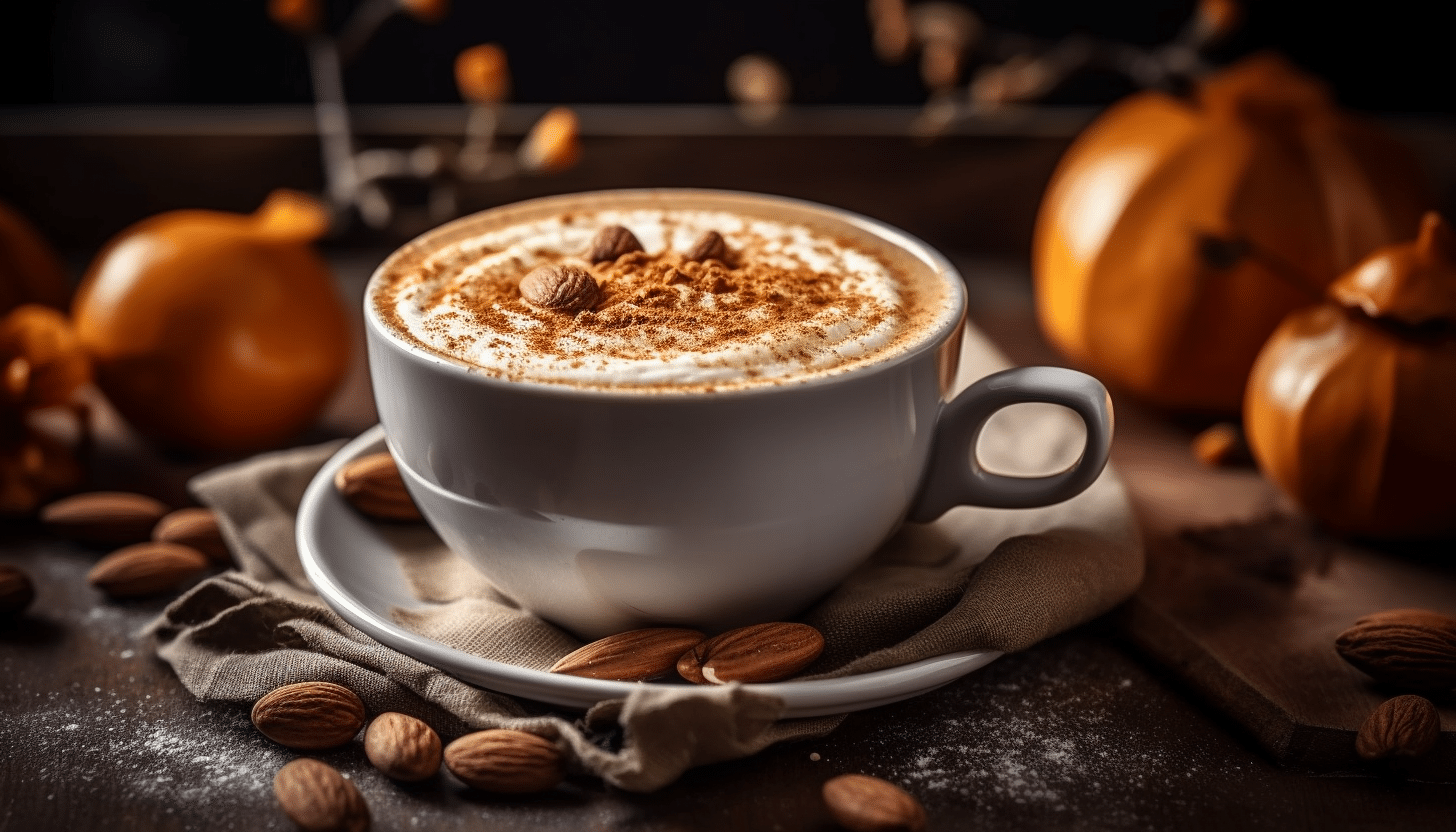 Add a heaped tablespoon of smooth almond butter to your freshly brewed espresso, then stir in a teaspoon of rich cocoa powder. Build your cappuccino and carefully top it off whipped cream and a sprinkle of coconut flakes. To make this recipe even more decadent, consider adding a small amount of finely grated marzipan to the coffee, which will give the cappuccino a subtle sweetness and an additional nutty flavor.
Maple Pecan Cappuccino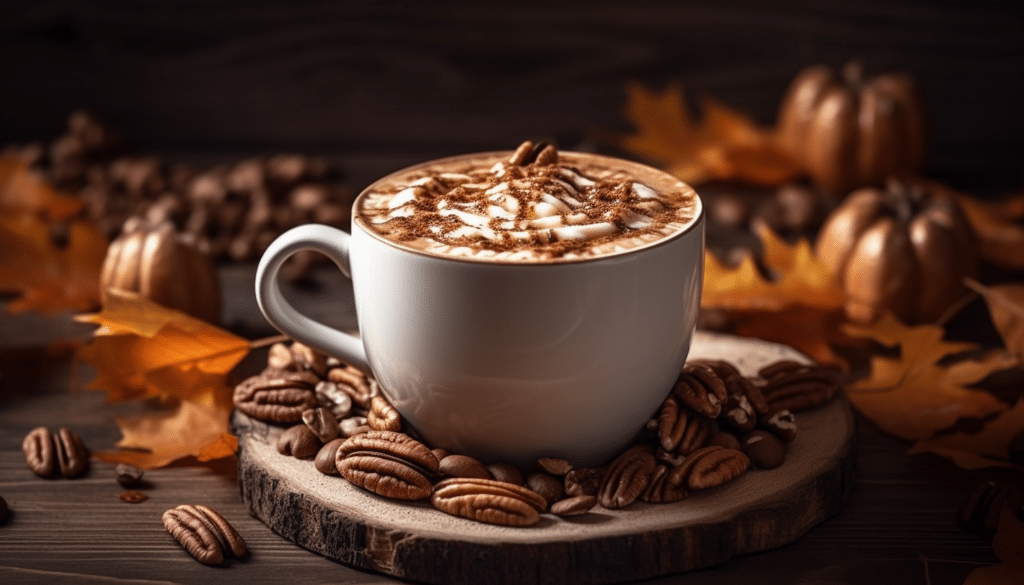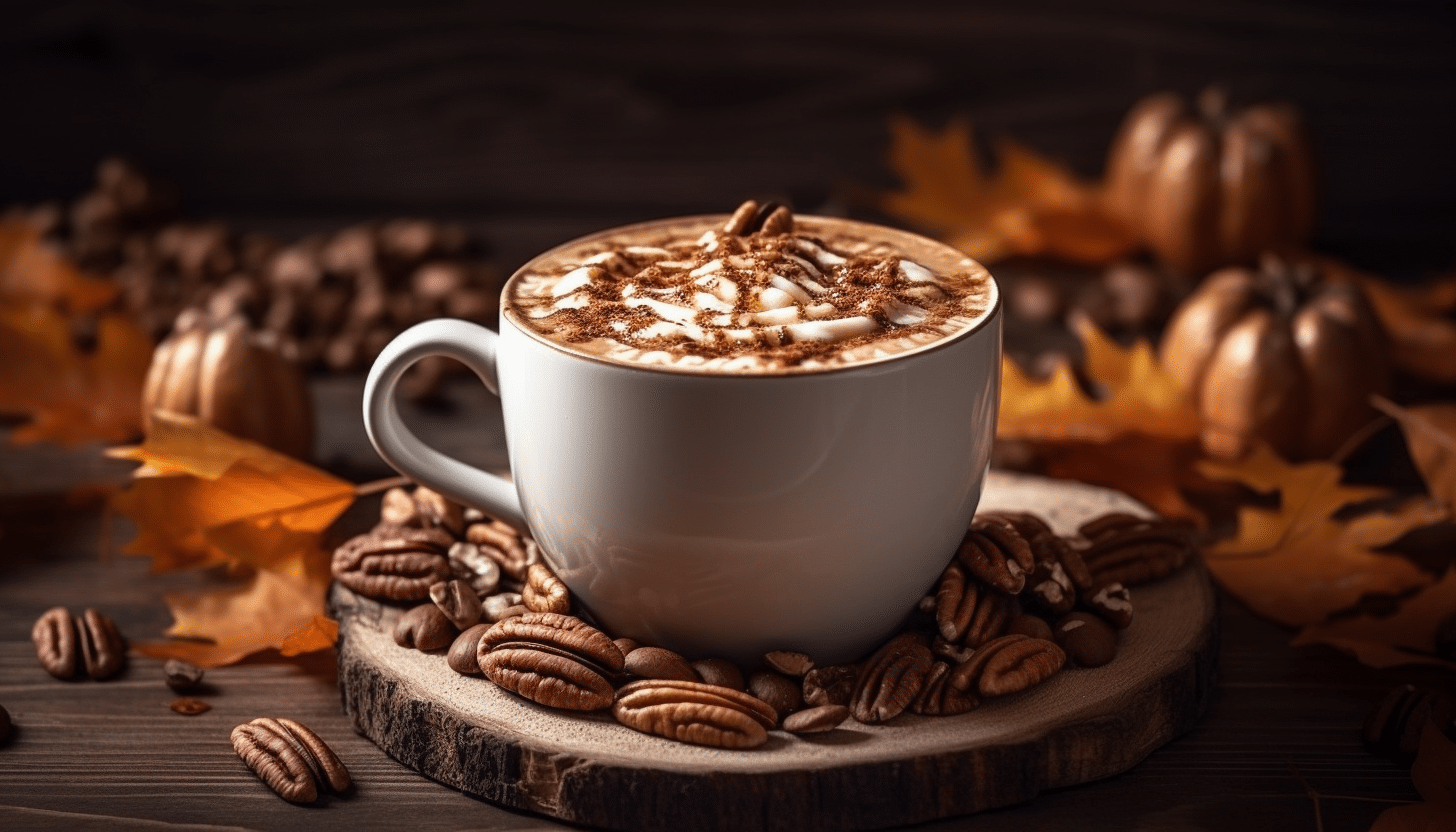 Create a sweet pecan pie cappuccino by stirring a tablespoon of maple syrup and a teaspoon of finely chopped pecans into your freshly brewed espresso. This grants superb depth of flavor and texture to the drink. Assemble your cappuccino sprinkle over cinnamon. Crushed pecans on top may make it too textural for some, but most love the finishing.
Gingerbread Cappuccino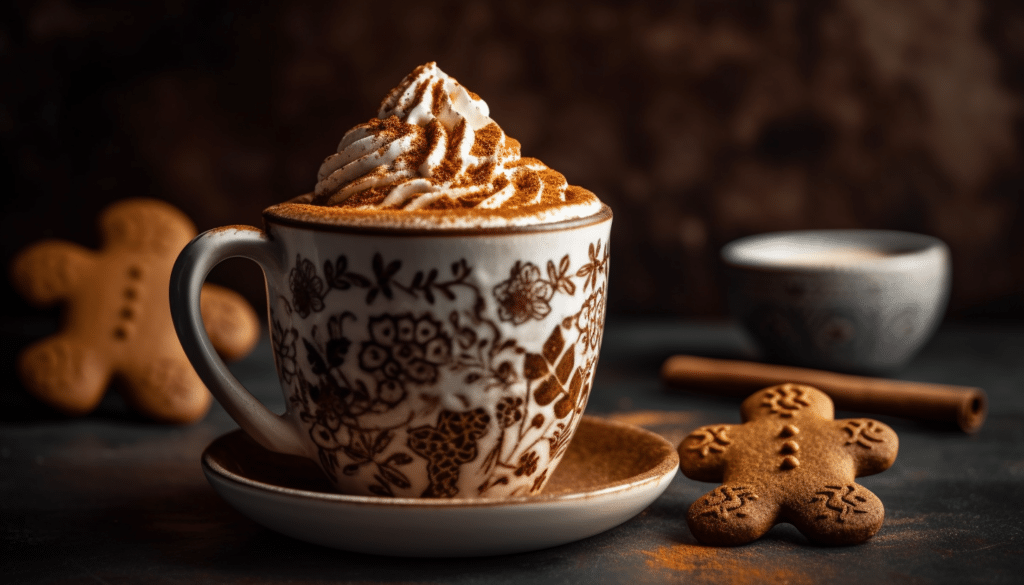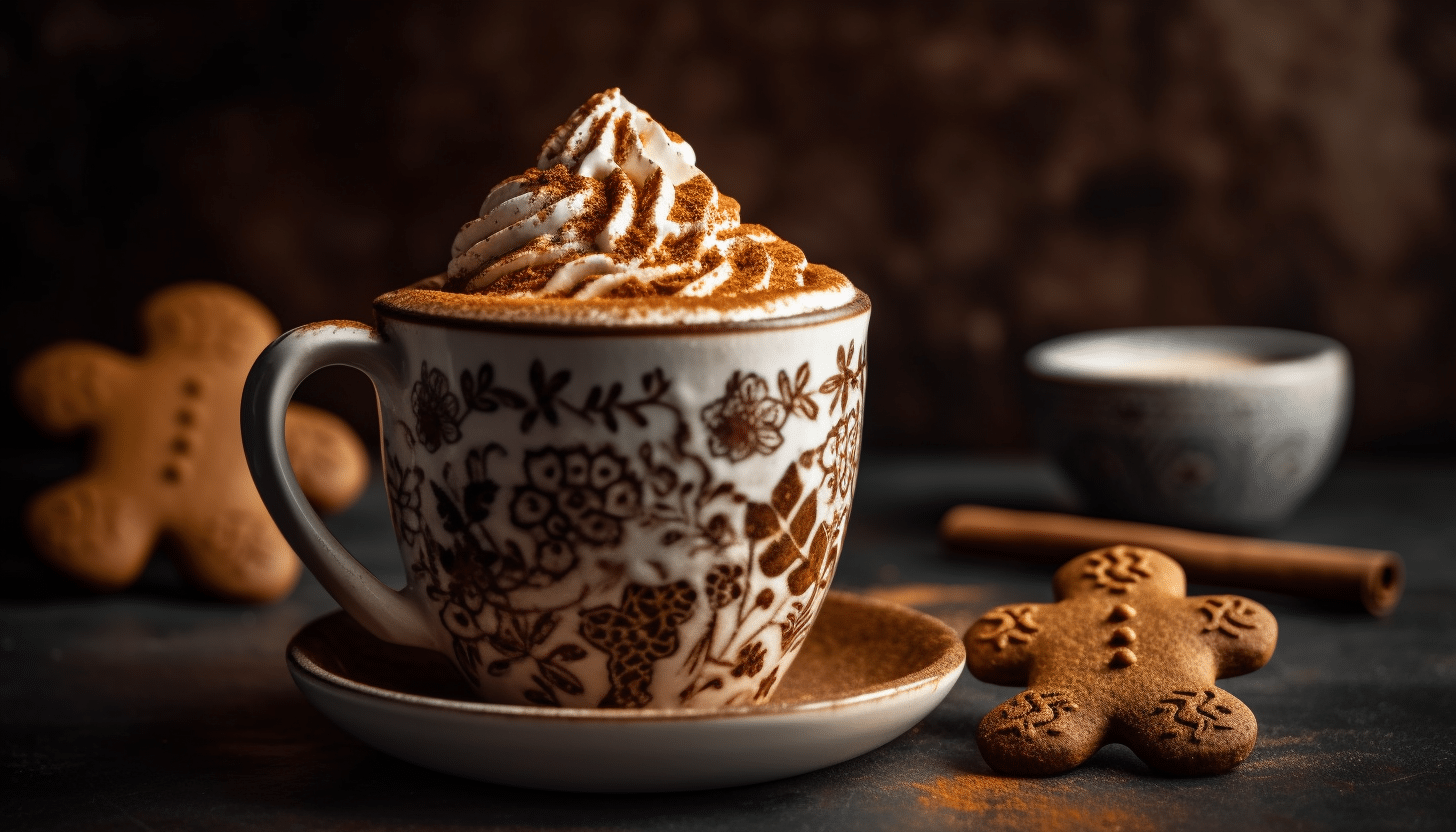 Fresh vanilla bean works even better than vanilla essence. Maple syrup is an excellent natural sweetener for this blend, as it adds a subtle sweetness and earthy undertones that complement the vanilla flavor beautifully. For a convenient and time-saving option, use gingerbread syrup as a way to infuse the cappuccino with the warm spices and flavors of gingerbread, such as ginger, cinnamon, nutmeg, and allspice. You can add a shot of gingerbread syrup to the espresso before constructing the cappuccino.
Exotic and Out-of-the-Ordinary
Explore new taste sensations with our 'Exotic and Out-of-the-Ordinary' section, featuring bold and unique flavors like orange blossom and honey, basil and grapefruit, and rosewater and white chocolate that will transport your taste buds on a culinary adventure.
Maple and Bacon Cappuccino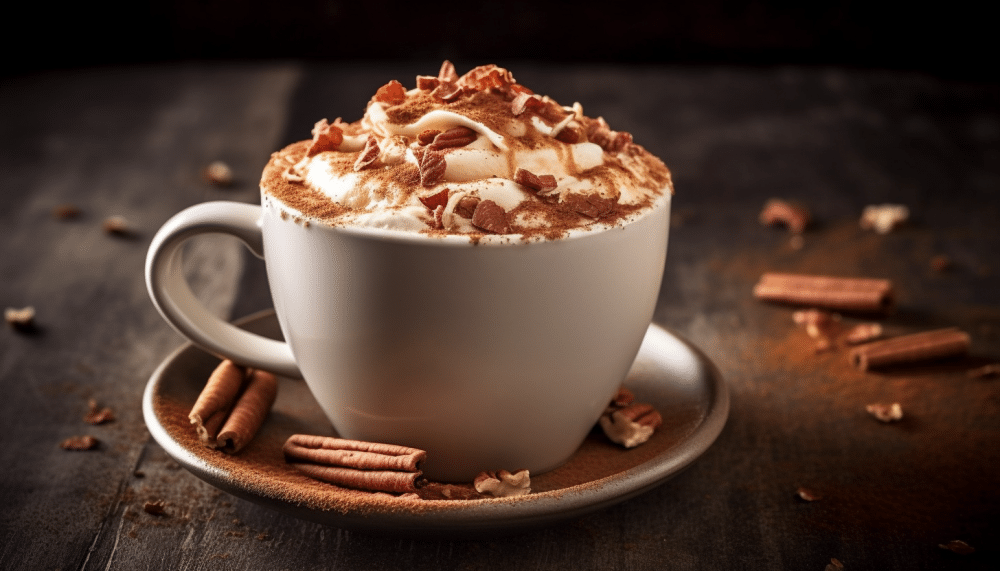 Cook bacon in a pan until crispy while being sure to use as little oil as possible. Remove from the pan and chop into small pieces. Steam your milk as usual, and add a shot of maple syrup and a sprinkle of bacon bits to the milk before frothing, then construct your cappuccino.
Basil and Grapefruit Cappuccino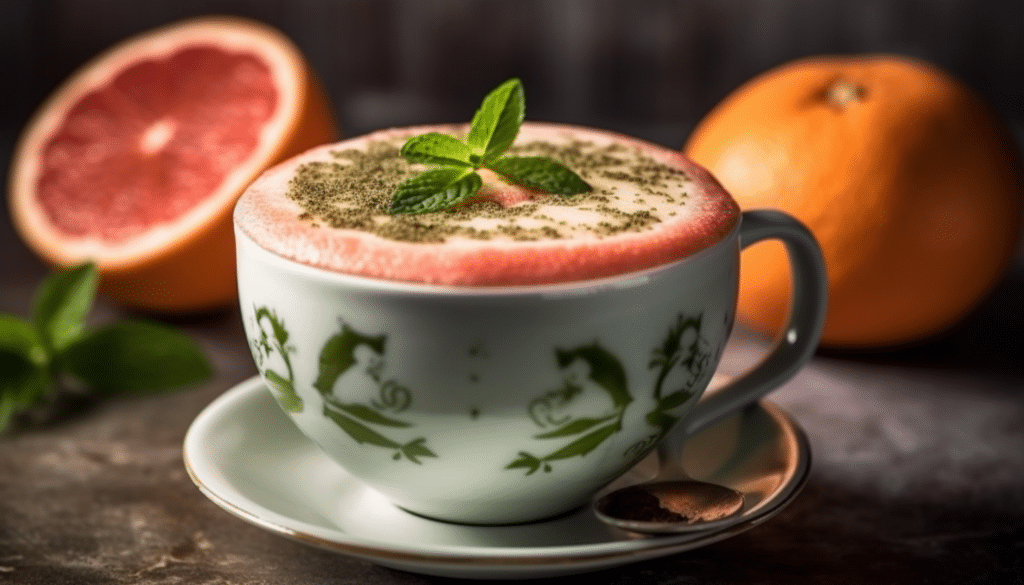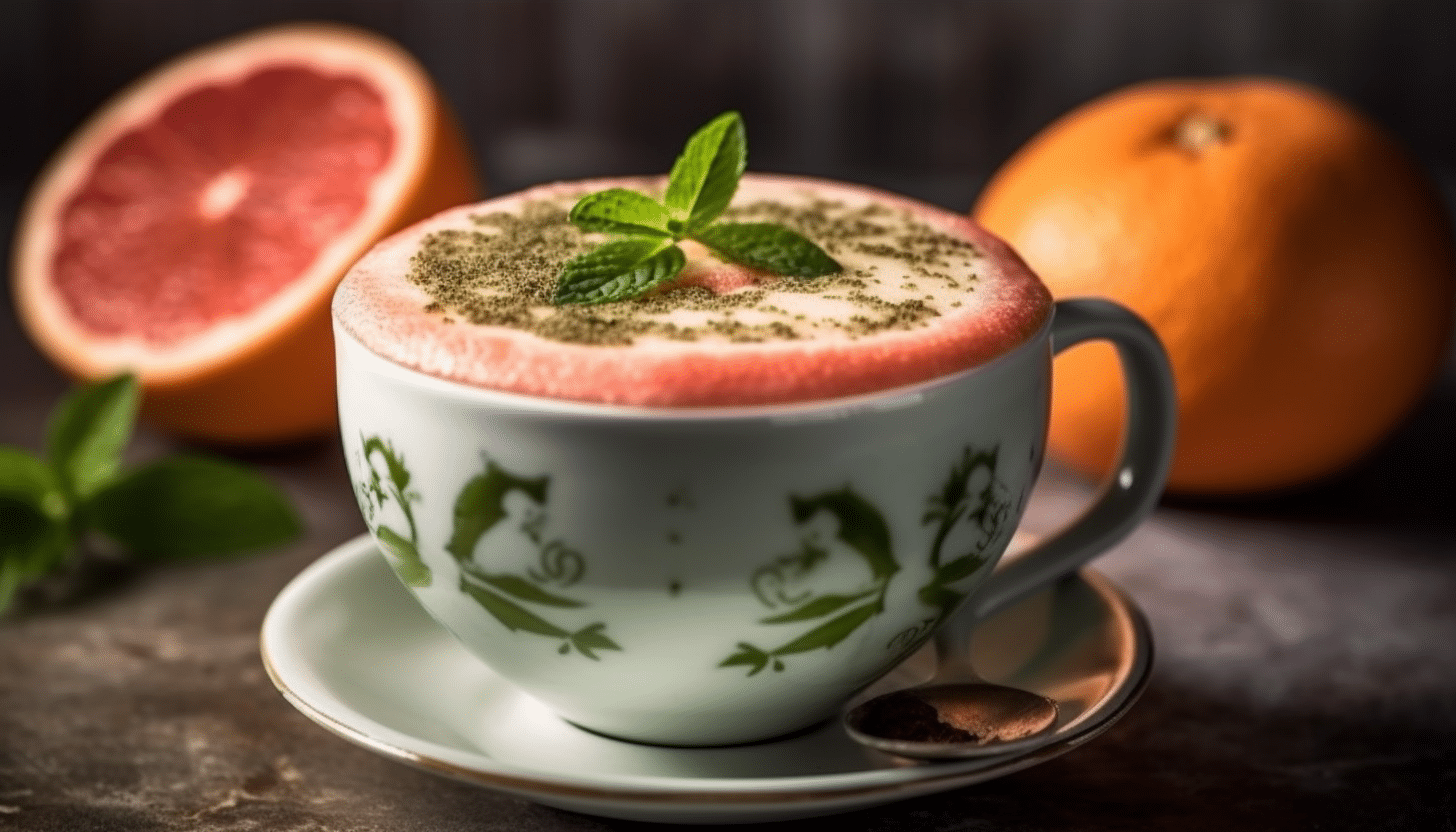 Brew up basil and grapefruit cappuccino by adding three to four whole basil leaves or basil syrup to the espresso while brewing. Add a splash of grapefruit juice to the milk as it simmers or steams, and then build your espresso as usual. Finish it off with a touch of grapefruit zest. Honey or agave are the ideal sweeteners for this particular blend.
Orange Blossom and Honey Cappuccino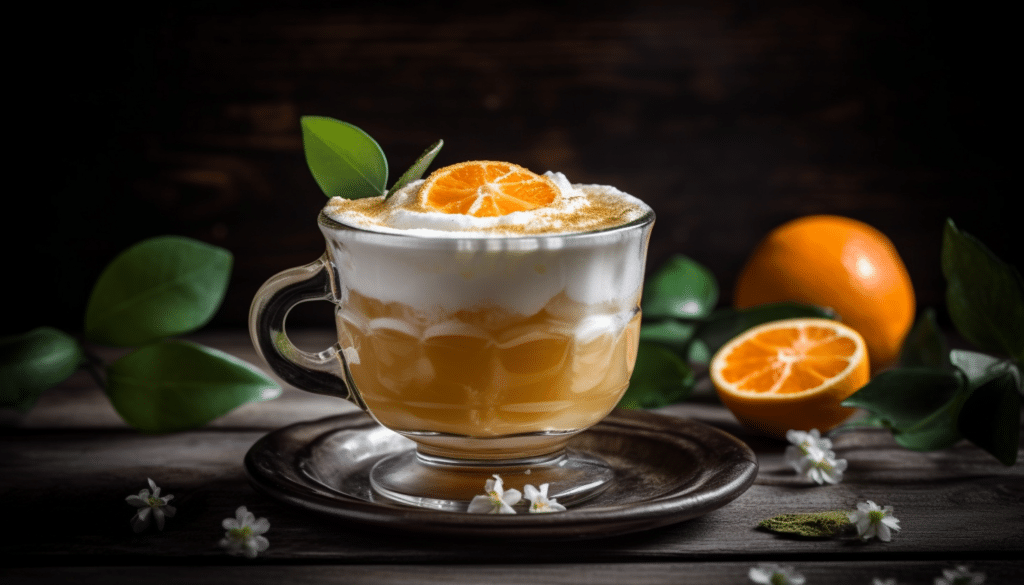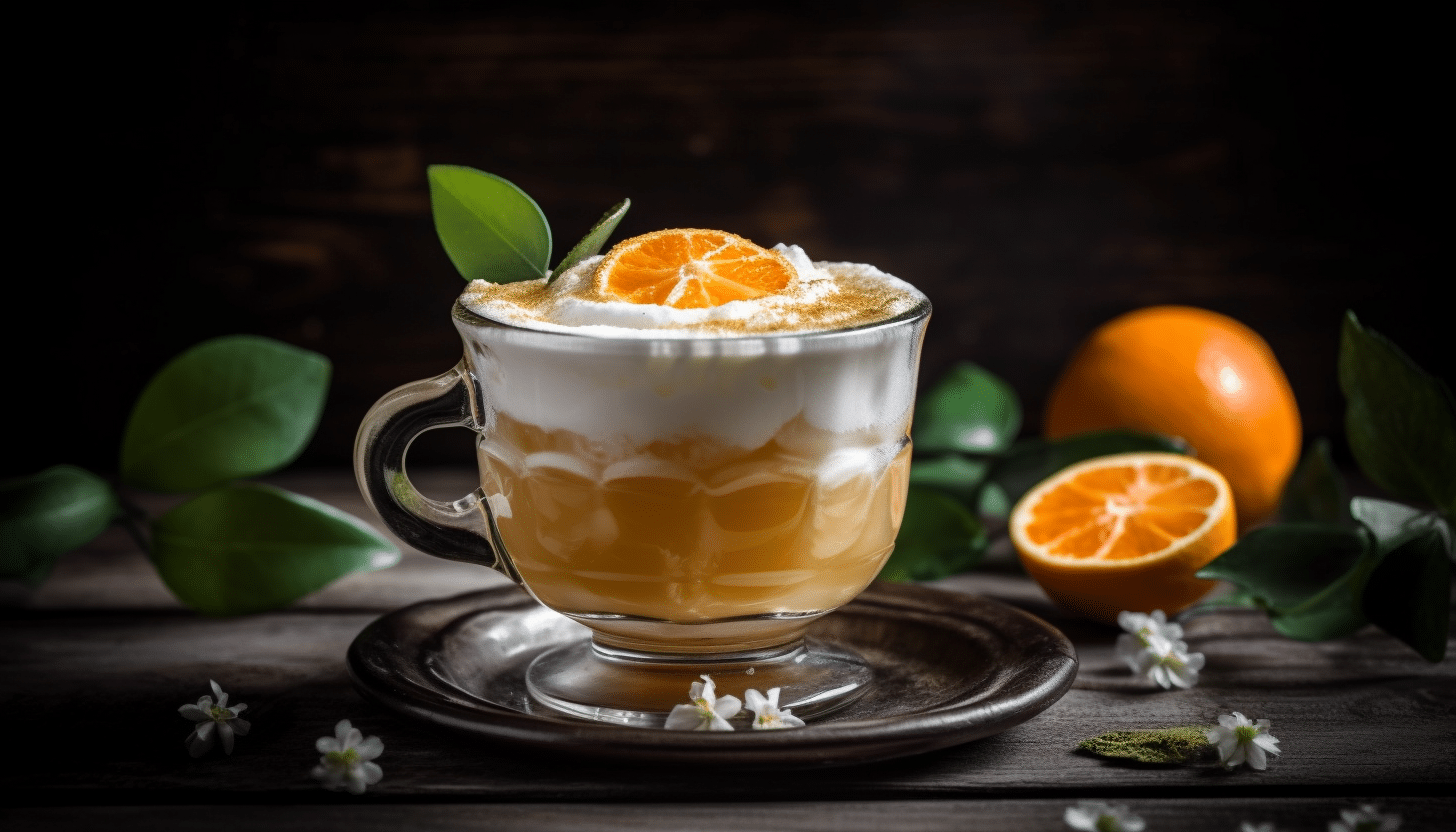 While difficult to find depending on where in the world you may be, orange blossom cappuccino offers a refreshing change for those who like their coffee sweet and aromatic. Either add dried orange blossom petals, orange blossom syrup, orange concentrate, or as a last option, the zest of an entire orange to your espresso and allow it to brew for a minute or two. If using zest, strain first, mix in your desired quantity of honey, then construct your cappuccino.
Black Sesame and Matcha Cappuccino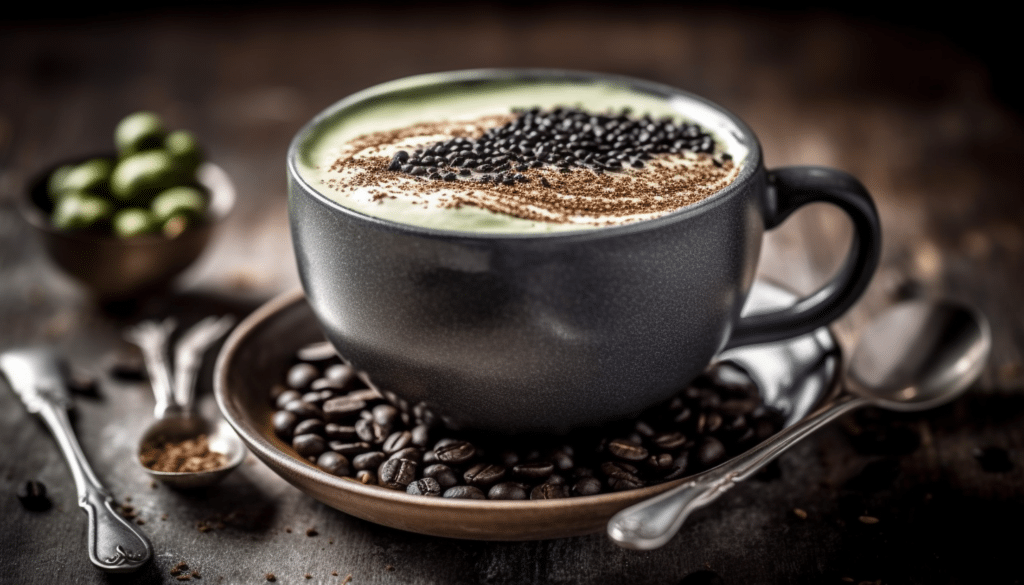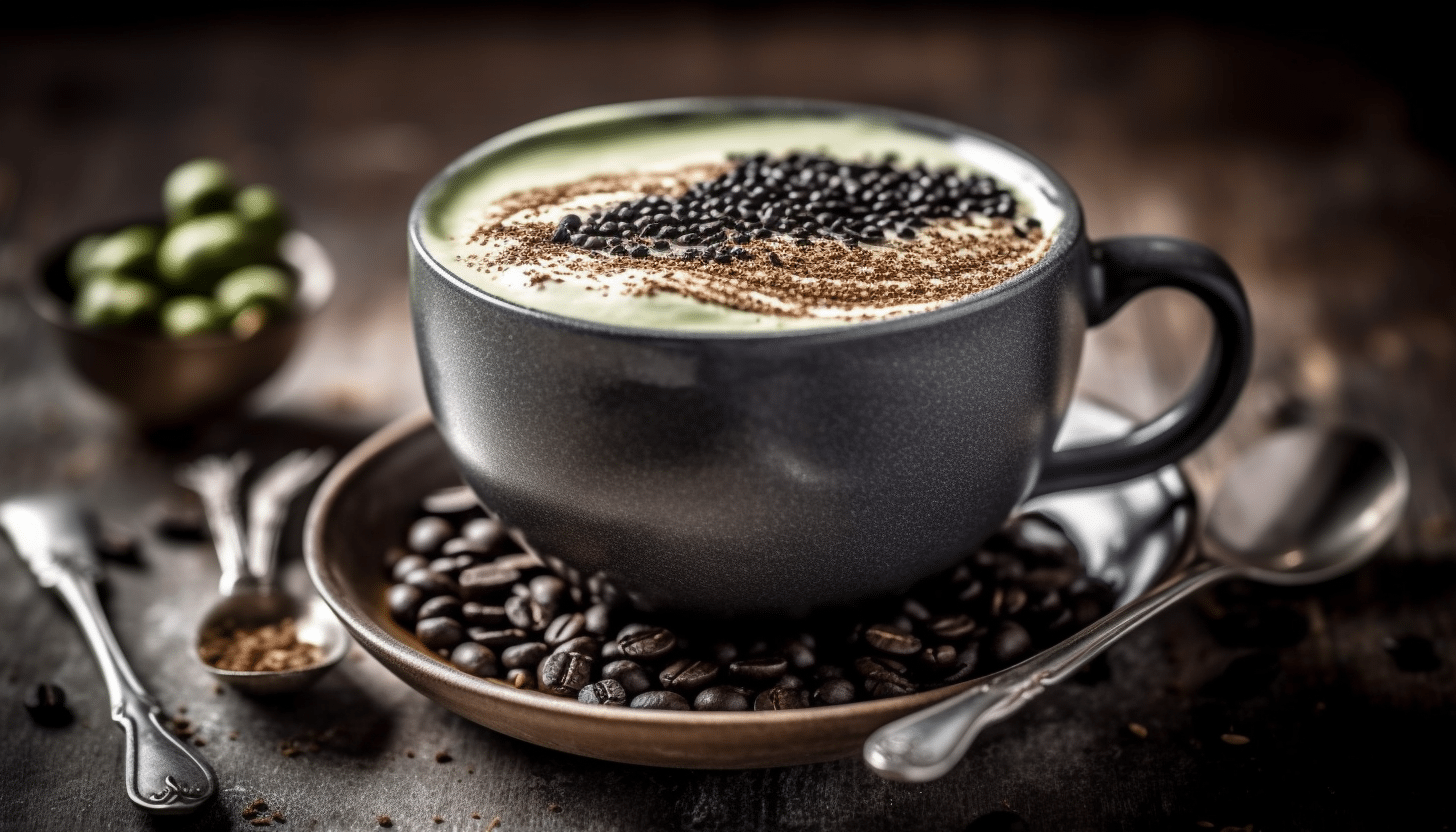 For a wonderfully aromatic combination, brew up your espresso with a pinch of black sesame powder. Mix a teaspoon of matcha powder into your milk during steaming or simmering, and then make your espresso using these infused ingredients. Once again, honey and agave are far better choices than sugar for sweetness. Top off your cappuccino with a sprinkle of black sesame seeds.
Rosewater and White Chocolate Cappuccino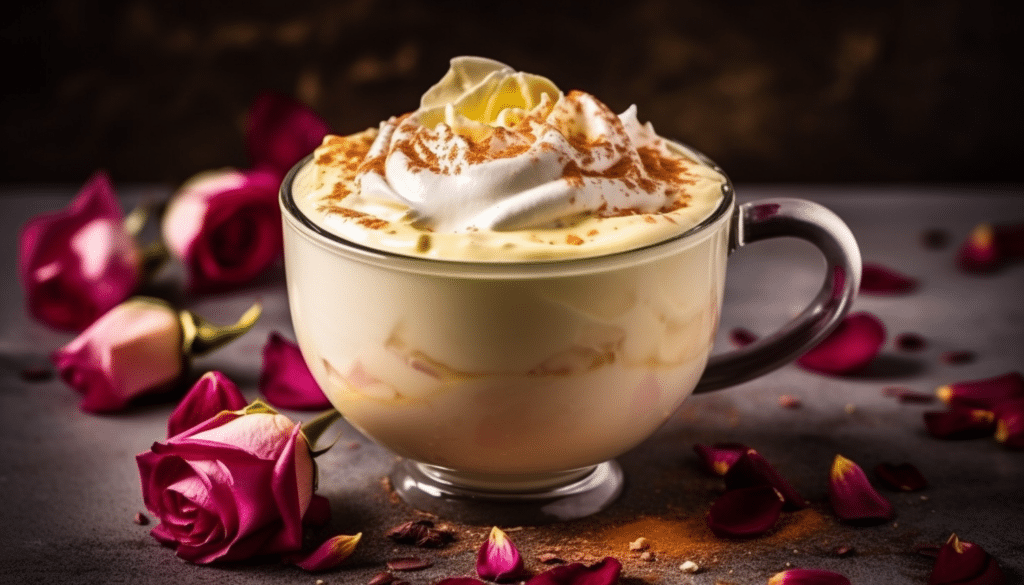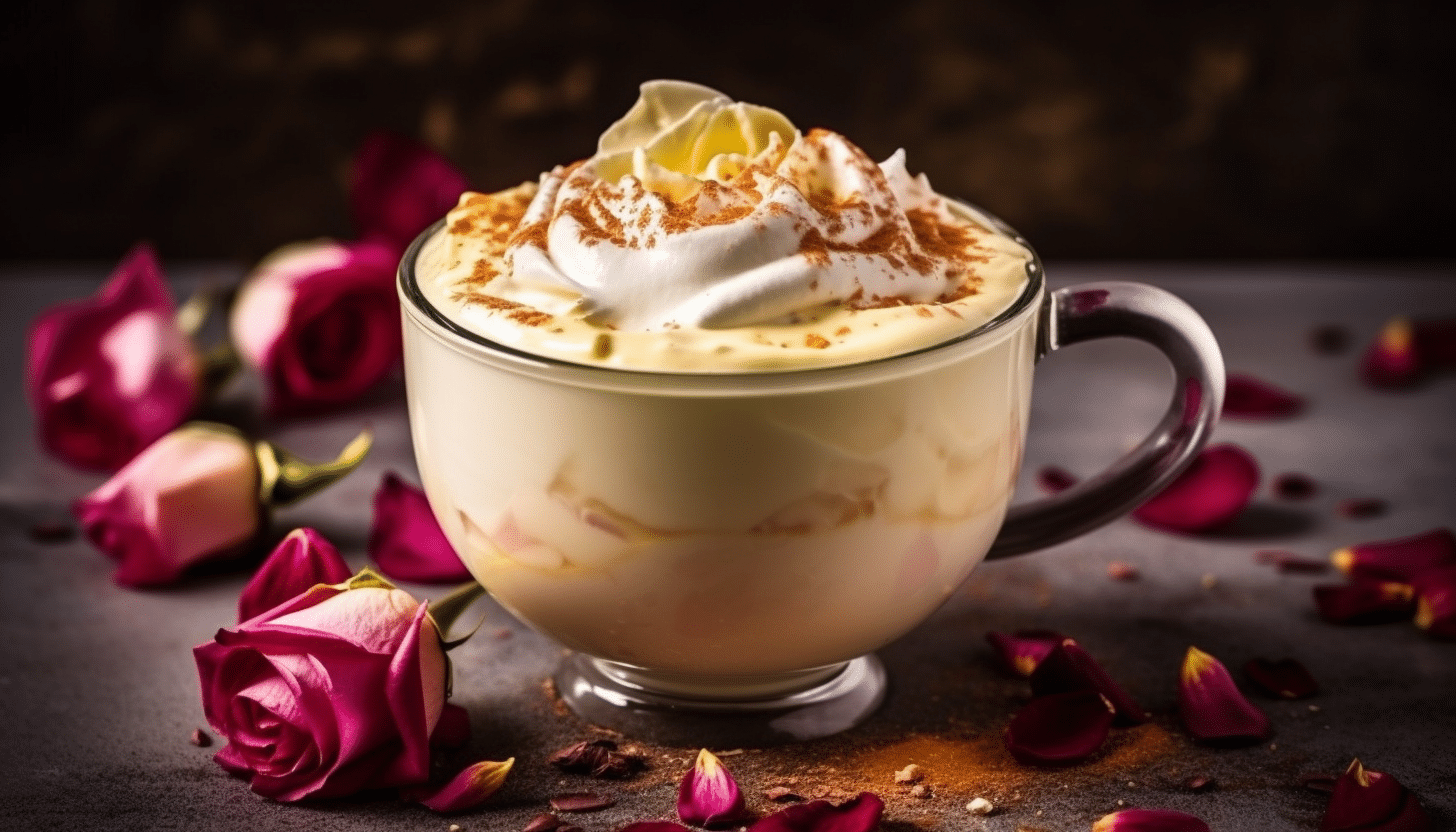 Add two tablespoons of rose water to your espresso while steaming or simmering the while with white chocolate chips or white chocolate sauce but use three-quarters of the quantity of milk. Separately, warm and froth up the rest of the milk. Build your cappuccino and enjoy something wonderfully sweet that's well-balanced by a sprinkle of cocoa and a touch of cinnamon powder.
Bold and Boozy
Our 'Bold and Boozy' cappuccino recipes featuring flavors like smoked bourbon, Grand Marnier, and Malibu coconut rum are most definitely not suited to young ones. Adults, however, can prepare for a kick that'll keep you coming back for more.
Smoked Bourbon Cappuccino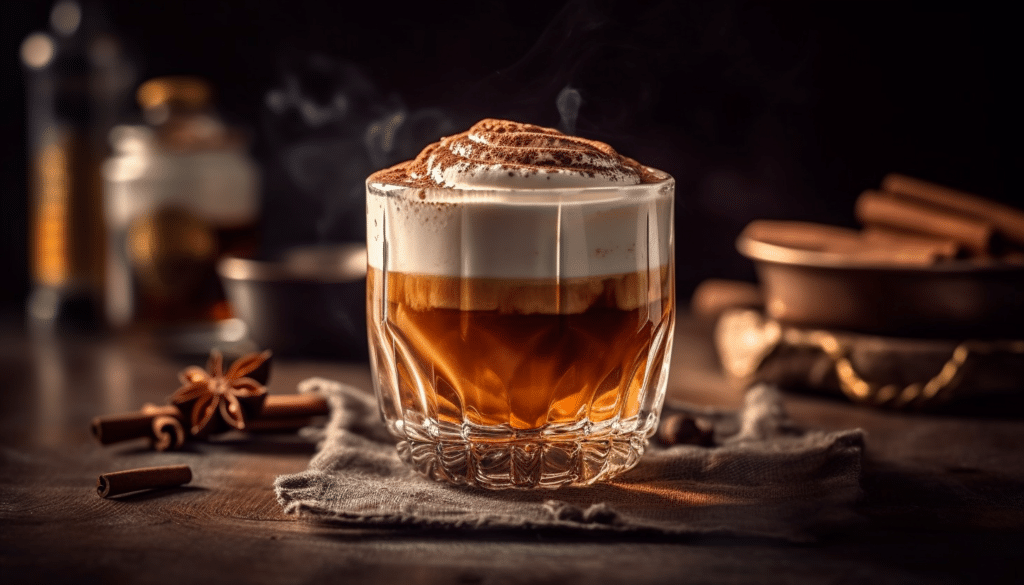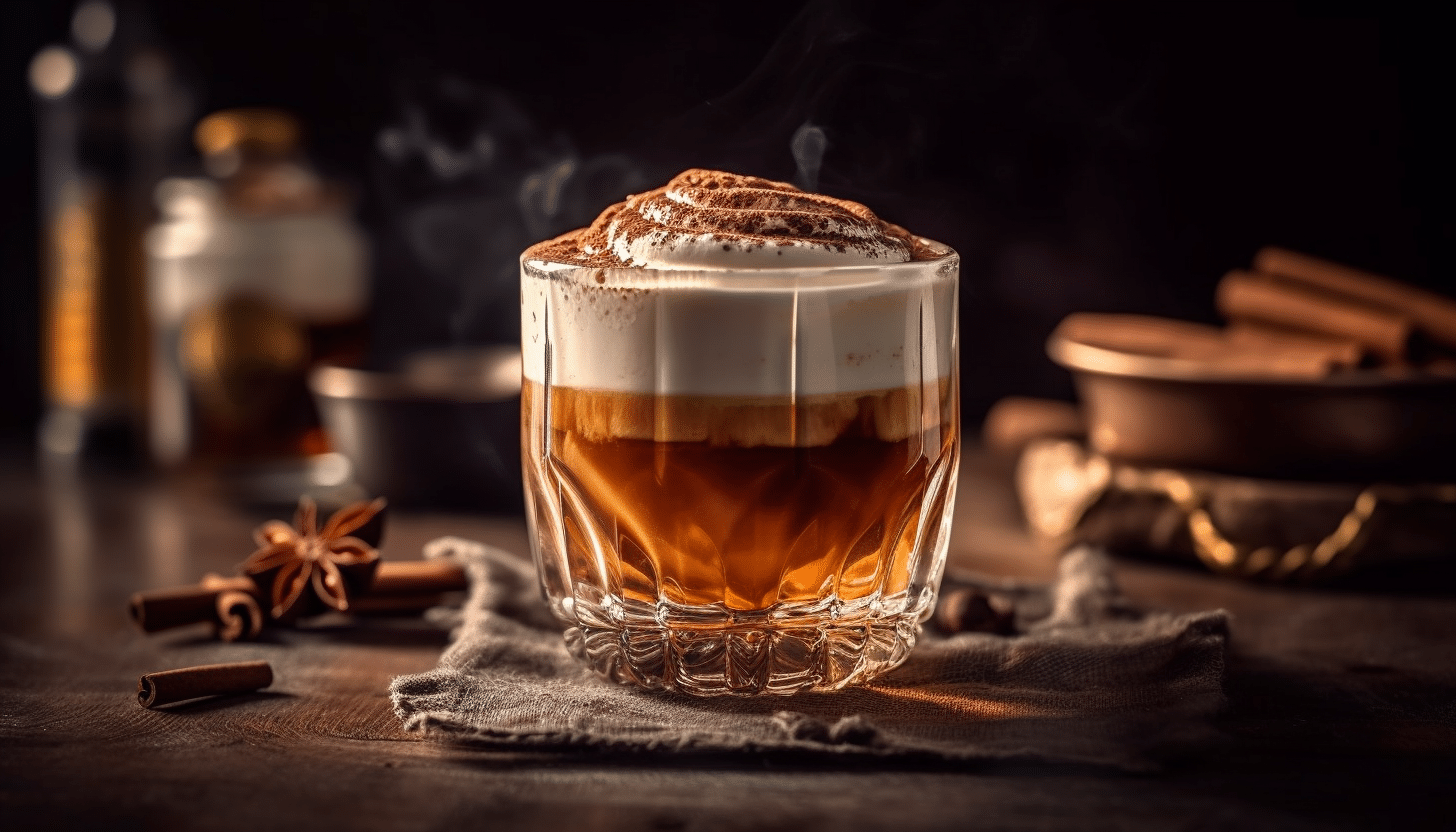 The simplest way to make a basic smoked bourbon cappuccino is to add a dash of smoked bourbon to the espresso before construction for a unique and smoky flavor that pairs well with the coffee. If it's available, add a droplet or two of liquid smoke too. Maple syrup complements the natural sweetness of the bourbon well. A great finishing touch is a sprinkle of smoked sea salt as it brings out the bourbon's brightness and lingering undertones extremely well.
Frangelico and Chocolate Cappuccino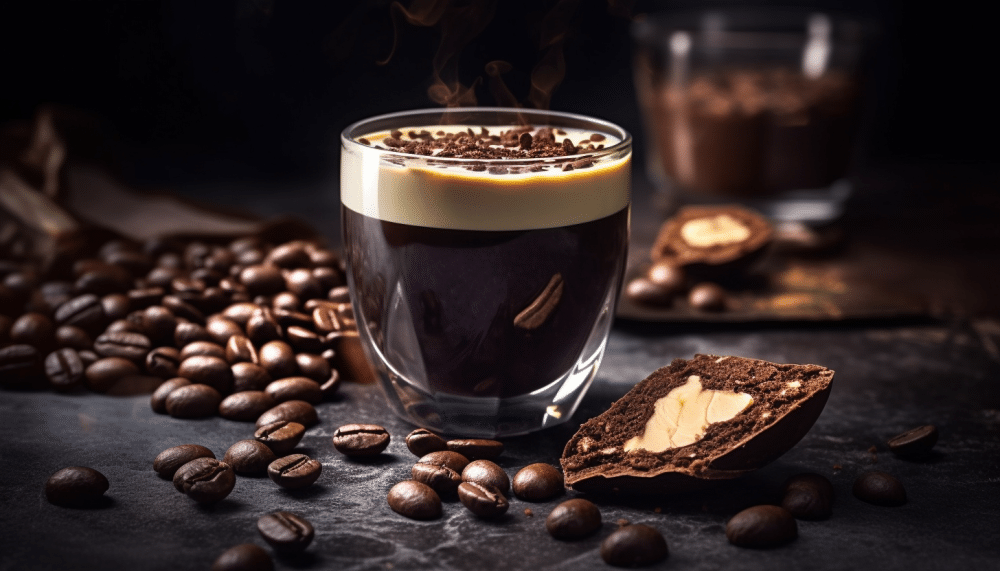 Frangelico and chocolate cappuccino calls for nothing more than a shot of Frangelico and a pinch of cocoa powder added to the espresso just after brewing. Simmer or steam the milk with a teaspoon of chocolate chips, chocolate syrup, or a block or two of your favorite chocolate. Build as per usual, drizzle with chocolate sauce and sprinkle with nuts and cocoa powder.
Irish Cream Cappuccino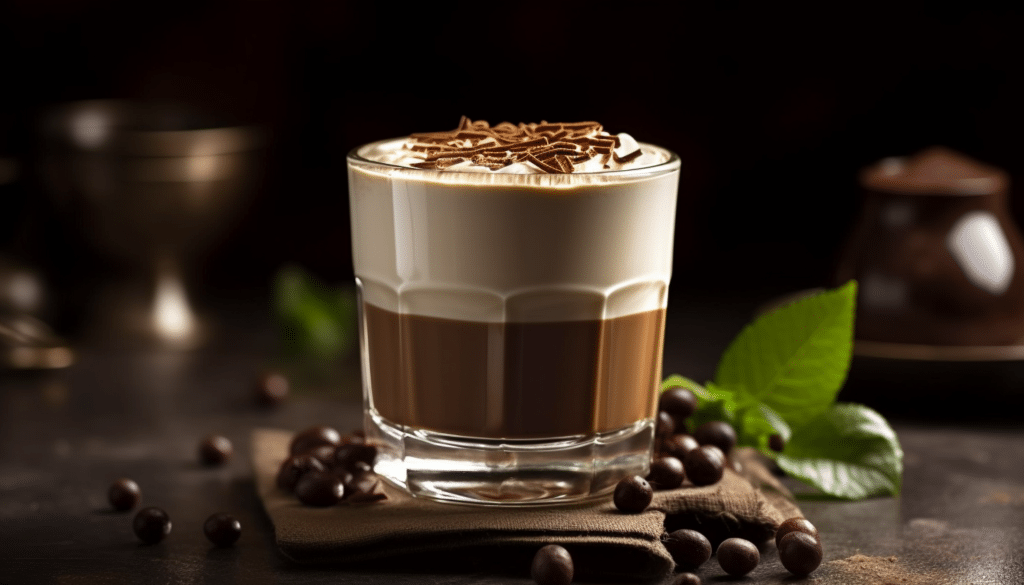 For a decadent twist on a classic cappuccino, add a splash of Irish cream liqueur to your hot espresso before frothing your milk. For a creamier consistency, mix a spoon of whipped cream into the milk prior to frothing. To finish, give it a dusting of rich cocoa powder. For a more traditional and more complex Irish cream cappuccino, mix a beaten egg, half a teaspoon of vanilla, two shots of Irish whisky, and half a can of sweetened condensed milk together. Blend well and add to your freshly roasted espresso in the place of milk. Top with froth, and it's good to go.
Grand Marnier and Orange Cappuccino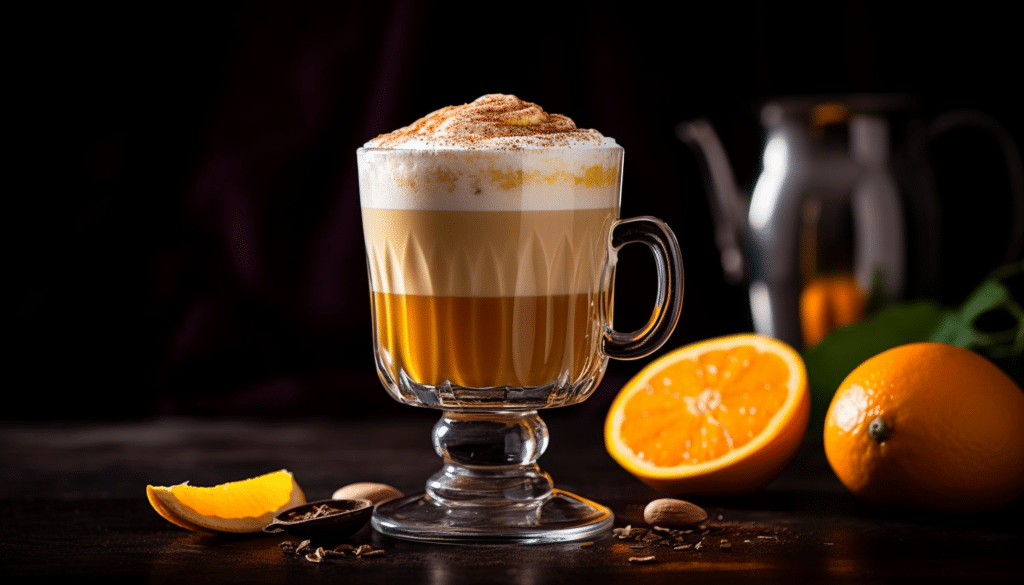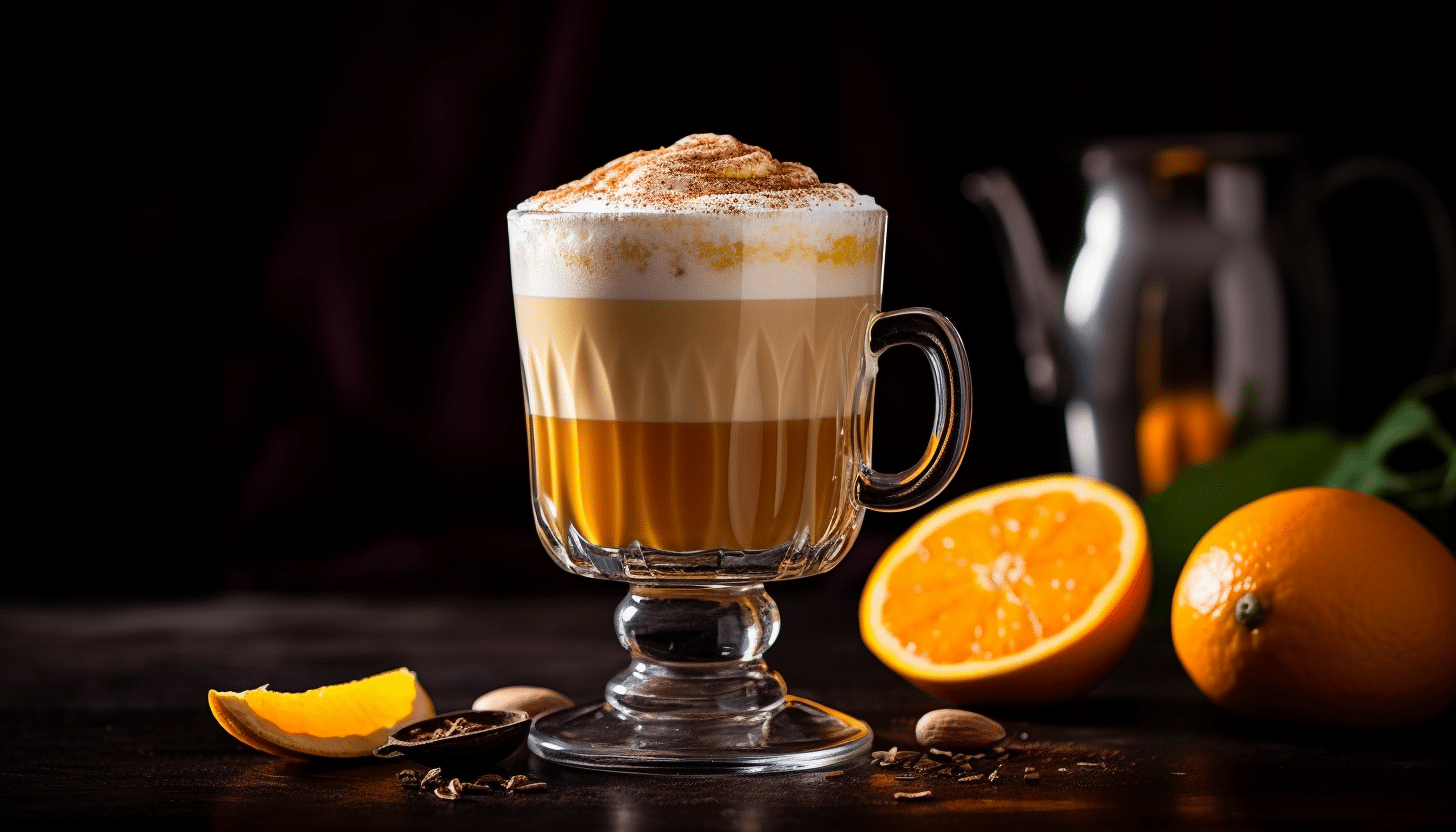 While brewing the espresso, add a teaspoon of orange zest and half a shot of Grand Marnier. Simmer or steam the milk with two or three tablespoons of orange juice or a splash of orange syrup. Construct your espresso using the infusions and garnish with a little orange zest.
Malibu and Coconut Cappuccino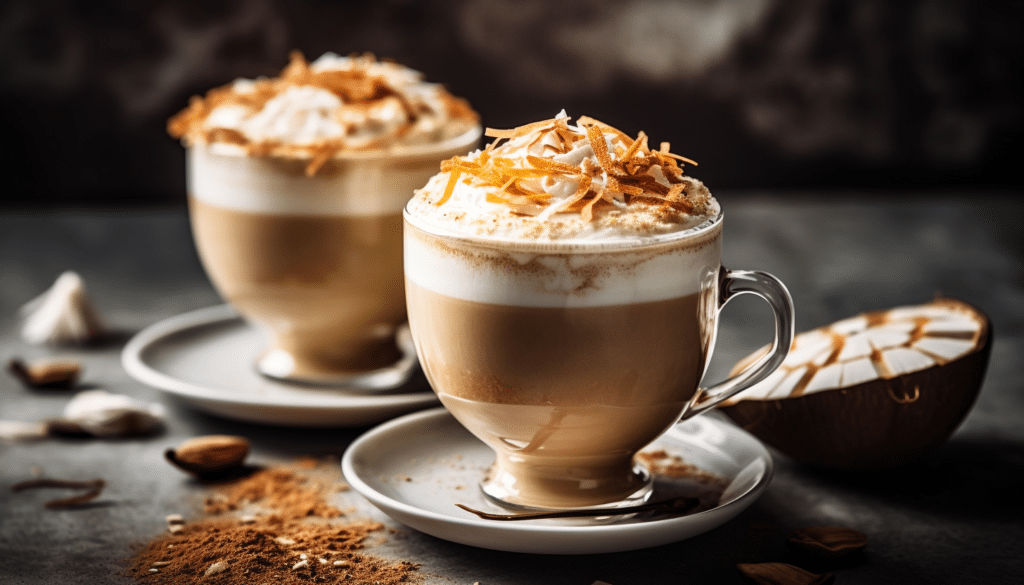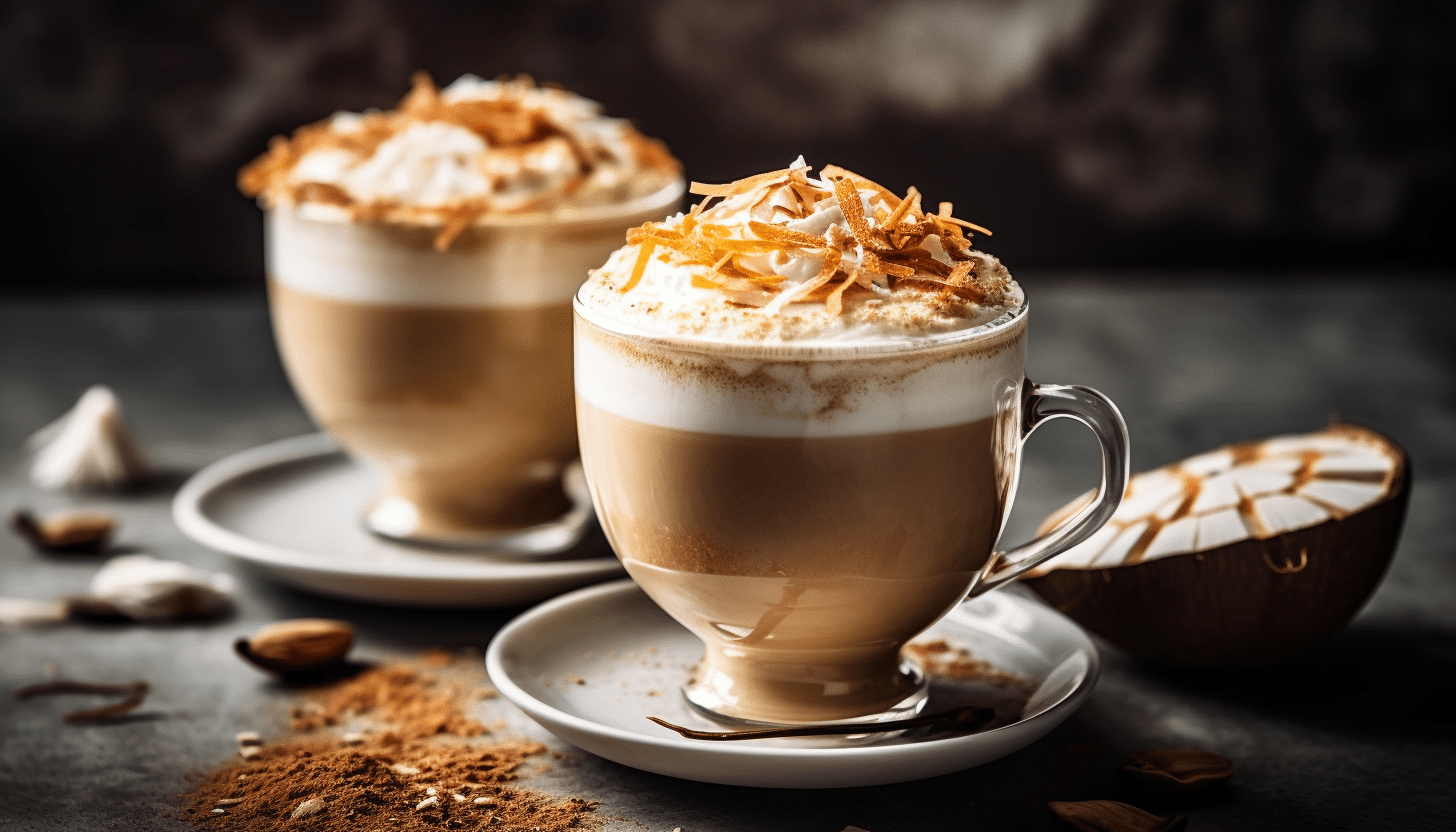 Add a shot of Malibu coconut rum and a pinch of shredded coconut to your freshly brewed espresso. Add a teaspoon of coconut cream or a tablespoon of coconut milk to your milk before simmering or steaming. Once built, garnish with shredded coconut and perhaps a drizzle of coconut cream for a transcendently tropical adults-only cappuccino.
Best Flavors For Cappuccino – Frequently Asked Questions
Have you been left wondering anything about the best flavors for your homemade cappuccinos? We've compiled the answers to the frequently asked questions about brewing flavored cappuccino at home.
Is There A Difference Between A Cappuccino And A Latte?
A cappuccino and a latte are both espresso-based drinks, but they differ in the amount of milk and foam used. A cappuccino typically has equal parts espresso, steamed milk, and foam, while a latte has more steamed milk and less foam. As a result, a cappuccino has a stronger espresso flavor and a thicker, more velvety texture, while a latte has a milder flavor and a smoother texture.
Can I Make A Cappuccino With Non-Dairy Milk?
Yes, you can definitely make a cappuccino with non-dairy milk. Keep in mind that the texture and foam may be slightly different than with cow's milk, but with a little practice and the right type of non-dairy milk, you'll soon get the froth and consistency right. The top-rated non-dairy milk for cappuccino is soy milk and almond due to the foam stability, while oat milk is another top choice, especially for latte art, thanks to its high concentration of micro-foam when steamed right. Just remember the foam from oat milk dissipates far faster than regular dairy, almond, or soy.
Can I Make A Cappuccino Without An Espresso Machine?
Good at-home cappuccino is possible using pour-over coffee, a stovetop Moka pot, regular filter, or French press coffee. One can even substitute instant coffee for freshly brewed espresso, but it won't have the same level of flavor or intensity. Also, when making cappuccino without an espresso machine, the milk won't be as smooth and creamy as when using fresh-pressed espresso. Anyone looking for more inspiration than the list above when creating their own flavor combinations is sure to find direction from our look at the most interesting spices for coffee. They all apply to cappuccino too. 
What Is The Right-Sized Cup For Espresso?
The proper sized cup for a cappuccino is typically a six-ounce demitasse cup. This cup size is designed to hold the perfect balance of espresso, steamed milk, and foam, allowing you to enjoy the full flavor of the cappuccino without it becoming watered down. Additionally, the small size helps to keep the drink warm for longer. Keep in mind that the size of the cup may vary depending on the recipe and personal preference. For more information on cup suitability, don't miss our detailed look at standard coffee cup sizes. 
What Are Some Common Mistakes To Avoid When Making A Cappuccino?
Using water that's too hot or too cold will result in over or under-extraction of the coffee and degrade the overall taste of the cappuccino. Milk needs to be frothed properly, or your cappuccino will be too weak or strong. Always use fresh coffee beans to prevent blandness and bitterness. Keep to a 1:1:1 ratio of espresso to steamed milk to foam to retain a proper balance.
---
Recent Recipes