Homemade Hibiscus Moscow Mule (Ginger Beer Cocktail)
Hello, hello, hello! Are you ready to add some zing to your cocktail game? I am, and that's why I'm excited to share with you my homemade version of the classic Moscow Mule with a unique twist: hibiscus! That's right folks, we're taking the traditional ginger beer cocktail and giving it a floral and slightly tart kick with hibiscus syrup. But don't worry, non-drinkers, I haven't forgotten about you. I've also included a mocktail variation of this recipe in the notes section that is just as delicious and refreshing as the original. So whether you're looking to enjoy a cocktail with friends or just want a tasty drink on a hot summer day, this hibiscus Moscow Mule has got you covered.
Why You'll Love This Hibiscus Ginger Beer Cocktail
Now, you may be thinking, "Why should I try this recipe? What makes it special?" Well, let me tell you, my dear friends, this hibiscus Moscow Mule is a unique and delicious twist on a classic cocktail that is sure to impress.
The combination of the floral and slightly tart hibiscus syrup with the spicy ginger beer creates a balance of flavors that is both refreshing and intriguing. The lime juice adds a bright citrus note that ties everything together.
Not to mention, the use of hibiscus gives the drink a beautiful bright color and a pleasant aroma, making it a visually stunning cocktail that is perfect for entertaining.
And let's not forget about the mocktail version, it's a fantastic non-alcoholic option that still packs a punch of flavor that gives you that "bite" missing in most non-alcoholic drinks thanks to the spicy ginger component.
You'll love this recipe because it's easy and fast to make, delicious, and offers a unique twist on a classic favorite. So, go ahead, give it a try, and let me know what you think! Let's get mixing!
Best Hibiscus Simple Syrup To Buy For This Recipe
If you want to take your cocktail game to the next level, you gotta use the right ingredients. And that's why I'm telling ya, 1883's Hibiscus Syrup is the way to go for this Hibiscus Moscow Mule recipe. It's got a complex, tangy and floral flavor that brings any drink to it's full potential with minimal effort. Plus, it's made with only cane sugar instead of that high fructose stuff. Since 1883 has been making syrups since, well, 1883 and you know they know what they are doing. They make all their syrups with pure water from the French Alps, so you know you're getting the best taste possible. Why does this water matter you ask? Because the water is an underappreciated component in many food and drinks. High quality water is extremely important for extracting maximum flavor from bagels, to simple syrups and coffee. So, don't settle for less, trust me and give 1883's Hibiscus Syrup a try for this recipe.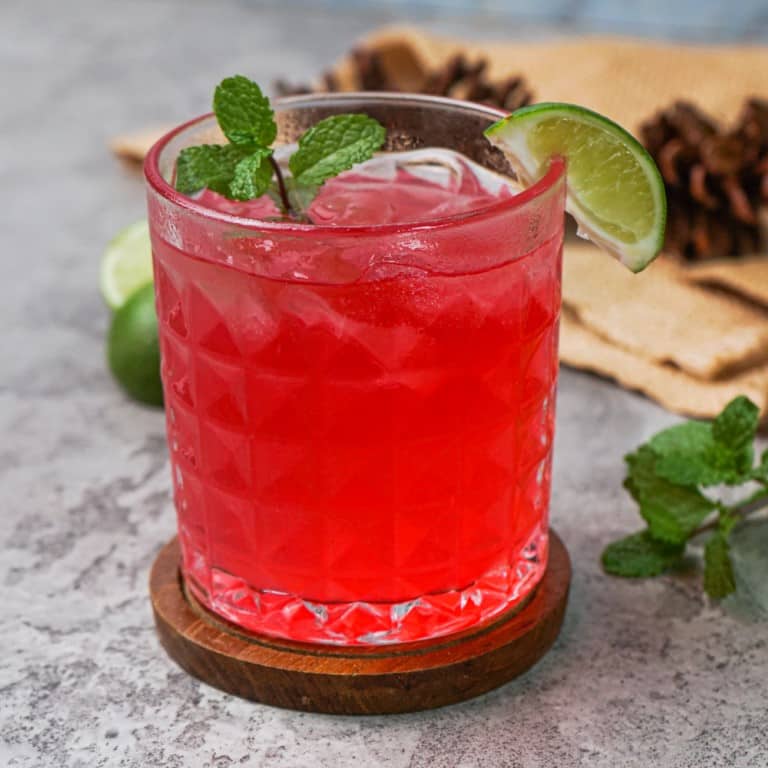 Ingredients
1.5

oz

Vodka

1.0

oz

hibiscus syrup

0.5

oz

lime or lemon juice

4.0

oz

ginger beer

Ice

Mint for optional garnish
Instructions
All ingredients ready? Let's begin!

Fill the glass with ice in a copper mug or any preferred glass.

Combine the vodka, hibiscus syrup, and lime juice.

Pour ginger beer slowly on top of it all.

Stir gently to combine with any spoon or even a fork if you are desperately low on silverware.

Garnish with a lime wedge, mint or candied ginger, or all three if you so desire. Enjoy your refreshing hibiscus Moscow mule!
Notes
To make it a mocktail, simply skip the vodka and replace with 1.0 oz more of ginger beer and go with 1.5 oz instead of 1.0 oz of hibiscus syrup.
Nutrition
Calories:
141
kcal
|
Carbohydrates:
11
g
|
Protein:
0.1
g
|
Fat:
0.03
g
|
Polyunsaturated Fat:
0.01
g
|
Sodium:
10
mg
|
Potassium:
22
mg
|
Fiber:
0.4
g
|
Sugar:
10
g
|
Vitamin A:
91
IU
|
Vitamin C:
4
mg
|
Calcium:
10
mg
|
Iron:
0.3
mg
Variations To Try
Now, let's add some variation to our hibiscus mule recipe. Here are a few ideas to switch things up:
Muddle some mint leaves in the bottom of your glass before adding the other ingredients for a refreshing mint twist
Swap out the vodka for gin for a different take on the classic Moscow mule
Add a splash of grenadine for a hint of sweetness and a pop of color
Add a dash of your best bitters
Try a fruity garnish like watermelon which could work with the hibiscus
Experiment with different types of citrus juice such as orange or grapefruit for a unique flavor profile
For a spicy kick, add a dash of hot sauce or a slice of fresh jalapeno
And there you have it folks, a few ways to take your hibiscus mule to the next level. Remember, the fun of cooking and mixing drinks is experimenting and finding what you like, so don't be afraid to get creative!
Other Hibiscus Flavors To Consider
Alright folks, so you've got the hibiscus bug but you don't have any hibiscus simple syrup on hand. No problem! There are plenty of ways to infuse hibiscus flavor into your drinks without using simple syrup.
First, you can steep dried hibiscus flowers in hot water to make a tea and use that as a base for your cocktail. This will give your drink a more subtle hibiscus flavor compared to using simple syrup.
Another option is to muddle fresh hibiscus flowers or hibiscus petals in your cocktail shaker before adding the other ingredients. This is a great way to add a burst of hibiscus flavor and a pop of color to your drink.
You can also try using hibiscus liqueur or hibiscus infused spirits like hibiscus tequila or hibiscus gin, these will give you a more potent hibiscus flavor.
Finally, you can also experiment with other hibiscus-infused products like hibiscus honey, hibiscus jelly or hibiscus jam, these can give a nice sweetness and a subtle hibiscus flavor to your cocktails.
The key is to experiment and find the method and the amount that works best for your taste.
Well folks, there you have it, my homemade hibiscus Moscow Mule recipe. With its balance of flavors, beautiful color, and pleasant aroma, it's perfect for entertaining on days you and your guests need some refreshment. Don't forget, there's also a delicious mocktail variation in the notes of the recipe for those who prefer a non-alcoholic option. Give it a try and let me know what you think. And remember, have fun and always drink responsibly if you end up going with the vodka version!
---
Recent Recipes