You have likely heard the saying, "everything is better with butter". Chicken Modiga is a recipe that embraces that foodie mantra.
I try not to overindulge in my affinity for butter too much as I grow a little older. My father used to make lunch for us to take to school. His favorite sandwich was bologna on white bread that was slathered with butter, not mustard or mayonnaise. I couldn't eat that more than once a week because it was so rich. But my classmates would die to trade for that sandwich. I usually scored tuna or egg salad, which was a win for me.
Butter back then was ridiculously good because it came from the dairy farm that was right down the street and was super fresh from cows that roamed the open pasture. Commercial butter wasn't that great after I graduated from elementary school. It is back to being great again. My personal favorites are cultured butter made from pastured cows and a butter from Ireland that comes from grass-fed cow's milk. It is bright yellow and creamy. So, I am back to my love for butter in moderation.
You know where I am going…… Chicken Modiga is prepared with a good amount of butter. If possible, procure some high-quality butter that comes from cows that have been pastured or grass-fed. You will be amazed at how much better it is than the pale sticks of butter that might have come from cows that have been fed grain and administered hormones and antibiotics.

I am not 100% sure where the name of this recipe comes from. What I do know is that this recipe is chicken that is grilled and then baked in a rich buttery gravy with melted cheese on top. The cheese is a bit unusual. It is provel. Provel is a processed cheese that is a combination of cheddar, Swiss, and provolone that is popular in St. Louis, especially on pizza. This cheese has a low melting point and it remains creamy once heated. That is important to the success of the recipe.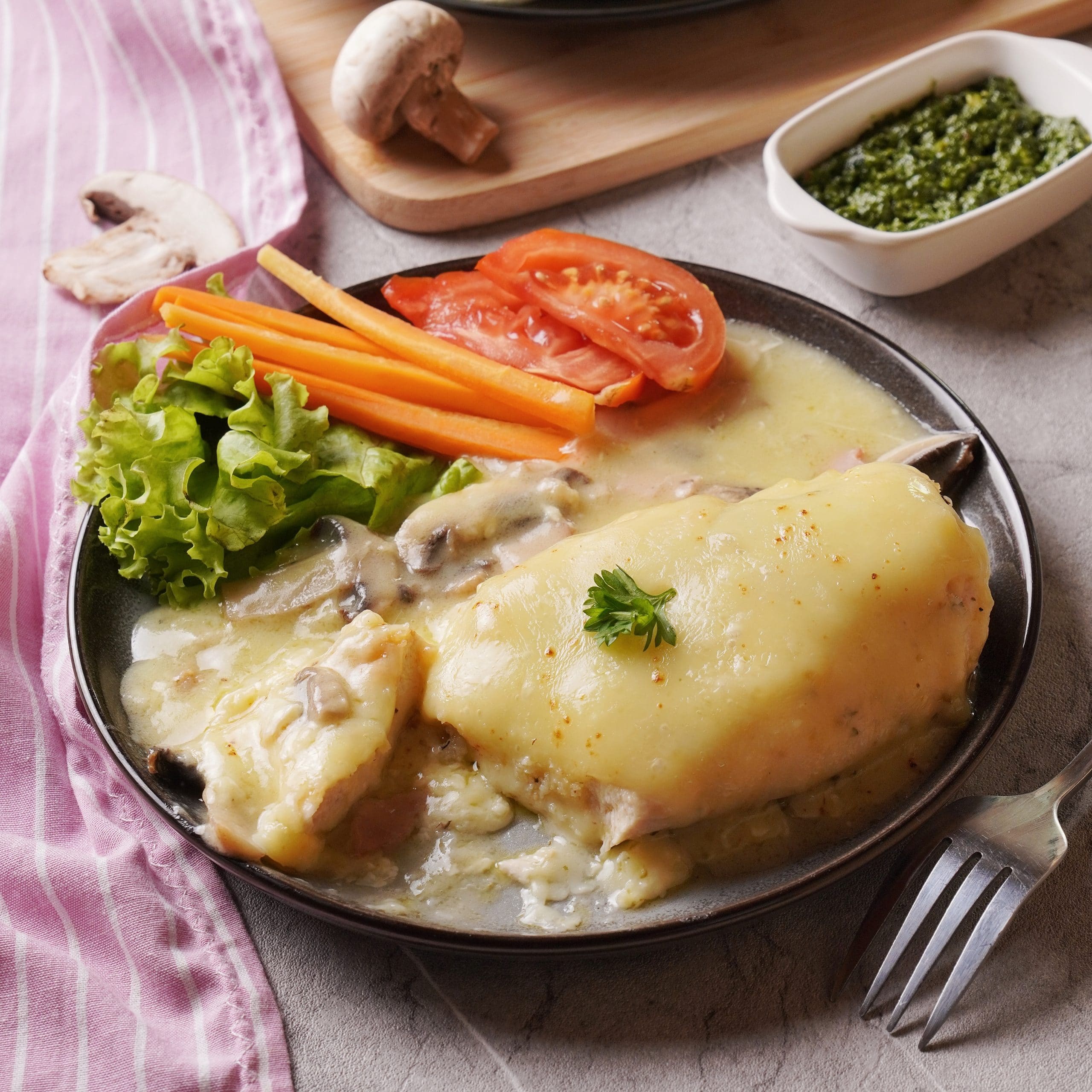 Ingredients
½

cup

1 stick butter at room temperature

3

Tbsp

all-purpose flour

2

6 ounce boneless, skinless chicken breasts

¼

cup

butter

melted

1

cup

Italian seasoned breadcrumbs

1 ½

cups

chicken stock

½

cup

dry white wine

Juice from ½ a lemon

¾

cup

sliced button mushrooms

2

Tbsp

prosciutto

diced

8

ounces

shredded provel cheese
Instructions
All ingredients ready? Let's begin!

In a small mixing bowl, combine 1 stick of butter with the flour using a fork to mix it all together into a creamy paste. Set this aside.

Rinse the chicken breasts under cold water and pat dry with paper towels.

Place the breadcrumbs on a plate. Lightly brush all sides of the chicken with ½ the melted butter.

Coat the chicken breasts in the breadcrumbs. Using a pastry brush, dab the remaining melted butter over the crumbs to moisten them.

Place a grill pan over medium heat, or turn the broiler on to the low setting. Grill or broil the chicken breasts for 5 minutes on each side until cooked through to an internal temperature of 165°F when checked with a digital meat thermometer. Set the cooked chicken aside.

Preheat or turn down your oven to 350°F.

In a large, oven-proof skillet over medium-high heat, bring the chicken stock to a boil.

Once boiling, whisk in the butter and flour mixture. Bring the pot back to a boil and continue to whisk until the sauce thickens but is still pourable.

Whisk the wine and lemon juice into the sauce and turn the heat down to a simmer.

Add the mushrooms and prosciutto to the sauce and allow to simmer for about 5 to 10 minutes.

Add the chicken breasts to the pan with the sauce.

Top each breast with cheese. Place the skillet in the oven and bake the chicken until the cheese melts, approximately 4 minutes.

Transfer the chicken to serving plates. Spoon the sauce with the mushrooms and prosciutto over the top of the chicken. Serve while warm with your favorite vegetables on the side.
Video
Nutrition
Calories:
800
kcal
|
Carbohydrates:
32
g
|
Protein:
47
g
|
Fat:
51
g
|
Saturated Fat:
28
g
|
Polyunsaturated Fat:
3
g
|
Monounsaturated Fat:
13
g
|
Trans Fat:
1
g
|
Cholesterol:
200
mg
|
Sodium:
1281
mg
|
Potassium:
752
mg
|
Fiber:
2
g
|
Sugar:
5
g
|
Vitamin A:
1399
IU
|
Vitamin C:
3
mg
|
Calcium:
492
mg
|
Iron:
3
mg
Notes & Tips
This dish works best if you allow the chicken breasts to come almost to room temperature after rinsing and drying them. That should only take about 20 minutes.
You can slice the chicken breasts in half if you want to make this dish for 4 people.
I caution you to have some oven mitts on hand for removing the skillet from the oven. I made that mistake once. Ouch.
Substitutions
This recipe can be prepared with beef steaks if you prefer. I would recommend trimmed New York strip steaks or sirloin steaks. You will want to cook the beef for less time than the chicken to an internal temperature of 130°F during the first cook. This results in a medium-rare to medium steak. I might skip the prosciutto if using beef so the meat can shine.
If you can't find provel cheese, you can substitute it with provolone, mozzarella, or mild Swiss cheese. Or, you can make your own provel by combining shredded provolone, cheddar, and Swiss cheeses.
As mentioned, butter is one of the key ingredients in Chicken Modiga. I really can't recommend a good substitute for butter here. I suppose you could try a butter substitute spread.
Side Dishes
I like to serve Chicken Modiga with Socca to dunk in the sauce. Socca is an Italian flatbread that is made with garbanzo bean flour. I also enjoy this dish with Pesto Butter Beans with broccoli.
To keep it simple, try a salad of bitter greens with a light vinaigrette and a side of Pasta with Chickpeas.
---
Recent Recipes