Homemade Crunchy Cashew Crusted Chicken
If you are following a paleo, ketogenic, Whole30, or gluten-free diet, you might be missing classic fried chicken with that crunchy crust. However, there are healthy alternatives to chicken that has been coated in white flour and deep-fried in vegetable oil or lard.
When a Trader Joe's opened in my town, I was curious about the bags of almond and walnut meals that were shelved right next to the all-purpose flour and cornmeal. I had never seen this before. I bought walnut meal and tried baking with it. I had to experiment a lot. I eventually started using the meals the way one might use breadcrumbs to encrust chicken, make crab cakes, and top casseroles. This was a game-changer for my mostly paleo style of eating at the time.
Instead of buying the pre-ground nuts, I discovered I could save a good deal of money by buying my favorite organic nuts and seeds in bulk and storing them in my freezer. I then grind the nuts in my food processor when I need them in meal form. This is much fresher tasting than pre-ground nut meals and flours.
Cashews are one of my favorite nuts. I think they have such a sweet flavor that is hard to pass up. They are also a little softer than many other nuts and are perfect for sticking to chicken as a coating or breading.
When using cashews as a crust for chicken, you won't want to deep-fry the chicken. You can bake nut-coated chicken breasts in your oven for a much healthier version of fried chicken. This baked cashew-crusted chicken recipe is paleo compliant, gluten-free, and lower calorie. It is also quite delicious.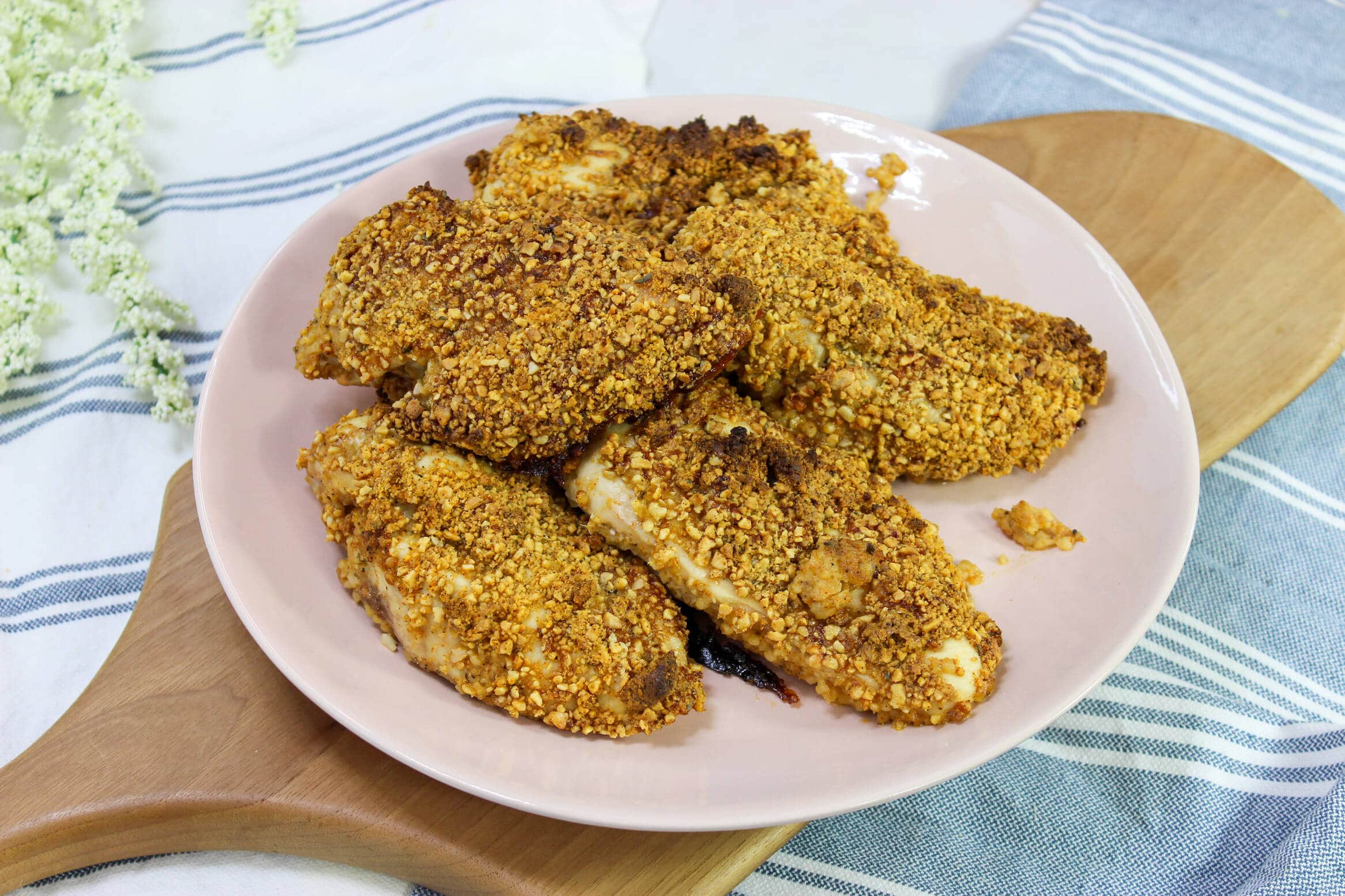 Ingredients
6

skinless

boneless chicken breasts

1

large egg

2

TBS

water

1-1/2

cups

raw cashews

1

tsp

sea salt

1

tsp

garlic powder

1/2

tsp

dried oregano

1/2

tsp

paprika

1/2

tsp

freshly ground black pepper
Instructions
Preheat your oven to 400°F.

In a shallow bowl, whisk together the egg and water.

In a food processor, pulse the cashews into a coarse flour, not too fine. Add the salt, garlic powder, oregano, paprika, and pepper. Pulse once again just to incorporate the spices into the crumbled cashews. Place this mixture in another shallow bowl.

Set up a workstation in this order: the bowl with the egg wash, the bowl with the cashew blend, and a foil or parchment-lined sheet pan.

Dip a chicken breast into the egg wash and then coat with the cashew mixture. Place the coated chicken on the sheet pan. Repeat until all the breasts are coated.

Place the pan in the oven and bake for 20 to 25 minutes or until the internal temperature reads 165°F when checked with a digital meat thermometer. The outer coating should be golden brown.

Remove the chicken from the oven and allow it to rest for 5 minutes. Serve with your favorite side dishes.
Video
Nutrition
Calories:
208
kcal
|
Carbohydrates:
4
g
|
Protein:
25
g
|
Fat:
10
g
|
Saturated Fat:
2
g
|
Polyunsaturated Fat:
2
g
|
Monounsaturated Fat:
4
g
|
Trans Fat:
1
g
|
Cholesterol:
138
mg
|
Sodium:
502
mg
|
Potassium:
366
mg
|
Fiber:
1
g
|
Sugar:
1
g
|
Vitamin A:
85
IU
|
Vitamin C:
1
mg
|
Calcium:
20
mg
|
Iron:
2
mg
Notes and Tips
You will want to use boneless, skinless chicken for this recipe. It will bake more evenly than bone-in chicken. You can use breasts, thighs, or tenders. The kids will love cashew-crusted chicken tenders.
It is a good idea to line the sheet pan with aluminum foil or parchment paper. This will make clean-up easier and the coating won't stick to the pan. You can lightly oil the paper to help with any sticking. Keep in mind that nuts are naturally oily, so don't use too much oil.
Don't be tempted to fry nut-coated chicken in oil. In my experience, the nuts will burn before the chicken is completely cooked through. Overcooked nuts are very bitter tasting.
I always rest my chicken before serving it. This allows for the juices to be reabsorbed by the meat. Otherwise, the chicken will be dry. You can tent the cooked chicken loosely with foil to keep it warm.
Substitutions and Shortcuts
As mentioned, you can use thighs or tenders in place of the chicken breasts. I have also made this with turkey breast cutlets and boneless pork chops.
Perhaps you aren't as much a fan of cashews as I am. By all means, swap the cashews out for almonds, walnuts, hazelnuts, or pistachios.
The seasonings are fairly simple in this recipe. Don't be afraid to get a little more creative by using different blends of herbs and spices. You could go Asian with Chinese five-spice, Creole with Cajun spices, Mediterranean with Italian seasoning, or Middle Eastern with za'atar.
I actually don't often eat eggs due to a slight allergy. What I use in place of eggs in this recipe is either Dijon mustard, vegan mayonnaise, or vegan liquid eggs. Mustard really works well and adds a lot of tangy flavor.
What Can I Pair with Cashew Crusted Chicken?
Since we are keeping it healthy and gluten-free in this post, you should give these Din-Tai-Fung Green Beans a try with your chicken. This recipe is beyond easy and only has 3 ingredients.
While the oven is already fired up, consider roasting a variety of vegetables with your chicken. Some of the best veggies for roasting are Brussels sprout halves, young carrots, cherry tomatoes, and cubed sweet potatoes. Just lightly coat any of these with a little extra virgin olive oil and season with salt and pepper before placing them in the oven.
A steaming bowl of cauliflower rice that has been topped with fresh herbs, a squeeze of lemon, and a drizzle of good olive oil is perfect to accompany the chicken and vegetables.
---
Recent Recipes