Best Coffee-Rubbed Chicken Thighs
Coffee is one of my favorite vices. I only drink it in the morning while I am starting my day. On special occasions, I will have a decaf espresso after dinner. I drink my coffee black because I truly like the flavor. I have searched my town for the best cups of coffee and have narrowed it down to 2 java joints. But the best coffee is what I make at home with organic beans and spring water.
Yes, I think I might be a coffee snob. But I can explain that. I actually like to cook and bake with coffee, so I want it to be clean and really taste of the roasted beans. One of my favorite ways to use coffee in cooking is to work it into spice rubs for a variety of proteins.
Coffee is strangely fabulous with game meat, such as elk, venison, and wild goose. I also like to use it on tamer cuts like pork tenderloin, a filet of beef, and chicken thighs. Dark meat chicken is a great base for a coffee spice rub.
I have been playing around with a few different coffee rubs recently. I was afraid that fresh coffee grounds would be too crunchy and bitter, so I was using instant espresso powder. I like it, but it does become damp from the moisture of the meat. Finely ground fresh coffee beans actually work fine and are not gritty as I thought they might be.
My dry rubs usually start with brown sugar and salt. I add to that a variety of spices and herbs. In this rub, I am including ground coffee. You can make a large batch of this rub and store it in a sealed jar for later use if you like.
I think skin-on and bone-in chicken thighs are best for this recipe. The skin gets very crispy and the coffee rub almost melts and caramelizes the skin. I love the charred appearance on the outside while the inside remains juicy and tender.
Coffee-rubbed chicken is really good with pasta or rice and plenty of vegetables. A personal favorite is Moroccan couscous bowl with onions, carrots, bell peppers, and zucchini. It is the perfect side dish for a sweet, salty, and bitter protein. Even though this is considered a white meat dish, the coffee suggests that it can be eaten with red wine or even a dark beer.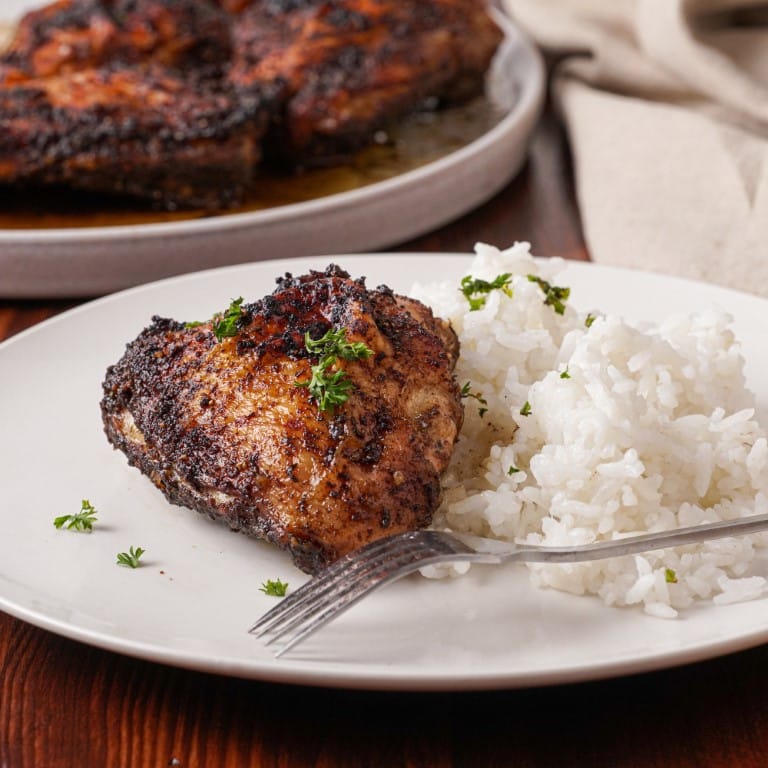 Ingredients
6

bone-in and skin-on chicken thighs

2

Tbsp

extra virgin olive oil

1

Tbsp

brown sugar

1

Tbsp

kosher salt

1

Tbsp

finely ground coffee

1

tsp

freshly ground pepper

1

tsp

paprika

1

tsp

onion powder

1

tsp

garlic powder

1/8

tsp

cayenne pepper

optional
Instructions
All ingredients ready? Let's begin!

Remove the chicken thighs from the refrigerator and the packaging. Give them a quick rinse under cool water. Pat completely dry with paper towels. Set the chicken aside on a clean plate to allow the thighs to come to room temperature.

In a small mixing bowl, whisk together the sugar, salt, coffee, pepper, paprika, onion powder, garlic powder, and cayenne.

Line a rimmed baking sheet with parchment paper. Preheat your oven to 400°F.

Drizzle or brush the olive oil on the chicken thighs. Then, pat the dry rub all over the thighs using your hands.

Generously rub the chicken with a mix of sugar, salt, coffee, pepper, paprika, onion powder, garlic powder, and cayenne, ensuring the blend covers every part evenly.

Place the chicken thighs on the lined baking sheet, skin side facing up.

Put the pan in the oven and roast the chicken until it reaches an internal temperature of 165°F when checked with an instant-read meat thermometer and the skin is crispy, approximately 35 to 40 minutes.

Transfer the thighs to a serving platter and pour the pan juices over them. Tent loosely with foil and allow the thighs to rest for 5 minutes before serving.

Serve the chicken with your favorite side dishes.
Nutrition
Calories:
405
kcal
|
Carbohydrates:
3
g
|
Protein:
26
g
|
Fat:
31
g
|
Saturated Fat:
8
g
|
Polyunsaturated Fat:
6
g
|
Monounsaturated Fat:
14
g
|
Trans Fat:
0.1
g
|
Cholesterol:
157
mg
|
Sodium:
1288
mg
|
Potassium:
349
mg
|
Fiber:
0.2
g
|
Sugar:
2
g
|
Vitamin A:
170
IU
|
Vitamin C:
1
mg
|
Calcium:
19
mg
|
Iron:
1
mg
Notes & Tips
For me, allowing your proteins to come to room temperature before roasting or grilling is a good practice for thorough and even cooking. You can oil and coat your chicken thighs in the coffee rub for about 30 minutes before roasting them. This helps with the cooking and it also allows the rub to really flavor the meat.
My oven runs a little bit hotter than normal, so I actually roast the thighs at 375°F for 40 minutes. The higher the temp, the more caramelized and crispier the skin will be. I recommend checking the internal temperature of the meat at 35 minutes. You really don't want the chicken to dry out, so keep an eye on it.
Substitutions
Chicken Thighs: I go through periods where I have to tighten my belt when it comes to what I spend on groceries. Food costs are ridiculously high in 2023, so I look for deals. Chicken drumsticks are well-priced compared to thighs and breasts in general. Sometimes, whole wings are on sale. This coffee-rubbed chicken recipe works great with drums and wings. If you are ambitious, consider making an entire spatchcocked chicken with coffee rub.
Coffee: I am a half-caf coffee drinker. If you are feeding this dish to kids, you might consider using decaf coffee. Though, it isn't really a lot of coffee in the rub. Not a coffee drinker? Matcha tea powder is a great substitute. I have also made this recipe with cocoa powder or ground cacao nibs. Chocolate is a fabulous addition to rubs and sauces to serve with protein. The best mole sauce I ever tasted was made with Mexican chocolate stirred in toward the end of cooking.
Onion and Garlic Powder: I know that some people don't really do well with Alliums (onions and garlic). They can be especially irritating for those with upper digestive issues. I am fond of an ingredient known as asafoetida. This is a powdered spice that is commonly used in Southeast Asian cooking. It resembles garlic in flavor and pungency. I keep a jar in my pantry always as an allium substitution.
---
Recent Recipes