Corn dodgers and hush puppies are relatively the same, though I would go out on a limb and say that hush puppies are a more modern version. Corn dodgers used to be corn-based cakes that pioneers would take with them as they traveled. They have also been used in old Scotland, though both versions tended to be very hard, unseasoned bricks. That's why, for this recipe, I have opted to use the more Southern version of hush puppies.
You may or may not already know this, but there is a story that comes with hush puppies. People would be cooking their dinner in the south and their hounds would be yapping at them for scraps. So, the people would roll up some batter and pieces of whatever they were making, quickly fry it up, and throw it to the dogs to make them hush. When I was a child, I thought it meant my mom was making them so I would be quiet (it didn't work for her).
The main ingredient in hush puppies is cornmeal, as that makes up the base. This is, essentially, cornbread balls. The shape makes them great for snacking and they are an excellent side to many dishes, but especially barbeque (like these melt in your mouth ribs) and fried fish meals.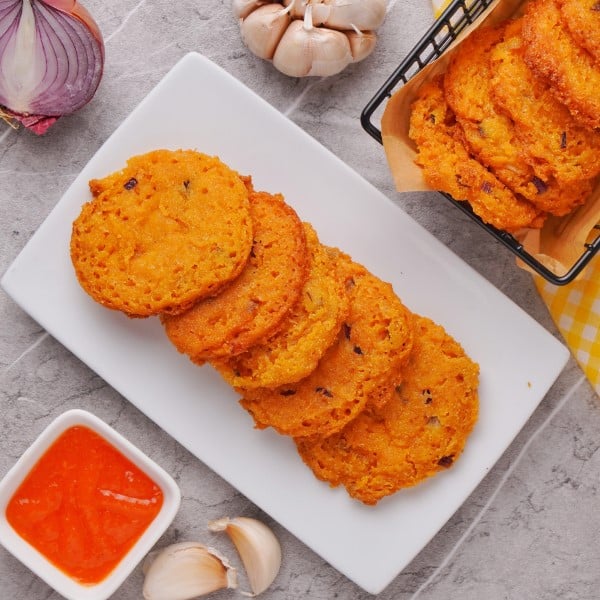 Ingredients
¼

cup

flour

1

cup

cornmeal

1

tbsp

brown sugar

1 ½

tsp

baking powder

1

tsp

salt

1

tsp

paprika

½

tsp

pepper

½

red onion

3

garlic cloves

1

cup

buttermilk

1

egg

4

tbsp

butter

6

+ tbsp vegetable oil
Instructions
All ingredients ready? Let's begin!

In a large mixing bowl, add the flour, cornmeal, sugar, baking powder, salt, paprika, and pepper. Whisk together to combine.

Peel and finely dice the ½ of a red onion and add the pieces to the bowl.

Peel and finely chop or press the garlic. Add to the bowl. Mix again to combine.

In a different bowl, add the buttermilk and the egg. Whisk to combine.

Make a well in the dry ingredients and pour in the buttermilk-egg mixture. Whisk again to combine.

Use a knife to cut the cold butter into cubes then add to the bowl. Stir again to combine.

In a large cast iron skillet or other similar pot, heat about 2 inches of the oil over medium-high heat. To check if the oil is hot enough to cook, flick a drop of water or a drop of the batter into the oil. If it sizzles, it should be ready. If not, keep heating it.

Once the oil is hot, use a large tablespoon or small muffin scoop to spoon the batter and then plop it into the hot oil. Make sure to leave enough space between each scoop.

Allow each hush puppy to cook for about 3 minutes, making sure that all sides get cooked. When finished, they should be a lovely dark golden brown.

Use tongs or a slotted spoon to remove the hush puppies and transfer them to a wire cooling rack placed above paper towels to catch the dripping oil.

Repeat until all the dough is gone.

Let cool for 5-10 minutes so the oil doesn't burn.

Serve and enjoy!
Nutrition
Calories:
223
kcal
|
Carbohydrates:
22
g
|
Protein:
4
g
|
Fat:
13
g
|
Saturated Fat:
3
g
|
Polyunsaturated Fat:
7
g
|
Monounsaturated Fat:
3
g
|
Trans Fat:
0.1
g
|
Cholesterol:
25
mg
|
Sodium:
419
mg
|
Potassium:
146
mg
|
Fiber:
2
g
|
Sugar:
4
g
|
Vitamin A:
112
IU
|
Vitamin C:
2
mg
|
Calcium:
98
mg
|
Iron:
1
mg
Notes & Tips
Hush puppies can be kept in an airtight container in the fridge for 5-7 days. I recommend lining the container with a couple of paper towels to soak up any extra oil that might drip out. To reheat, the easiest method is to pop them in the microwave. If you want the hush puppies to crisp up again (a microwave won't do that) then you can refry them in a pan or put them in the oven until warmed through.
Serving Suggestions
As I mentioned previously, hush puppies/ corn dodgers pair really well with barbeque and fish dishes. If you want to serve with barbeque, I recommend some pork ribs or pulled pork. For extra sides, I would make a simple coleslaw and some green beans or steamed broccoli.
If serving hush puppies with seafood, they work with fried fish, crab, and more. I like to eat hush puppies alongside crab cakes or fried cod. If serving with crab cakes, some excellent sides are grilled veggies or a lemony chickpea salad. If serving with fried cod or other fried fish, other sides that go well are steamed peas (or mushy peas, if you like the British way) or steamed broccoli and cauliflower.
You can also serve hush puppies all on their own, but if you do that you might want to put out a dipping sauce too. Tartar sauce works well, even ketchup or you can make a spicy dipping sauce of your own. I enjoy making a sauce with sour cream, a little bit of mayonnaise, sriracha, cayenne pepper, a pinch of salt, and some chopped parsley. Absolutely delicious!
What To Do With Extra Oil?
You will probably have excess oil after this. Instead of throwing it away, you can let it cool a little bit then transfer it to a glass jar or other storage container. You can save it for a couple weeks at room temperature and reuse it for other recipes like homemade double fried chicken wings.
I like to use an old pasta jar that I have thoroughly rinsed out for my extra oil. That way, when I've reused it several times, I can just throw away any leftover gross bits in the jar. It is important to never pour excess oil down your drain as it can clog the drains and cause damage and stink. Even if you do not want to reuse your cooking oil, you should still pour it into a jar, seal it, and throw it away instead of pouring it down the drain. You also shouldn't ever toss oil (hot or otherwise) outside, as it is damaging for plants and animals.
---
Recent Recipes