Easy Mexican Botana Platter
If you enjoy nachos or seven-layer dip, you will definitely like a botana platter. It is a plate or baking dish with layers of beans, cheese, vegetables, and toppings that is baked until bubbling and then browned under a broiler. This is served with either soft tortillas or crispy corn chips.
Botana is a Spanish term that basically refers to snacks or appetizers that are eaten communally. This botana recipe goes right from the oven to the center of the table or kitchen island where everyone can dig in and share.
Even though the dish is baked, it is topped with fresh ingredients, such as avocados, tomatoes, and cilantro to lighten it up when it comes out of the oven. I love the combination of hot beans and melty cheese with lively and bright produce.
The recipe starts with preparing your own well-seasoned refried beans. This is the base that you will build upon. The recipe finishes with dollops of sour cream and pickled jalapeno slices. However delicious I find these, they are optional.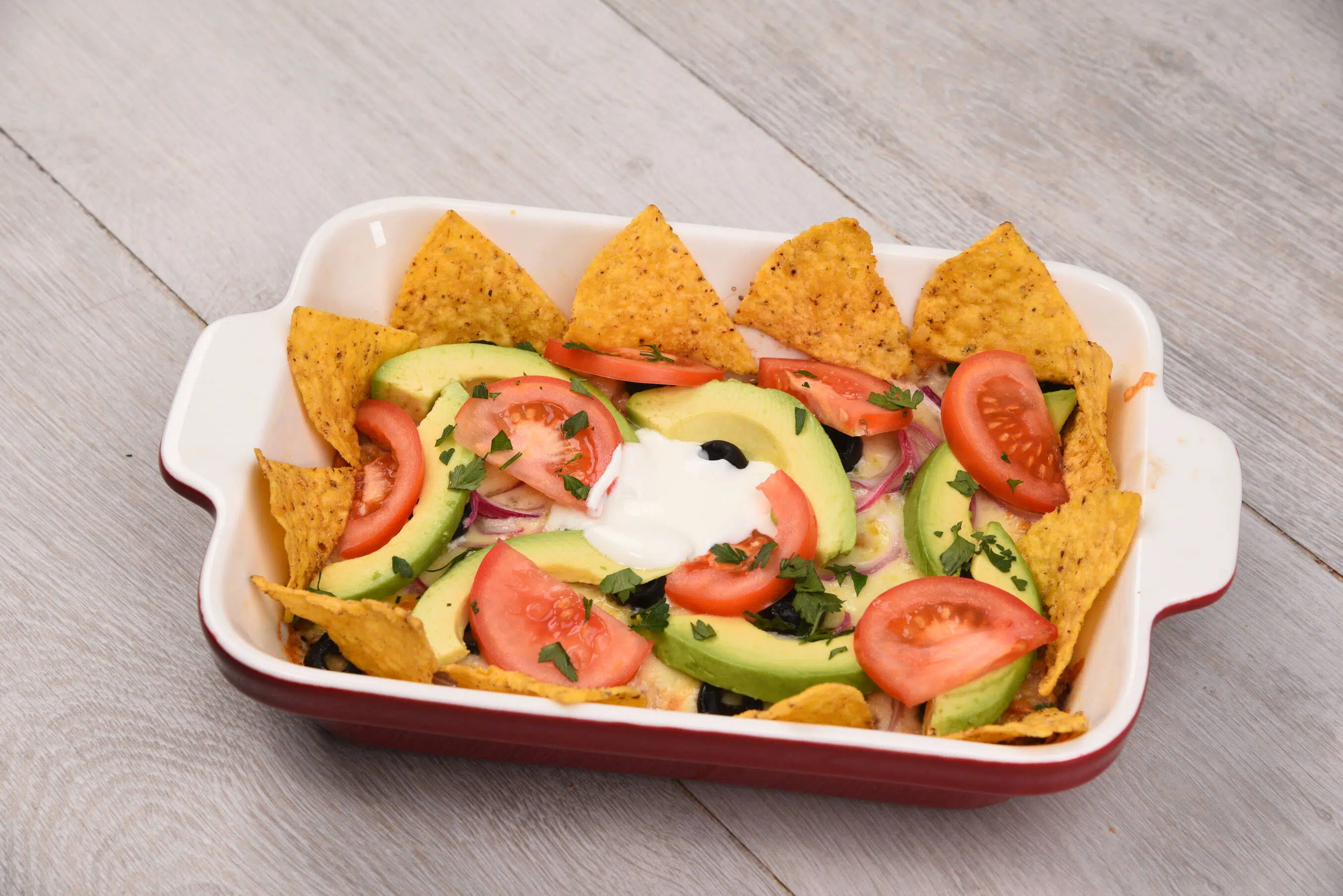 Ingredients
1/4

cup

of fat

bacon drippings, coconut oil, or vegetable oil

Two 15 ounce cans of pinto beans

rinsed and drained

1/2

cup

vegetable or chicken broth

1

tsp

ground cumin

1

teaspoon

dried oregano or marjoram

1

cup

crumbled cooked chorizo

optional

1/2

red onion

peeled and sliced into thin half-moons

1/4

tsp

sea salt

Juice of half a lime

1

cup

shredded Monterey Jack cheese

1/2

cup

small black olives

2

small or medium ripe tomatoes

sliced into small wedges

1

ripe Haas avocado

halved, pitted, peeled, and thinly sliced

1/3

bunch of fresh cilantro

chopped

3/4

cup

sour cream or plain Greek yogurt

optional

3

pickled jalapeno peppers

thinly sliced (optional)

Lime wedges

Corn tortilla chips
Instructions
In a large skillet over medium heat, warm the fat until it has melted. Add half of the beans and 1/4 cup of the broth. Using a potato masher, smash the beans. Add the remaining beans and the rest of the broth and mash again. Stir in the cumin and oregano. Cook until most of the liquid has evaporated and the beans are a creamy consistency. Add a little water if they look too dry. If using, incorporate the chorizo and continue to cook until warmed through. Set the refried beans aside.

Preheat the oven to 450°F.

Separate the onion slices and place them in a small bowl. Sprinkle the salt over the slices and squeeze the lemon juice over them. Toss to coat evenly with the salt and lime. Allow the onions to rest for 5 minutes. Drain any excess liquid and set the onions aside.

Take a broiler-safe baking tray or dish and spread the refried beans into an even layer on the bottom. Scatter the cheese over the top then add the onions and olives. Place the pan in the oven and bake until the beans and cheese are bubbling.

Turn the oven up to broil and cook just until the cheese and onions have browned but are not charred.

Remove the pan or dish from the oven and arrange the tomatoes and avocado slices on top. Scatter cilantro over the tomatoes and avocado. Then, spoon some sour cream on top of the produce and scatter the jalapenos over the cream, if desired. Place tortilla chips all around the perimeter and have an extra bowl of them. Serve lime wedges on the side.
Video
Nutrition
Calories:
508
kcal
|
Carbohydrates:
44
g
|
Protein:
24
g
|
Fat:
28
g
|
Saturated Fat:
14
g
|
Polyunsaturated Fat:
1
g
|
Monounsaturated Fat:
8
g
|
Trans Fat:
1
g
|
Cholesterol:
33
mg
|
Sodium:
630
mg
|
Potassium:
955
mg
|
Fiber:
16
g
|
Sugar:
3
g
|
Vitamin A:
696
IU
|
Vitamin C:
11
mg
|
Calcium:
248
mg
|
Iron:
4
mg
Notes & Tips
This one-pan dish bakes at a fairly high temperature and rather quickly. The cook time on the recipe may differ, depending on how well-calibrated your oven is. You will need to keep an eye on them.
For easier cleanup, you can line the bottom of your pan with aluminum foil, or use a disposable foil pan that is rimmed. It isn't the prettiest presentation, but I don't think many will be noticing, as this botana will be devoured quickly.
If you are going for pretty and still want an easier cleanup, place a layer of tortilla chips on the bottom of the dish, just as you would for nachos.
Substitutions & Shortcuts
If you are pressed for time, you can use a high-quality brand of canned refried beans rather than making your own. This saves a step.
Good tasting fresh tomatoes are often hard to come by in colder weather. Ones that might be okay are cherry tomatoes. Just slice them in half. Or, buy a container of tomato-based salsa from the refrigerated section of the produce or deli aisle at your market.
The cheese is really whatever you want. I like the way the Monterey Jack melts. American cheese also melts well. For more authentic Mexican fare, go for cotija or queso blanco cheese. For a little more heat, try pepper jack.
I like to offer a variety of "utensils". By utensils, I mean chips or tortillas that you will eat the dip with. Corn tortilla chips are classic. However, you could easily serve this with cassava chips, sweet potato chips, rice chips, or small flour or corn tortillas that the botana can be scooped into.
Additions
This recipe is for a basic botana. There is no reason you can't add to the recipe to make it a more substantial meal. Here are some ideas:
Pulled pork
Shredded romaine lettuce
Flank steak strips
Guacamole
Shredded chicken
Pico de gallo
Ground beef with taco seasoning
---
Recent Recipes