Best Substitutes For Dijon Mustard
Warm, crispy sourdough bread? Check. Fresh layers of smoky pastrami? Check. Smooth, creamy, lick-off-the-spoon-worthy Dijon mustard? Finito! What's a pastrami sandwich without the Dijon mustard! Save yourself from a trip to the store (or food FOMO) by getting a little inventive in the kitchen.
Most condiments that contain mustard seeds are excellent substitutes for Dijon mustard. The closest alternative is stone-ground mustard, followed by yellow mustard. Flavor, spiciness, and texture are key factors to consider when selecting a suitable substitute for your recipe.
Are you in the middle of an exciting and particularly delicious recipe when you discover that you have run out of Dijon mustard? Or perhaps Dijon mustard is not a staple in your pantry? All hope is not lost!
Discover the best Dijon mustard alternatives based on your recipe and taste preferences:
What Is Dijon Mustard?
Before you explore all of the Dijon mustard alternatives, let's take a closer look at this beloved condiment that has become a global icon of cuisine and what makes it so unique. Like Champagne, Camembert, and macarons, Dijon mustard is another exceptional food product that hails from France.
This variety of prepared mustard dates back to the 18th century, and it has its origins in Dijon, the capital city of the beautiful Burgundy region. Dijon mustard was created when vinegar, which was traditionally used in mustard recipes, was replaced with verjus (unripe grape juice). This variation resulted in a smoother, less acidic mustard that became an instant sensation.
These days, Dijon mustard is found in a plastic bottle or glass jar in the condiment aisle. It is made by blending brown mustard seeds with white wine. The wine, made from tart grapes, contributes to the distinctive flavor of Dijon mustard.
This mustard has a sharp, tangy flavor with hints of spice. Dijon mustard's pungency and heat are derived from enzymes that turn into mustard oil once the seed is broken. It is used to elevate the flavor of just about any food!
As a condiment, Dijon mustard can be used on its own as a spread on sandwiches, hotdogs, and baguettes. It is also a key ingredient in multiple recipes, such as sauces, vinaigrettes, salad dressings, meat rubs, and glazes.
The phrase "à la dijonnaise" refers to French dishes that feature Dijon mustard as an ingredient
Dijon Mustard Vs. Regular Mustard
Dijon mustard offers a unique taste, texture, and culinary application that set it apart from your regular mustard.
You can instantly tell the difference between Dijon and regular mustard at first glance. Dijon mustard is pale, creamy yellow with a tinge of brown, made from brown or black mustard seeds and white wine. Regular mustard is bright yellow, typically made from yellow mustard powder, vinegar, and spices.
Regular mustard is a lot milder compared to its French counterpart, which has a more robust mustard flavor with a kick of spice. Dijon mustard has a thick and creamy consistency as it contains less vinegar.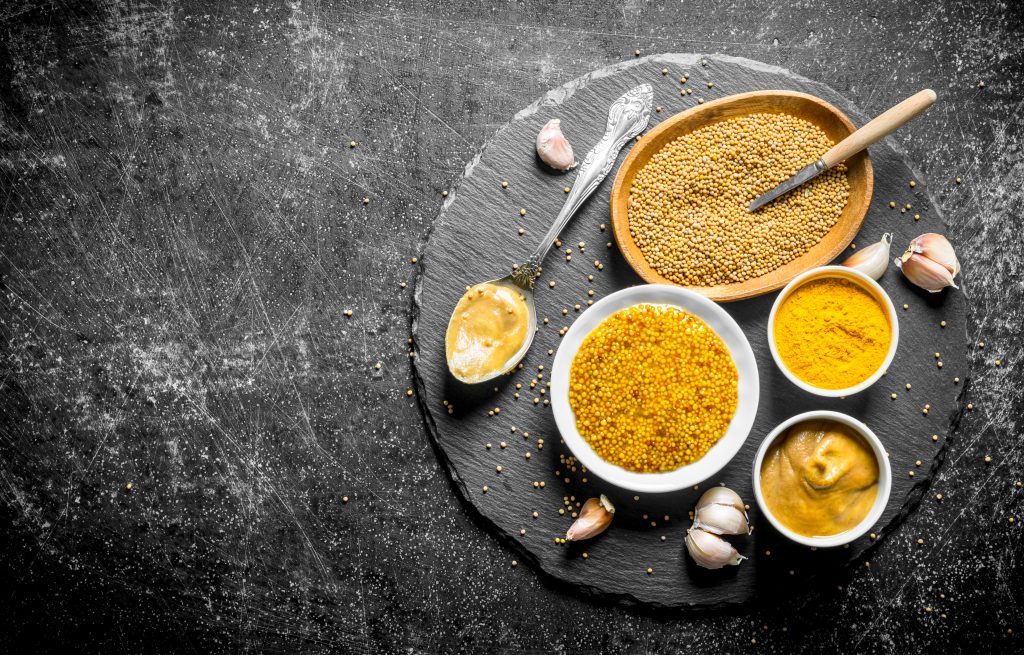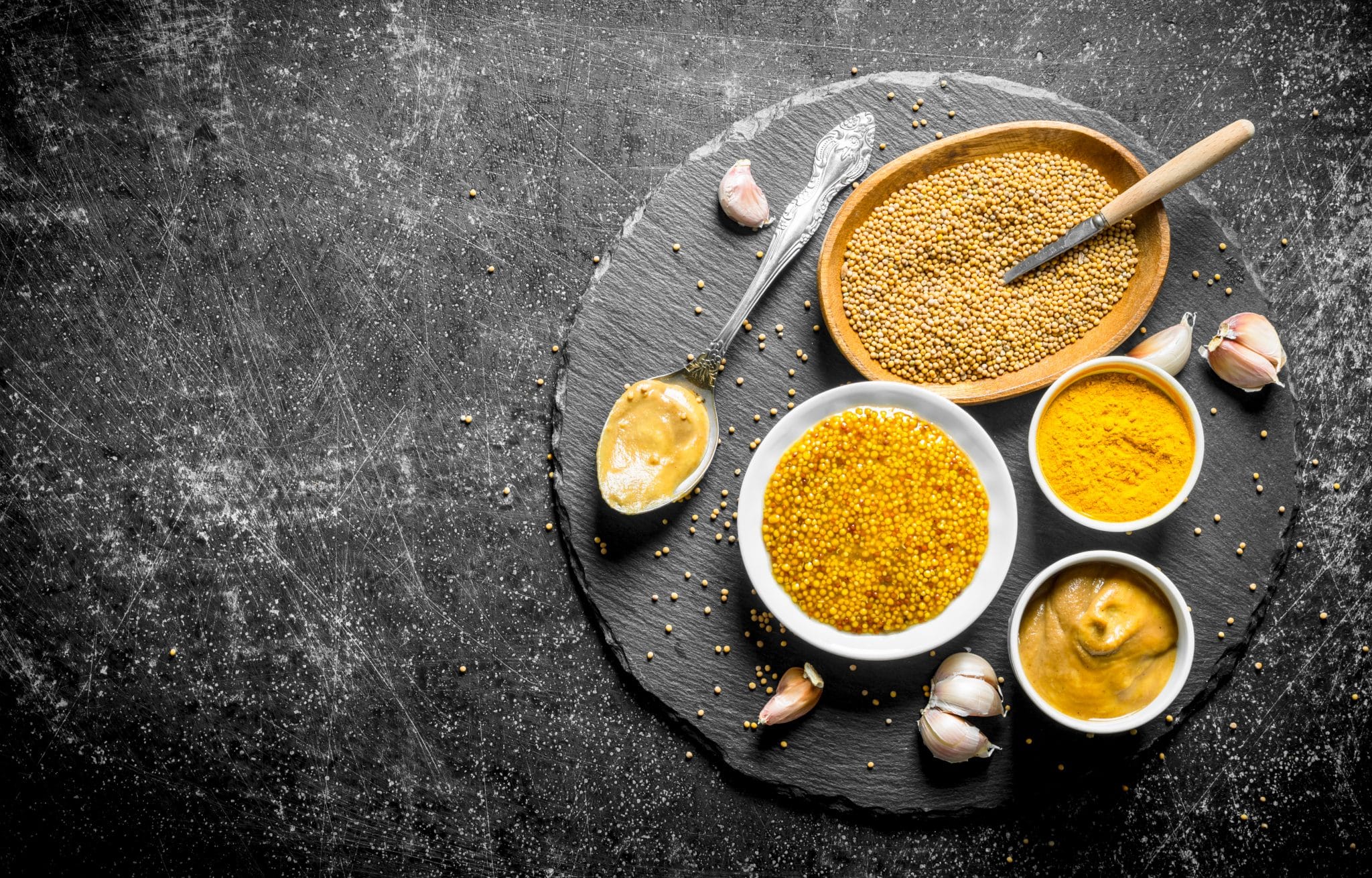 The Best Dijon Mustard Substitutes
By now, you should have a deeper appreciation for Dijon mustard. If it still hasn't found its way into your pantry or you forgot to replace the last jar, here are a few tasty, viable alternatives you can try:
Stone-Ground Mustard
Stone-ground mustard tops the list as the best Dijon mustard substitute. Since both varieties are made with brown mustard seeds, their taste is very similar. Stone-ground mustard is a milder version of Dijon mustard since many of the seeds are left whole, without being crushed to release their spice and robust flavor.
Stone-ground mustard will have a grainier consistency as it contains whole mustard seeds. This will also alter the appearance of your recipe since the seeds will be visible. Stone-ground mustard can be used in a 1:1 ratio to Dijon mustard in recipes. Despite the differences in texture and appearance, the flavor profile is an excellent match!
Yellow Mustard
Yellow mustard would be the next ideal substitute for Dijon mustard. Many Americans refer to it simply as "mustard.". This bright yellow condiment is affordable, delicious, and easily accessible, making it a popular kitchen staple.
With similar flavor profiles, yellow mustard can replace Dijon mustard with a 1:1 ratio in most recipes. Yellow mustard is made from finely ground white or yellow mustard seeds and turmeric, which gives it that vibrant color. This mustard is sweeter and slightly tarter than Dijon mustard.
When it comes to the spice factor, yellow mustard is considerably milder. Its mellowness makes it suitable for a wide range of recipes and an excellent option for people who do not tolerate spicy food.
Whole Grain Mustard
Commonly referred to as 'old style' or 'country' mustard. Mustard seeds are ground into a paste, leaving behind just enough whole seeds to create a thick, coarse texture. While whole grain mustard is milder, its taste is very similar to Dijon mustard.
This mustard is excellent to use in sauces and dressings or for mustard-roasted potatoes. Yum! If you are not a fan of the granular consistency, combine whole grain mustard with the remaining recipe ingredients and blend until smooth.
Honey Mustard
A fabtastic alternative for those with a sweet tooth! A delicious balance between tangy and sweet, honey mustard is typically made with yellow mustard and honey. Although it is much sweeter than Dijon mustard, you get the smooth and creamy consistency you want when looking for a replacement.
Honey mustard adds exceptional flavor and contrast to pork, chicken, marinades, dressings, and dips. This substitute is kid-approved too!
Horseradish Sauce
This condiment consists of sharp and pungent horseradish root that is grated and combined with vinegar, salt, and cream. Although there are no mustard seeds in horseradish sauce, it will add the creamy texture and tangy flavor of Dijon mustard to your recipe.
Use horseradish sauce to add extra zing and depth of flavor to meat, fish, vegetables, potato salad, and deviled eggs.
German Mustard
Germans are experts at using mustard to its full potential! German mustards tend to range in taste from mild to hot and spicy to sweet. Medium-spicy mustards (Mittelscharfer or Delikatess Senf) are the most popular styles of German mustard, as they offer the perfect ratio of spice, acidity, and sweetness.
Your favorite German variety can be used as a substitute for Dijon mustard for sandwiches, warm pretzels, hot dogs, deli meat, and as a dipping sauce on a charcuterie board.
Spicy Brown Mustard
Also known as deli mustard, spicy brown mustard is another American favorite, often found on the typical New York City hot dog cart. It is made with coarsely ground brown mustard seeds, a small amount of vinegar, and warm spices such as ginger, nutmeg, and cinnamon.
Spicy brown mustard packs more heat and intense flavor compared to Dijon mustard, and it is not as creamy. The bold flavor and a spicy kick mean it can stand up against other ingredients. As a Dijon mustard substitute, it is better to use less than the original recipe calls for.
A superb option for the heat-seekers, spicy brown mustard pairs well with meaty sandwiches, roast beef, sausages, and marinades.
Hot English Mustard
This British variety of mustard definitely brings the heat! Made from brown and yellow mustard seeds, it is a cross between Dijon and yellow mustard, but with a serious bite! English mustard contains a mix of brown, black, and yellow mustard seeds, and the vinegar is excluded to concentrate the heat.
As with spicy brown mustard, use it with discretion, especially if you cannot tolerate a lot of heat. Ideally, English mustard is bought in powder form and mixed with cold water about fifteen minutes before use for maximum flavor.
Wasabi
Honwasabi (authentic wasabi from Japan) is expensive and extremely difficult to come by, and because of its delicate flavor, it must be eaten within minutes after it is prepared. The thick green wasabi paste we are familiar with is typically made from a blend of powdered horseradish and mustard powder.
As with hot mustard, wasabi's spiciness strikes the nose rather than the tongue as a chili pepper does. Wasabi paste is highly potent, and it cannot replace Dijon mustard measure for measure. Add in tiny increments to gradually (and carefully) increase the heat of your recipe. Use wasabi in place of Dijon to add a hint of spice to pasta, sauces, chicken, fish, and dips.
Beer Mustard
True to its name, beer is used as a liquid base instead of, or sometimes in addition to, vinegar in this mustard. Beer mustard usually delivers a great deal of heat due to its lower acidity levels. Its taste will largely depend on the type of beer used. Mustard seeds hide the taste of a mellow beer, but a more full-flavored beer (like a dark ale) imparts some of its character to the mustard.
A deep malty taste with subtle hints of caramel, beer mustard is a tasty and exciting substitute for Dijon mustard. Slather it onto bagels, hotdogs, or sandwiches, use it as a dipping sauce, or as a rub for meats such as lamb and pork tenderloin.
Tangy Mayonnaise
Not a fan of spice and heat? Then tangy mayonnaise is the perfect substitute for you! Creamy, sweet, tangy, and a little acidic from the vinegar, mayonnaise is extremely versatile and generally preferred for its milder flavor.
You can use tangy mayonnaise as a substitute for Dijon mustard in just about everything- marinades, dips, salad dressing, and as a topping for burgers and hotdogs. Its smooth and creamy consistency comes in handy for recipes where Dijon mustard is used as an emulsifier.
Worcestershire Sauce
When a condiment contains ingredients such as vinegar, garlic, fermented molasses, tamarind paste, onion, sugar AND anchovies, you know it will deliver some serious flavor!
A sublime balance of tangy, sweet, salty, and savory, Worcestershire sauce is an excellent replacement for Dijon mustard, as it adds the umami flavor that everyone craves. Since this sauce has a higher liquid content, be sure to adjust it to fit your recipe.
Can I Use Dry Mustard In Place Of Dijon Mustard?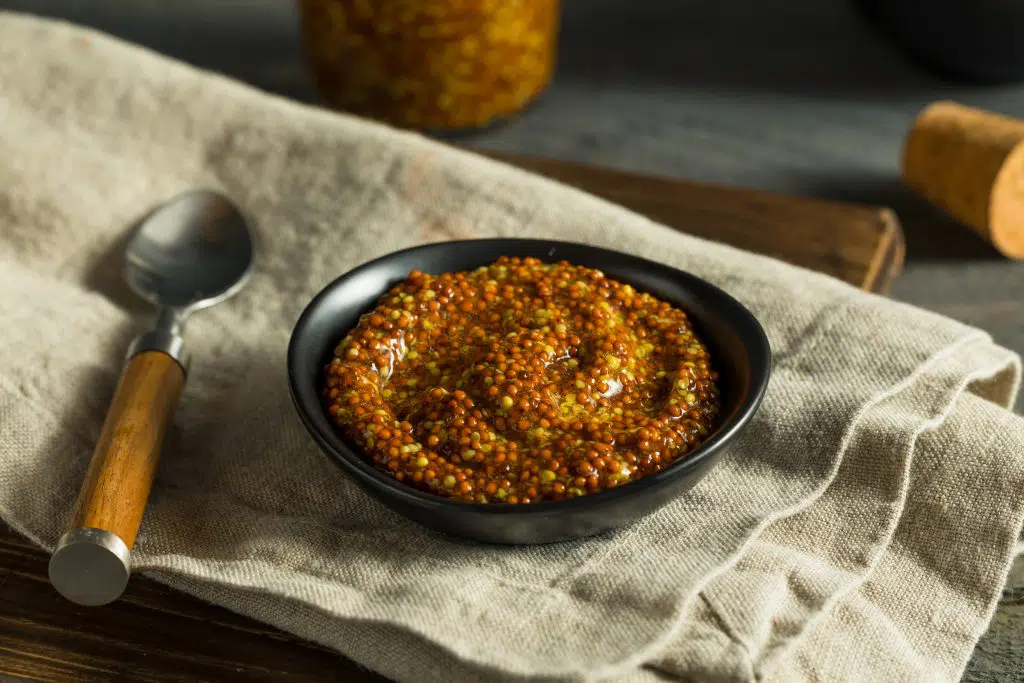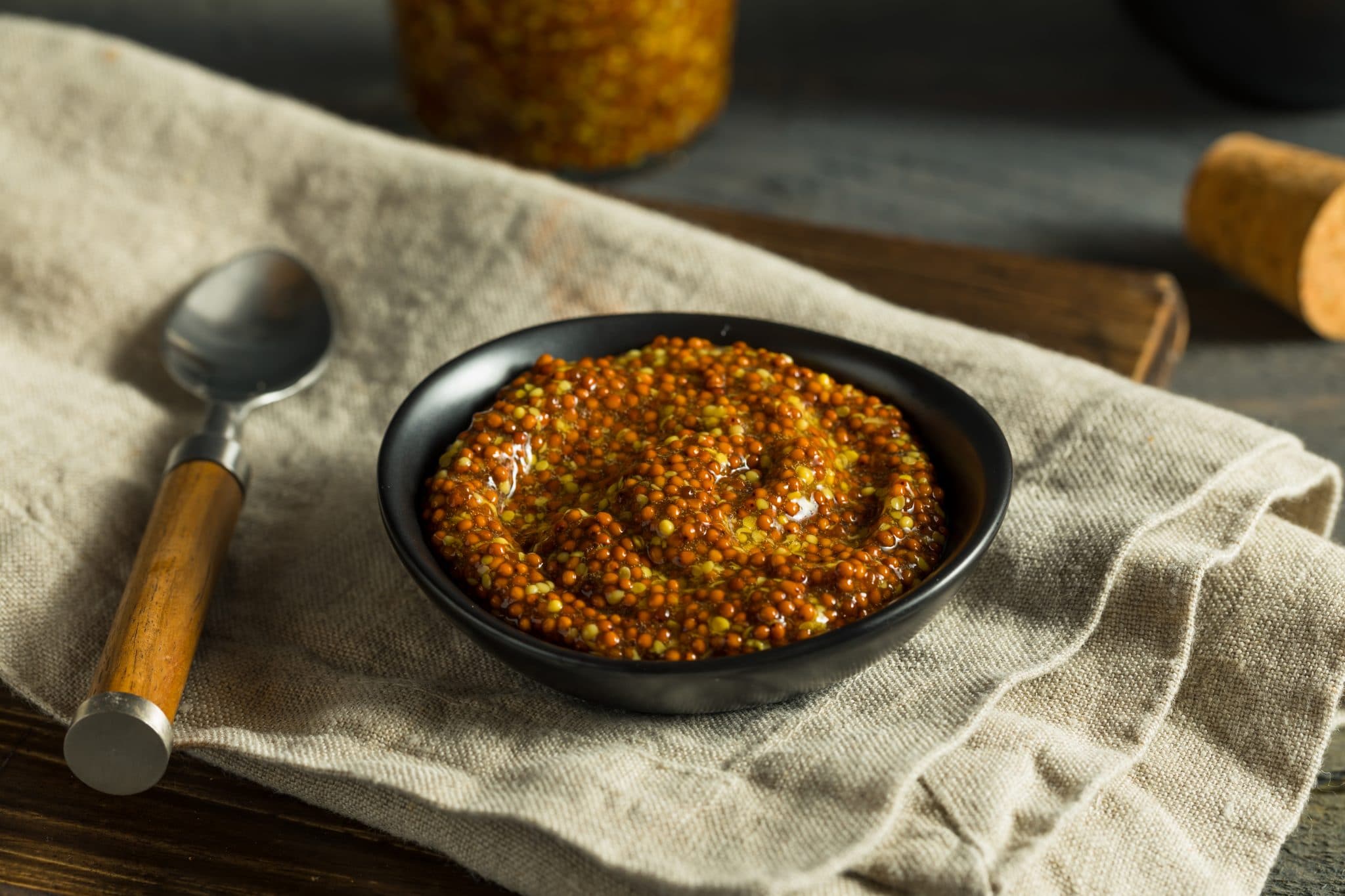 Homemade Dijon Mustard Substitute
If you happen to be an ambitious cook with a few minutes to spare, you can create your own Dijon mustard substitute using basic ingredients.
One teaspoon of dry mustard powder is equivalent to one tablespoon of Dijon mustard. Mix the powder with a splash of white wine vinegar, a dollop of mayonnaise, and a pinch of salt. A light drizzle of honey or sprinkle of sugar will balance the acidity. Adjust the flavor to suit your taste and recipe requirements.
Take your Dijon mustard substitute to new heights with this fiery and flavorful Easy Sri Lankan Mustard recipe.
How To Make Regular Mustard Taste Like Dijon Mustard?
While regular mustard typically contains vinegar, Dijon mustard gets its distinctive flavor from white wine.
To create a taste similar to Dijon mustard, simply add a few drops of white wine to your yellow/regular mustard. If you don't have a bottle of vino nearby, you can add a splash of white wine vinegar.
Which Dijon Mustard Substitute Will You Choose?
What will you reach for when you are staring into the bottom of an empty Dijon mustard jar?
From sweet and tangy honey or yellow mustard, to bold and spicy wasabi or hot English mustard. Smooth and creamy, or granular and crunchy, there is a Dijon mustard substitute that will meet your needs and save the day!
---
Recent Recipes