This recipe comes from the South American country of Guyana and is an aged, alcoholic fruit cake. Several aspects of this cake need to sit or soak for days or even months to truly bring out the highest quality version of this cake. It's not so much a cake as it is a labor of love. If you're looking for a faster cake, try Cuban tres leches cake.
The first thing you will need to do is to marinate your dried fruit in a little booze. This is traditionally done for several months (or even years if you're hardcore). There is a hack to speed up the process, but it takes away from the authenticity of this dessert, so try planning in advance and doing it the long way if you can. The ingredients call for 1 bottle of rum, but you might find you need more.
After you make the cake, you'll need to let it sit for several days while refreshing it with rum. All in all, this is not a quick and easy last-minute dessert. It requires at least a week of careful planning and preparing. That's why it's such a special cake, popular for weddings and holidays. It shows dedication and skill. Because this is such an intensive cake to create, it fills 2 cake pans so you will have enough for the extended family.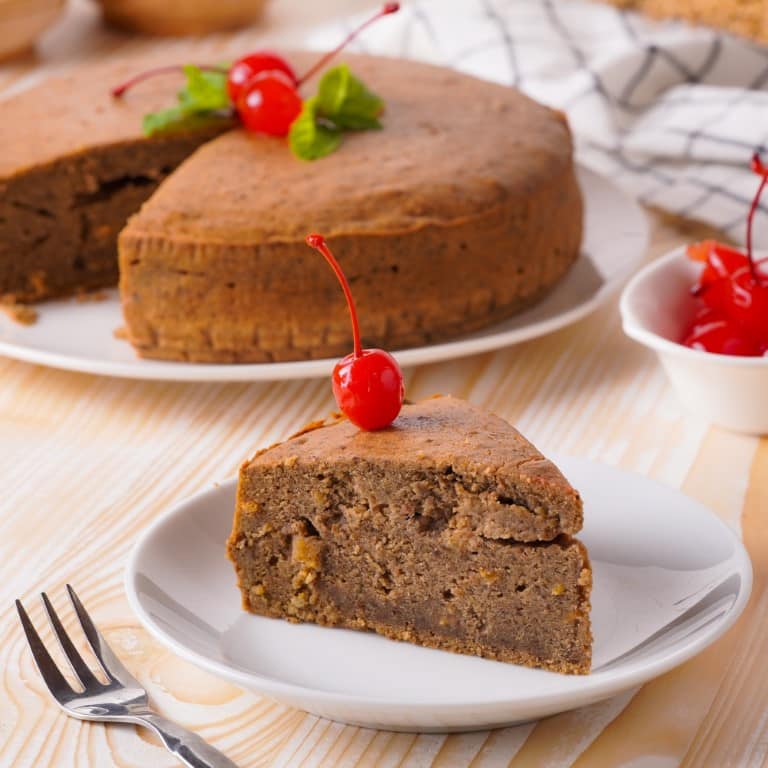 Ingredients
1

lb

dried currants

1

lb

dried prunes

1

lb

raisins

½

lb

maraschino cherries

½

lb

candied citrus peel

Bottle of spiced rum

4

sticks of butter

2

cups

brown sugar

10

eggs

1

tsp

vanilla

3 ½

cups

flour

¾

tsp

salt

2

tsp

baking powder

2

tsp

cinnamon

1

tsp

ground nutmeg

1

tsp

ground cloves
Instructions
All ingredients ready? Let's begin!

To soak the fruit: Grind all the fruit using a food processor or strong blender. Add 2 cups of rum and place in an airtight container. Store in a dry, dark place for a minimum of two weeks. It can be kept like this for several years if desired. Alternatively, you can soak the fruit in the rum and blend it all together after it's soaked.

Before baking, make sure to leave all ingredients out at room temperature.

Preheat the oven to 275F and prep 2 9-inch baking dishes, circular or square, it doesn't matter.

To make the burnt sugar: Put all the sugar in a pan over low heat. Stir constantly with a wooden spoon until it melts. Keep stirring as it darkens to a dark brown then add 3 tbsp of rum and remove from heat. Stir together to mix well.

In a large mixing bowl, add all the eggs. Whisk to combine. Add the vanilla and whisk again.

In a new large mixing bowl add the flour, salt, baking powder, cinnamon, nutmeg, and cloves. Whisk together until combined. Set aside.

Use the bowl of a stand mixer with a paddle attachment (or use a hand-held mixer or your own strength and a spatula). Add the room temperature butter into the bowl and beat until light and fluffy.

Slowly add the egg mixture and beat after each one until incorporated.

Add three cups of the fermented fruit mash, about ½ a cup at a time, mixing well after each addition. Add the flour about 1 cup at a time and use a spatula to fold in until combined.

Add spoonfuls of the burned sugar and fold in until you get a nice dark color. It will darken further after baking as well. You will probably need at least 4 tbsp, but I like to use more.

Make sure everything is mixed together before evenly pouring into the cake tins and smoothing the top with a spatula.

Bake in the oven for an 1 ½ -2 ½ hours, checking periodically. It is difficult to visually tell when the cake is done due to the color, so check by inserting a skewer or fork. If it comes out clean, the cake it ready to remove from the oven.

After removing the cake from the oven, without waiting for it to cool, pour a cup of rum over each cake and use a brush to make sure it spreads evenly.

Allow the cake to cool completely before removing from pan.

Store the cake in a closed container for several days before serving. Depending on your preferences, you should add more rum every few days so the flavor continues to infuse and the cake doesn't dry out.

After a few days serve and enjoy!
Nutrition
Calories:
979
kcal
|
Carbohydrates:
146
g
|
Protein:
10
g
|
Fat:
30
g
|
Saturated Fat:
18
g
|
Polyunsaturated Fat:
2
g
|
Monounsaturated Fat:
8
g
|
Trans Fat:
1
g
|
Cholesterol:
186
mg
|
Sodium:
482
mg
|
Potassium:
891
mg
|
Fiber:
8
g
|
Sugar:
77
g
|
Vitamin A:
1274
IU
|
Vitamin C:
4
mg
|
Calcium:
176
mg
|
Iron:
5
mg
Notes & Tips
This cake should be stored in a closed, airtight container. It is best left for 2-3 days before serving but can last as long as two weeks if you continue to brush it with rum. The longer you leave it, the more the texture will change as well. This doesn't mean it's gone bad, it is supposed to change. That's part of what makes black cake so unique.
If you're serving this cake for a wedding or birthday party, it is often topped with royal icing. Royal icing can be made by mixing powdered sugar with a little bit of milk and a drop of vanilla. It is very runny but should form a thin glaze on top.
Many people recommend wrapping the cake in plastic wrap after every rum addition to help lock in moisture.
Substitutions
I don't know about you, but I don't often come across dried currants in my regular food stores. If you can't find it in a shop or online (I would check a wholefoods store), you can replace the currants with an equal amount of other fruit.
Traditionally, this recipe used ground mace, but that's another thing I don't usually have. However, if you want to use it, replace 1 tsp of cinnamon with ground mace instead.
If you've missed your window of time to ferment the dried fruit, you can boil/simmer the fruit in red wine for half an hour, let cool, and blend and add with rum.
---
Recent Recipes