I went to a small organic farm a couple of weekends ago. The foliage was beautiful on the drive there and back. There was a field of freshly harvested pumpkins. The chickens were roaming all around. Inside the barn was a display of produce that had my jaw dropping. I am talking about heads of broccoli and cauliflower that were 10-inches in diameter, freshly picked seckel pears, tiny honeynut squash, and giant fennel bulbs with beautiful green fronds. Of course, I bought it all and my kitchen countertop was full.
After I washed the organic soil off of everything, I couldn't resist focusing on the fennel. The bulb was bright white, the fronds were deep green and feathery, and it smelled slightly of anise. I typically take my bounty of veg, cut everything into cubes, and roast them all on a sheet pan with olive oil, salt, pepper, and rosemary. This I can nibble on for a few days.
Because the fennel was so incredibly fresh, I decided I would make a salad with it. My fennel salad is assertive in flavors and textures. It is licoricey, bitter, sweet, spicy, and acidic. It is also a combination of crunchy and soft. I make a simple olive oil and lemon vinaigrette to dress everything. I make this salad with fennel, pink grapefruit, red onion, and arugula. That is basically it.
I only make this salad as either a starter course or a palate-cleansing course for a special meal. It is refreshing and light so it won't fill you up. It pairs nicely with a light white wine or a sparkling prosecco. This salad is vegan and gluten-free. It is also low in calories and fat but high in dietary fiber.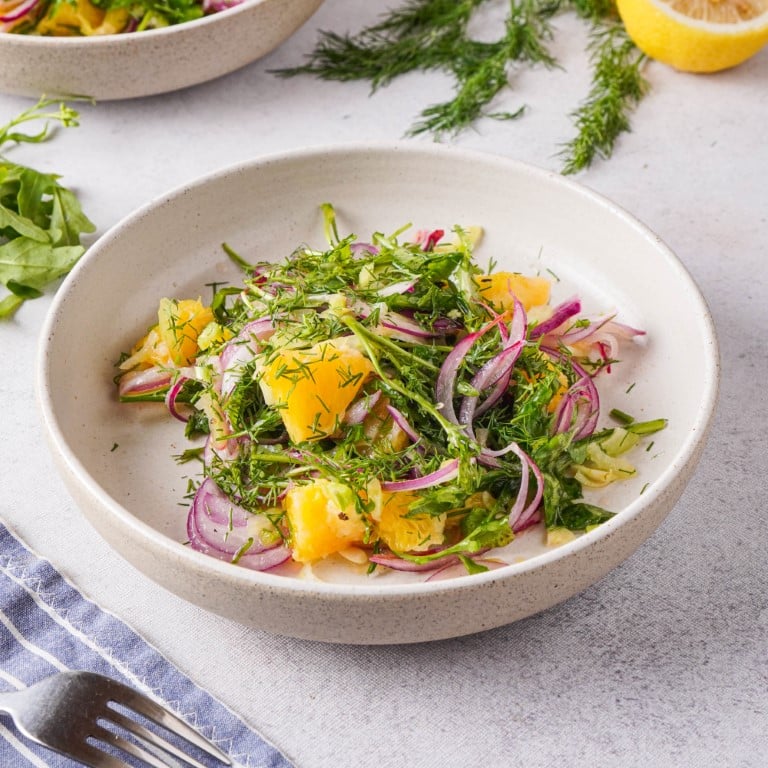 Ingredients
⅓

cup

extra virgin olive oil

1

tsp

lemon zest

1

large orange

Juice of 1 lemon

½

tsp

kosher or coarse salt

¼

tsp

freshly ground black pepper

1

fennel bulb

washed

1

medium red onion

peeled

2

large handfuls of baby or spring arugula leaves

¼

cup

chopped fennel fronds
Instructions
All ingredients ready? Let's begin!

In a large salad serving bowl, whisk together the olive oil, lemon zest, lemon juice, salt, and pepper. Set this to the side while you prepare your vegetables.

Trim the fennel by slicing off the green stalks just above the top of the bulb. Remove the fronds with her hands and reserve. The stalks are tough but can be used to add to bone or vegetable broth.

Slice the bulb in half and cut out the dense tough core at the base of the bulb. Cut each half in half again, lengthwise. Slice the bulb quarters as thinly as possible against the grain. Add the fennel slices to the vinaigrette in the bowl and toss to coat evenly.

Cut the onion in half lengthwise. Place each half flat side down and slice as thinly as possible into half-moons. Add the onion slices to the salad bowl.

Remove the skin of orange, and cut into small cubes/chunks.

Add the arugula leaves and gently toss to coat all ingredients with the dressing.

Roughly chop the reserved fennel fronds. You are looking for about 1/4 cup of fronds.

Using salad tongs, place the salad on individual plates and top each with the feathery fennel leaves. Serve immediately and enjoy.
Nutrition
Calories:
143
kcal
|
Carbohydrates:
9
g
|
Protein:
1
g
|
Fat:
12
g
|
Saturated Fat:
2
g
|
Polyunsaturated Fat:
1
g
|
Monounsaturated Fat:
9
g
|
Sodium:
219
mg
|
Potassium:
285
mg
|
Fiber:
3
g
|
Sugar:
5
g
|
Vitamin A:
285
IU
|
Vitamin C:
24
mg
|
Calcium:
49
mg
|
Iron:
1
mg
Notes & Tips
I highly recommend finding the freshest fennel you can so it isn't tough. The bulb should be white with little discoloration. The stalks and leaves (or fronds) should be a deep grass green in color and feathery in texture.
Pink grapefruit is quite sweet and compliments the spicy red onion and bitter arugula. If you can only find white grapefruit, consider adding a small amount of or maple syrup (for vegans) to the vinaigrette if the grapefruit is too tart.
Zest the lemon before you juice it. It is nearly impossible to zest a juiced lemon peel.
Substitutions
Fennel Bulb: The anise or licorice flavor of fennel may not be everyone's cup of tea. Though, it is very subtle. If you really don't like it, you can use the inner parts of a sturdy head of green cabbage. You could also use sliced celery ribs or bok choy.
Red Onion: Red Onions have a strong flavor with a little spice. If you want a milder onion flavor, I suggest using Vidalia or another sweet onion.
Pink Grapefruit: While pink grapefruit is both sweet and acidic, it is a seasonal fruit that isn't always available. I have used large oranges or tangerine segments. If you prefer not to have citrus in the salad, try sturdy pear slices, such as seckel or bosc. While not a fruit, I have made this salad with cubed cooked red beets for sweetness.
Arugula: Young arugula leaves are not as bitter and spicy as mature leaves. They also have a more delicate texture. I can always find packaged baby arugula at my market, but not so much fresh mature arugula. I will often substitute dandelion greens or watercress for arugula as my bitter green component in this salad, depending on what looks freshest.
Fennel Fronds: If you are not using fennel, or have purchased the bulbs with the stalks removed, you can substitute fresh dill weed leaves for the fennel fronds. They have a similar feathery texture and offer an interesting herbal essence to the salad.
---
Recent Recipes