Gongura Paneer is an Indian delicacy that calls for one very special ingredient. Red sorrel. This weed grows abundantly in India but can be really hard to find in the USA. The base tangy acidic flavor, however, creates a wonderful Indian cottage cheese curry that can be accurately emulated with other cruciferous vegetables. If you can track down a gourmet foods grower or Indian market whuich has red sorrel, include it in the place of our substitutes. Our Gongura Paneer recipe features rhubarb and spinach with a coconut masala.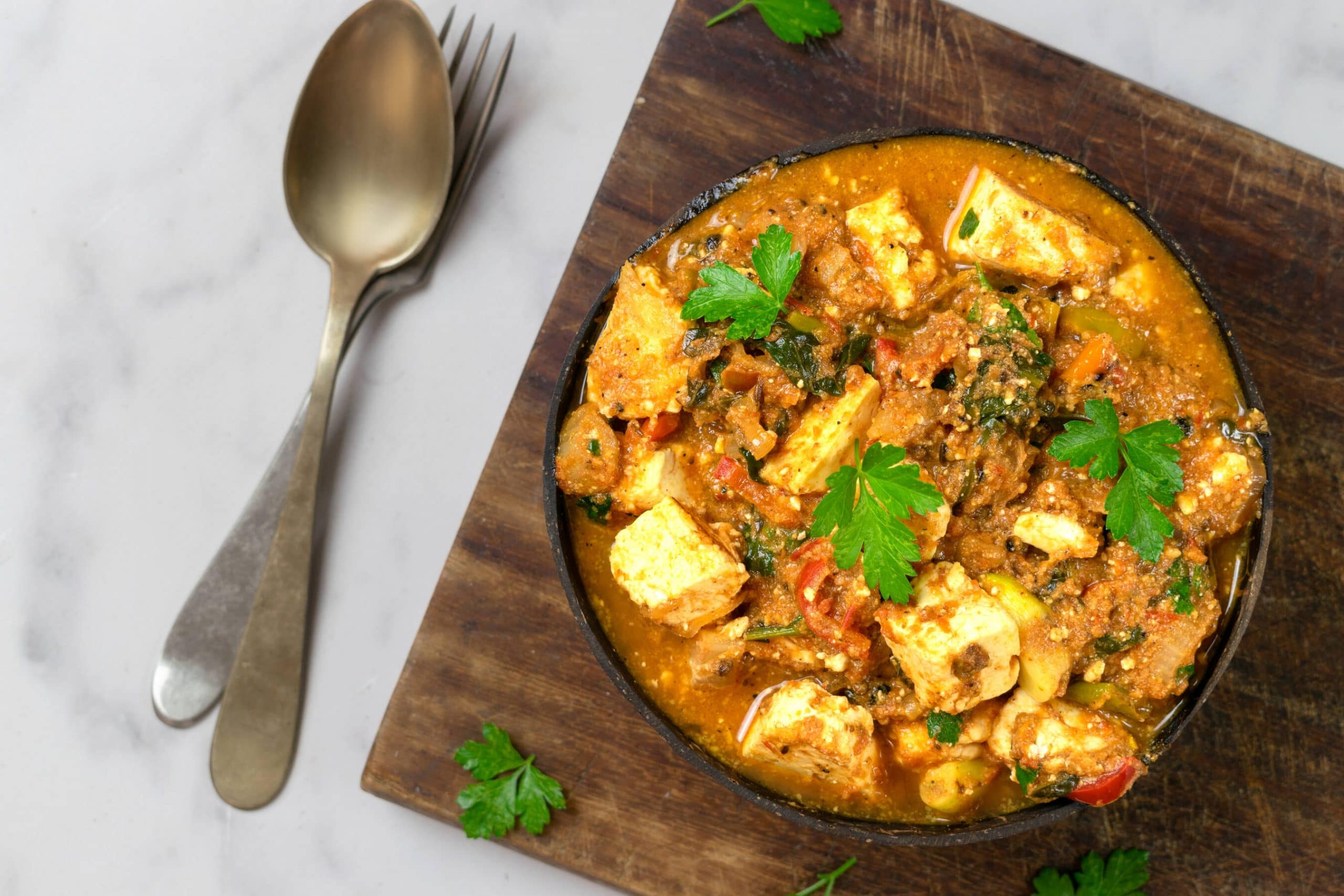 Ingredients
4

Tablespoons

Ghee

1

Teaspoon

Cumin Seeds

1

Teaspoon

Coriander Seeds

1

Teaspoon

Black Peppercorns

2

Cinnamon Sticks

5

Curry Leaves

2

Teaspoons

Fresh Ginger

Pressed & Chopped

2

Shallots

Thinly Sliced

4

Green Chilis

Stemmed & Sliced

2

Red Chilis

Stemmed & Chopped

6-8

Cloves

Garlic

1

Tablespoon

Ginger

Finely Minced

1

Teaspoon

Chili Powder

1

Teaspoon

Garam Masala

1

Teaspoon

Turmeric

½

Teaspoon

Coriander Powder

2

Tablespoons

Grated/Desiccated Coconut

½

Teaspoon

Salt

½

Cup

Rhubarb

Thinly Sliced

1 ½

Cups

Spinach

Coarsely Chopped

3

Tablespoons

Lemon Juice

6

Ounces

Tomato Paste

8

Ounces

Paneer

Indian Cottage Cheese

1

Teaspoon

Garam Masala

¾

Cup

Dissolved Vegetable Bullion Water

1 Cube

2

Tablespoons

Fresh Cilantro

Finely Chopped
Instructions
Start off by sauteeing the cubed paneer in little oil over medium heat in a large saupan until golden brown and then set aside on paper towels.

Heat four tablespoons of ghee or oil in a large saucepan over medium heat and add the cumin seeds, coriander seeds, black peppercorns, and cinnamon sticks.

When the seeds begin to crackle and pop, add the curry leaves.

As soon as the curry leaves start curling, add the shallots.

Fry the shallots until they start showing signs of translucency, and add the garlic, ginger, and red chilis.

Look for signs of the shallots browning and add the chili powder, coriander powder, turmeric, grated or desiccated coconut, and half a teaspoon of salt. Mix well.

Once the aromatics begin giving off a prominent toasted aroma, turn the heat to high and add the rhubarb. Saute for two minutes.

Add the spinach and saute for a further two minutes or until the spinach wilts.

Mix in the tomato paste and three tablespoons of lemon juice while constantly stirring to ensure that it does not stick.

Stir in the vegetable bullion liquid and bring to a boil.

Now that the curry is boiling reduce the heat to low and add the cubes of fried paneer. Stir in the garam masala.

Cook uncovered while infrequently stirring for eight to ten minutes, or until the curry reaches a thick consistency.

Season according to taste with extra salt and lemon juice as needed.

Remove the cinnamon sticks, blend in the chopped cilantro and serve immediately.
Video
What Is Gongura Paneer?
Gongura Paneer is a mild curry originating out of Northern India that's made with blocks of firm, fried fresh cheese and 'gongura,' or red sorrel. There are many variations, but all authentic recipes rely on a sharp, sour base flavor, traditionally picking out the sourest sorrel leaves available.
What Is Gongura?
Gongura is the Hindi word for red sorrel with the scientific name Hibiscus sabdariffa. Red sorrel, also known as roselle, is widely used in Indian, African, South East Asian, Latin American, and Caribbean cuisine. Those in the US may find gongura sold as Florida cranberry or Jamaica sorrel.
What Is Paneer?
Paneer is a mild milk curd cheese that's also known as Indian cottage cheese. As a non-aged acid-set soft cheese that doesn't melt, paneer tastes similar to Italian ricotta but is more neutral. It's an excellent cheese for frying, which absorbs flavors well.
Although paneer isn't typically hard to find, it's easily one of the most straightforward cheeses to make at home. All it takes is whey, lemon juice, muslin cloth, and full-fat milk. We recommend trying it out. It's flavorful, affordable, versatile, and ready to eat in just over an hour. For use in curry, you'll need to press it overnight, though.
Gongura Paneer Tips
For the best results, we strongly recommend that you make your own paneer just before cooking your curry. Much of the flavor relies on the milky freshness of the cheese. Don't overcook the gongura/spinach, or you'll ruin the texture of your curry. The whole meal from start to finish takes a little over twenty minutes, no longer. Paneer isn't a melting cheese, but if you make the mistake of cooking it for too long, it will become rubbery, which is exactly what you don't want. Curry must never cook for longer than five to ten minutes after adding the paneer.
Gongura Paneer Substitutes
Gongura Paneer curry has a distinct sourish taste. Young, fresh red sorrel leaves are sour, so if you're substituting and following our recipe, you may need to add additional lemon juice depending on the flavor of your spinach. Even if you find sorrel, a little extra lemon juice is normally needed. Taste and adjust accordingly.
Those who can't find rhubarb or are opposed to the flavor can cook up gongura paneer using spinach by itself instead. Include two and a half cups of spinach if you decide to leave out the half a cup of rhubarb and add double to triple the amount of lemon juice. Opting to use spinach only technically turns gongura paneer into palak paneer as the word 'palak' means spinach in Hindi.
Although this curry relies on the milky, mild taste of paneer and the Indian cheese's firm texture, halloumi can be used as an alternative. Tofu is another viable non-traditional option that requires the same procedure and roughly the same cooking time. If you decide to use either, you're breaking the mold of a classic North Indian curry, and the flavor will inadvertently change. We suggest thickening your gongura paneer curry with three or four tablespoons of coconut cream to level out the richness that halloumi and tofu bring.
What To Serve Gongura Paneer With?
Serve gongura paneer over a bed of steamed basmati rice with poppadoms or naan bread. While not traditional Indian cuisine, our light, and fluffy olive oil popovers go great with curry as well. They're fantastic with any stew, soup, or curry that's thick and saucy.
---
Recent Recipes