Easy Creamy One-Pan Spinach & Feta
One-pot and one-pan dishes are my favorite way to cook. One dish that includes carbs, proteins, veggies and fat and covers the entire gamut of a meal is efficient, reduces the number of dishes to wash and most importantly feeds everyone.
This One-Pan Spinach and Feta Orzo Goodness finds itself frequently on my dinner table, because it is very easy to put together and takes up minimum time to prep and cook. It also lends itself to variations, frozen or fresh ingredients, creamy or spicy and there are multiple ways to cook it as well. You can cook orzo like other pasta and then add the toppings to it, but I have made it an extra simple one-pot dish. You can cook all of it together, the orzo, the spinach and whatever veggies and proteins you'd like to add and make a delicious bowl of One-Pan Spinach and Feta Orzo Goodness.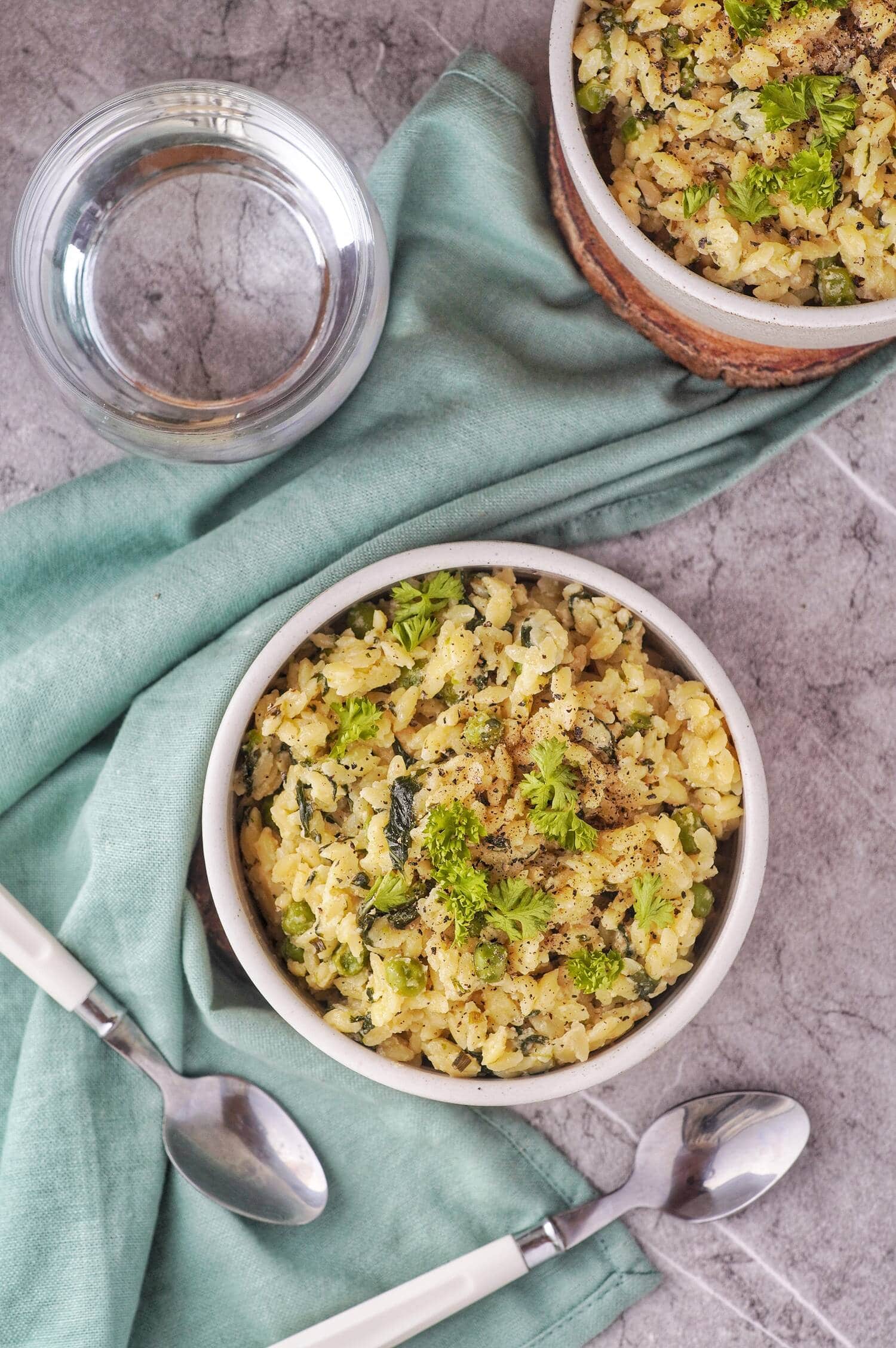 Ingredients
1

cup

orzo

2

cups

of vegetable or chicken stock

3

tablespoons

of olive oil

2

cloves

garlic

minced

4

scallions

chopped

1

cup

baby spinach

½

cup

peas

¾

cup

feta cheese

1

teaspoon

lemon juice

Salt and pepper

Dill or parsley for garnish
Instructions
Assemble your ingredients before you begin.

In a large saucepan, heat the olive oil

Add the garlic and scallions and sauté till they turn color, about 2-3 minutes

Add the spinach and sauté till it wilts. You can add some salt that speeds up the process.

Now add the peas and the stock and give it a stir. Bring it to a simmer.

Add the orzo and salt. Cover and let cook. The stock should reduce, and the orzo should get cooked in about 8 to 10 minutes.

Take off heat. Add the lemon juice and mix together.

Add the Feta cheese and combine it well together.

Scoop into serving bowl. Garnish with freshly, cracked black pepper and dill or parsley.
Video
Nutrition
Calories:
372
kcal
|
Carbohydrates:
38
g
|
Protein:
13
g
|
Fat:
19
g
|
Saturated Fat:
6
g
|
Polyunsaturated Fat:
2
g
|
Monounsaturated Fat:
10
g
|
Cholesterol:
29
mg
|
Sodium:
497
mg
|
Potassium:
354
mg
|
Fiber:
3
g
|
Sugar:
5
g
|
Vitamin A:
1084
IU
|
Vitamin C:
13
mg
|
Calcium:
174
mg
|
Iron:
2
mg
Tips and Tricks
Cook the orzo al dente, it gives the dish better texture and doesn't get too mushy
Orzo pasta absorbs a lot of water and can quickly expand, so don't use too much as it is easy to misjudge the size of this tiny pasta.
Don't use too much water, as it absorbs water quickly it can get clumpy
Orzo tastes best when fresh and eaten immediately
Fresh spinach works best for this, frozen spinach gives out too much water
The peas can be frozen or fresh and is entirely optional
Storage
The One-Pan Spinach and Feta Orzo Goodness can be stored in the fridge for up to days. It does start drying out after. You can heat in the microwave or over the stove. Add a little bit of vegetable or chicken stock or a little bit of butter while heating. But orzo tastes amazing when eaten cold. Add some extra cheese or some chicken or any other protein and it makes for a very satisfying, cold meal.
You can freeze the One-Pan Spinach and Feta Orzo Goodness for about a week. It will not spoil but freezing it beyond that is going to affect the taste and texture of it.
Questions
Is orzo rice? Can I use rice instead?
Orzo is basically pasta that is shaped like rice, it is not rice. You can make the dish with rice of course, as spinach and feta are a classic combination but then it will become a rice dish. If you want to use another pasta instead you can do with acini de pepe. It is smaller than orzo and round in shape and is ideal for soups and salads. You can also use quinoa if you want.
How to make this dish creamier?
The One-Pan Spinach and Feta Orzo Goodness is not a creamy dish, it is drier and has a lot more bite. But if you do want to make it a creamy pasta dish, reduce the amount of stock and add about 1/3 cup of half and half or heavy cream to it. And replace the feta with parmesan.
Substitutions
Orzo: The closest pasta would be the acini de pepe. Both orzo and acini de pepe make for nice salads and soups but if you want the same flavors with some other pasta, you can choose any, both long and short pastas work for this recipe. You can even go gluten-free and use a lentil pasta like chickpea or go with rice or quinoa. But remember rice or quinoa might need to cook longer, so follow package instructions.
Spinach: Spinach and feta is a classic combo, so I wouldn't recommend changing it. If you don't have spinach, you can use kale or collard greens. You can also use asparagus. It definitely does not have the same texture or taste as spinach, but it goes well with the flavor profile of this dish and can add some crunch to it.
Feta: You can use any goat cheese or Parmesan.
Scallions: You can use white onions or shallots.
Peas: This is entirely optional. You can also use asparagus or artichoke instead. You can also use zucchini, just make sure the zucchini doesn't get mushy.
Proteins: A grilled chicken makes a great addition to this dish. Beef, especially ground beef is another popular choice.
Garnish: Dill and pepper and a little splash of lemon juice are all that this dish needs. If you don't have dill, use parsley or in a pinch, cilantro. You can also use the green parts of the scallions as garnish.
Accompaniments
The One-Pan Spinach and Feta Orzo Goodness can be a fillings appetizer as it is light and can also be a great entrée paired with some grilled chicken. A soup or some grilled vegetables pairs well with spinach and feta orzo. Buttered green beans, roasted Brussel Sprouts are wonderful and filling accompaniments to this dish.
If you like this recipe, be sure to check out this Gnocchi Pomodoro and this delicious Ham Orzo Soup.
---
Recent Recipes