Mackerel is a fish that may be an acquired taste and texture for some. I happen to love mackerel, having grown up eating it. It was either dusted with flour and fried with butter in a cast-iron skillet or placed under the broiler in the oven.
This is a cold water ocean fish that is oily and firm-fleshed. These silvery-blue fish are not very big but they are good swimmers, hence the dense muscular meat. Because they are oily, mackerel does have a fishier smell and flavor than many other saltwater fish. It is best eaten or preserved immediately after it is caught so that the natural oils don't spoil the flesh.
Mackerel is abundant in the colder ocean waters off the shores of Japan. It is enjoyed raw or cooked on a grill. It is often served as a stand-alone entrée or can be found as a component in a bento box.
Saba shioyaki is a traditional preparation of mackerel because there is an initial step taken to draw out moisture and to reduce the fishy smell and flavor that some might not find appealing. Saba means mackerel. Shio means salt. And, yaki means grilled. Saba shioyaki is simply salted and grilled mackerel.
In the US, saba shioyaki is more commonly cooked in an oven or a skillet. The oven method ensures even cooking and generally reduces the risk of overcooking or drying out the fish that can happen when cooked over an open flame. Our recipe for saba shioyaki has just 3 main ingredients plus condiments and takes very little time to prepare and cook. The result is a gluten-free, keto-friendly, and paleo-compliant main dish.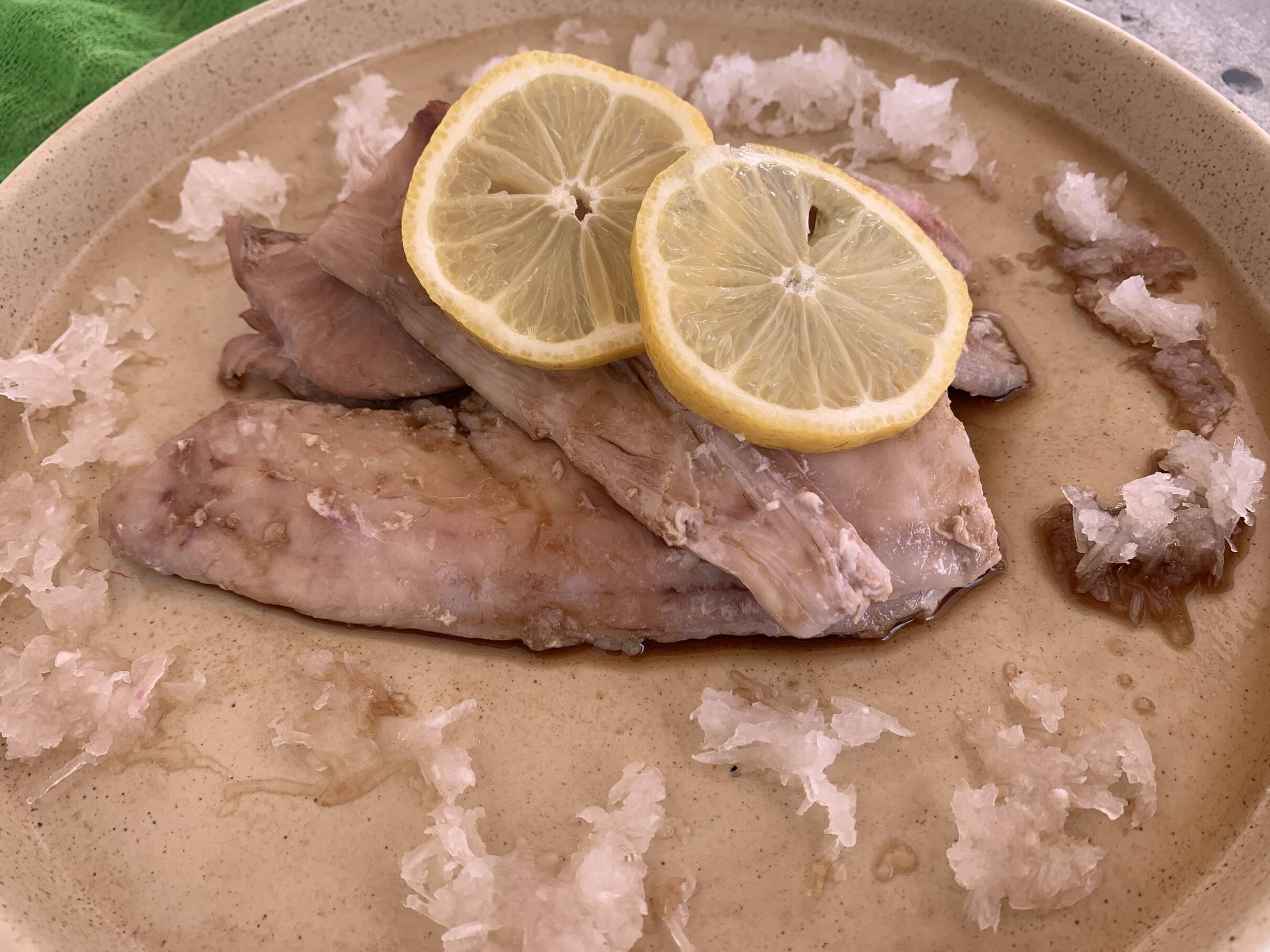 Ingredients
2

Mackerel fillets

2

TBS

dry sake

Sea salt to taste

Shredded daikon radish

2

lemon wedges

Tamari

wheat-free soy sauce
Instructions
Get this simple set of ingredients together before you begin.

Remove any remaining pin bones from the fillets with your fingers or tweezers.

Place the fillets skin side down in a shallow bowl and pour the sake over them. Allow the sake to soak in for about 1 minute.

Pat the fillets dry with paper towels and generously sprinkle salt on both sides. Place the fish skin side up and set aside for 20 minutes.

Preheat your oven to 400°F. Line a sheet pan with aluminum foil or parchment paper.

Pat the fillets dry again with paper towels and transfer them to the sheet pan skin side down.

Bake on the lower rack of the oven until fish is just cooked through, approximately 15 minutes. Turn the fish over so that the skin is facing up and bake on the top rack until the skin is golden brown and a little crispy, 2 to 5 minutes.

Transfer the mackerel to a serving platter with a pile of shredded daikon, lemon wedges, and tamari on the side.
Video
Nutrition
Calories:
736
kcal
|
Carbohydrates:
2
g
|
Protein:
91
g
|
Fat:
36
g
|
Saturated Fat:
10
g
|
Polyunsaturated Fat:
9
g
|
Monounsaturated Fat:
12
g
|
Cholesterol:
212
mg
|
Sodium:
388
mg
|
Potassium:
1856
mg
|
Fiber:
1
g
|
Sugar:
1
g
|
Vitamin A:
283
IU
|
Vitamin C:
19
mg
|
Calcium:
109
mg
|
Iron:
5
mg
Notes and Tips
Sake is a rice wine that is commonly used in Japanese cooking. It adds umami and tenderizes many foods. In this particular recipe, the sake will plump up the fish a little and help to remove the fishy odor. You can skip the sake step, but I think it makes for a tastier and less smelly fish.
Salt seasons the fish. It also draws out moisture and helps to eliminate any lingering unpleasant smell. After sprinkling the salt on the fish, allow the fish to sit for exactly 20 minutes. Any less time and the fish won't be well seasoned. Any longer and the fillets may tighten up and the nice texture of the flesh will be lost.
Substitutions
Mackerel is not always easy to come by in the states. First, it is not as popular here as it is in Japan. Second, it really does need to be eaten very fresh due to the potential for the oil to spoil the flesh. Speak with your fishmonger and ask him or her to give you a call or send a text message if some mackerel is coming in on a particular day.
Bluefish is an excellent choice if you can't get mackerel. This is a seasonal fish that runs north in spring and summer and returns south in winter. You can see schools of bluefish swimming and jumping close to the shores of sounds, bays, brackish river outlets, and oceans. When in season, they are plentiful. Recreational fishermen will often score a big haul and will sell their fresh fish right at the dock. Bluefish is oily and delicious.
Herring, if you can find it, is as close to mackerel as you can get. However, herring does have a lot of pin bones that you will have to remove.
American shad has a salty, sardine-like flavor that makes a pretty good backup option for mackerel. The flesh is high in oil content. The season on the east coast starts in early October when the shad head to rivers to spawn.
My go-to for this recipe, if mackerel isn't available, is king salmon. This fish is buttery, intensely flavored, and has skin that crisps up nicely.
What to Serve with Saba Shioyaki?
It seems common to serve saba shioyaki with a bowl of steaming white rice. My preference is sushi rice or sticky rice that is easy to grab with chopsticks and a bite-size piece of the fish dipped in tamari. If you want to keep the meal paleo or keto-friendly, try riced cauliflower instead.
One of the nicest accompaniments to this rather dense and flavorful fish is a lightly pickled vegetable. You might try this recipe for beni shoga. This is pickled julienned ginger that takes on a red hue from the plum vinegar that it is marinated in.
To complete the meal, add baby bok choy that has been sautéed with a hint of sesame oil, a pinch of salt, and a whole fresh garlic clove that you can discard before serving.
---
Recent Recipes