Easy Grilled Avocado With Egg
We are going to step outside of the box a little bit here. The grill is a fantastic cooking element. It's great during all four seasons (yes, the winter, too!) and provides an unmatched flavor when it comes to cooking proteins or vegetables.
Grills are for burgers, steaks, and kabobs, right? But can you grill an avocado? You most certainly can. It's a great way to try something new with avocados and develop a robust, unique flavor.
Avocados provide healthy fats that help lower cholesterol. To create a well-balanced meal, we need to add a healthy protein. With this recipe, we are going to add eggs and iron-rich sauteed kale.
This grilled avocado and egg recipe is vegetarian, gluten free, and dairy free. Consider it a kitchen staple that you can play around with once you master cooking an avocado and egg on a grill.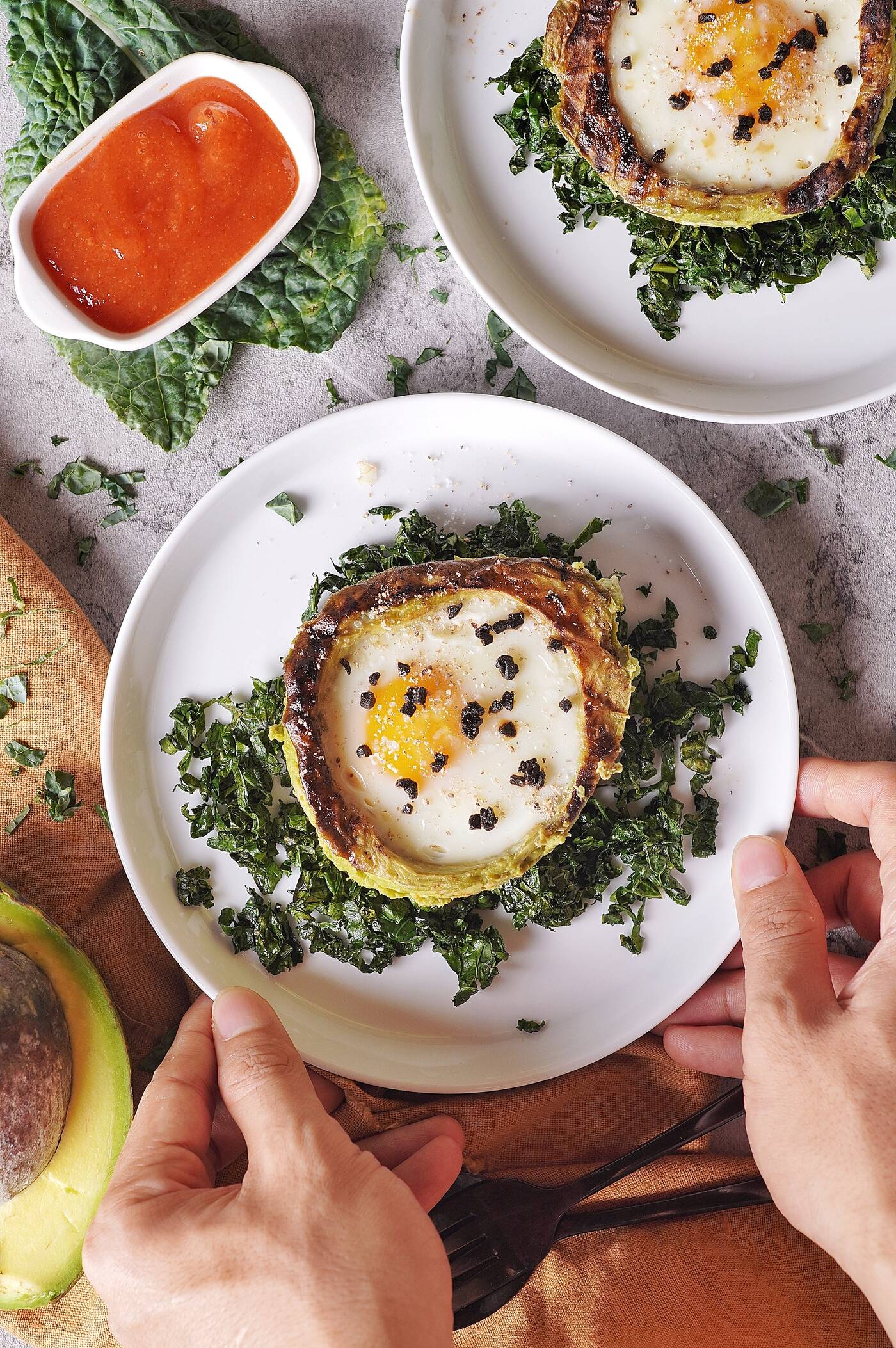 Ingredients
1

ripe avocado

2

eggs

1/2

teaspoon

extra virgin olive oil

3

cups

kale

chopped

2

teaspoons

extra virgin olive oil

Salt and pepper

Black fermented garlic seasoning

or other garlic seasoning

Hot sauce

optional
Instructions
Get your ingredients together before you begin.

Heat your grill to high heat.

Slice the avocado in half lengthwise. Remove the pit from the avocado. Depending on the size of the avocado, the pit, and your eggs, you may want to remove a little bit of the avocado fruit. You want it to be a big enough hole so that the egg can fit into it without spilling over. If you do remove some of the avocado, set it aside and we will add it to your final plate.

Now, it's time to grill the avocados. Drizzle the extra virgin olive oil on each avocado half.

Place the avocado halves, flat side down, on the grill. Grill for about 4-5 minutes or until the grill marks appear. You want to have visible grill marks, but without the avocado sticking to the grill. High heat is the key here.

Gently crack one egg first into a small bowl, this will assure you have no shells and for easy pouring into the avocado.

Remove the avocados from the grill. Now, pour one egg into each avocado half into the hole where the pit was.

Gently place the avocado halves (this time flat side up) on the grill. Close the grill and allow the eggs to cook for 5-6 minutes. This time may depend on how hot your grill is, but you want the egg whites to be cooked through.

Remove the avocados from the grill.

To prepare the kale, heat a large skillet on high heat. Add 1 teaspoon of extra virgin olive oil.

Add the kale to the skillet and drizzle the other teaspoon of olive oil. Saute the kale until it's wilted and slightly crispy on the edges. Season with salt and pepper.

Prepare two plates by plating half of the kale on each plate. If you have extra avocado from earlier, you can place it on top of the kale now.

Gently scoop the avocado halves out of the skin using a large spoon. Try to keep the entire half intact. Place one avocado half on each plate on top of the kale (and extra avocado, if applicable).

Season with more salt and pepper, if desired. Garnish with the garlic seasoning and hot sauce.
Video
Nutrition
Calories:
317
kcal
|
Carbohydrates:
18
g
|
Protein:
12
g
|
Fat:
25
g
|
Saturated Fat:
4
g
|
Polyunsaturated Fat:
4
g
|
Monounsaturated Fat:
15
g
|
Trans Fat:
1
g
|
Cholesterol:
164
mg
|
Sodium:
108
mg
|
Potassium:
1042
mg
|
Fiber:
7
g
|
Sugar:
1
g
|
Vitamin A:
10424
IU
|
Vitamin C:
131
mg
|
Calcium:
188
mg
|
Iron:
3
mg
Notes and Tips
Use avocados that are just barely ripe. You do not want to use an avocado that has started to soften too much or it will fall apart on the grill.
Try not to use large or extra large eggs. They will be too big for the hole and spill over. Fresh farm eggs are often smaller and work great for this recipe.
Don't worry if you can't find the fermented black garlic seasoning. Other seasonings work just as well as the fermented black garlic. "Everything Bagel" seasoning, flavored salts, or even fresh herbs will be just as tasty. If you want to stick with fermented items, kimchi would also make a great topping.
Make sure that your grill is seasoned properly. If it's not, brush a little extra cooking oil on the grates prior to grilling the avocado. The avocado will stick to the grill if it's not seasoned well.
If your avocados are tipping over on the grill, you can make a "boat" out of aluminum foil to help keep them upright. You could also use a small, grill-safe baking dish to hold the avocados while you cook the eggs, too.
What does grilled avocado taste like?
It seems a little wild to grill an avocado, right? Grilling any food will bring out different flavors and textures than eating the item fresh.
When you grill an avocado, you're crisping up the outer edge which locks in the molten, soft, flavorful avocado fruit on the inside. The grill marks will create that charred, BBQ flavor we love and it may even taste a little nutty.
What goes well with grilled avocado and egg?
You don't have to serve this dish with a bed of kale. This option is great, however, if you're sticking to a low carb diet like Whole 30 or Paleo. There are a lot of other side and garnish options that you can add to make this recipe even more interesting.
Prosciutto, bacon, or ham are great accompaniments for eggs and avocados.
If you're sticking with breakfast ideas, roasted potatoes or hash browns will make this recipe a little heartier and more filling.
You can place a grilled avocado and egg on top of any salad. It's a great vegetarian meal option if you're avoiding meat but still want the protein.
While you're firing up the grill, you could grill some other vegetables like bell peppers, zucchini, or corn to serve alongside the grilled avocado and egg.
If you're ok with adding dairy, a sprinkle of cheese would be a great option, too. Feta, cotija, or shaved parmesan would be delicious.
---
Recent Recipes