Easy Vegan Low FODMAP Eggplant Caponata
Eggplant caponata is an excellent tangy-sweet topper or it can double as a mind-blowing pasta sauce. This versatile recipe is a simple and healthier low fodmap version of the traditional Italian dish. It's easy to prepare and can be stored with later usages. Impress your guests at your next dinner party with this Italian delicacy!
Andiamo!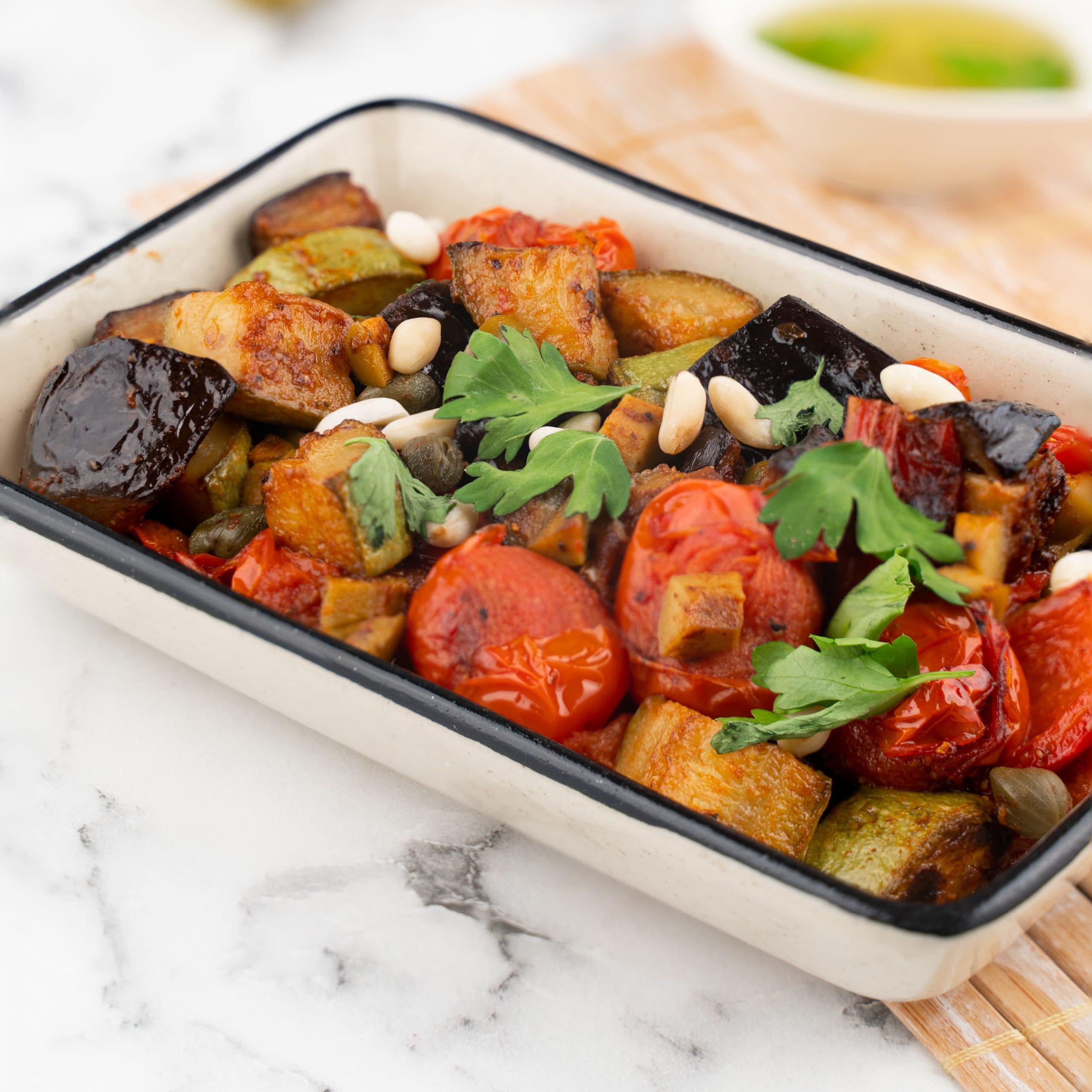 Ingredients
1

large eggplant

slice in ½ disks/ after salting cut in cubes

1

zucchini

1-inch cubes

1

red bell pepper

diced

1

cup

cherry tomatoes

¼

cup

green olives

1

tbsp

capers

1

tbsp

raisins

3

tbsp

olive oil

4

tbsp

white wine vinegar

¼

cayenne pepper

Salt/ pepper to taste

3

tbsp

pine nuts

1/.4

cup

parsley
Instructions
Slice eggplant into 1 inch disks. Salt on one side to remove moisture (let sit for 10 minutes then apply napkin to remove water). Repeat for both sides. Then cut into 1 inch cubes after salting.

Heat oil in a nonstick pan until very hot. Add eggplant and fry for about 10 minutes until it's very soft. Add boiling water if it is sticking.

Add diced zucchini, peppers, tomatoes, and cayenne pepper. Salt and pepper according to taste preferences. Cook for 15 minutes, stirring occasionally.

Add raisins, capers, white wine vinegar, and olives. Cook for 4 minutes.

Garnish with pine nuts and parsley.

Optional: For a different thicker consistency, transfer to a blender or use an immersion blender for a heartier sauce.
Video
Nutrition
Calories:
237
kcal
|
Carbohydrates:
18
g
|
Protein:
5
g
|
Fat:
18
g
|
Saturated Fat:
2
g
|
Polyunsaturated Fat:
4
g
|
Monounsaturated Fat:
10
g
|
Sodium:
222
mg
|
Potassium:
829
mg
|
Fiber:
7
g
|
Sugar:
8
g
|
Vitamin A:
4461
IU
|
Vitamin C:
108
mg
|
Calcium:
85
mg
|
Iron:
4
mg
Notes & Tips
An alternative to this recipe is using a blender or food processor to make a thicker blended version of caponata. Roast the salted eggplant, bell peppers, tomatoes, and zucchini for 40 minutes at 420 degrees. Then transfer to blender and add spices, olives, white vinegar, and capers. Blend and then add raisin and garnish with parsley and fresh pepper.
For the eggplant, it is crucial to remove the moisture to get the most flavor as eggplants contain a lot of liquid. Make sure to salt each side and pat dry with a napkin or towel.
What is a Low Fodmap Diet?
A low fodmap diet helps manage symptoms of irritable bowel syndrome (IBS). IBS is a common gut problem and a fodmap diet aims to eliminate foods that are high in fermentable carbs. FODMAP stands for fermentable oligosaccharides, disaccharides, monosaccharides, and polyols and many with IBS are advised to follow a low fodmap diet. This means avoiding various like wheat products, onions, and garlic.
What Goes Well with Eggplant Caponata?
A crostini offers a perfect base for caponata as it is crispy and adds a nice crunch to the eggplant and vegetables. Or for a heartier meal toss with your favorite pasta or serve with grilled chicken or fish.
Sides & Compliments
Caponata typically is served as an appetizer and goes well with most Meditterean dishes and flavors.
Grilled Mahi Mahi: Traditionally, caponata was paired with grilled mahi-mahi during the noble feasts in the 1700s.
Zucchini Noodles: For a lighter and lower caloric meal try adding eggplant caponata to zucchini noodles. Zucchini noodles can be made with a spiralizer.
Chicken Piadina: For a twist, add caponata to this classic Italian chicken Piadina for a twist on both Italian traditions.
Wild Black Rice: Wild rice is high in nutrients and pairs well with any vegetable. This meal will be satisfying and filling!
History of Caponata
The first written sources of Sicilian Caponata date back to 1709 and the original translation means "salad and a variety of minced things". As stated, this dish was traditionally severed with grilled mahi-mahi at the noble feasts. Over time, the recipe started to use more fried eggplants in replacement of mahi-mahi for a more accessible meal for all social classes.
Storage
Caponata can be served immediately or stored in the refrigerator for 3-5 days. It is best served 2 days after the flavors marinade.
Common Questions
Is caponata vegan?
Yes, caponata is fully vegan as it only contains vegetables, oil, and nuts.
Are eggplant low fodmap?
Yes, eggplant is low fodmap friendly.
What are high-fodmap vegetables?
Some high-fodmap foods include onions, garlic, cabbage, broccoli, asparagus, artichokes, cauliflower, brussel sprouts, and mushrooms.
---
Recent Recipes