Warm, gooey, fudgy, chocolatey brownies are amazing. Who doesn't like brownies? Brownies go great with milk, coffee, hot chocolate, and even on their own. They're beautiful and irresistible. And–even better–they're pretty easy to make! This recipe uses only a few standard ingredients, but it also uses only the whites of the egg. Because of that, this is the perfect recipe to make after you've used yolks for something else.
If you don't have extra egg whites and you don't know what to do with leftover yolks, you can use yolks to make a lush custard to serve on top of the brownies. Or, avoid the situation entirely and make Sunday chocolate cake instead! Still super chocolatey and delicious, but using 2 whole eggs, no separating necessary.
If you're wondering what difference it makes to use egg whites only, there's some handy dandy info below the recipe, but it's best if you make the brownies and taste for yourself.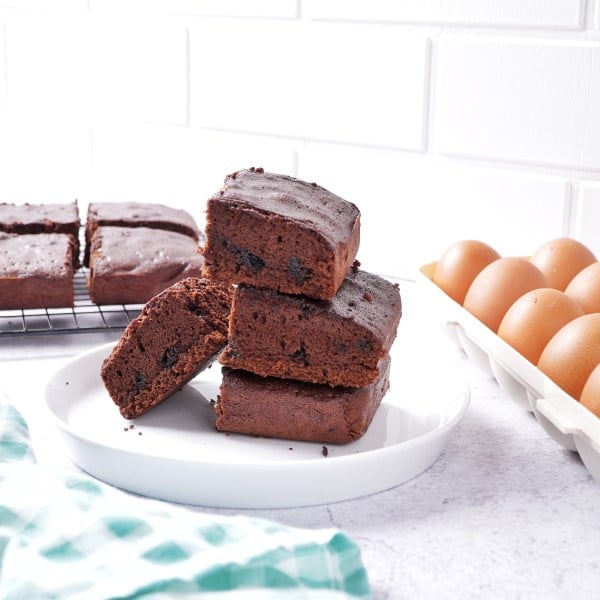 Ingredients
⅓

cup

butter

1

cup

flour

½

cup

cocoa powder

½

tsp

baking powder

¼

tsp

salt

5

egg whites

1

cup

sugar

1

tsp

vanilla

¼

cup

chocolate chips
Instructions
All ingredients ready? Let's begin!

Preheat the oven to 350F. Prepare a small (8 inch) square pan by lining it with parchment paper and spraying with non-stick spray.

Melt the butter in the microwave and set aside to cool slightly.

In a medium mixing bowl, add the flour, cocoa powder, baking powder, and salt. Whisk together until combined.

In a different, large bowl, beat the egg whites until bubbles form and it becomes frothy. This should take about 5 minutes.

Keep whisking the egg whites while you add sugar, and vanilla. Beat until fluffy and no lumps remain.

Add the dry ingredients to the wet ingredients and mix gently. Try to avoid overmixing; you don't want any clumps but you also don't want to overdo it.

Take some cake batter, add to the melted butter. Mix then add the mixture to the cake batter, using folding technique.

Add the chocolate chips and gently fold them into the batter.

Pour the brownie batter into the previously prepared pan.

Put brownies in the oven and bake for 20-25 minutes.

Remove from heat and allow to cool. Turn the pan upside down onto a plate and use the parchment paper sticking over the edges to pull the brownie down if it still sticks.

Cut and serve.
Video
Nutrition
Calories:
180
kcal
|
Carbohydrates:
38
g
|
Protein:
5
g
|
Fat:
2
g
|
Saturated Fat:
1
g
|
Polyunsaturated Fat:
0.1
g
|
Monounsaturated Fat:
0.3
g
|
Cholesterol:
2
mg
|
Sodium:
131
mg
|
Potassium:
131
mg
|
Fiber:
2
g
|
Sugar:
25
g
|
Vitamin A:
15
IU
|
Calcium:
33
mg
|
Iron:
1
mg
Notes & Tips
The old "stick a fork in the middle and if it comes out dry, it's done" trick won't work here. Even after the brownies are fully cooked, they will still be soft and fudgy, so anything inserted will come out with brownie stuck to it.
These brownies can be stored on a covered plate at room temperature or in the fridge for 5 days, though I doubt they'll be around that long! You can pop them in the microwave for a few seconds if you want to get them warm and gooey again.
How To Separate Egg White from Yolk
There are a few methods to do this. One method is to crack the egg in half over a bowl and gently move the yolk from the two shell halves, allowing the white to fall out and into the bowl. Another, slightly riskier, method is to crack the whole egg into a bowl and use the egg shell or a spoon to scoop out the yolk. My personal favorite method is to crack an egg directly into my hand over a bowl and transfer the yolk between my hands. Leave your fingers open a little and the white will fall through into the bowl while the yolk remains in your hands. Alternatively, you can buy egg whites in a carton.
When separating egg whites from yolks, it is really important to make sure no yolk leaks into the whites. As long as you don't pop the yolk, this shouldn't be a problem. However, for this recipe, a little yolk wouldn't be the end of the world so don't panic if you find a drop of yolk in your whites.
What Is The Difference Between Egg White Brownies & Whole Egg Brownies?
The big thing that egg whites can do is called aeration. This is also a term used for soil, but the principals are basically the same. Aeration involves making space for air. For aeration in soil, this just means poking a lot of holes in the dirt. For eggs, this means breaking apart the molecules.
When egg whites are whisked, they stop being so silky and sticky and become soft and foamy. This is because the molecule bonds are being forced apart and that new space allows air to penetrate the egg whites. The air then helps the whites expand and gain volume. When whipped for long enough, the egg whites can get super stiff. Stiff egg whites are the base of meringue and is how those cute lil meringue desserts hold their shape. If you taste stiff, beaten egg whites, it really does have the texture of fluffy air.
The aeration thing does not work when it comes to egg yolks. The yolks are heavier and fattier and they just can't take or hold as much air. Even a little bit of yolk in a bowl of egg whites will prevent it from expanding and becoming stiff.
Eggs, particularly egg yolks, act as a sticky binding agent in a lot of dishes. This is why it can be difficult to make vegan baked goods that don't fall apart, though these tahini vegan brownies do a great job of holding up.
So what does this mean in regards to brownies? Essentially, brownies made with whole eggs will be thicker and have the potential to be more cake-like (though this depends on a lot of other factors as well). Brownies that have egg whites only will be a little more delicate and fudgy. Because of this, if you try to cut the brownies as soon as they come out of the oven, they are more likely to messily tear apart.
---
Recent Recipes