Homemade No Bake Egg Puff
One of my favorite snacks growing up was savory puffs. It could be stuffed with vegetables, potatoes, cheese, paneer or chicken. The egg puff was somehow considered the fanciest of all the puffs and it was a treat to have it.
I remember my mom, ever the innovative cook, trying to make these egg puffs without an oven and till date, those were the best egg puffs I have ever had. It had a soft yet flaky, golden crust, spicy egg filling and we used to bite into them right out of the stove when it was steaming hot, dipped in some kind of ketchup.
I have tried to recreate my mom's no bake egg puff. It's really, really simple and loaded with flavor and spices, making it the perfect snack for a cold, gloomy day.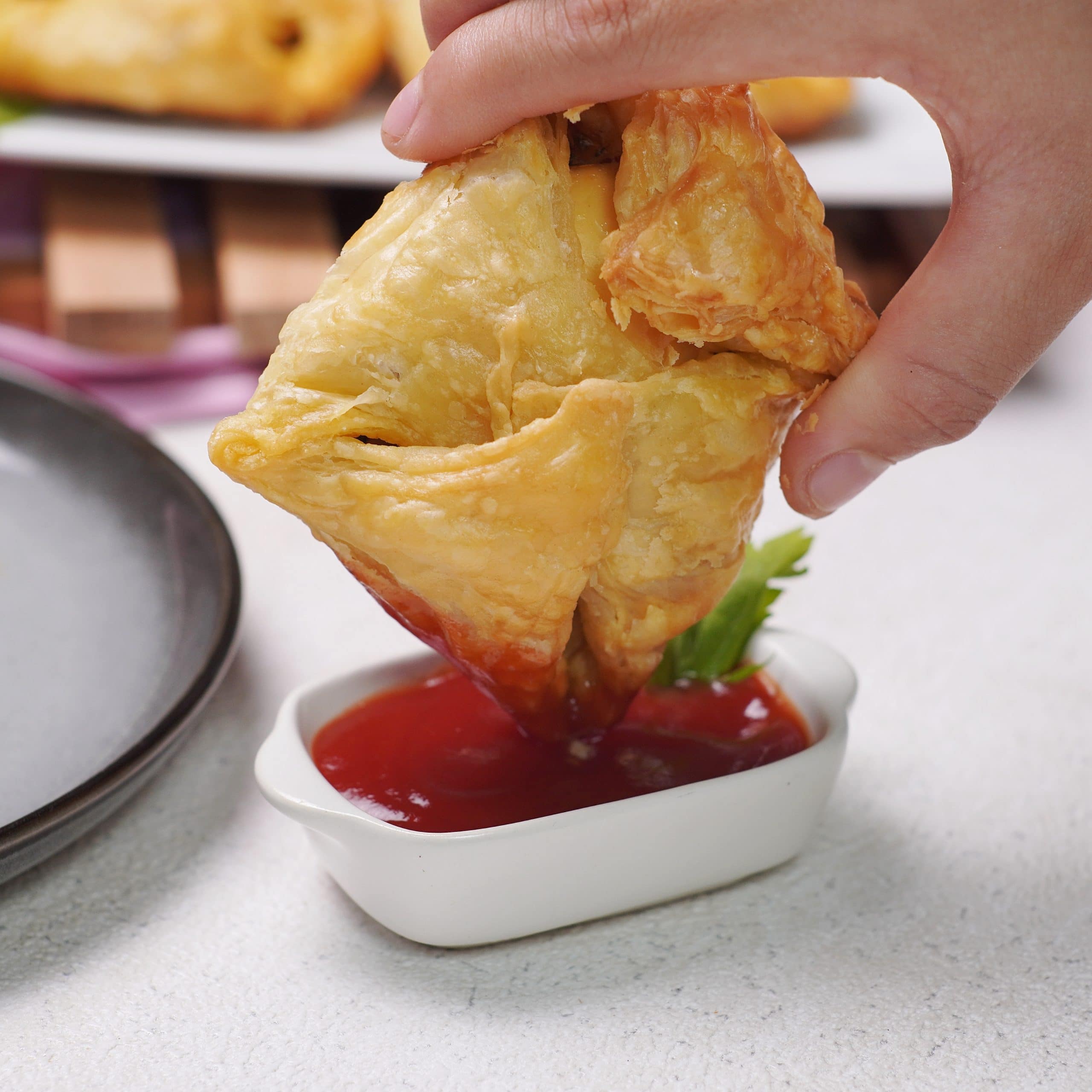 Equipment
A cooking tin pan

A large pan or skillet

A base plate to put in the pan
Ingredients
2

sheets of puff pastry dough

4

eggs

boiled and shelled

1

cup

onion

finely chopped

1

cup

tomatoes

finely chopped

1

teaspoon

ginger-garlic paste

1/8

teaspoon

turmeric powder

¼

teaspoon

chili powder

¼

teaspoon

cumin powder

¼

teaspoon

garam masala

4

sprigs of cilantro

chopped

Salt to taste

Oil

2

tablespoons

of milk
Instructions
All ingredients ready? Let's begin!
For the filling:
Boil the eggs, shell them, cut in half and set aside.

In a wide pan, heat two tablespoons of oil, add the onions sauté till it turns color.

Add the ginger garlic paste and sauté together for a couple of minutes.

Next, add the tomatoes and sauté till they turn soft.

Add the turmeric powder, the chili powder, the cumin powder and the garam masala powder. Sauté till the spices don't have the raw smell anymore.

Add the cilantro and salt and sauté well.

Take off heat and let it cool down.
For the dough:
Take the two sheets of puff pastry and roll it out flat. Cut off the edges so that it is even.

Now cut in the center to make two halves and further cut the two halves in half again, until you have four equal squares of rolled out dough.

Repeat with the other sheet of puff pastry. Now you will have 8 squares.

Fill each square with a teaspoon or two of the cooked and spiced onions. Add one egg half on top.

Roll the stuffed dough and pinch the edges together.

Brush milk on top of the rolled up raw egg puff. This helps the puff acquire a nice golden-brown crust.

Brush the tin pan with oil, and place the egg puffs inside.

Take a large pan, put a base plate in it and heat it.

Place the tin pan with the egg puffs on top of the base plate.

Cover and cook on low for 30-35 minutes.

The cooked egg puff would have risen and have a nice golden crust on top.
Video
Nutrition
Calories:
384
kcal
|
Carbohydrates:
31
g
|
Protein:
8
g
|
Fat:
26
g
|
Saturated Fat:
7
g
|
Polyunsaturated Fat:
3
g
|
Monounsaturated Fat:
14
g
|
Trans Fat:
1
g
|
Cholesterol:
82
mg
|
Sodium:
189
mg
|
Potassium:
155
mg
|
Fiber:
2
g
|
Sugar:
2
g
|
Vitamin A:
368
IU
|
Vitamin C:
4
mg
|
Calcium:
31
mg
|
Iron:
2
mg
Tips & Tricks
You can use any spices you prefer.
You can make your own dough using all-purpose flour instead of using store bought puff pastry sheets.
While rolling the puff pastry over the egg, moisten the edges with a little bit of water so that they will stick together.
Instead of rolling the egg puff, you can pull all the edges together over the filling and have a square puff.
Instead of brushing the egg puffs with milk, you can also use an egg wash.
Storage
You can store the egg puffs in the fridge for up to two days. Make sure you store them in an airtight container. Heat it the microwave in 30 second intervals till hot. You can also reheat on the stovetop. Place in a pan, cover and heat on low.
I would not recommend freezing the egg puffs, because they are already soft and flaky once they thaw, they will get soggy.
You can make this dish a day or two ahead. Make the filling and keep in an airtight container. You can even boil the eggs ahead but don't remove the shell. They will keep for about a week in the fridge.
If you are not using store bought puff pastry sheets or dough, you can make the dough, cover the saran wrap and keep it in an airtight container.
FAQs
What can I do if I don't have puff pastry sheets?
The dough is very easy to make, and you can whip it up quickly, with a few basic ingredients. You need 1 cup all-purpose flour, a pinch of salt, 1 stick of unsalted butter and a quarter cup of water. Mix it all together. Knead till it is soft, and let it rest for about an hour in the fridge or 30 minutes in the freezer. Knead it till it is warm again and then roll it out to the shape you want.
Substitutions
The egg puff can be substituted with a lot of different fillings and spices.
Spices: Cayenne, paprika, coriander powder, allspice, Cajun seasoning or even just salt and pepper work great with this egg puff.
Tomatoes: The tomatoes are optional, but the onions definitely add some depth to the dish. You can use shallots also.
Egg: You can use scrambled egg instead of boiled, it is delicious. Some other fillings you can use include, shredded chicken, paneer, mushrooms, carrots, peas, potatoes, cheese or even lentils.
Cilantro: You can use parsley instead. Herbs like dried oregano, thyme or dill can also be used.
Accompaniments
This egg puff goes great with a spicy, tangy tomato ketchup. But you can also dip it in a creamy yogurt dip, it complements the spiciness nicely. It is a perfect snack to enjoy at leisure with a cup of tea or something you can easily eat on the go.
If you liked the No Bake Egg Puff, you have to try these Thai Curry Puffs and these delicious Simple Dampfnudeln German Dumplings.
---
Recent Recipes