I'm not exaggerating when I say this is the best hummus recipe ever. It's so much better than store-bought and ready in 1, 2, 3.
The most popular hummus recipe (what we know as classic or original hummus) is made with tahini, cumin, and garlic, but you can tweak this recipe by adding roasted peppers, caramelized onions, or cayenne pepper. Make sure to stick to the end for some awesome Serving Suggestions and Variations.
After years of trial and error, I've learned the secrets to making the best easy homemade hummus and I'm excited to reveal them here for you. Finding a good homemade hummus recipe can be hard. Because, although hummus is surprisingly easy to make, the secrets to making perfectly fluffy and smooth hummus are in the details. Don't skip the Notes & Tips for an impeccable result.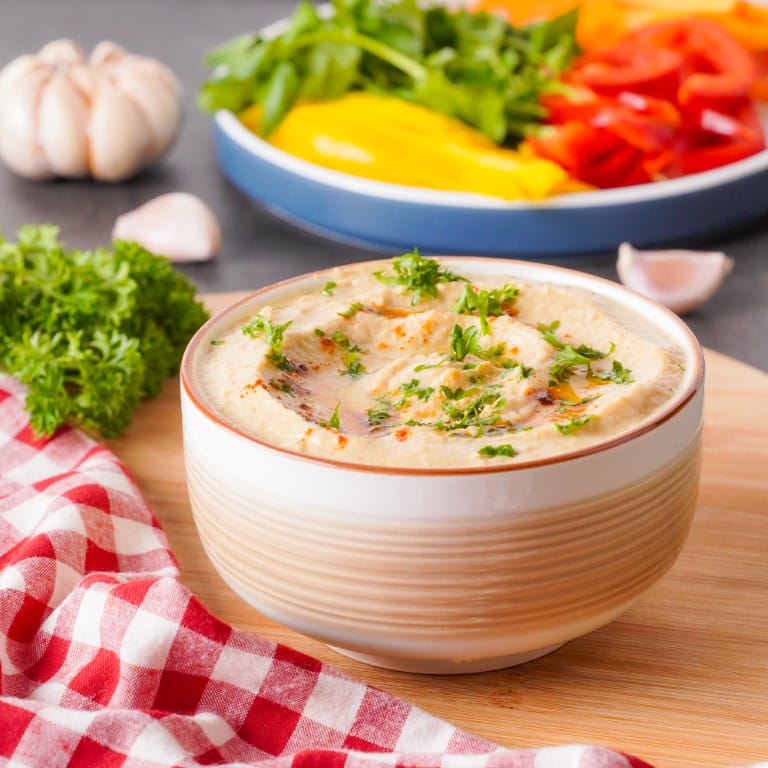 Ingredients
1 15

oz

can of chickpeas or 1 ½ cups cooked chickpeas

½

tsp.

baking soda

4

cups

of water

¼

cup

fresh lemon juice

½

cup

well-stirred tahini

2-3

garlic cloves

minced (depending on how garlicky you like it)

2/3

tsp.

ground cumin

4-6

Tbs.

ice cold water

Salt and pepper to taste

Extra virgin olive oil for serving

Paprika or more cumin powder for serving

Fresh minced parsley for serving
Instructions
All ingredients ready? Let's begin!

Prepare the chickpeas by overcooking them in boiling water with ½ teaspoon baking soda so that they become extra soft. This also helps remove the skins.

Drain the chickpeas, rinse them under cold water and remove any of the skins that have separated (you don't have to remove all of them).

Add chickpeas to the bowl of a food processor and process for 2-3 minutes, scraping the sides of the food processor as you go, until you have a creamy paste.

Pour tahini, lemon juice, cumin, garlic cloves, salt, and pepper into the food processor and process for about 1 minute.

Continue processing as you add the tablespoons of ice-cold water, one at a time, until the hummus becomes light and fluffy. Taste and add more salt or lemon juice as needed.

Transfer to a serving bowl and make waves with the back of a spoon. Drizzle with extra virgin olive oil, and garnish with paprika or cumin, and fresh parsley. Serve warm with warm pita bread or a platter of veggies. Enjoy!
Nutrition
Calories:
186
kcal
|
Carbohydrates:
20
g
|
Protein:
8
g
|
Fat:
10
g
|
Saturated Fat:
1
g
|
Polyunsaturated Fat:
4
g
|
Monounsaturated Fat:
3
g
|
Sodium:
106
mg
|
Potassium:
253
mg
|
Fiber:
5
g
|
Sugar:
3
g
|
Vitamin A:
48
IU
|
Vitamin C:
5
mg
|
Calcium:
59
mg
|
Iron:
3
mg
Notes & Tips
Boil the chickpeas with baking soda to soften them. You want to overboil them so that they're mushy to get the creamiest and fluffiest hummus. The baking soda and overcooking also help to remove the skins, and makes the garbanzos more digestible.
Even if you're using canned chickpeas, boil them for another 5 minutes with baking soda to soften them and remove the skins. Some brands of canned chickpeas are already overcooked, but it's always a good idea to check.
To check if your can of chickpeas is overcooked or not, I recommend rinsing the chickpeas under water to see how many skins separate. It should be a noticeable amount. And do a softness check by pressing a garbanzo against a cutting board. It should have no resistance and mash easily.
If you want to reduce the prep time, you can skip the overboiling and removing of the skins, but your hummus will be a bit coarse and less fluffy. It'll still taste delicious, but I love the luscious texture this extra step brings to the recipe.
Use a good quality tahini paste – pure tahini paste from hulled sesame seeds is the best. The problem with most commercially-made hummus brands is that they're too bland and lacking in tahini. Sesame paste is the secret to making flavorful and creamy hummus that tastes like the real deal. You can find tahini at Middle Eastern markets, online, or even in the condiments section in your grocery store.
Don't forget to use freshly squeezed lemon juice to make the best easy homemade hummus. Bottled, store-bought lemon juice is simply not the same. Add more lemon juice for a tangier hummus.
Use ice-cold water. It renders an ice-cream-like consistency, making the hummus fluffy and creamy. I usually place a glass of water in the freezer before prepping the hummus, or simply place ice cubes in water.
If you have a powerful food processor (necessary for making luxurious hummus), you can use ice cubes instead of ice-cold water. But I find ice-cold water does the trick.
Always taste-test the hummus before serving. Remember, what'll make this the very best hummus recipe is being able to adapt it to your preference. You might want to add more salt, pepper, cumin, lemon juice, or garlic to please your taste buds.
To make this hummus recipe without a food processor, use an immersion blender and follow the order in the instructions above. It may not turn out as fluffy and creamy, but it does the job. If you're looking to invest in a food processor, we've got a list of exceptional 3-in-1 food processor combos with a blender and juicer.
Lastly, if you're wondering, "can I make hummus ahead of time?". The answer is yes! Hummus is best served warm, but you can store it in the fridge for up to a week. I do suggest leaving it at room temperature before serving since refrigeration causes the hummus to lose some of its flavor and texture.
Serving Suggestions & Variations
This is the best hummus recipe using canned chickpeas thanks to the overboiling with baking soda. If you're making it with uncooked chickpeas, make sure to boil them with baking soda for about 20 minutes, salt them, and boil them for another 15 minutes. They should be extra soft and squishable.
To make this best hummus recipe with roasted garlic, simply roast a garlic head in the oven at 400°F for 30-40 minutes until the cloves are lightly browned and feel soft when pressed. You can also try hummus with black garlic for a sweeter flavor. We've compiled a list of the best black garlic fermenters for your reference.
If you want to add some fire, try our recipe for homemade harissa hummus. It's lower in fat, but still absolutely scrumptious. You can also add some cayenne pepper or chili flakes to this classic hummus recipe for a little kick.
To make this hummus recipe without tahini, simply replace it with ¼ cup extra virgin olive oil and ¼ cup ice-cold water. This is a great option for those of you with a sesame allergy. You may want to add more cumin for flavor.
I also love adding caramelized onions or roasted red bell peppers to my homemade hummus. The caramelized onions give a deliciously sweet flavor and the roasted red bell peppers give the hummus a beautiful reddish tone and lighter texture.
Serve hummus as a snack or appetizer with warm pita bread and fresh veggies for dipping. Or add it to your chicken shawarma or falafel wrap for an authentic Middle Eastern feast. You can use it as a spread in sandwiches instead of mayonnaise too – it's a lot healthier and rich in fiber. To learn more about hummus, take a glance at our article here.
---
Recent Recipes