Homemade Water Moccasin Shot
I like to think that I am very aware of my alcohol limits and how certain drinks affect me. But when I had my first Water moccasin shot, I became intimately aware of why the shot is named after the venomous snake. This is certainly a shot with a bite! It only takes 1 or 2 of the shots for the whiskey, triple sec, and schnapps to sink into your bloodstream like venom. In other words, it is the perfect shot to really get your Friday night started.
Unlike other drinks that feature triple sec such as our simple and spicy blood orange margarita cocktail, a water moccasin shot tastes noticeably heavier and much more tropical. This is mainly due to the addition of more varied fruit-based ingredients like the peach schnapps and pineapple juice, though the heavier overall taste is mainly due to the light whiskey.
Despite the use of light whiskey, I would not say that a water moccasin shot is a drink tailored towards whiskey lovers. More that the whiskey adds a certain level of complexity to the shot that makes it stand out from other tropical-based drinks. A bubbly blackberry bourbon smash cocktail is the better choice for someone who prefers whiskey or bourbon-centric cocktails.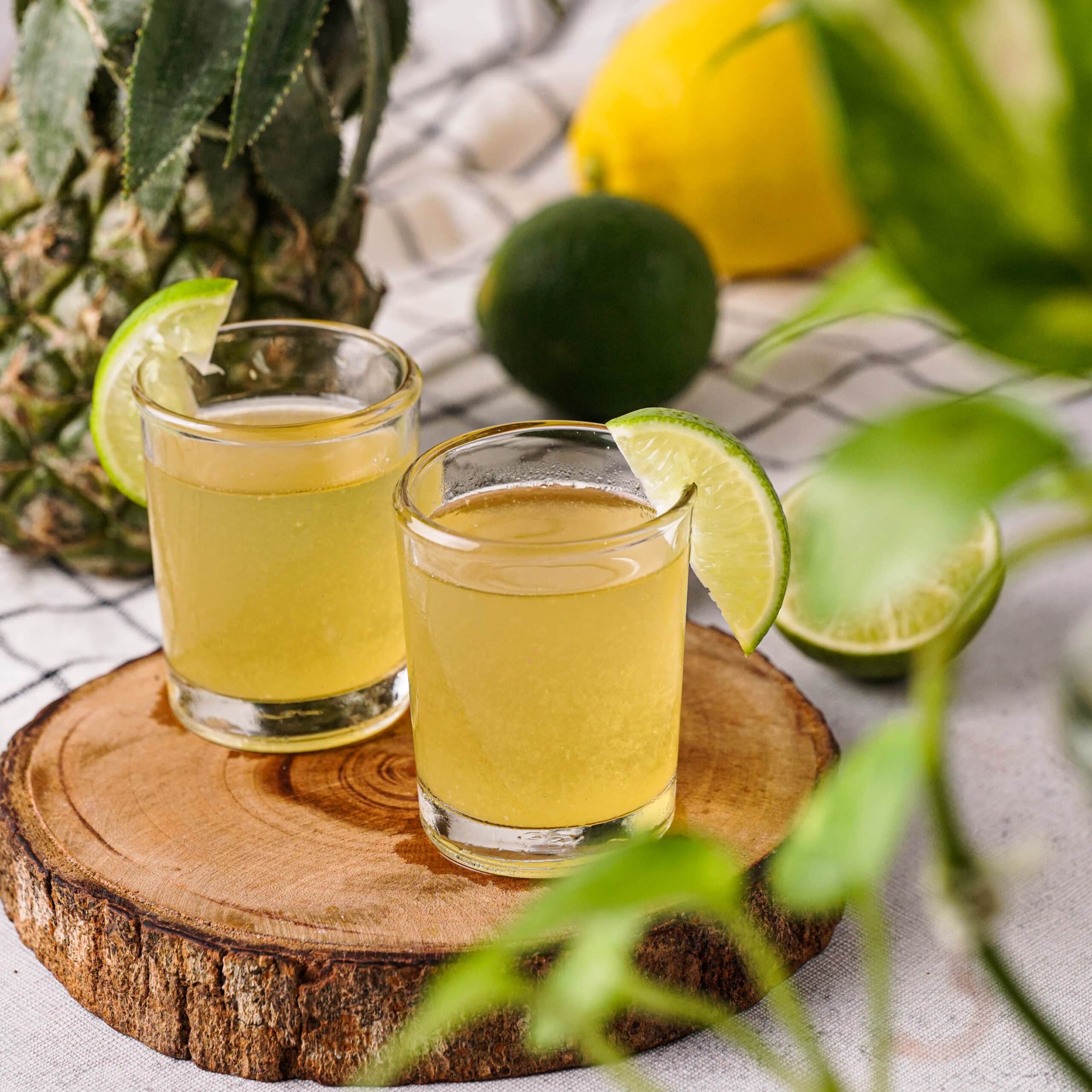 Ingredients
½

cup

water

½

cup

sugar

2

tablespoons

lime juice

1

tablespoon

lemon juice

pinch

of salt

4

ice cubes

¼

cup

Peach schnapps

¼

cup

light whiskey

1

tablespoon

triple sec

2

tablespoons

Pineapple juice

½

lime
Instructions
First you need to prepare a sweet and sour mix (also known as simple syrup) to help sweeten your water moccasin shot. Do this by heating ½ cup of water and ½ cup of sugar in a pan on medium heat.

Use a whisk to continuously mix the sugar and water together and to prevent the sugar burning at the bottom of the pan.

When the sugar has entirely dissolved into the water, remove the pan from the heat. Set aside and allow the syrup to cool.

After a couple of minutes, gently touch the top of the syrup. If it is cool to the touch you can add in the lemon juice and 1 tablespoon of lime juice.

Finish the syrup off with a moderate pinch of salt and use your whisk to thoroughly combine all of the ingredients into the syrup.

Transfer your freshly made sweet and sour mix into a sealable bottle or jar to keep fresh.

Now you can go ahead and start making the water moccasin shot itself. Add roughly 4 ice cubes to a cocktail shaker.

Pour 1 tablespoon of fresh lime juice, the peach schnapps, light whiskey, triple sec, and pineapple juice over the ice. Then measure out 2 tablespoons of your freshly made sweet and sour mix to add to the shaker as well.

Place the lid on the cocktail shaker and give the drink a good vigorous shake for 20 seconds or until the drink is entirely cold from the ice.

Ready 2 shot glasses. Open the cocktail shaker and use the strainer to evenly pour your drink into the shot glasses.

To garnish the shot, take a sharp knife and chop up the half lime into quarters. Wedge the lime onto the rim of the shot glass and serve the shot.

Enjoy this Water Moccasin Shot!
Nutrition
Calories:
414
kcal
|
Carbohydrates:
72
g
|
Protein:
0.2
g
|
Fat:
0.3
g
|
Saturated Fat:
0.01
g
|
Polyunsaturated Fat:
0.02
g
|
Sodium:
26
mg
|
Potassium:
50
mg
|
Fiber:
0.2
g
|
Sugar:
70
g
|
Vitamin A:
10
IU
|
Vitamin C:
9
mg
|
Calcium:
8
mg
|
Iron:
0.1
mg
Notes & Tips
Always use fresh lime juice when you are making any cocktail or shot but especially a water moccasin shot. The amount of acidity in bottled lime juice would not react well to the light whiskey, causing a weird texture and possibly turning the shot itself a gross colour. Stick with freshly squeezed lime juice instead.
The water moccasin shot is quite a forgiving shot. It can be served prepared with ice or without. I like to prepare all of my tropical flavour shots with ice as I feel it makes the drinking experience more refreshing. But if you do not have ice on hand then you can make the shot without the ice.
If you already have some sweet and sour mixture prepared then making this water moccasin shot will be a whole lot easier. You can use a pre-made mix you made yourself or a store brought sweet and sour mix in this shot. Though be aware that manufactured simple syrup may include added sweeteners.
Water Moccasin Shot Serving Suggestions
Any responsible drinker knows that is important to keep well fed when consuming alcohol. This is certainly true when drinking a stronger shot like the water moccasin. But that doesn't mean that you have to take a break from the party to eat a full meal.
There are plenty of party dishes or snacks that can easily be enjoyed with the fruity sweetness of a water moccasin shot. I particularly enjoy serving this shot when I've prepared a lot of fruity snacks. On the other hand, if the fruity flavor of the shot is wearing you down, you might want to consider something more savory like a cheese board or some salted nuts.
Does A Water Moccasin Shot Require Light Whiskey?
Is it the use of light whiskey that helps a water moccasin shot stand out from other tropical, pineapple juice based shots. But that doesn't mean that you have to go out and buy the most expensive bottle of light whiskey just to make a singular shot. Crown royal whiskey is the most commonly used whiskey for this shot simply because it is so cheap and versatile. However, you can use any type of whiskey you have to hand – dark or light.
A darker whiskey will make the shot for intense due to its aged taste. If such a flavour isn't for you then you can easily reduce the amount of whiskey used by half. Then you can replace the difference with more peach schnapps or pineapple juice to balance out the more intense flavour.
---
Recent Recipes