Easy White Gummy Bear Shot
There are some shots that, while easy enough to make and delicious to taste, just lack that extra level of fun. A classic lemon drop shot, for example, doesn't even come close to our easy, simple jello shot syringes on my personal fun scale. I certainly know which one I will be serving at my get-togethers. However, I have found that, while many shots can be fun, they lack the complex flavours of more sophisticated drinks.
On my hunt to combine fun and sophisticated alcoholic flavours in a singular shot, I came across the gummy bear shot. It feels like gummy bears have been around forever. I certainly remember the gummy, flavourful bears from my own childhood–they made the perfect snack for Friday movie nights! While this white gummy bear shot doesn't include actual gummy bears in the drink itself, there is no denying the nostalgia of the gummy candy when the shot hits your tongue.
The base flavours of this shot are a simple peach and raspberry combination, topped off with a lemon and lime soda. For those reading that aren't as well versed in gummy bear flavours, the white gummy bear has always been a delicious pineapple flavour. However, I found that using pineapple juice in my white gummy bear shot was too overwhelming and didn't offer that complex sophisticated taste I was looking for. A combination of peach, raspberry, and lemon-lime recreates that tropical taste on a more delicate level.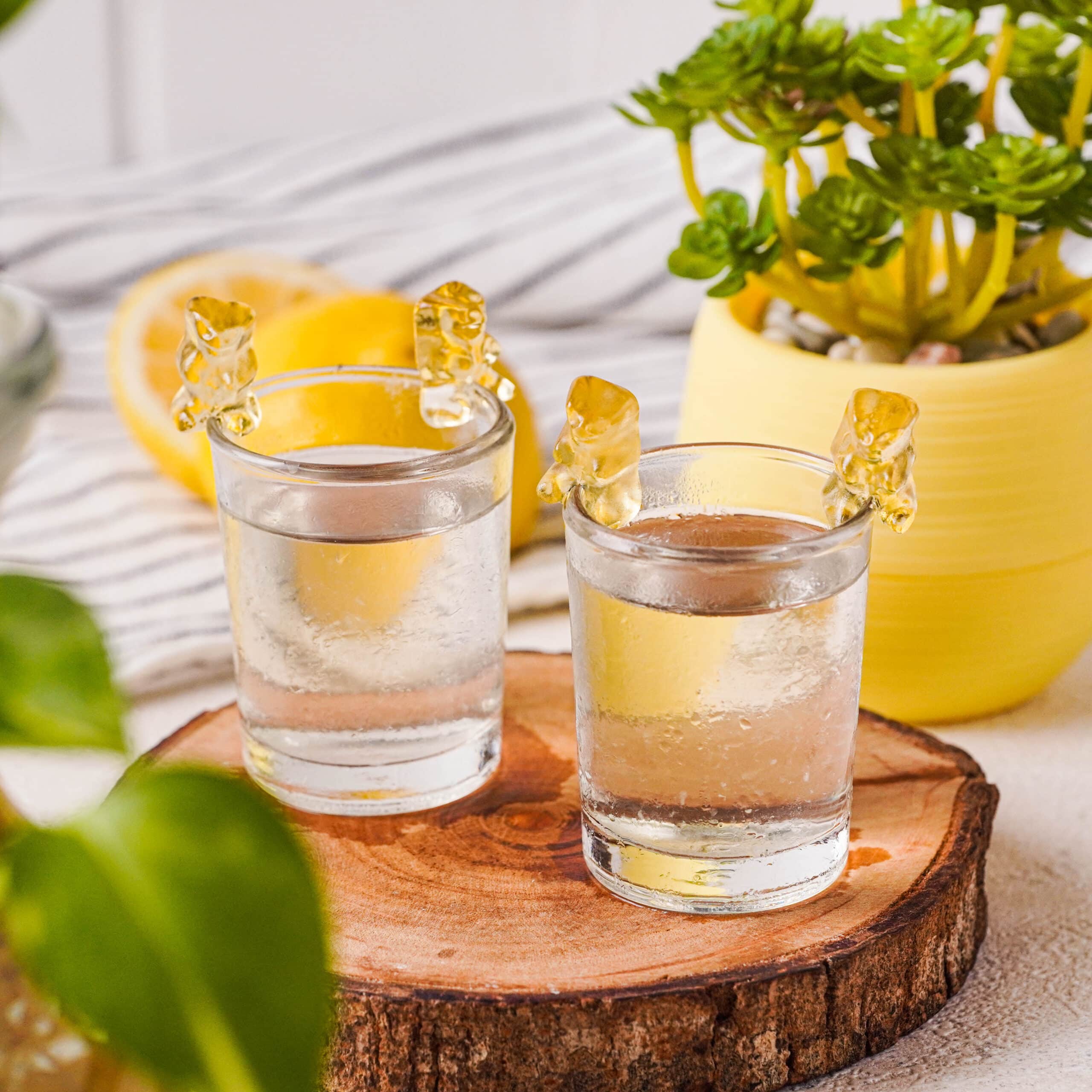 Ingredients
½

cup

water

½

cup

sugar

1

tablespoon

lemon juice

1

tablespoon

lime juice

pinch

of salt

5

ice cubes

¼

cup

raspberry rum

¼

cup

peach schnapps

1

tablespoon

Sprite

8

white gummy bears
Instructions
All ingredients ready? Let's begin!

To get started, you first need to whip up a sweet and sour mix, also known as a simple syrup. This can be done by pouring your ½ cup of water and ½ cup of sugar into a medium sized sauce pan and placing the pan on a medium heat.

Use a whisk to continuously mix the sugar and water together in the pan until all of the sugar has dissolved into the water.

Quickly remove the pan from the heat to prevent burning.

Set the pan aside and allow the mixture to cool until it is cold to the touch. Add the lemon juice, lime juice, and pinch of salt to the mix. Give the syrup a good stir to properly combine all your ingredients.

Pour the sweet and sour mix into a sealable jar or bottle, using a spatula to scrape all of the syrup from the bottom of the pan too.

Set the syrup in your fridge to cool completely while you continue on with the main portion of the white gummy bear shot.

Ready some ice in a cocktail shaker. Now pour the peach schnapps, raspberry rum, and Sprite over the ice.

Measure out 2 tablespoons of your freshly prepared sweet and sour mix and add that to the shaker as well. When you are ready, close the cocktail shaker and give the drink a good 15-20 second shake, or until you are sure that the ice has made the drink cold.

Ready 4 shot glasses and evenly pour the shaken drink into each shot glass.

You can top each shot off with 2 white gummy bears, either on a cocktail stick or placed to float on top of the shots themselves.
Nutrition
Calories:
249
kcal
|
Carbohydrates:
50
g
|
Protein:
2
g
|
Fat:
0.1
g
|
Saturated Fat:
0.02
g
|
Polyunsaturated Fat:
0.01
g
|
Monounsaturated Fat:
0.003
g
|
Sodium:
22
mg
|
Potassium:
13
mg
|
Fiber:
0.03
g
|
Sugar:
42
g
|
Vitamin A:
2
IU
|
Vitamin C:
3
mg
|
Calcium:
3
mg
|
Iron:
0.03
mg
Notes & Tips
Instead of using a shaker, you can prepare the white gummy bear shots in a large beaker or jug. You will need to give all of the ingredients a thorough mix with a stirrer or large spoon to ensure that the ice can cool all of the drink before you pour the shots but otherwise this method will work fine. Just remember to keep the ice in the jug or beaker when you pour the shots.
Raspberry rum is not the traditional alcohol of choice to use in a white gummy bear shot. However, I have found that it better adds to the intended tropical flavour of the shot. You can exchange the rum with raspberry vodka if you prefer.
When making my white gummy bear shots, I found that I had run out of pre-made sweet and sour mix which is why I had to make some from scratch. I included the method for making your own sweet and sour mix in the recipe in case you run into the same issue that I had. But if you already have some made or want to use store brought sweet and sour mix instead, that will work just as well.
How To Make A White Gummy Bear Shot A Mocktail
As the tropical taste of a white gummy bear shot is a very basic combination of raspberry, peach, lemon, and lime, it is one of the easiest shots to turn into an enjoyable mocktail. It is made even easier given that peach schnapps and raspberry rum are just specifically flavoured rum and schnapps. All you need to really do to substitute the alcoholic components in a white gummy bear shot is replace them with strongly flavoured juices.
The peach schnapps can be substituted for a peach soda while the raspberry rum can be replaced with some raspberry juice or raspberry soda. The sweet and sour mix and Sprite included in the typical white gummy bear shot are already alcohol free so you will not need to worry about replacing them when turning the shot into a mocktail.
To make a white gummy bear mocktail, prepare the drink in a tall glass and use equal measurements of your substitutions as listed in the recipe above. The only change you will need to make is how much Sprite or 7 up you use as you will use it as a topper for your white gummy bear mocktail instead.
---
Recent Recipes