Simple Low FODMAP Chicken Stir Fry
Ah, stir fry: a staple work night recipe and a great way to ensure everyone leaves the table full and satisfied. Even better, most stir fry recipes include plenty of delicious spices, meats, and vegetables. Done right, a single stir fry serving could be a complete meal, nutritionally speaking.
What about low FODMAP stir fry? Unfortunately, lots of stir fry recipes include ingredients with FODMAPs, like legumes, garlic, onions, and more. But just because many stir fry recipes aren't suitable for the low FODMAP diet doesn't mean that stir fry is really off the table.
In fact, we've put together a classic low FODMAP stir fry recipe (and stir fry sauce) we use in our own kitchens all the time. Even better, we've figured out a way to keep the classic, garlicky stir fry flavor without actually including garlic as an ingredient. Want to see how we accomplished it? Take a look at the recipe breakdown below!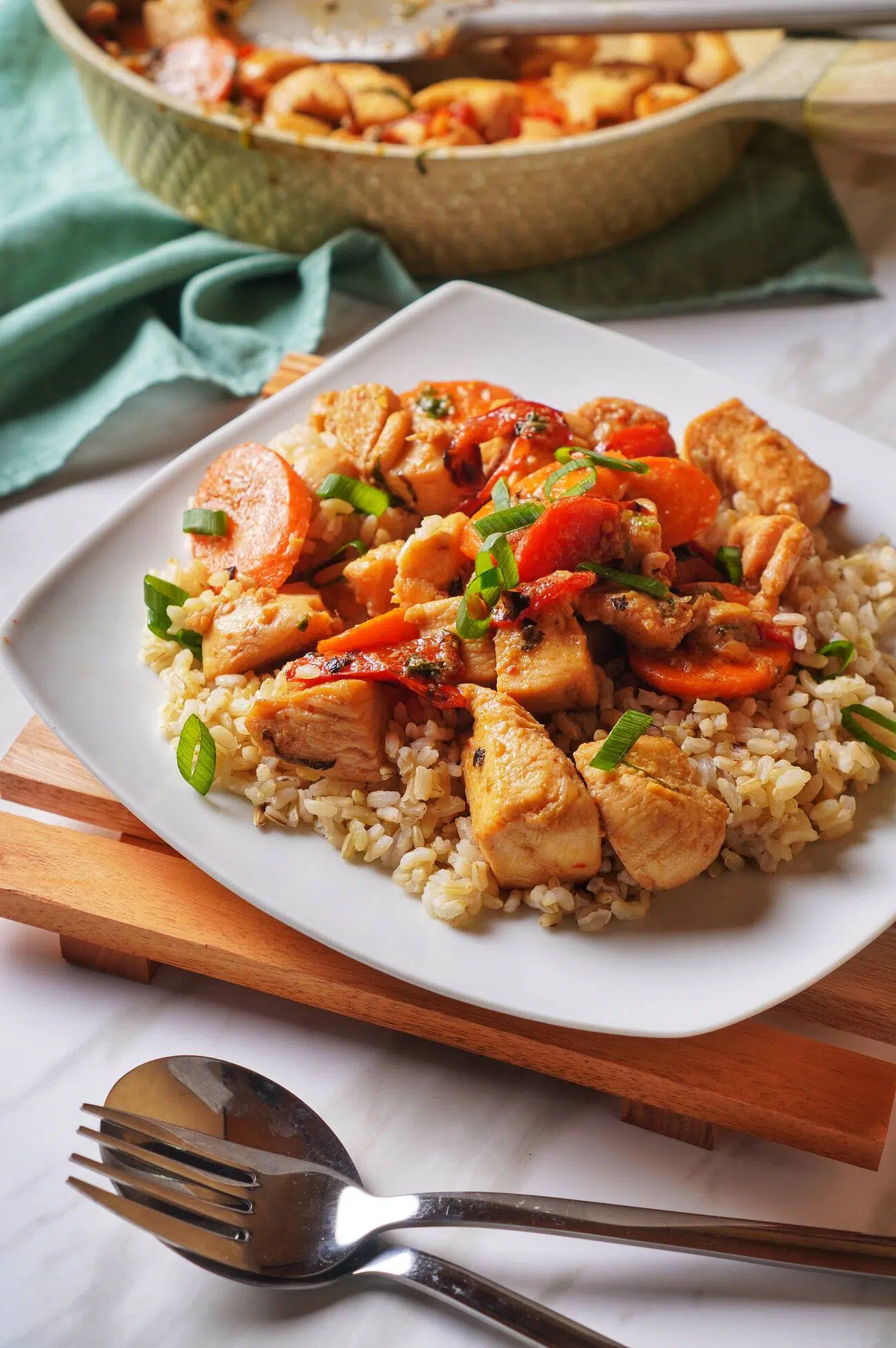 Ingredients
1/3

cup

low sodium soy sauce

2

tablespoons

light brown sugar

1

tablespoon

finely grated fresh ginger

1

tablespoon

cornstarch

½

teaspoon

red pepper flakes

plus maybe a little extra depending on your seasoning preferences

1

medium red bell pepper

2

medium-sized carrots

½

cup

chopped scallions

2

pounds

boneless

skinless chicken thighs or breasts cut into bite-size pieces

1

teaspoon

toasted sesame oil as optional topping

3

tablespoon

garlic-infused olive oil

1

cup

brown rice

or more depending on how many people you are serving
Instructions
Assemble ingredients together.

To begin, start some hot brown rice (which is low FODMAP) cooking so it's finished around the same time as your stir fry.

Whisk together the cornstarch, brown sugar, soy sauce, ginger, the ½ teaspoon of red pepper flakes in a large bowl. Be sure to mix the ingredients until they are very well combined.

Next, add the chicken pieces and stir them thoroughly to coat the chicken in the sauce. Set the chicken aside and let it sit and marinate in the sauce while you prepare the vegetables.

Cut and/or core the vegetables into strips about ¾ inch long. For the carrots, peel them and cut them diagonally into ½ inch thick discs or pieces. Set the vegetables aside.

Then heat a large sauté pan over high heat. Add 1 tablespoon of the garlic-infused olive oil and heat the oil until it is shimmering and just about to boil. Add the scallions, carrots, and peppers and stir fry the vegetables over high heat for four minutes (or until the veggies are crisp and tender). Remove the vegetables from the pan and set them aside in a separate bowl.

Heat the last 2 teaspoons of garlic-infused olive oil until it is simmering as before. Use tongs to remove your chicken from your marinade and place the chicken onto the pan. Stir fry the chicken until it is just cooked through, about five minutes.

Add your vegetables to the chicken in the pan and stir fry the entire mixture for one minute so all the flavors can mix together. Remove the pan from the heat and taste the stir fry – if you like, you can add more pepper flakes and/or drizzle the mixture with sesame oil.

Serve the stir fry with your hot rice immediately.
Video
Nutrition
Calories:
294
kcal
|
Carbohydrates:
25
g
|
Protein:
27
g
|
Fat:
9
g
|
Saturated Fat:
2
g
|
Polyunsaturated Fat:
1
g
|
Monounsaturated Fat:
5
g
|
Trans Fat:
1
g
|
Cholesterol:
73
mg
|
Sodium:
501
mg
|
Potassium:
589
mg
|
Fiber:
2
g
|
Sugar:
4
g
|
Vitamin A:
3084
IU
|
Vitamin C:
21
mg
|
Calcium:
24
mg
|
Iron:
1
mg
Notes & Tips
If you haven't coked with scallions before, remember only to include the green parts in the finished dish. These small onions aren't like their larger counterparts; the white parts of scallions are not meant to be eaten.
Substitutions
One of the most important ingredients in this recipe is the garlic-infused olive oil. You may not be able to find this at your local grocery store depending on its selection, but there are lots of options available, including FODY Garlic-Infused Olive Oil, Colavita Roasted Garlic Olive Oil, and more. Simply take a look online for a diverse selection of olive oil choices.
The great thing about stir fry is that you can substitute many of the above ingredients with other ingredients depending on your preferences. For example, you can feel free to toss in bean sprouts, choy sum, eggplant, kale, zucchini, or anything else into the recipe – just be sure to cook any extra veggies with the carrots, scallions, and peppers to make sure they are properly crisp when combined with the other ingredients.
If chicken isn't your favorite, you're in luck; you can easily replace it with beef, lamb, or pork and get roughly the same flavor. However, keep in mind your seasonings might also need to change if you pick a different type of meat.
Common Questions
Should I add any of the reserved marinade into the stir fry recipe after removing the chicken?
You can, but this might be a little too flavorful for your liking. We recommend letting the chicken soak up the marinade sauce and throwing it in the stir fry pan immediately. Some of the marinade juice will stay in and around the chicken, infusing some of its flavor to the mixture naturally. This will avoid over-flavoring your stir fry. Throw the rest of the marinade out.
My chicken isn't cooking all the way through. What can I do?
If your chicken isn't cooking on high heat in about five minutes, you may not have cut it into small enough pieces. For the best results, cut your chicken into pieces you wouldn't have any trouble chewing in addition to other vegetables or rice. That's the best way to ensure that your chicken cooks evenly and quickly.
Shortcuts
There are several shortcuts you can take in this recipe, including:
Starting the rice ahead of time depending on the speed of your rice cooker and how much rice you are making. The more rice you make, the longer it will take for the rice to be ready
Chopping the veggies ahead of time so you can simply throw each ingredient into the stir fry one after the other and won't have to delay anything
In general, you'll become more practiced at making this recipe the more you cook it.
---
Recent Recipes