For folks on the low FODMAP diet, there are lots of breakfast options: eggs, bacon, and more. But many low FODMAP breakfast options aren't exactly filling or hearty, and you might end up feeling a little hungry just a couple of hours after you head out to work.
What if there was a breakfast that was filling and quick to make without compromising your low FODMAP diet? Turns out, there is: low FODMAP porridge. You might think that porridge is a no-go for low FODMAP eaters, but you can make your own porridge at home and personally ensure that there aren't any FODMAPs for your digestive system to worry about.
So, let's break down just how you can make delicious low FODMAP porridge each morning and start your day off right.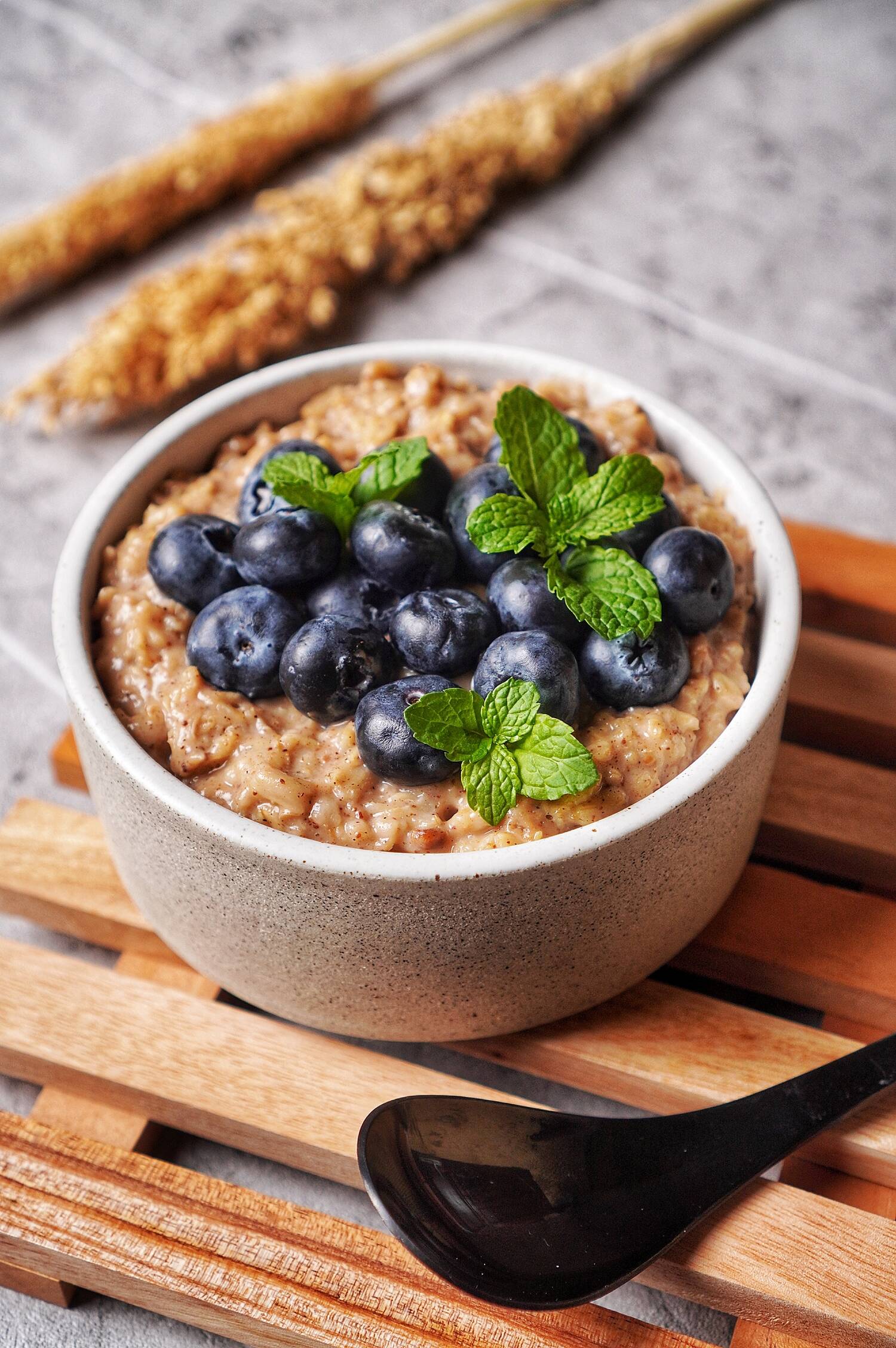 Ingredients
1

cup

oats of your choice

more on the best low FODMAP oats below

2

cups

almond milk or any other milk of your choice

1

tablespoon

peanut butter

1

teaspoon

cinnamon

½

cup

fresh blueberries

or more depending on how much fruit you want in your porridge
Instructions
Assemble your ingredients.

To begin, place your oats in a saucepan by themselves and pour in 2 cups of almond milk. If the texture seems a little too thick, you can add half a cup of water (or even one-fourth of a cup of water) to the mixture to thin it a bit.

Set the temperature to medium heat and allow the soon-to-be porridge to simmer for about four minutes. Alternatively, you can use a microwave.

Add the cinnamon, peanut butter, and any other seasonings you might like as the porridge simmers. Stir thoroughly to ensure the flavors are spread around evenly throughout your breakfast.

After the four minutes are up, remove the porridge from the heat and add in the blueberries.
Video
Nutrition
Calories:
476
kcal
|
Carbohydrates:
62
g
|
Protein:
17
g
|
Fat:
19
g
|
Saturated Fat:
3
g
|
Polyunsaturated Fat:
7
g
|
Monounsaturated Fat:
8
g
|
Sodium:
729
mg
|
Potassium:
406
mg
|
Fiber:
12
g
|
Sugar:
3
g
|
Vitamin A:
6
IU
|
Vitamin C:
1
mg
|
Calcium:
669
mg
|
Iron:
4
mg
Notes & Tips
Like our other porridge recipes, there's a lot of flexibility and customization potential with this low FODMAP porridge. You can add as much fruit as you want to your porridge, provided that you choose fruit like blueberries that aren't high in FODMAPs.
We also chose almond milk as our standard medium for the porridge, but this doesn't have to be the case for you. Whole milk, lactose-free whole milk, soy milk, and more could all be good choices depending on your preferences or your dietary restrictions. One benefit of the above recipe with almond milk is that it's suitable for folks with lactose intolerance and irritable bowel syndrome alike.
You can also give yourself a shortcut by preparing the oats, seasonings, and even slicing the fruit the night before. Even half-awake, you can toss these ingredients into the saucepan with a minimum of effort and whip up a delicious breakfast quickly and easily.
Common Questions
So, which oats should you use for your low FODMAP porridge breakfast?
Standard oats of most varieties are technically low FODMAP provided you only eat them in low quantities. But you can do a little better with some research at your supermarket.

As you browse, we recommend finding rolled oats, which are lower FODMAP by default and which have a lower GI. As a result, these oats break down more slowly in your digestive tract, so they are gentler on your stomach. You should avoid quick oats at all costs, as these are relatively high in FODMAPs and, as the name suggests, are quick to digest and could be rougher on your stomach.

Rolled oats, unfortunately, take twice as long to cook as quick oats, but since the above low FODMAP porridge recipe is already low on time requirements, this shouldn't be a big concern.

In addition, you can sometimes find designated low FODMAP rolled oats at your grocery store. This is a great option, naturally, as it guarantees you won't put too many FODMAPs in your diet for your digestive tract to handle.
Is microwaving or simmering the porridge on the stovetop best?
In our experience, making your porridge on the stovetop is a better option by far. That's because you can stir in your ingredients and flavors while the porridge is simmering personally, allowing you to customize how much of each flavor ends up in the resulting breakfast.

If you were to try this while microwaving your porridge, you would have to stop the microwaving every minute or so, stir in some more ingredients, then start the microwave once again. All in all, that might take even longer than it would to just make the porridge on the stovetop as we demonstrated above.
What if my porridge starts boiling?
If your porridge is boiling rather than simmering, turn the heat down and remove the saucepan from the heat for a moment to let the mixture cool. You don't want your porridge to boil for too long as this could burn the oats and cause them to stick to the bottom of the saucepan.

We recommend using a nonstick saucepan, preferably copper-lined, as this will ensure that the oats heat quickly without overheating or sticking to the surface. Since you can't add butter or oil to the porridge, you can only stop the food from sticking by keeping the heat at a manageable level.
Sides and Pairings
We use blueberries for our optional topping at the very end, but there's no shortage of low FODMAP fruit options you can add instead. Just a couple of examples include dark chocolate, maple syrup, bananas, raspberries, seeds, and so on. The best seeds in our eyes include flaxseeds, Chia seeds, and a mix of almonds, sunflower seeds, and linseeds.
This is a great way to customize your low FODMAP porridge or keep the recipe fresh over time. You're your porridge with some vegan pancakes for even more goodness!
We can all find breakfast a bit boring from time to time, but customizing your porridge each morning as you make it keeps the body guessing and gives you something tasty to look forward to when you wake up.
---
Recent Recipes