Simple Low FODMAP Pad Thai
The hardest thing about a low FODMAP diet is finding recipes that are up to par with what you're used to eating. You want the same creamy, rich foods that you're accustomed to. Some of the hardest recipes to replicate might be those from Asian cultures.
This is a common issue with low FODMAP diets because of their complexities. Many sauces and dishes have lengthy ingredient lists, making it harder to pick out the things that may bother you. As such, it might be best to head into the kitchen and tackle them yourself!
That's exactly what we did when we were looking for a great Pad Thai alternative. The rich, delicious flavors of a standard Pad Thai can be found in this low FODMAP recipe. Don't believe us? Try it yourself! We guarantee this will become a regular recipe.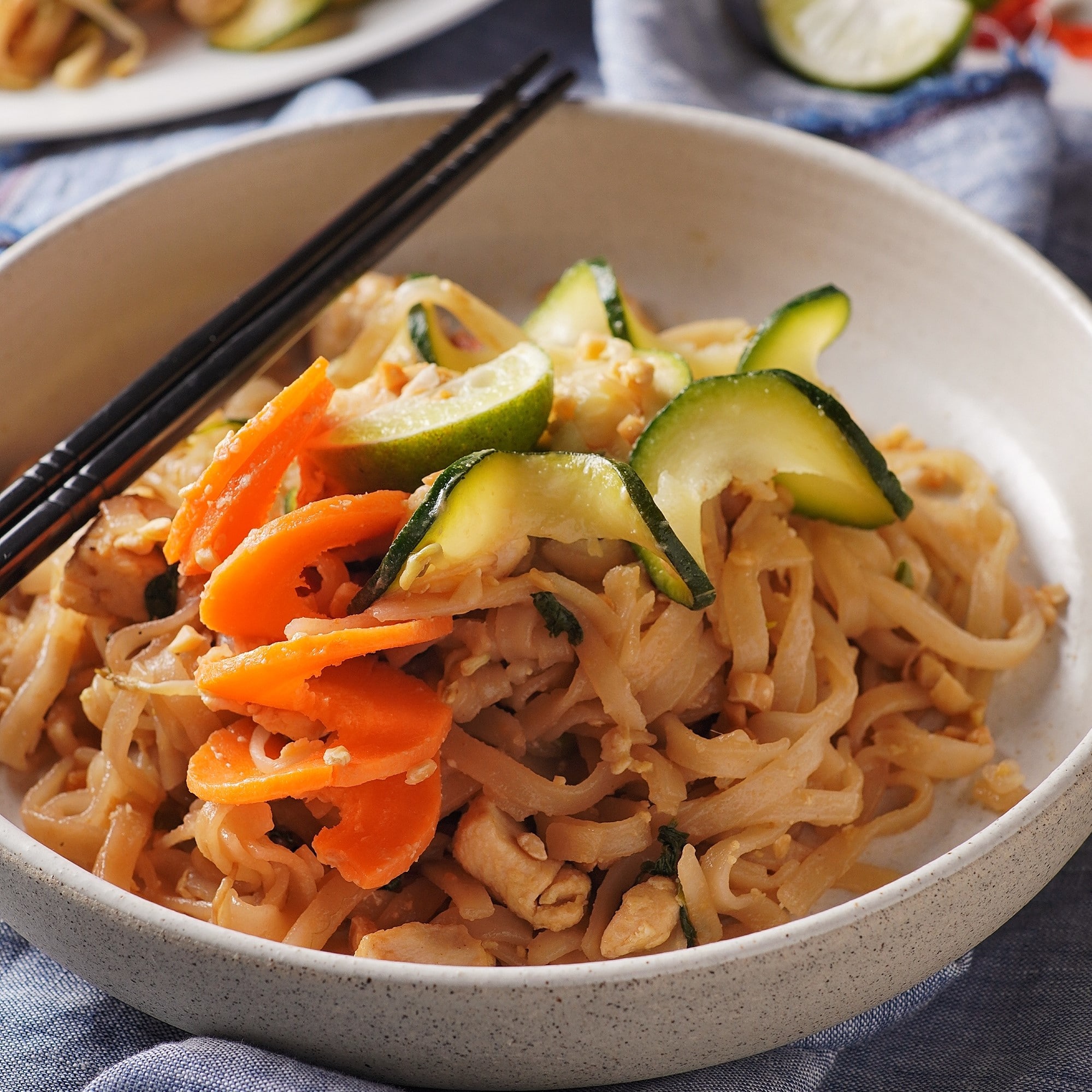 Ingredients
¼

cup

of soy sauce

1

tablespoon

of maple syrup

2

tablespoons

of peanut butter

¼

cup

of lime juice

1

teaspoon

of fish sauce

1 250

g

package of rice noodles

1

tablespoon

of garlic infused olive oil

2

chicken breasts

cubed

2

eggs

whisked

2

teaspoons

of fresh

grated ginger

1

finely sliced chili

2

zucchinis

prepared using spiralizer

1

carrot

prepared using spiralizer

1

cup

of bean sprouts

⅛

cup

of green onions

1

cup

of coriander leaves
To taste (as a garnish)
crushed peanuts

lime wedges

bean sprouts
Instructions
All ingredients ready? Let's begin!

Combine soy sauce, maple syrup, peanut butter, lime juice, and fish sauce in a bowl by whisking together.

Prepare rice noodles as instructed by packaging.

On low to medium heat, heat half of the garlic infused olive oil in a wok or fry pan.

Once heated, add cubed chicken breast.

Stir-fry until cooked, adding whisked egg once. After the egg has cooked thoroughly, remove chicken and egg from the wok/fry pan.

Add remaining garlic infused olive oil to the pan. Add ginger and chili, cooking until fragrant.

Add zucchini, carrot, and bean sprouts, tossing gently in the mixture.

Add in chicken, egg, and rice noodles, tossing gently.

Pour in whisked sauce, continuing to toss until ingredients are thoroughly coated.

Add green onions and coriander leaves, continuing to toss to mix.

Serve with crushed peanuts, additional bean sprouts, and lime wedges on the side.
Video
Nutrition
Calories:
532
kcal
|
Carbohydrates:
67
g
|
Protein:
35
g
|
Fat:
13
g
|
Saturated Fat:
3
g
|
Polyunsaturated Fat:
2
g
|
Monounsaturated Fat:
6
g
|
Trans Fat:
1
g
|
Cholesterol:
154
mg
|
Sodium:
1263
mg
|
Potassium:
990
mg
|
Fiber:
4
g
|
Sugar:
9
g
|
Vitamin A:
3318
IU
|
Vitamin C:
46
mg
|
Calcium:
75
mg
|
Iron:
3
mg
Notes & Tips
One of the most challenging parts of this recipe might be preparing the rice noodles. Many people are tempted to add noodles to water that's boiling, it's a habit that is correct in most cases. However, preparing rice noodles requires water that's extremely hot, but they shouldn't be added to water that is still boiling. Add noodles to water once it's off the burner, or pour the hot water over the noodles.
Additionally, a nice thing to add to this recipe is that the noodles you'll be eating are gluten-free! While not all low FODMAP diets require a gluten-free aspect, this one is easy to accomplish that with.
Additionally, for those who are vegan or vegetarian, there are options that we'll discuss to make this appropriate for your dietary needs! Pad Thai doesn't have to be served with chicken and egg. To prove it, we've got our list of substitutions below.
Substitutions
If you're vegan or vegetarian, there are ways to make this recipe that fit your dietary needs. The first ingredient to take into consideration on our list above is peanut butter. Not all peanut butter manufacturers make their peanut butter vegan-friendly. We've got a list of options for verified vegan-friendly peanut butters here!
The next ingredient on the list is the fish sauce. First, the fish sauce is entirely optional. Not everyone likes the taste of fish sauce to begin with. If you're looking to remove that ingredient for either reason, substitute more soy sauce for it. This removes the issue for vegans and vegetarians, and removes the funky flavor for others who just don't enjoy it.
Of course, the next two big items are the eggs and chicken. If you're vegan or vegetarian, you can remove these entirely and substitute with vegetables of your choice! Or, if you're looking to add an ingredient with similar consistency, go for tofu. Pad Thai served with tofu is delicious!
Common Questions
Does it make a difference if I use low sodium soy sauce?
Not at all! If you're looking to watch your sodium intake in addition to adhering to a low FODMAP diet, low sodium soy sauce is actually recommended. This gives you the flavor that you're looking for without the sodium content that could be harmful to your health.
How do I reduce the heat in the dish?
If you're averse to spicy foods, the best recommendation we can make is to reduce the amount of chili that you use. Rather than slicing an entire chili pepper, use only the amount you think you can tolerate. Starting with half a chili is recommended if you have sensitivities to hot peppers.
How do I increase the heat in the dish?
If you're someone who loves a hot Pad Thai, there are a couple things you can do. You can keep a side of sambal oelek with your Pad Thai. Alternatively, you can replace your chili pepper with a serrano pepper! These peppers tend to be hotter than chilis are.
Sides & Pairings
If you're looking to add a side to your main meal, consider preparing a delicious Thai eggplant salad! It's easy to make, and it complements Pad Thai well. However, if you're feeling ambitious, you can always eat an extra serving of the Pad Thai, too! This dish is sure to become one of your favorites, and it might make your regular rotation.
If you're looking for more recipes, be sure to visit our recipe guides! We have a broad selection of global recipes, recipes for preserving, and of course vegan recipes. Check them out today!
---
Recent Recipes