Simple Low FODMAP Sourdough Bread
Bread is a delicious treat for many people. However, for people who have issues with gluten or sugars, finding the perfect loaf of bread can feel nearly impossible. Fortunately, it isn't. There are some breads that are available that you can enjoy, regardless of the possible gut issues that you have.
Today, we're helping you bake your very own sourdough that you can enjoy, even on a low FODMAP diet! It takes a long while, but the actual working time is very minimal! It all comes down to getting your sourdough starter ready to rock, then making the bread! Keep following along, but don't be intimidated by that prep time – it's entirely worth it.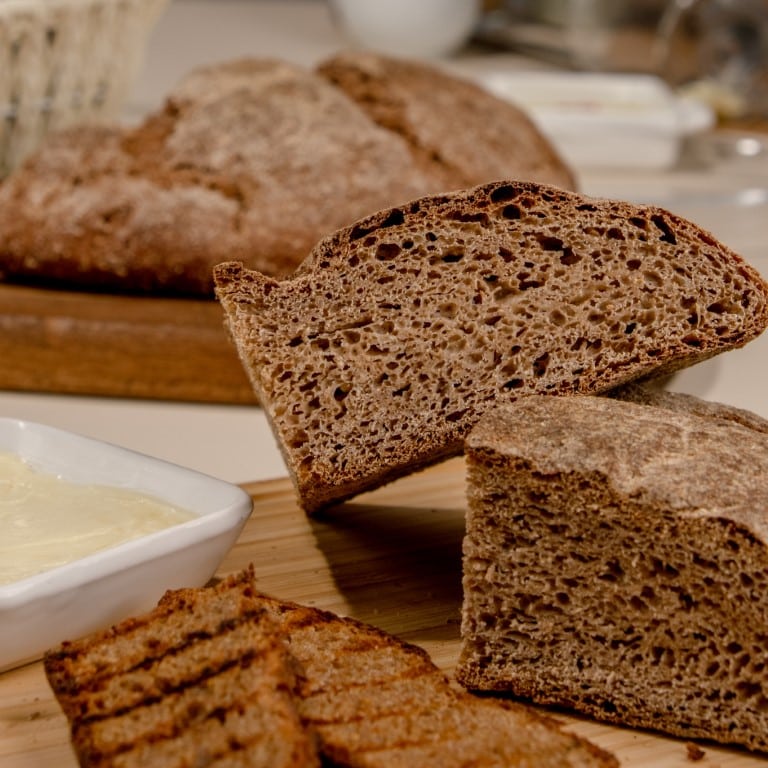 Ingredients
Starter Ingredients
4 to 5

ounces

of spelt or wheat flour

4 to 5

ounces

of water
Sourdough Loaf Ingredients
Your sourdough starter

14

ounces

of strong wheat or spelt flour

brown or white

10.5

ounces

of water

if the dough isn't homogenous, add more until satisfied

1/2

teaspoons

of salt
Instructions
Making the Starter
Making the starter is going to take a minimum of four days. Rather than splitting the steps up into individual numbers, we're going to cover what should be happening on each day!
Day One
In a large jar, add 1 ounce of spelt or wheat flour with 1 ounce of water. Once mixed, make sure that you scrape the sides down into the mixture. You don't want this to dry out.

Then, cover the lid of the jar with a saran wrap or paper towel, and secure it with a rubber band. Let it sit at room temperature for 24 hours.
Day Two
At roughly the same time that you worked with the starter the previous day, check your starter. The mixture should have some bubbles forming. If not, it just needs more time. In a separate bowl, mix together another ounce of flour and water. Once mixed, add it to your jar, then seal it again and leave out at room temperature.
Days Three & Four
Repeat the process from Day Two. At this point in time, you'll have a lively mother culture. It'll form larger bubbles, and it will have a fruity scent. If larger bubbles haven't formed yet, repeat the process from Day Two, again. This process might take a while, so be patient. Once you're happy with the starter, you can refrigerate it until you're ready to make a Poolish.
Making the Sourdough Loaf
To make a low FODMAP sourdough loaf, you'll need two days. Don't worry, we'll explain why later on! Each day is going to have actions to take in the morning and the evening, and we've got them clearly labeled.
Day One – Morning
The first morning, you'll want to feed your starter. This is going to call for discarding half of your starter culture, and replacing it with half strong flour, and half water. If you're worried about the strong flour, you don't have to be! After it's been added up, you'll leave it somewhere cool to ferment for the day.
Day One – Evening
This is the time that you'll make your Poolish. From your starter, take about 1.5 ounces of the mixture. You'll mix this with 5 ounces of strong spelt or wheat flour, and 5 ounces of water. After it's been mixed, you'll cover it and leave it out at room temp.
Day Two – Morning
The morning of the second day you'll have your Poolish. You'll mix the Poolish with 9 ounces of strong spelt or wheat flour, 5.5 ounces of water, and 2 teaspoons of salt. After they've been mixed, you'll knead the dough until it's elastic and smooth. Cover it, and leave it to prove for the day.
Day Two – Evening
You're ready to shape and bake your sourdough loaf now! Dust a counter with flour, and tip the dough out onto it. Scoop the dough, and contain the sticky side. This leaves the "skin" of the dough on the outside. Shape the dough into a loaf, and place it onto a flour-dusted baking tray. Cover it with a cloth towel, leaving it for 2 to 3 more hours.
Nutrition
Calories:
220
kcal
|
Carbohydrates:
42
g
|
Protein:
7
g
|
Fat:
2
g
|
Saturated Fat:
0.05
g
|
Polyunsaturated Fat:
0.1
g
|
Monounsaturated Fat:
0.03
g
|
Sodium:
120
mg
|
Potassium:
41
mg
|
Fiber:
7
g
|
Sugar:
0.05
g
|
Vitamin A:
1
IU
|
Calcium:
5
mg
|
Iron:
2
mg
Notes & Tips
Strong flour, as some people know, is high in gluten, as well as saccharides. However, when you let the sourdough starter sit for 24 hours or more, it has time to "eat" these sugars, rendering them harmless to you! This is one of the most awesome parts about sourdough bread, of course.
When you're baking your loaf, check for doneness by lightly tapping the bottom of the bread. If it sounds hollow, you're good to go!
Substitutions
When it comes to substitutions, there aren't many to be listed. The hardest choice is choosing your flour. You can choose spelt, white whole wheat, or brown whole wheat. All of these are appropriate for baking a low FODMAP sourdough loaf.
Common Questions
What is "strong" flour?
Strong flour has high gluten content and protein. If you were making a quick loaf, then strong flour wouldn't be ideal for a gluten-free or low FODMAP recipe. However, sourdough naturally eliminates these issues when you're baking it over time.
Is this a fluffy bread, or a dense bread?
This sourdough loaf will be a very dense loaf, while maintaining a soft, inner texture. It's delicious, absorbent, and rich.
Sides & Pairings
Bread is very rarely eaten on its own. Of course, it should be paired with something! This bread goes delightfully well with homemade Moroccan fish soup, or a sweet and smooth ajvar spread.
If you're looking for more direction when it comes to recipes, check out our cooking guides! We cover everything from global recipes to vegan cuisine!
---
Recent Recipes