Simple Low FODMAP Banana Bread
We've all done it. We've purchased a bunch of bananas thinking, "Oh, I can definitely eat all of those before they get too ripe." Then, days later, there's a bunch of spotted and black bananas on the counter. One of the best ways to use bananas that are getting a little too ripe is by making banana bread!
However, the word "bread" might be a little triggering if you have to maintain a low FODMAP diet. Not to fear, though! We're here to help. We've got a low FODMAP banana bread recipe that you'll absolutely love, we guarantee it. You don't have to worry about FODMAPs here! Keep reading to learn how to bake this delicious bread.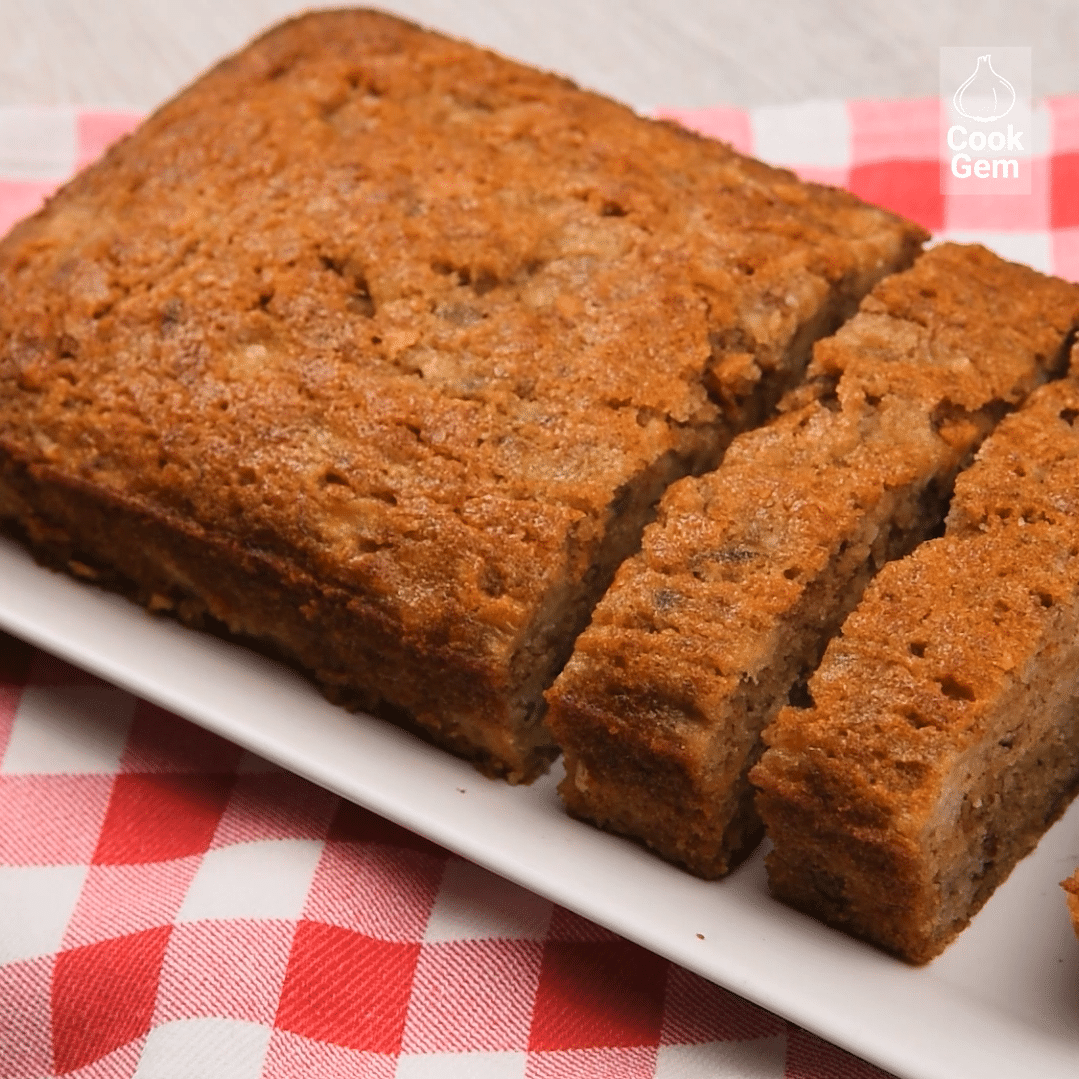 Ingredients
⅓

cup

of melted coconut oil

½

cup

of pure maple syrup

2

large eggs

3

medium ripe bananas

¼

cup

of unsweetened almond milk

1

teaspoon

of vanilla extract

1

cup

of gluten-free baking flour

1

teaspoon

of baking soda

½

teaspoon

of salt

½

teaspoon

of ground cinnamon

½

cup

of chopped walnuts
Instructions
Preheat your oven to 325°F and grease a bread loaf pan. Set the pan aside.

Peel your ripened bananas, and mash to a chunky consistency. The bananas don't need to be pureed, but large pieces should be smashed down a bit further.

In a medium bowl, whisk the coconut oil and the maple syrup together. Once mixed, add the eggs and continue to whisk. Then, add the mashed bananas, almond milk, and vanilla extract, until all ingredients are well combined.

In a separate, larger bowl, mix your dry ingredients. This includes the gluten-free flour, salt, baking soda, and cinnamon.

Once blended, add the wet ingredients and mix until well combined.

Gently fold in the chopped walnuts, taking care not to overbeat the bread batter.

Pour the batter into the greased bread loaf pan, and bake for 60 minutes.

Remove from the oven once done, and cool before slicing. To maintain the low FODMAP qualifications, the bread should be served in 12 slices. We'll cover more about that later.
Video
Nutrition
Calories:
192
kcal
|
Carbohydrates:
24
g
|
Protein:
3
g
|
Fat:
10
g
|
Saturated Fat:
6
g
|
Polyunsaturated Fat:
3
g
|
Monounsaturated Fat:
1
g
|
Trans Fat:
1
g
|
Cholesterol:
27
mg
|
Sodium:
207
mg
|
Potassium:
168
mg
|
Fiber:
2
g
|
Sugar:
12
g
|
Vitamin A:
60
IU
|
Vitamin C:
3
mg
|
Calcium:
39
mg
|
Iron:
1
mg
Notes & Tips
Banana bread is a fairly simple recipe that turns a food you may not possibly want into a delicious treat! This recipe is great because it's low FODMAP, and it is gluten-free, meaning that almost anyone can enjoy it.
When you're choosing your bananas for your banana bread, you want them to be on the cusp of being overripe. This means that they aren't too firm, and the peels aren't completely black. The best indicator of the perfect banana for banana bread are the spots on the peel. When spots start to become more pronounced, you're reaching the right time frame for banana bread.
Baking banana bread is just like baking any other bread or pastry. To tell when it's done, you can insert a toothpick or a skewer about an inch from the edge of the pan. The toothpick should come out mostly clean. This means that a few crumbs is okay! If it comes out completely clean, it may be starting to dry out. And of course, any instance of raw batter appearing on the skewer means it needs to bake longer. Throw the loaf back in for 5 minutes at a time should it come out underdone.
The last thing we want to mention is the low FODMAP qualification. Low FODMAP means that certain sugars fall under a specific volume per serving. If you're here reading up on low FODMAP recipes, you know that. To stay within the guidelines for a low FODMAP food, this banana bread should be served in 12 slices. That being said, this is to keep it at a low level. It can be sliced in as little as 9 slices, but serving it as 12 is a bit safer for your stomach.
Substitutions
If you're looking to make some changes to this recipe, there are plenty of options available! To start, it isn't required that almond milk is used. You can use any dairy-free milk that you'd prefer, just so long as it's unsweetened. This is very important, as any extra sweetener will change the flavor of the recipe.
The next thing that people tend to change is the walnuts! It's common to see this swapped out in exchange for something like toasted almonds or pecans. However, if you're looking to change the recipe a little more drastically, you can always keep the walnuts and add in some dark chocolate chips. This adheres to the low FODMAP recipe, and lets you put a little extra sweetness into your breakfast loaf.
Common Questions
Is Maple Syrup Low FODMAP?
The sweetener used in this recipe is maple syrup. While many sugars are considered to be high FODMAP, maple syrup is not! It is a naturally derived sweetener that you can enjoy while still maintaining a low FODMAP diet.
How Can I Tell If My Banana Bread Is Done?
You can follow one of two methods to tell if your banana bread is done. The first method, using a skewer, is mentioned above in great detail. However, if you don't have a skewer or toothpick handy, a thermometer can be used. When the center of the banana bread loaf reaches 200 degrees, it's good to go.
Bananas Are Fruit, How Are They Low FODMAP?
Believe it or not, bananas in all stages of their lives are considered low FODMAP. The more ripe the banana, the more sugar it has, meaning that it has to be consumed in lower quantities, however. Green bananas are the lowest in FODMAPs, and entire bananas can be eaten without issue.
Sides & Pairings
This banana bread is great on its own, with just a bit of butter spread on each slice. However, if you're looking to increase protein, you can always serve it alongside a delicious ham and asparagus quiche, or with some sliced boiled eggs on top. If you're looking for more recipes like this, check out all of our wonderful recipe guides! We gather recipes from around the globe that fit all different diets.
---
Recent Recipes