I am fascinated by the many and varied cuisines of South America. The cultural diversity is extensive and I never tire of what each region has to offer. Brazil is probably at the top of the list for variety in South America.
One quintessential Brazilian side dish is Pirão. This is a sort of porridge that is made by mixing manioc flour with a variety of meat, fish, or vegetable broths. Manioc flour is also known as cassava or yuca flour. Cassava is a tuber (root vegetable) that is a staple in the Brazilian diet and is prepared in a variety of ways. Manioc flour is naturally gluten-free. You can find it online or in some health food markets. It might be labeled "cassava flour". Expect to pay more for this flour than you would for common wheat flour.
Pirão is mainly served as an accompaniment to seafood, meat, or vegetable stews, just as you might serve rice. The broth that is used to prepare the stew is what you would use in making the accompanying pirão.
Modern-day pirão has the consistency of wet polenta, for lack of a better description. When poured onto a plate from a serving spoon, it should spread out. Getting the proportions of manioc flour and broth just right is something that may take a little practice.
This pirão recipe here has only 4 ingredients and takes only 15 minutes to make. This particular recipe includes some tomato paste to enrich the flavor. It is best to make the pirão just before serving your stew. The longer it sits, the stiffer it becomes. It should be served while soft and still warm.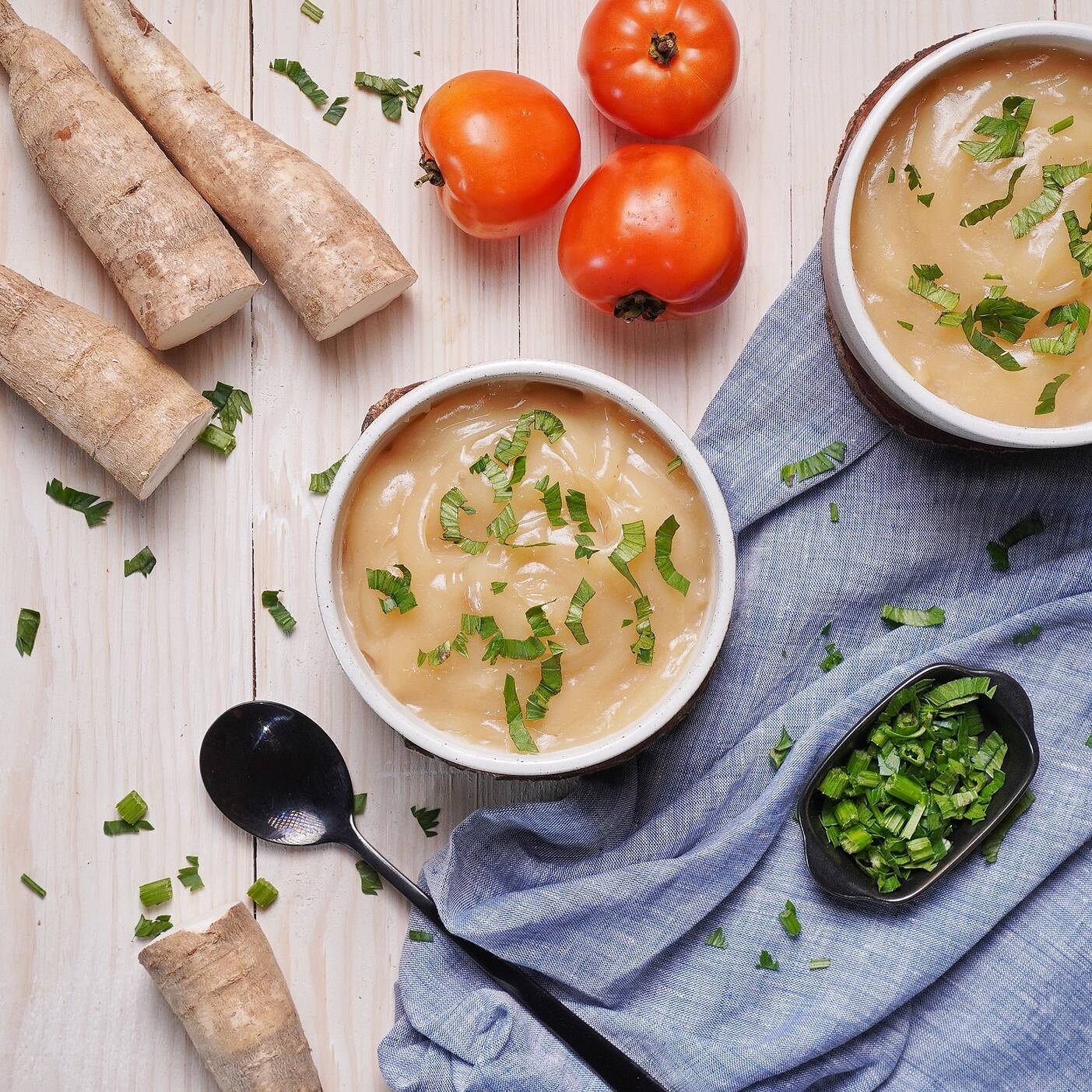 Ingredients
2-1/2

cups

broth

fish, meat, or vegetable

1

TBS

tomato paste

1-1/2

cups

manioc or coarse cassava flour

Sea salt and freshly ground pepper to taste
Instructions
Assemble your ingredients together.

In a saucepot over high heat, bring the broth to a rapid boil.

Reduce the heat to medium-high. Whisk in the tomato sauce until completely incorporated.

Vigorously stir or whisk in the manioc flour a little at a time until all the flour has been incorporated and the consistency is that of soft-serve ice cream or wet polenta.

Season to taste with salt and pepper.

Serve the pirão right away with your fish, meat, or vegetable stew.
Video
Nutrition
Calories:
39
kcal
|
Carbohydrates:
9
g
|
Protein:
1
g
|
Fat:
1
g
|
Saturated Fat:
1
g
|
Polyunsaturated Fat:
1
g
|
Monounsaturated Fat:
1
g
|
Sodium:
178
mg
|
Potassium:
29
mg
|
Fiber:
1
g
|
Sugar:
1
g
|
Vitamin A:
124
IU
|
Vitamin C:
1
mg
|
Calcium:
16
mg
|
Iron:
1
mg
Notes and Tips
As mentioned in the introduction, it is best to prepare pirão when the stew is almost ready to be served. Pirão does start to stiffen up the longer it sits. You want this to be soft, warm, and a little runny like a thick gravy.
It is important to make this with manioc flour. While tapioca starch is another flour made from cassava, it is too fine for this recipe. I don't really know of any other flour that would work to make this authentic Brazilian side dish. You might find this video on how manioc flour is made quite interesting.
If you can't find manioc flour you want to make sure it's a coarse cassava flour.
You do need to babysit the pot while making pirão. This is just like making polenta, grits, or risotto in that it needs to be stirred continuously to achieve the correct consistency.
What does Pirão Taste Like?
To be honest, manioc flour is pretty bland. But that is a good thing. When you bake with this flour it is pretty much the same flavor as all-purpose wheat flour, just without the gluten. The same goes for cooking with it to thicken sauces and soups.
Pirão made with just water and flour is tasteless. When you use broth, the flour absorbs all the nutrients and flavors of the broth. It is subtle but very nice. This particular recipe has the addition of tomato paste which really does add more flavor and richness to the dish. You can leave the tomato paste out if you want a more traditional dish that will make a less flavorful base for the stew. That works just fine and the stew will be the main event with the pirão being the starchy backdrop for a filling and satisfying meal.
What to Serve Pirão With
Pirão is always served with a main dish. The broth of the stew you serve this with is the same broth you will use to make the pirão. There are so many wonderful and interesting Brazilian stews that you will want to explore and have with pirão on the side.
In 2020 I was organizing my many binders of recipes and came across dishes I had always wanted to try but had forgotten about or didn't have the time. Well, we suddenly had more time on our hands than we knew how to navigate during COVID lockdown. One of the dishes I explored was feijoada. This is a Brazilian black bean stew with pork or beef cuts served with white rice, farofa, or pirão and orange slices. This stew cooks slowly in broth until the beans are soft and the meat is tender.
Moqueca is another great Brazilian dish to try. It is a vibrant orange color and mildly spicy fish, shrimp, and vegetable stew with a creamy sauce made with fish stock and coconut milk. This is a fairly quick-cooking dish.
Brazil is an agriculturally rich country. You could easily subsist on just produce with Brazilian cuisine. If you are a vegetarian, you might want to try a vegetable feijoada. This stew is made with sweet potatoes, red bell peppers, zucchini, tomatoes, and kidney beans. Serve over pirão and top with fresh yogurt or sour cream.
---
Recent Recipes