Scallops are buttery, salty little medallions that melt in your mouth when cooked properly. You may not think it now, but paired with crusty bread, icy cold shredded lettuce, and fruity tomatoes, they make a really incredible sandwich.
I'm sure you have had a fish sandwich, but now is the time to try a scallop sandwich. It's a simple recipe (no frying involved!) that will make you feel you're at a snack stand in the middle of the summer. Pair it with an ice cold lemonade and some coleslaw, and you've hit the jackpot.
You can't beat the freshness of this sandwich. Plus, we're going to make a creamy jalapeno spread that brings it all together.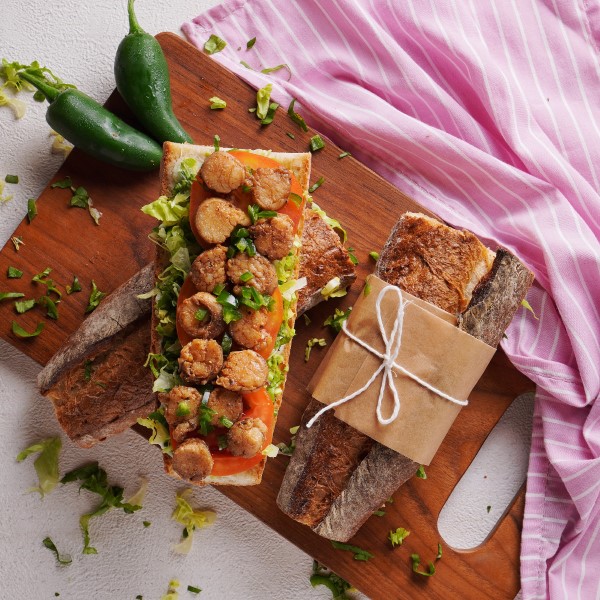 Ingredients
¼

cup

mayonnaise

1

jalapeno pepper

minced

1

teaspoon

lime juice

½

teaspoon

honey

2

small baguettes or 1 large

½

tablespoon

unsalted butter

softened

1

teaspoon

Old Bay seasoning

1

tablespoon

cooking oil

½

pound

bay scallops

1

head romaine lettuce

shredded fine

2

Roma tomatoes

sliced thin
Instructions
All ingredients ready? Let's begin!

First, make the jalapeno spread by combining the mayonnaise, minced jalapeno, lime juice, and honey in a small bowl. Set aside.

Slice the baguettes lengthwise. Spread the unsalted butter on both sides of the bread.

Place the baguettes on a cookie tray, butter-side facing up and broil until the edges turn light brown.

Rinse the scallops and then pat dry with a towel.

Gently toss the scallops with the Old Bay seasoning.

Heat the cooking oil in a non-stick skillet on medium-high heat. Carefully add the scallops.

Let the scallops cook, without touching them, so they develop a sear on one side. Gently turn the scallops and sear the other side until they are cooked through. This will take about five minutes for both sides. Remove the scallops from the heat.

To build the sandwiches, smear a thin amount of the jalapeno spread on the bottom half of the baguettes.

Place a generous handful of shredded lettuce on top of the smear.

Next, shingle the tomato slices on top of the lettuce.

Place the cooked scallops evenly on top of the tomatoes.

Drizzle the jalapeno spread over the scallops and top with the top half of the baguette.

Serve immediately.
Video
Nutrition
Calories:
755
kcal
|
Carbohydrates:
79
g
|
Protein:
30
g
|
Fat:
36
g
|
Saturated Fat:
7
g
|
Polyunsaturated Fat:
17
g
|
Monounsaturated Fat:
11
g
|
Trans Fat:
1
g
|
Cholesterol:
47
mg
|
Sodium:
1424
mg
|
Potassium:
1342
mg
|
Fiber:
10
g
|
Sugar:
13
g
|
Vitamin A:
27991
IU
|
Vitamin C:
30
mg
|
Calcium:
262
mg
|
Iron:
8
mg
Notes & Tips
Scallops are very fragile. Be sure that you don't disturb them too much while they are cooking in the pan. You want them to maintain their shape for the sandwich.
Also, for that reason, it's really important to use a good non-stick pan.
Coleslaw, french fries, or potato salad make great side dishes for this sandwich.
You can use leftover scallops for this sandwich, too. It's a great way to make sure those leftovers don't go to waste. Click here for tips on reheating scallops.
Substitutions
A crusty baguette is going to work best here. But if you can't find a baguette, you can use another crusty bread like ciabatta. You're going to want the contrast in textures from the bread and the scallops.
If you don't like spicy spreads, you can use plain mayonnaise instead. You could also use tartar sauce.
Instead of romaine, you can use iceberg or gem lettuce.
Bacon would be a great addition to this sandwich. You can think of it as a scallop BLT!
This sandwich would also work really well with shrimp or a hearty white fish like cod.
You can use other tomatoes for this recipe, just be sure that you remove the seeds and watery flesh of larger tomatoes. Using larger tomatoes run the risk of making the sandwich soggy if you don't remove that extra moisture.
Where To Buy Bay Scallops
You can find bay scallops at most supermarkets. Of course, they are best bought fresh and will taste the best from a local fish market.
But, if you don't have a local fish market, there is no need to worry. You can use frozen bay scallops for this recipe. Simply follow the thawing instructions on the package.
Mail order seafood is becoming more popular. There are plenty of companies that you can research and find fresh, sustainably sourced seafood that can be delivered right to your door.
How To Tell When Scallops Are Done Cooking
As with many fish, it's not safe to eat scallops or other shellfish raw. You want to be sure that the scallops are cooked completely before serving them in the sandwich.
Scallops are a lot like shrimp and white fish. When they cook, they turn opaque and firm up. The scallops should flake a little after you cook them. You will need to cook them longer if they do not cut easily with a fork.
In contrast, it's important not to overcook the scallops. Overcooked scallops are chewy and not nearly as flavorful.
What Scallops Are Better?
There are two different scallops – bay and sea scallops. Sea scallops are bigger than bay scallops. They are about 1-2" in diameter. While they are delicious, bay scallops are sweeter and have more flavor.
The bay scallops also work better for this sandwich because of their size. The smaller scallops will nestle into the sandwich perfectly.
But should you buy fresh or frozen scallops? It depends on your location. If you live by the seaside and can get fresh scallops, that's going to be best. But for most of us who do not live right on the ocean, IQF (individually quick frozen) scallops are going to be the optimal choice.
These IQF scallops were frozen shortly after harvesting. Buying "fresh" scallops at the supermarket might not actually be that fresh. They could have been sitting in the cooler for a few days.
---
Recent Recipes