Huarache de Asada is a very popular Mexican street food. It is a large masa (corn flour) tortilla that is piled high with salsa, vegetables, sliced beef, herbs, and queso (cheese).
Huarache literally means shoe, more specifically the sole of an open sandal. The masa tortilla base of the dish is oblong in shape and a little thicker than your typical tortilla. Asada refers to something that is roasted or grilled. Carne asada is cooked meat, beef in this case.
It is believed that Huaraches originated in Mexico City around the early 1930s. They were prepared and served from a street vendor's stall that was situated near the La Viga navigation channel. The vendor's name was Carmen Gomez Medina. Today, these treats are a staple at Mercado de Jamaica, a central market in Mexico City.
What I really like about this recipe is some of the authentically Mexican ingredients such as salsa roja and nopales. Salsa roja is a sauce made from dried red guajillo and árbol chilis. These are at different ends of the Scoville scale in terms of heat, with árbol being at least twice as hot as guajillo. Nopales are the pads or petals of the nopal cactus. These are a nutritious vegetable that is a little sticky or slimy like okra. I recommend jarred nopales if you don't live in a desert area where there are plentiful and fresh.
The carne or meat that I prefer for huaraches is either a flat iron or hanger steak. Both cuts are very flavorful and tender. But you do need to slice against the grain to avoid the beef being chewy.
When making this huarache recipe, prepare the salsa roja first and even a day ahead so the flavors and heat can really develop and intensify. I have broken this down into 2 recipes so you can follow the process easily.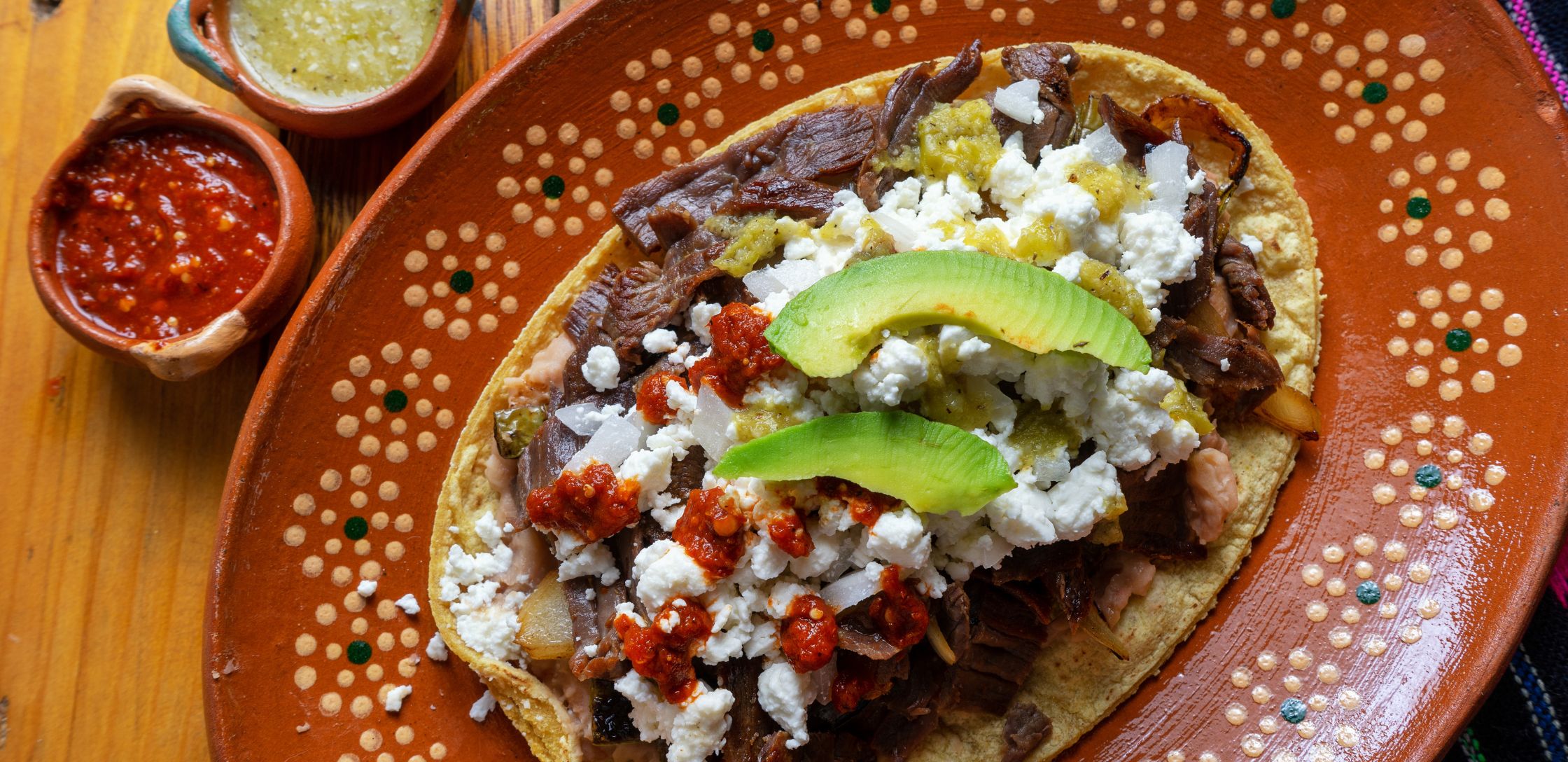 Ingredients
For Salsa Roja:
10

dried guajillo chili peppers

6

dried árbol chili peppers

2

cups

boiling water

3

cloves

garlic

peeled

2

plum or Roma tomatoes

core removed

1

small onion

peeled and cut in half

1

tsp

kosher salt
For Huaraches de Carne Asada:
1-1

⁄2 cups masa harina

1-1

⁄2 tsp kosher salt

1

cup

warm water

1

⁄2 cup plus 2 Tbsp avocado or canola oil

1

cup

salsa roja

see recipe above

2

oz

Cotija cheese

grated

1

seven-ounce flat iron or hanger steak

Salt and pepper

1

medium onion

peeled and cut into 1/4-inch thick slices

1

thirty-ounce jar sliced nopales

drained and rinsed

1

ripe avocado

pitted, peeled, and sliced into thin half-moons

2

Tbsp

chopped fresh cilantro leaves

1

lime sliced into 4 wedges for serving
Instructions
Salsa Roja Instructions
In a large skillet over medium-high heat, add the guajillo and árbol chilis and toast until fragrant, turning over, approximately 1 minute.

Transfer the chilis to a bowl and cover with the boiling water. Set this aside until the chilis have softened, approximately 20 minutes.

Strain the chilis into a sieve with a bowl to catch the soaking water. Set the water aside. Remove the stems and seeds of the chilis. Place the chilis and 1 cup of the soaking liquid in a blender or bowl of a food processor.

Place the skillet over high heat. Add the garlic, tomatoes, and onion to the pan. Cook, turning a few times, until everything is slightly charred on all surfaces. Remove the garlic at about 6 minutes, the onions at approximately 10 minutes, and the tomatoes at 15 minutes. Place all in the blender or food processor.

Add the salt and blend or process until you have a thick, red purée, approximately 2-1/2 minutes. Transfer to a glass jar and store in the refrigerator until ready to serve.
Huaraches de Carne Asada Instructions:
In a large mixing bowl, add the masa harina, salt, and warm water. Stir until the ingredients are well combined. Using clean hands, knead the dough until it is smooth and no longer sticky, approximately 2 minutes. Divide the dough into 4 equal pieces. Shape and flatten the dough pieces into ovals that are 7-inches long and 1/4-inch thick.

In a large skillet (preferably cast-iron) over medium-high heat, warm 1 tablespoon of the oil. Add 1 huarache to the skillet and fry until golden brown and slightly blackened on the bottom, approximately 3 minutes. Turn over and spoon 1/4 cup of the salsa roja and 1/2 ounce of the cheese on the huarache. Continue cooking until slightly blackened on the bottom and cooked through, approximately 2 minutes. Transfer to a warm serving platter.

Repeat the above step three more times until all the huaraches are cooked. Alternatively, cook all 4 huaraches at once with 1/4 cup of oil on a flat griddle.

Return the skillet to high heat and add 4 tablespoons of oil. Season the steak with salt and pepper. Add the steak to the skillet and cook, flipping over once, until browned on both sides and cooked through, approximately 6 minutes. Remove the steak to a cutting board and allow it to rest while you cook the onion and nopales.

To the hot skillet, add the remaining oil and onion slices. Cook, stirring often until just softened, approximately 5 minutes. Add the nopales, and cook until heated through, approximately 2 minutes longer.

Slice the steak very thinly across the grain. Place the sliced steak on each prepared huarache.

Add the nopales and onions on top of the steak slices. Finish each huarache with slices of avocado and a sprinkling of cilantro. Serve immediately with a lime wedge next to each huarache de asada.
Nutrition
Calories:
139
kcal
|
Carbohydrates:
10
g
|
Protein:
4
g
|
Fat:
10
g
|
Saturated Fat:
3
g
|
Polyunsaturated Fat:
1
g
|
Monounsaturated Fat:
6
g
|
Cholesterol:
13
mg
|
Sodium:
752
mg
|
Potassium:
328
mg
|
Fiber:
4
g
|
Sugar:
2
g
|
Vitamin A:
148
IU
|
Vitamin C:
9
mg
|
Calcium:
93
mg
|
Iron:
1
mg
Notes and Tips
My first tip is to make the salsa roja ahead of time, which I mentioned in the introduction. The reason for this is that the salsa can greatly benefit from sitting quietly in the jar you seal it in. Time is a friend to dried chilis as they continue to infuse flavor into the sauce. Hot pepper sauce really keeps well in the fridge for several days or even longer.
It may not be easy to find flat iron or hanger steak. While these cuts used to be the discards that the butchers at steakhouses were given to take home, they are both now prized cuts of beef because they are so flavorful. If you can't find hanger or flat iron, you could certainly use skirt or flank steak. These are less tender cuts of beef, so marinate them in lime juice, avocado oil, aromatics, and spices for a few hours to soften the muscle fibers. With all of these cuts, always slice against the grain.
Variations
The huarache component of this dish is often made with mashed black or pinto beans added to the masa harina dough. After making the dough and dividing it into 4 pieces, grab a piece of dough and make a pocket in the center. Add a heaping spoonful of mashed beans and roll it out so the beans speckle the dough. Repeat with all 4 pieces of dough. This adds protein, flavor, and a bit of sandal-like color.
If you want to make grain-free huaraches, use grilled nopales pads as the "tortilla" base and skip the masa harina dough.
Substitutions and Shortcuts
You can definitely make this recipe with a green chili and tomatillo salsa verdi instead of a fiery red salsa. While on that topic, feel free to purchase your favorite jarred red or green chili pepper sauce to save some time.
The varieties of available dried chiles are hit or miss when shopping at your local market. If you can't find guajillo chilis, try ancho (dried poblano) chilis. Calabrian or cayenne peppers can be substituted for chilis de árbol.
If you aren't a meat-eater, try making this dish with smoked tofu or tempeh slices or even mycelium meat, which is "meat" made from mushrooms.
---
Recent Recipes