Warabimochi is a refreshing Japanese treat that is not particularly well known outside of the country. You are probably more familiar with mochi made from glutinous rice flour, while this mochi is different than other mochi that you may have encountered already, but it makes a fantastic snack.
Instead of using glutinous rice flour, this recipe uses warabi, which is a type of starch that helps gives the mochi its chewy texture. It is clearer and a little bit bland, so the dessert gets its flavor from the syrup that goes with it. Warabi mochi looks a little bit like Turkish delight and has a similar texture. This is a great dessert because it only uses 4 ingredients (plus water).
The syrup that traditionally accompanies warabi mochi is called kuromitsu, but you can make a similar version at home which is what we will be doing in this recipe. We will be using brown sugar, but if you check the substitutions list below you can see what to use if you want to make it slightly more authentic. If you would prefer a different type of Japanese treat, try nutella taiyaki.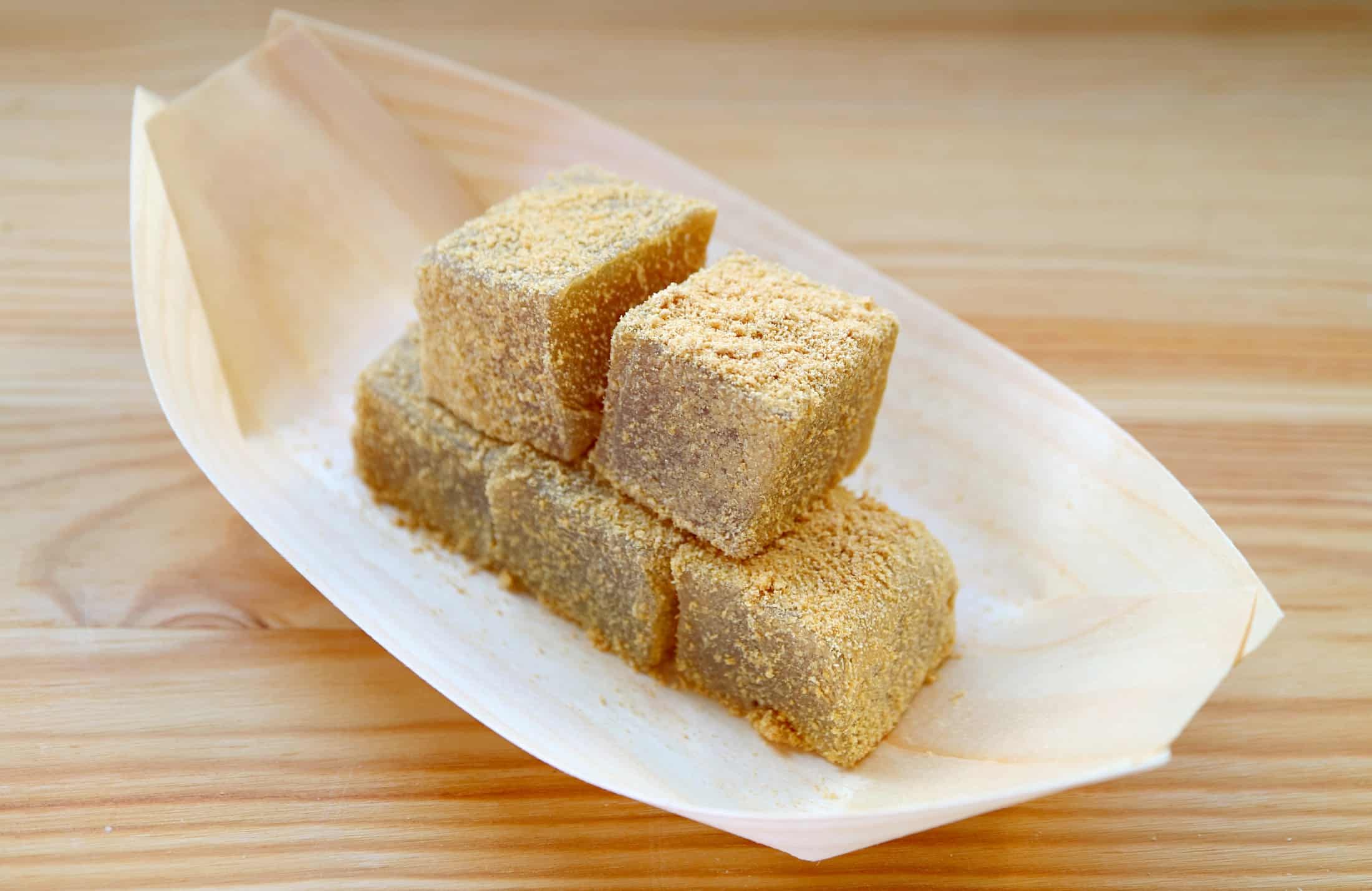 Ingredients
¾

cup

warabi mochiko

¾

cup

sugar

¼

cup

kinako

1

cup

dark brown sugar
Instructions
Prepare a 9×9-inch baking dish by sprinkling kinako over the surface in a thin but even layer. Set aside.

In a pot, add the warabi mochiko, sugar, and 1 ¾ cups of water. Use a whisk to stir thoroughly.

Put the pot over medium heat and stir occasionally for several minutes until it begins to boil.

Turn the heat to low and use a spatula to strongly beat for around 10 minutes. You want the mixture to get thick and translucent. It should be the same consistency throughout and a whiteish-clear color.

Take the pot off of the stovetop and pour it over the previously prepared baking sheet. Use a spatula to spread it evenly.

Use some more kinako to cover the top by sprinkling it through a small sieve.

Leave the mochi to cool in the fridge for half an hour, but no longer.

After the mochi has fully cooled, remove it from the fridge and cut into cubes.

In a large bowl, add ¼ cup of kinako and put a few cubes of mochi in it at a time to toss with the kinako in order to cover all sides. Repeat with all pieces and add more kinoko as needed.

To make the syrup, add the brown sugar and ½ cup water into a small pan or pot.

Place the pan over medium-high heat and stir gently. Bring to a boil, then turn the heat down to low.

Allow to simmer for 15 or so minutes, stirring occasionally. The sugar should have completely dissolved and also become thicker like syrup.

Once the syrup is thick, remove from heat and allow to cool. Make sure the syrup has reached at least room temperature before pairing with the warabi mochi.

Place the warabi mochi on a place. Before serving, pour the kuromitsu over and enjoy!
Nutrition
Calories:
353
kcal
|
Carbohydrates:
91
g
|
Protein:
0.1
g
|
Fat:
0.1
g
|
Sodium:
16
mg
|
Potassium:
74
mg
|
Sugar:
91
g
|
Calcium:
46
mg
|
Iron:
0.4
mg
Notes & Tips
If you have leftover warabi mochi, store it in an airtight container at room temperature. It will last for 2 days. If you make the warabi mochi with a different starch like tapioca starch, it may last a little bit longer. The kuromitsu can be kept in a bottle or other airtight container and stored in the fridge for a week.
If you want, you can try drizzling other types of syrups over the warabi mochi. Obviously, it will not be the same as the traditional Japanese method, but the warabi mochi itself is not terribly flavorful, so you could infuse it with flavor by using a flavored syrup. You could even make your own flavored syrup by using white sugar and a flavor instead of brown sugar.
Substitutions
This recipe uses dark brown sugar to make the kuromitsu, but you can use a different type of sugar for authenticity. Kurozato is also called kukuto or black sugar and is ideal for making the syrup, but I use brown sugar here as it is easier to find. If you want to skip making the sauce, you can buy the syrup at Asian shops or online.
If you cannot find warabi mochiko, you can try substituting it with tapioca starch or potato starch, both of which should be at Asian shops, but might be slightly better easier to find. I have never been to an Asian shop where they didn't have tapioca starch. If you do substitute the warabi mochiko, please be aware that the consistency will be a bit different.
Where to Find the Ingredients
Warabi mochiko is also called warabiko, bracken starch, or even fernbrake. It can be found at Asian specialty stores or online. It is unlikely that you will be able to find it in regular supermarkets in the US. If you have a European food store near you, you might even be able to find it there (under the name bracken starch) because it is used globally.
Kinako powder is also called roasted soybean powder or roasted soybean flour. The word "kinako" is Japanese, but it is called "konggaru" in Korean, so look for it under all names to make sure you find it. It can also be found online.
What is Warabi?
Warabi is made from bracken (hence the name bracken starch as well) which is a type of fern. Interestingly, it is thought to be the fern that can be found the most across the globe. It is also a relatively invasive plant, which explains why it can be found in so many places. I find it really interesting because it is particularly popular in Japan and Wales, which have wildly different cultures and usually pretty different diets.
Bracken is not just used as bracken starch; the fern can be eaten in several different ways. It can also be used as bedding for livestock because it makes a great fertilizer afterwards.
---
Recent Recipes