It turns out you can make pancakes out of pretty much anything! Chorreadas is a type of corn-based pancake that originates in Costa Rica. The traditional version of this recipe uses corn without any extra flour. That is how I am going to present this recipe to you, but I will also include a modification with flour that uses less corn and might have a texture you like better. If you want to know what other fun ingredients you can use to make pancakes, take a look at simple Finnish pancakes made out of spinach (yes, they have a beautiful green color) or these super fluffy, vegan potato pancakes!
This dish can be made savory or sweet, similar to French crepes. I have decided on a sweet version for the main recipe, but I also include how to make savory chorreadas in the modifications. The savory option utilizes oregano and garlic, with the option to add cheese.
If you use some of the substitutions from below the recipe, you can easily make this a gluten-free, vegan dish.
Without any further ado, let me introduce you to your new favorite breakfast dish!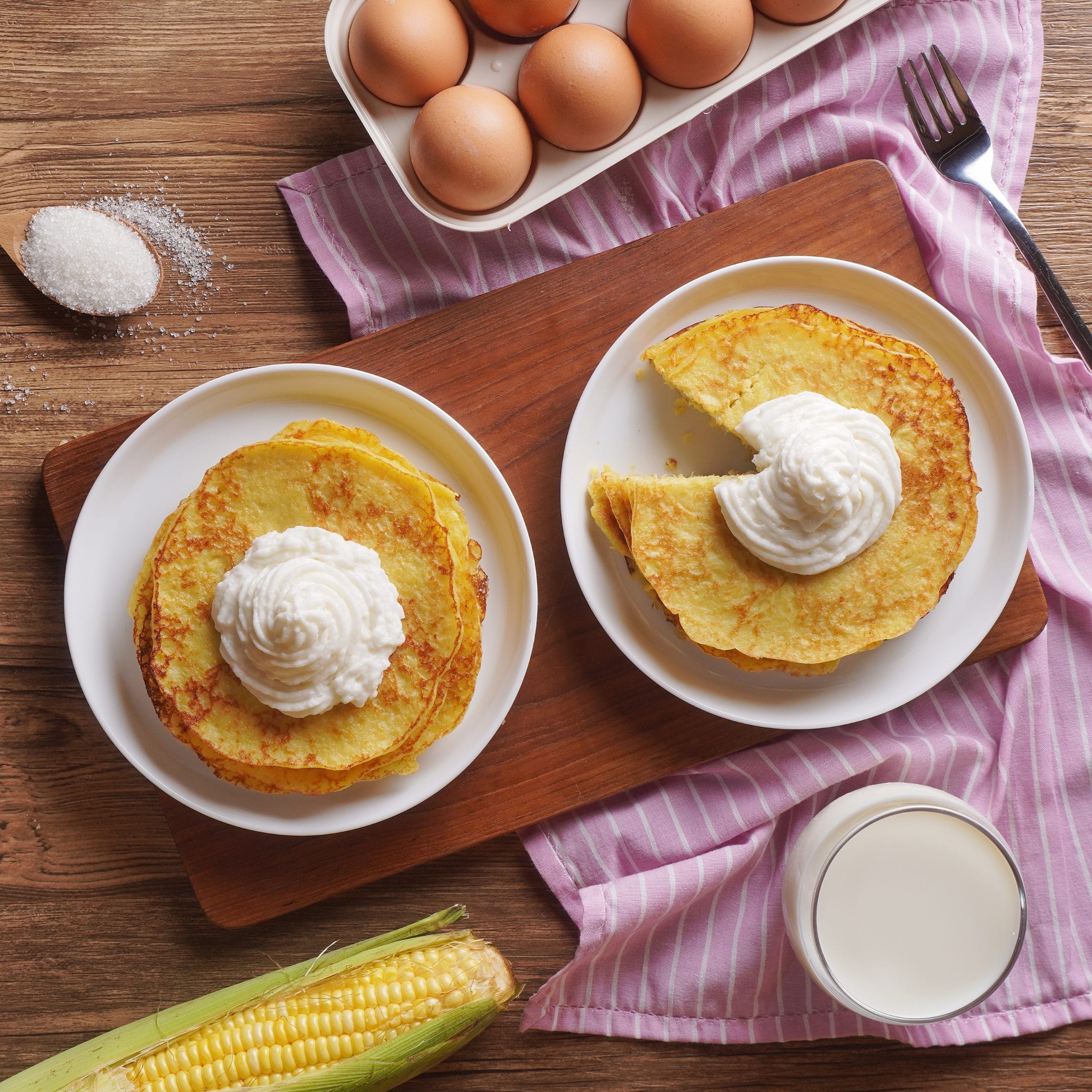 Ingredients
4

cups

corn

½

cup

sugar

2

eggs

2

tbsp

butter

plus extra

¼

cup

milk
Instructions
All ingredients ready? Let's begin!

If you are using fresh corn on the cob, use a knife to slice the kernels off the cob as well as you can.

Put all the ingredients in a food processor.

Blend until everything sticks together decently.

If the mixture looks too dry, you can add some more milk, but only a little at a time. It should come out the same thickness as regular pancakes (though probably a little chunkier in texture).

In a cast iron skillet over medium heat, melt some butter.

Spoon the batter into the hot butter in separate circles (like regular pancakes).

Cook the pancakes for a minute or two before flipping over and cooking the other side for another couple of minutes.

Once done, remove pancakes from heat and repeat with remaining batter.

Serve hot and top with custard or whipped cream. Enjoy!
Video
Nutrition
Calories:
96
kcal
|
Carbohydrates:
19
g
|
Protein:
3
g
|
Fat:
2
g
|
Saturated Fat:
1
g
|
Polyunsaturated Fat:
1
g
|
Monounsaturated Fat:
1
g
|
Trans Fat:
1
g
|
Cholesterol:
28
mg
|
Sodium:
16
mg
|
Potassium:
133
mg
|
Fiber:
1
g
|
Sugar:
11
g
|
Vitamin A:
187
IU
|
Vitamin C:
3
mg
|
Calcium:
15
mg
|
Iron:
1
mg
Notes & Tips
4 cups of corn is about the equivalent to 10 shucks or cobs of corn. You could also use canned corn, in which case drain it first.
These chorreadas can be kept in a ziplock bag in the fridge for up to five days. To reheat, just pop in the microwave for a minute or so.
If you make the sweet version of chorreadas, you can top them with whatever you like, including fresh fruit and syrup. If you want to stick to Costa Rica tradition though, a custard-type topping is fairly popular.
Modifications
As I mentioned before, there is a way to make chorreadas with flour, not just corn. It is not much different, but it is handy if you don't have a lot of corn. To make chorreadas with flour, use only 2 cups of corn and add ¼ cup of flour. You can use regular all-purpose, wheat flour or corn flour.
If you would like to make savory chorreadas instead of sweet, that is easy too. For savory chorreadas, omit the sugar. Add instead 1 tbsp of dried oregano and 2 cloves of garlic. Blend together as before and cook the same way. You can also add cheese to the savory version by shredding it and sprinkling it across the pancake while the first side cooks before flipping it.
Substitutions
Even though this is a simple recipe, there are a few substitution options, should you need them. You can use these options if you lack a few ingredients, or if you want to make a vegan version of chorreadas.
The first substitution you could make is to use oil instead of butter. Some recipes omit needing butter altogether in the chorreadas themselves and use oil to cook them. If you choose oil, vegetable or rapeseed would be best. Olive oil has a stronger flavor that could be distracting, especially for the sweet version.
Another substitution you can make is to use water instead of milk. You would need to use the same amount, just swap them out.
If you wanted to make vegan chorreadas, you will need to substitute the butter with oil and milk for water, but you will also need to omit the eggs. Not all recipes call for egg, but I like to use them because they work as a binding agent and also add some protein. If you choose to leave out the eggs, you will probably need to add more water to achieve the proper consistency.
Where To Find Chorreadas in Costa Rica?
Chorreadas are quite popular in Costa Rican cuisine. Because of that, you can easily find chorreadas at cafes and restaurants throughout the country. If you ever go to Costa Rica, try chorreadas in shops all over the place to see where the best one is from.
About Costa Rica
Costa Rica is in Central America and is next to Nicaragua, the Caribbean Sea, and Panama. If you look at a map, you will see a bridge of land running from the bottom of Mexico to Columbia and, beyond that, Brazil. Costa Rica is part of the thinnest section of that land bridge. 
Costa Rica declared independence from the Federal Republic of Central America way back in 1847. About a century afterwards, they got rid of their army, which makes them very unique country. Before the Federal Republic of Central America, Costa Rica was held by Mexico, and before that by Spain.
Costa Rica has a lot of things going for it. It is one of the happiest countries in the world with one of the freest presses in the world. It also has a high education rate; Costa Rica spends more money on education than the global average. Compared to other nations of its size and resources, Costa Rica is one of the best!
And, of course, as your chorreadas will show, Costa Rica also has delicious food.
---
Recent Recipes